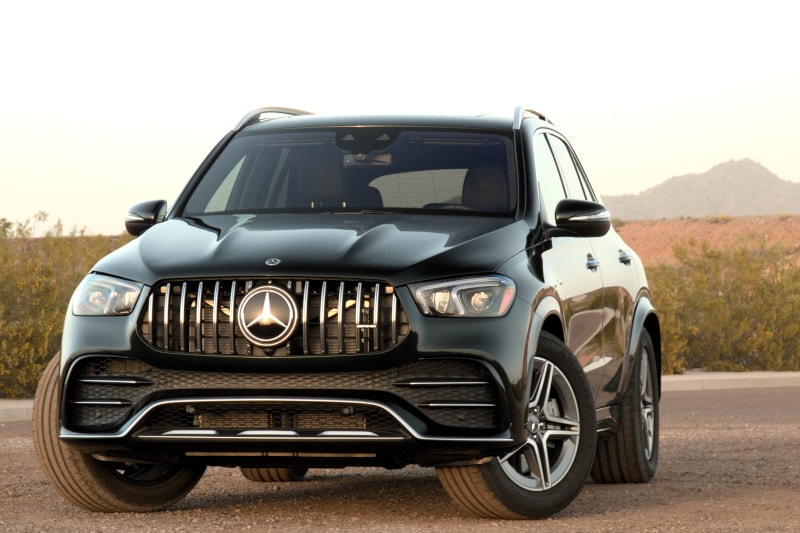 As Mercedes-Benz's portfolio of vehicles has expanded to include small front-wheel-drive crossovers and sedans, an all-terrain E-Class wagon, an all-electric S-Class, and the rebirth of Maybach, its AMG offerings have grown in number as well. The in-house performance sub-brand's enhancements are no longer limited to a portion of the Mercedes lineup. Now you can get a hardcore, high-powered version of almost any model, whether that's a GLA that can hit 60 mph in 4.4 seconds, a GT Roadster with a hand-assembled turbocharged V8, or a G-Wagen with 577 horsepower and 627 lb-ft of torque. 
Over the past several years, the Mercedes-AMG range of 53-series models has expanded alongside its focused counterparts to include a wide array of body styles, including the mid-size GLE, which came to market in the 2021 model year. Prices for the 2022 GLE 53 start at $74,150. I had the privilege of spending a week in a media loaner equipped with the Driver Assistance and Acoustic Comfort Packages, heated and ventilated front seats, and other upgrades that took its as-tested price up to $82,750.
Shop Mercedes-AMG GLE 53 Inventory
---
2022 Mercedes-AMG GLE 53 Exterior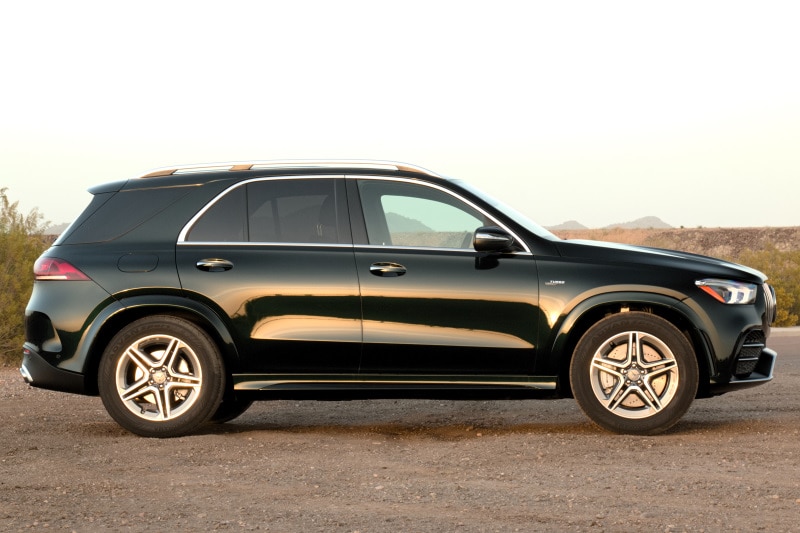 If I hadn't seen the GLE 53 get dropped off at my office, I would've known two things about it, anyway: 1.) That people were looking at it. 2.) That it was green. How? Because a few of my colleagues came up to me and told me how surprising and attractive the color was. The Emerald Green was so dark that it appeared to be black at first. When the light hit its thousands of metallic flakes, its gem-like brilliance flared outward. I had to agree with their feedback. Green vehicles are relatively rare as it is; the GLE's dynamic, verdant finish made the visual experience even more of a treat. 
Shop Mercedes-AMG GLE 53 Inventory
---
2022 Mercedes-AMG GLE 53 Interior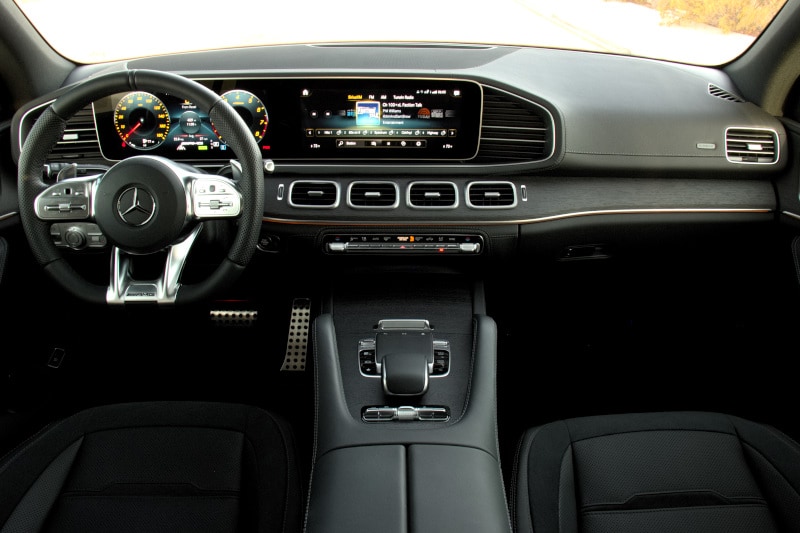 Praise for the GLE 53's interior was just as forthcoming from my loved ones. Once every week or two, my fiancé and I go with her parents through the drive-thru line at a Blackrock Coffee location here in the Phoenix area. Typically, my future father-in-law rides shotgun and our ladies sit next to each other in the back. Within a couple minutes of loading inside, both my fiancé and her mother remarked on how roomy and comfortable the second row was. I agreed with them. The GLE tester I reviewed a few years ago showed me how roomy its back seat is for someone my height (5'10"). 
My fiancé's father and I had plenty of things to like in the front. Both of our seats were heated and ventilated. Straight ahead was a heated AMG Performance steering wheel wrapped in Nappa leather, dual-zone climate controls, a broad swath of gray oak wood trim, and a pair of 12.3-inch displays - one for the digital instrument cluster and the other for the infotainment and navigation systems. 
Hitting a particular touchscreen "button" on the center screen engaged the car wash mode and managed to make a hands-free car wash even more convenient. It automatically prepared the GLE for its trip to cleanliness by turning off the parking sensors, rolling up the windows, folding in the mirrors, and more. 
Shop Mercedes-AMG GLE 53 Inventory
---
2022 Mercedes-AMG GLE 53 Performance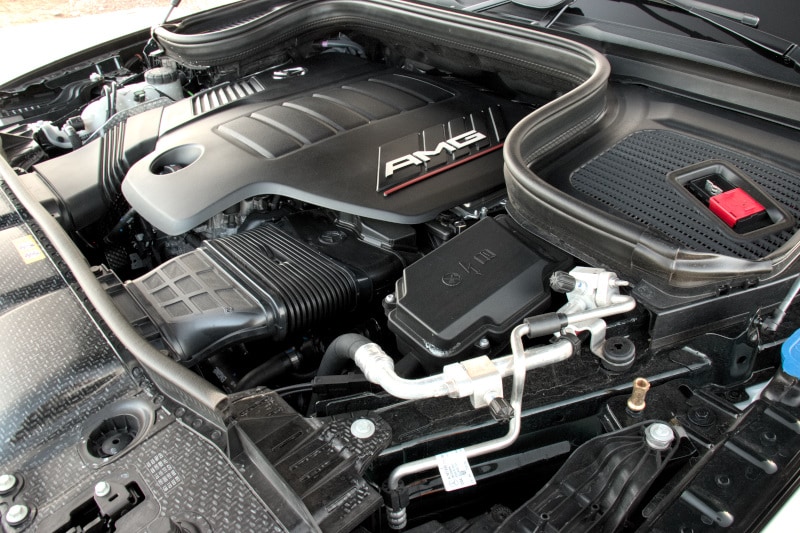 It may sound odd, but one of the things that most excited me about the GLE 53 when it first came in was its tires. I could tell by the thickness of their sidewalls that it was probably going to balance performance and comfort well. 
I was right. In its Comfort drive mode, the GLE 53 was perfectly gentle, but its steering wasn't as rock solid on-center as the steering in other AMG models I've driven in the past. The Integrated Starter-Generator temporarily supplied up to 21 hp and 184 lb-ft. in certain instances to provide additional passing power or simply smooth out the automatic engine start/stop process. I made sure to use the Dynamic Select toggle to sample some of the other available performance profiles, too. In Sport+, I pulled out onto a long straightway, accelerated up to 20 mph, then floored the accelerator to unload the turbocharged and electrically supercharged 3.0-liter inline-6's 429 horsepower and 384 lb-ft of torque through the 4MATIC+ all-wheel drive system. The GLE 53 pulled so hard and revved so quickly that I kept hitting the fuel cut-off before I could paddle-shift the AMG Speedshift TCT 9-speed automatic into the next gear. Luckily, when I did pull back on the right paddle, it upshifted with a fitting urgency. 
To get an even better feel of the GLE 53, I turned the Electronic Stability Programming off. Without that digital safety net in place, the vehicle felt rawer and more elemental. The braking power from the perforated 15.75-inch front and ventilated 13.58-inch rear discs was easy to modulate and helped me get back down to less "enthusiastic" speeds smoothly. 
When my week with the GLE was over, I checked the onboard gauge and discovered I had averaged 23.1 mpg over the course of 456 miles--and beat the EPA's highway fuel economy rating of 22 mpg.
Shop Mercedes-AMG GLE 53 Inventory
---
2022 Mercedes-AMG GLE 53 Safety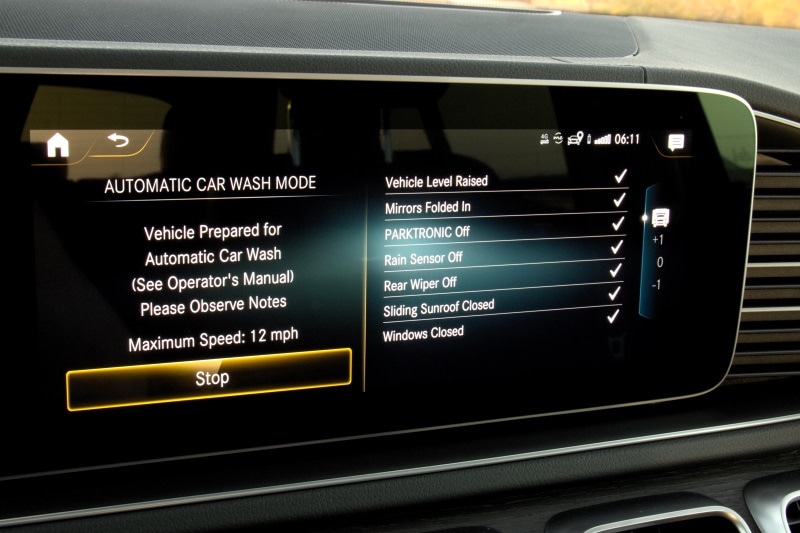 In addition to its standard Blind Spot Assist and Active Brake Assist, my press loaner had the protection of the Driver Assistance Package Plus, which includes Active Emergency Stop Assist, Active Stop-and-Go Assist, Active Brake Assist with Cross-Traffic Function, Active Distance Assist Distronic adaptive cruise control, and more. 
The National Highway Traffic Safety Administration put the 2022 GLE through its series of rigorous tests and awarded it its highest 5-Star Overall Rating.
Shop Mercedes-AMG GLE 53 Inventory
---
2022 Mercedes-AMG GLE 53 Overall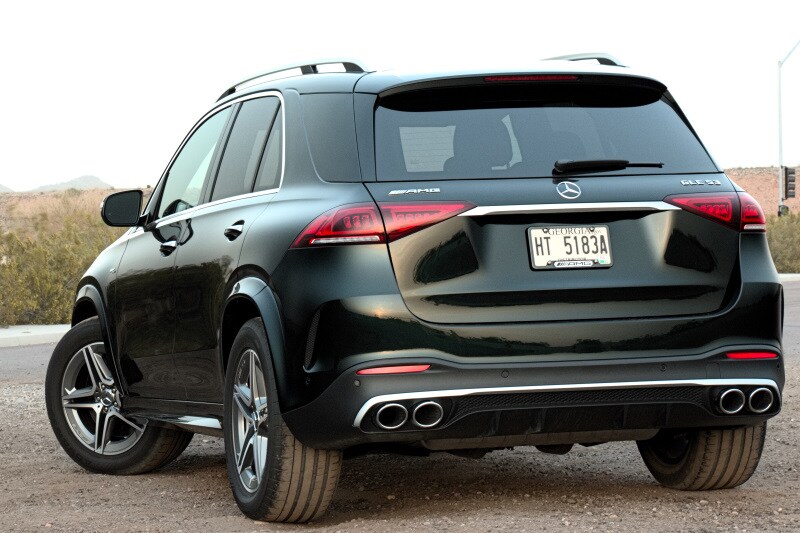 The GLE 53, one of the newest additions to Mercedes-AMG's lineup of vehicles, shows that the middle is a great place to be. It may not be as raucous and aggressive as the 63 variants, but it has enough power to be exciting, the interior space to function as a proper two-row SUV, and the fuel economy to minimize trips to the gas station during family outings. To learn even more about the 2022 Mercedes-AMG GLE 53 and take one for a test drive, head to your local AutoNation Mercedes-Benz dealership.
Shop Mercedes-AMG GLE 53 Inventory
---
Derek Shiekhi
| June 15, 2022