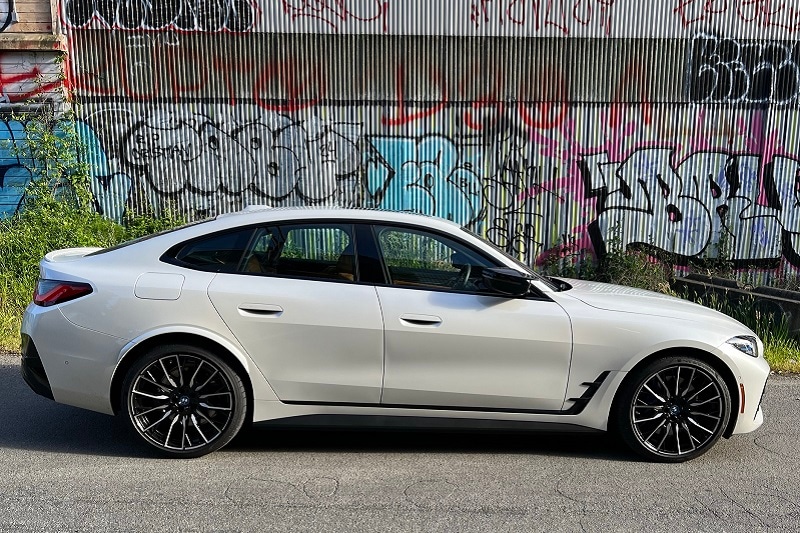 Over the course of my week with the 2022 BMW i4 M50, I got one question over and over: "This car is electric? Really?" Which makes sense. Because this Bavarian green machine doesn't look like an electric car. It looks like a traditional high-performance German luxury sedan, and from my perspective, that's a great thing. The i4 M50 is less an "electric car," than a car that happens to be electric. And wow, did I ever love it. 
Despite its new-school powertrain, the vibe of the i4 M50 is very old-school BMW. Meaning it's elegant, purposeful, and delivers driving thrills in a way that few other marques can. Last July, I had a BMW M5 Competition on test, and it was--to put it mildly--a phenomenal machine. Given the storied history of the model, driving that car was also a "meet your heroes moment," which proved to be one of the highlights of my year. 
That said? While I love the smell of gasoline and a rowdy exhaust note, the i4 pushed my buttons in a way that I wasn't prepared for. The BMW i4 M50 is a whole new color in the rainbow.
---
2022 BMW i4 M50 Exterior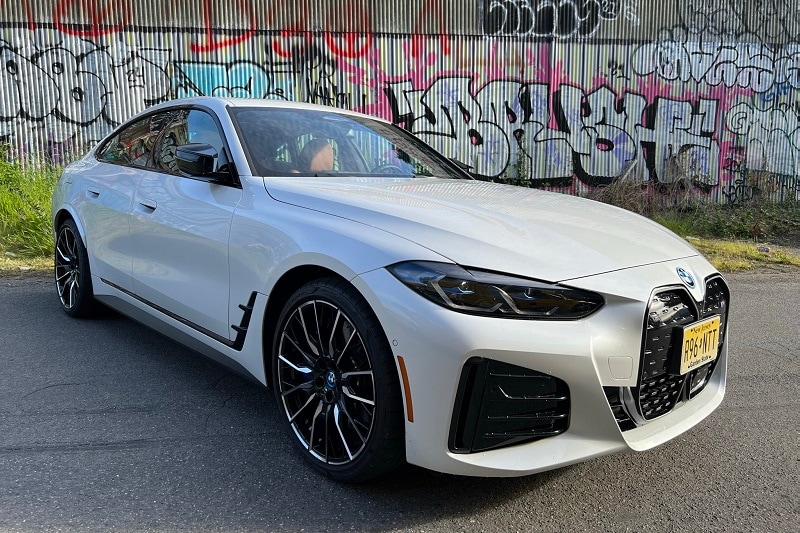 Let's get right to the point here: How you feel about the looks of the i4 is going to rest largely on your opinion of the front fascia of the latest 4 Series. The super-sized version of BMW's traditional twin kidney grille has been tremendously polarizing, and keyboard warriors far and wide have taken to the internet to decry it. Now, as I said in my review of the M440i xDrive, I just don't get all the hate. I think it looks bold, aggressive, and distinctive, and when you see it leaves no question that you're looking at a BMW.  
My tester was delivered in Mineral White Metallic, and since it was equipped with the Shadowline Package the exterior trim - like the bits around the window frames--was high-gloss black instead of chrome. I thought the treatment looked trick, and while I'm generally a fan of bolder exterior finishes, the contrast between the white paint and the black trim gave the i4 a somewhat sinister appearance. Up front, the housings for the LED headlamps were also blacked out, which completed the package. 
In profile, the i4 appears slightly pitched forward, like it's coiled and ready to strike. But it doesn't scream "performance." Overall, the design is quite clean, with subtle flares around the wheels, a sharp character line in the middle of the doors, and a hockey stick-shaped accent running along the long axis providing the most visual flare. The optional 20-inch wheels also looked fantastic, and filled out the wheel wells quite nicely. But when I've tried to articulate why I liked the lines of the i4 so much, I keep coming back to the fact that it looks like a classic German sports sedan. There's no "different for different's sake" that often crops up in electric car design. 
---
2022 BMW i4 M50 Interior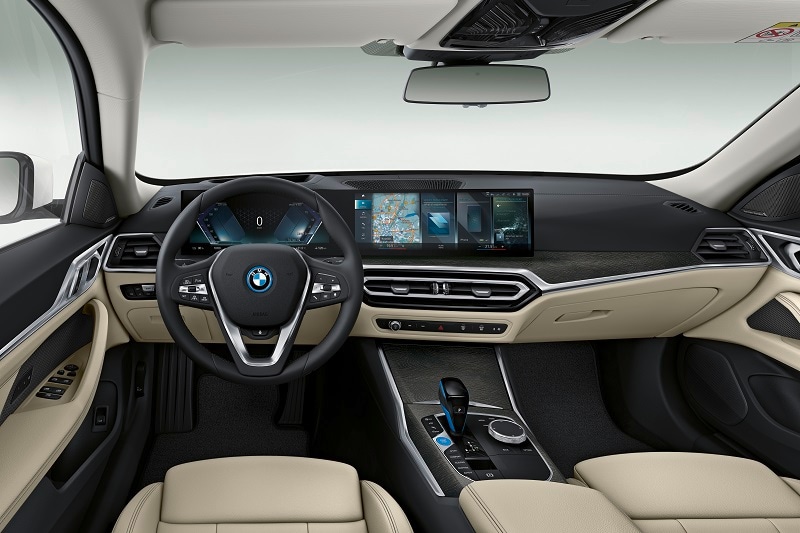 The interior of the i4 was a good match for the exterior. Because while the fit and finish, material quality, and elegant design communicate that this is a high-end product, there was no unnecessary flash, and the matte oak trim on the doors and dash was implemented beautifully.  The cabin feels very much like a cockpit, and I liked how the Cognac-colored leather seats kept me firmly in place during spirited romps along my favorite twisty roads. 
The centerpiece of the cabin is the massive infotainment screen which stretches from the center console and behind the steering wheel. This unit is actually two different screens, with one dedicated to the gauge cluster, and another touchscreen which handles inputs. Like other modern BMWs, it's configurable to the extreme, and despite having a zillion options, iDrive 8 makes it easy to locate any function you're looking for. And if you can't be bothered? Just say, "hey BMW," and the car will take voice commands. I used them to do everything from changing stations, to turning on the heated seats, to inputting directions into the navigation, and got very comfortable with it. Of course, wireless Apple CarPlay and Android Auto are on the menu, but in my opinion, BMW's native system works so well, that I just connected via Bluetooth, so I could listen to music off my phone. 
---
2022 BMW i4 M50 Performance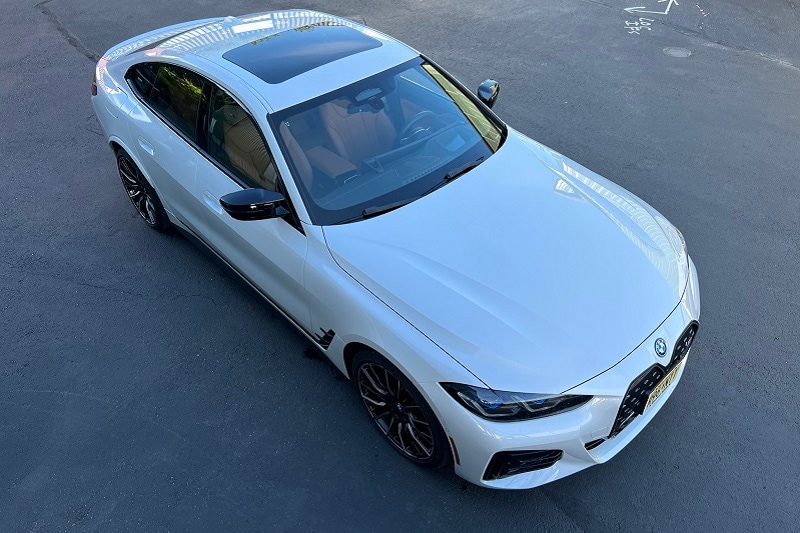 OK, please indulge me for a moment, because I get this is going to sound a little weird. And rest assured, AutoNation Drive hasn't suddenly gotten its wires crossed with a food blog. 
But when I think about how differently electric cars and internal-combustion vehicles deliver power, I think about Thai cuisine, and specifically, about fish sauce. Now, you might think that you don't like fish sauce, which is reasonable. But if you like Thai dishes? You eat a lot of it, because save desserts like mango sticky rice or coconut ice cream, it's in everything. And if you went to a vegan place where if wasn't used, you'd notice. Seriously, give it a shot if you don't believe me.
So when we're driving refined, modern ICE vehicles, we tend to forget that basic operation of a traditional gas engine requires several steps: intake, compression, combustion, and exhaust. That process happens so fast, you really might not think you can feel it. But in an electric vehicle, where the four-stroke calculus has been removed from the equation, thrust is delivered with an immediacy which is astonishing. Because you aren't waiting for anything to blow up.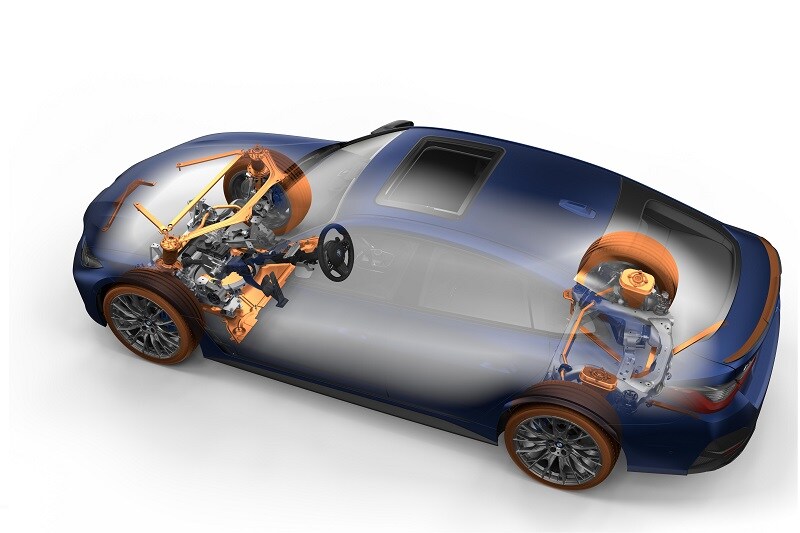 Which brings us, finally to the outrageous power delivery of the BMW i4 M50. There's a whopping 538 horsepower and 586 lb-ft of torque tap, and boy, do you feel it. Even as someone who's experienced some of the world's fastest cars, and drives electric cars on a regular basis? This baby was a rocket ship. In any mode, it's extremely quick, but in the sport setting, forward progress is almost frightening. This is the first electric vehicle the maniacs of BMW's famous M division have gotten their claws into, and have mercy, did they do a number on this glorious piece of kit. The power feels absolutely bottomless, and the silence as the world rushes forward only heightens the sense of speed. On wet roads, getting to hear the all-wheel drive system act to maintain grip is a joy, and illustrates just how much work the electronic nannies actually perform.
Importantly, the i4 M50 isn't just a straight line machine, as the brakes, adaptive M-tuned suspension, and bottomless well of twist work together seamlessly to deliver driving dynamic that can only be described as outstanding. This is the kind of car that BMW is famous for building, and while steering feel is slightly lacking, it's worlds better than what I've experienced in other electric cars. While it might not be quite as fast as the M5, the suspension, even in Sport, doesn't beat you up, and I was amazed at how well it handled Seattle's ugly often-ugly tarmac. For the record, the i4 M50 also very quiet, with minimal wind and road noise, which is particularly impressive given there's no wailing engine to mask it. 
On a full charge, the BMW i4 M50 can go up to 270 miles, which is plenty for urban dwellers like yours truly. But of course, your mileage may vary. 
---
2022 BMW i4 M50 Safety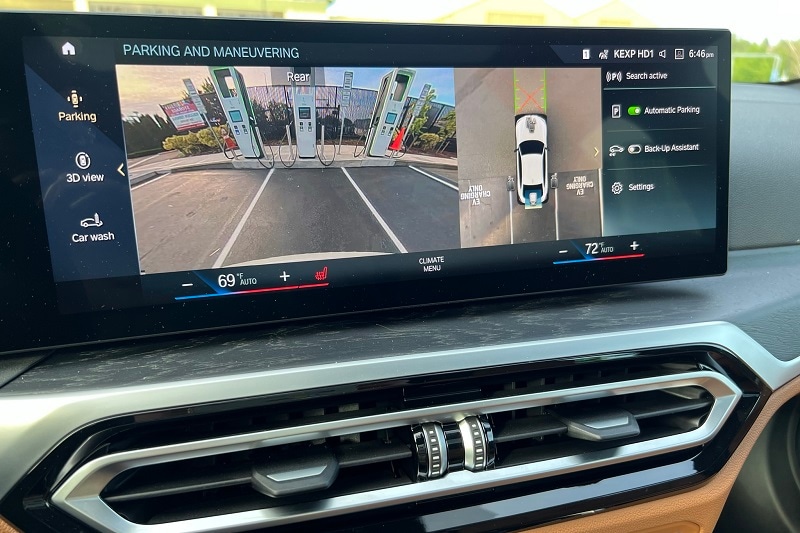 In testing by the National Highway Traffic Safety Administration, the BMW i4 M50 earned a 5-Star rating, the agency's highest. 
My i4 M50 tester came equipped with a long list of standard safety features, including Frontal Collision Warning, Active Blind Spot Detection, and Land Departure Warning, along with Adaptive Cruise Control and Automatic Headlights.
---
2022 BMW i4 M50 Overall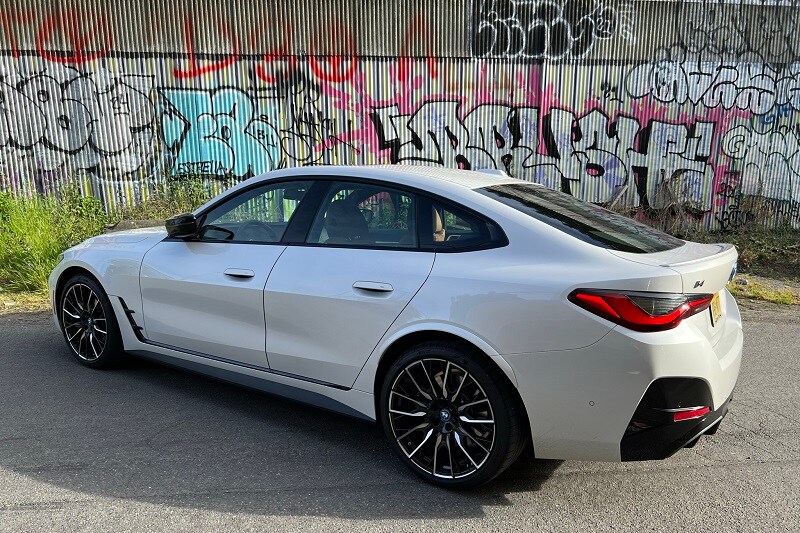 Of all the cars I've driven so this year, internal-combustion or otherwise, the BMW i4 M50 is my favorite. Hands down. Not only is the driving experience fantastic, the future it represents makes my greasy little enthusiast heart swell. Because while the move toward electric vehicles is only going accelerate, this stellar execution of the concept proves, without a shadow of a doubt, that drivers have an entirely new frontier of performance to explore. As the Germans say, "The morning hour has gold in its mouth." 
The base price of the BMW i4 M50 is $65,900, but my tester was equipped a host of options which bumped the price north. These included the Shadowline Package ($400), the Driver's Assistance Package ($1,700), and most importantly, the High Performance Package ($2,500), which brought the as-tested price to $77,070. And for those keeping score? That's nearly $60 less than the M5. 
---
John Coyle
| June 17, 2022