AutoNation Drive | Nov 01, 2020
---
For 2020 - Chevrolet has not just upgraded the legendary Corvette, this time, they changed… everything. Is this THE sports car to buy? We have a complete look right now.
The 2020 Chevrolet Corvette is more than just a year-over-year update. In this new model, Chevy has adopted a revolutionary mid-ship design, giving it a supercar look… but starting at $60,000 it doesn't have a Supercar price.
The model we're looking at in this video has a couple options: including the 2LT options which adds Bose sound, navigation, a head's up display, extra cameras, blind spot warning and a digital rear mirror, among some other niceties. It also came with the $5000 Z51 Performance Package, which upgrades the 'Vette for track days. This adds Z51 Brembo brakes, performance suspension, upgrades the exhaust adds an electronic LSD, adds a Z51 front splitter and rear spoiler and wraps the sport wheels in Michelin Pilot Sport Tires.
As you see it here, you're looking at $78,265 us-dollars including destination and delivery.
The engine is a 6.2-liter V8 that pumps out up to 495 horsepower and 470 lbs-ft of torque. Chevrolet claims a top speed of 194 miles per hour and a 0-60 time of only 2.9-seconds.
EPA rates economy at 15 miles to the gallon in town, and 27 on the highway.
There are two major storage areas in the Corvette, one in the front, where the engine used to live. The second is in the back. This back bin is large enough for a small bag of golf clubs and it also stores the removable roof.
Getting in gives you the real feel of a supercar. The leatherwork is excellent, and all the materials have a high-end fee. Chevy has lined all the accessory buttons down a ridge in the center, which is unique.
An 8-inch touchscreen display gives you complete control over entertainment options, as well as connectivity with the included cellular data system. Apple iPhone and Android owners can connect via USB, or charge in the included wireless charging slot.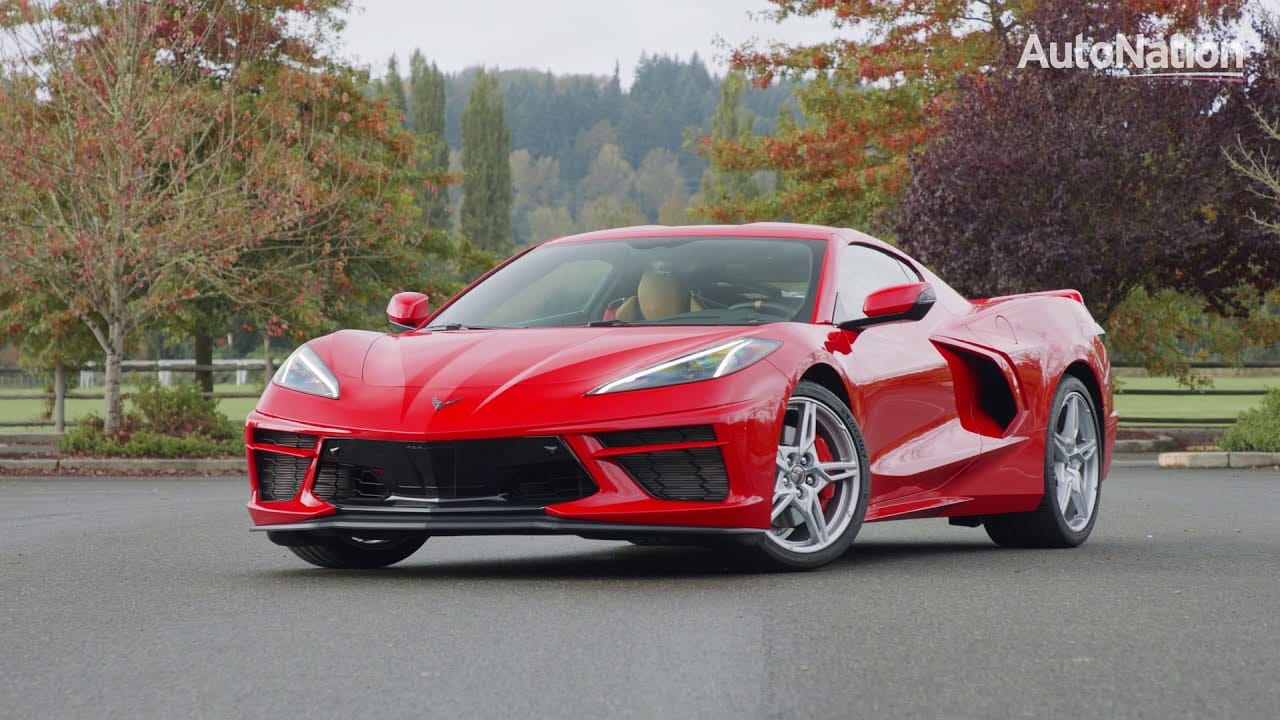 Shop Chevrolet Corvette Inventory
The touchscreen also gives drivers access to a performance recording system. This will save video and driving data to an SD card so you can review it later.
A 12-inch digital display is standard equipment. This can be configured to taste, with a selection of layouts that can also be tied into the various drive modes.
You can pick between Touring, which softens up steering, suspension, and throttle inputs. Sport, which tightens these same components, giving the Corvette a much sharper feel. An finally there's Track, which goes one step further, while at the same time reducing traction control - allowing skilled drivers to really take advantage of this remarkable package.
It can shift faster than any human, with a high-torque 8-speed dual clutch automatic transmission. This efficiently pushes power to the rear wheels. Override the automated gear choices with the included paddle shifters.
Driving the Corvette is more like stepping into a supercar, than what a previous Corvette owner might anticipate. Where the C7 transformed the classic sports car into a highly competitive track day superstar, this new C8 goes two steps further - bringing $150,000 worth of performance to a car that a regular human can afford.
Visit AutoNationDrive.com to see the latest on the Corvette from Chevrolet. We have more than 70,000 new and used vehicles available from coast-to-coast. Find the perfect vehicle, pick your options, and arrange for a test drive at your location Autonation Chevrolet dealer.