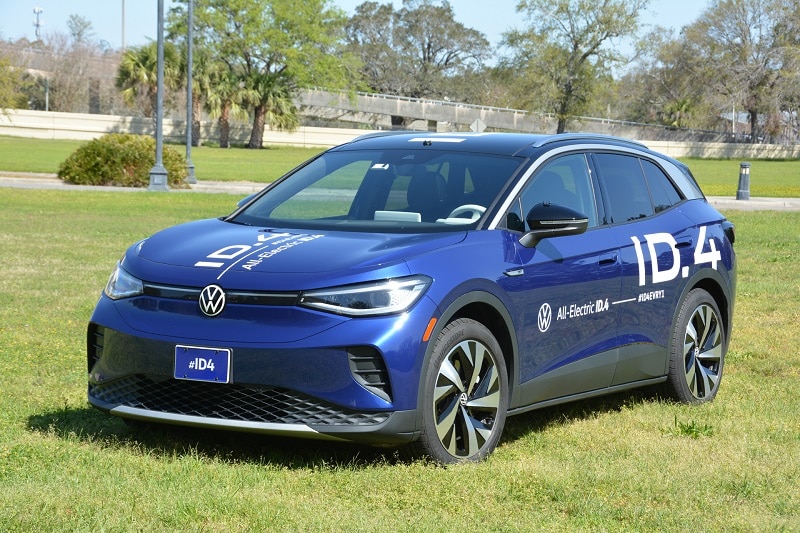 Electric vehicles may be growing in popularity here in the United States, but there's still no segment hotter than crossovers and SUVs. Blending the best of both worlds, the all-electric 2021 Volkswagen ID.4 just went on sale, and to show the real-world traveling capabilities of this compact SUV, VW sent a team on a 6,000-mile road trip across the U.S. from New York to Sacramento.
I met up with the team about halfway through their marathon trip, and was able to spend about an hour behind the wheel while talking to Dustin Krause, VW's director of e-mobility.
Krause said that there are three main concerns for potential EV buyers - price, driving range and charging capability - and the ID.4 looks to satisfy all of them in a package that appeals to all buyers. The main target for the 2021 Volkswagen ID.4 is conventional compact crossovers like the Toyota RAV4 and Honda CR-V, but Krause has seen plenty of attention from Tesla and Ford Mustang Mach-E owners while parked at charging stations.
Speaking of charging stations, VW has teamed up with Electrify America to provide free charging for the first three years of ownership, and that's where we met up with Krause to learn more about the ID.4. 
---
2021 Volkswagen ID.4 Exterior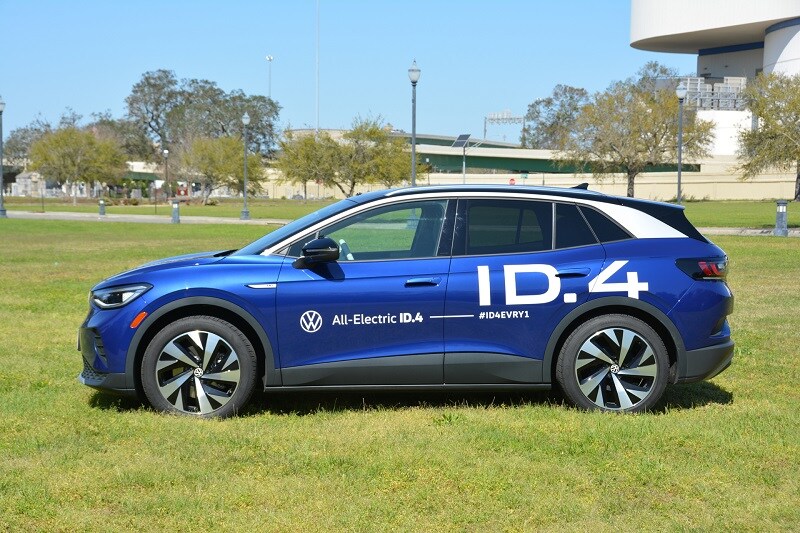 Unlike the e-Golf, the 2021 Volkswagen ID.4 was created from the ground up to be a dedicated electric vehicle. Just from the styling alone, it's obvious that VW's design team took more of an outside-the-box (both literally and figuratively) approach when it came to penning the ID.4 SUV.
In contrast to the familiar designs of the Passat, Tiguan and Atlas, the ID.4 has a bolder shape that's far more attractive than a Tesla Model 3, yet not as aggressive as the Mustang Mach-E. While the ID.4 represents a step forward in VW's design language, this SUV has a subtle throwback to the original Beetle with its rounded nose, arched hood and, thanks to the lack of  grille, a prominent VW logo. It's easy to see that aerodynamics played a huge part in the overall design, so it wasn't surprising to see a completely flat belly pan when we peaked underneath the ID.4.
The version of the ID.4 that is road tripping across the U.S. is one of the limited-production 1st Edition models that are already sold out, and it looked spectacular in Dusk Blue Metallic with the black roof and bright silver roof accents. This trim level also includes 20-inch aero wheels, LED headlights with a full-width illuminated lighting accent and black mirror caps.
Shop Volkswagen ID.4 Inventory
---
2021 Volkswagen ID.4 Interior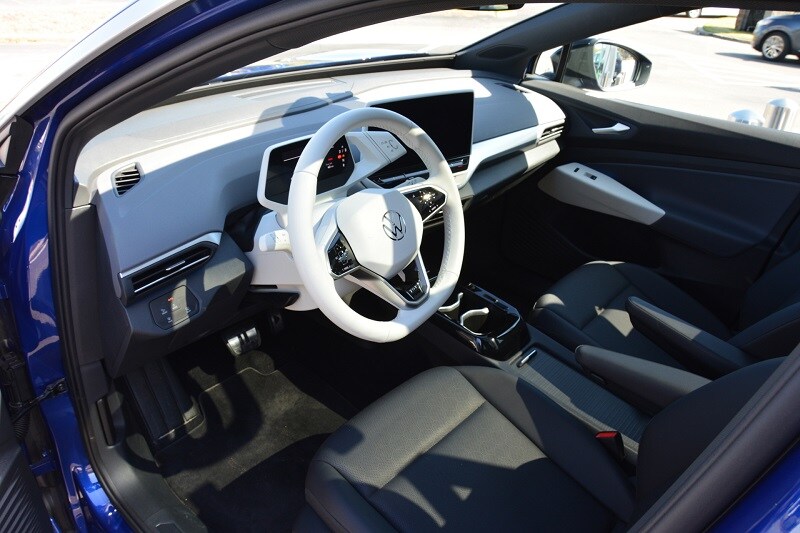 Again, not to knock the design of other current VW products, but the interior of the ID.4 is a tremendous leap forward for the automaker. Just getting into the ID.4 is a more upscale experience, as electric buttons hidden under the exterior handles quietly release the doors, and the interior features the typical door pulls you'd expect from a conventional crossover. With capacitive touch sliders, gesture controls and voice commands available for just about every control, the cabin is truly a futuristic experience. When it comes to displays, the driver gets a 5.3-inch hexagonally shaped digital gauge cluster, while the available 12-inch infotainment screen - standard on the 1st Edition - is far better implemented into the cabin than some of the center screens in other EVs.
Where VW really succeeded in bringing an EV to the masse is by giving this SUV a usable cabin. There's plenty of room for five adults, and the roomy back seat features amenities such as a pair of charging ports, HVAC vents, and smartphone pockets integrated into the front seatbacks. Unlike some other EVs out there, the ID.4 doesn't have a front trunk, aka, a "frunk," but VW is looking into creating a sort of cargo tray to hold smaller items such as the charging cable. That being said, there's still plenty of cargo space available, as this vehicle was packed with two people's worth of luggage for a cross-country trip, along with miscellaneous camera and cleaning equipment. It's worth noting that the cargo area wasn't even taking advantage of the adjustable-height load floor. Setting the 1st Edition apart from other ID.4 trim levels, this version gets exclusive Electric White interior accents, a panoramic sunroof, unique "play" and "pause" logos on the accelerator and brake pedals, respectively.
Shop Volkswagen ID.4 Inventory
---
2021 Volkswagen ID.4 Powertrain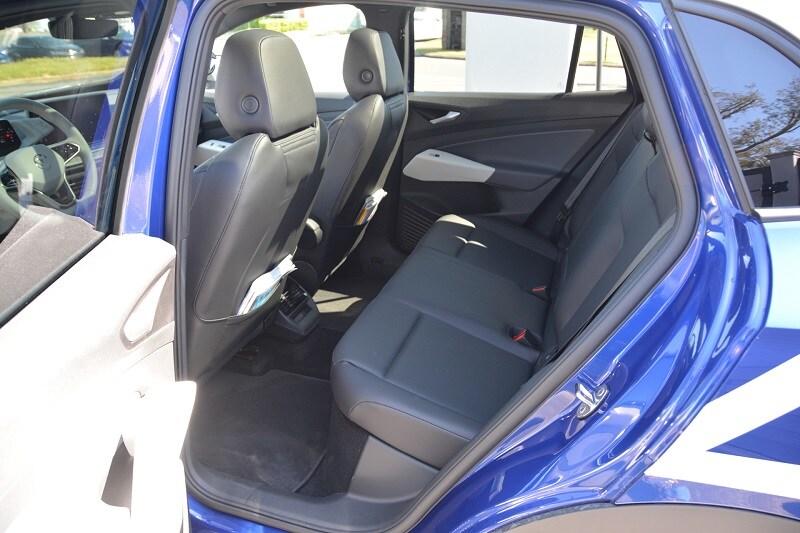 For now, all versions of the 2021 Volkswagen ID.4 feature an 82 kWh battery pack and a rear-mounted electric motor. With this setup, the ID.4 produces 201 horsepower and 229 lb-ft of torque, and the Pro S and 1st Edition models carry an EPA-rated driving range of 250 miles as well as official fuel economy estimates of 104 MPGe in the city and 89 MPGe on the highway. And to show this electric SUV has real-world functionality, the rear-drive models feature a 2,200-pound towing capacity. An all-wheel drive package will be available by the end of the year for an extra $3,680, and this option will increase the ID.4's power output and towing capacity.
During my quick spin with the ID.4, I was able to experience both city and interstate driving, and as expected from an EV, the handling capabilities and off-the-line acceleration were extremely enjoyable. Whether you are a diehard EV fanatic who demands one-pedal driving or you're more of a traditional SUV buyer looking for something more efficient, the 2021 Volkswagen ID.4 can appeal to both parties. The weirdest part about the ID.4 is how you get it started - just sit down, press the brake pedal and it's ready to go; sure there's a push-button starter on the side of the steering column, but that's more for cases where the vehicle needs to get started from the passenger side.
One interesting part of the ID.4's chassis is the fact that it comes with drum brakes in the rear. Krause points out that some people have complained that such a brake setup feels cheap and dated, but he said that rotors are extremely prone to warping with regenerative braking, and this design reduces overall maintenance costs with drums that are designed to last the life of the vehicle! When it comes to charging, the ID.4 received almost a 60 percent charge (from near empty) during the 20 minutes it took for Krause to give me an initial walk around of the vehicle.
Shop Volkswagen ID.4 Inventory
---
2021 Volkswagen ID.4 Safety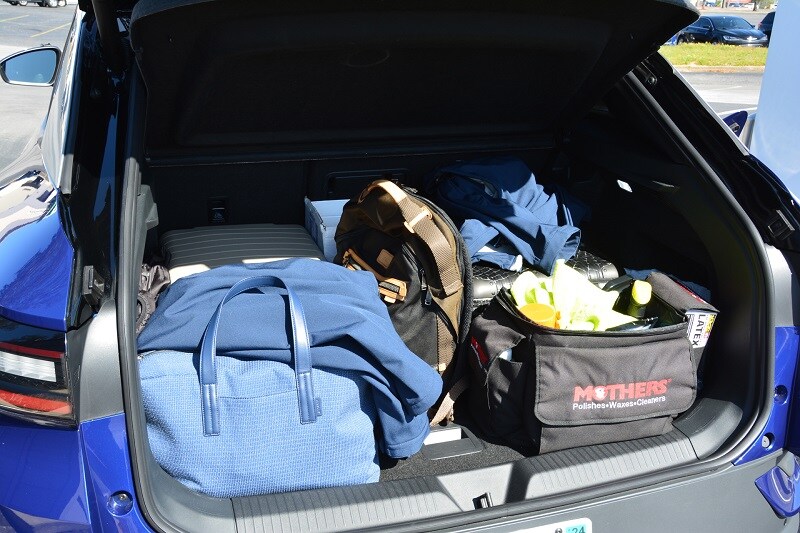 The recently introduced 2021 Volkswagen ID.4 has not been tested by the National Highway Traffic Safety Administration, but this electric SUV packs plenty of safety into a small package.
The ID.4 comes with all the safety technology we've come to expect from a modern vehicle such as adaptive cruise control, forward collision warning, and lane keeping assist. But the best safety tech found in this electric SUV is VW's Travel Assist system. This Level 2 partially autonomous driving technology does an excellent job of keeping the vehicle perfectly centered in the lane (even around sweeping interstate turns).
Shop Volkswagen ID.4 Inventory
---
2021 Volkswagen ID.4 Overall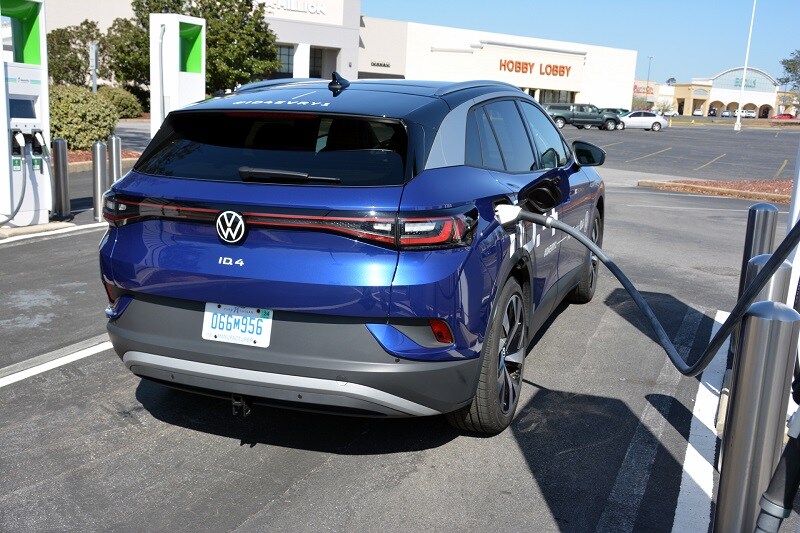 VW may have been fashionably late to the three-row SUV market with the mid-size Atlas, but it is definitely ahead of the game with the all-new 2021 Volkswagen ID.4. This electric SUV is definitely an EV for the masses, and seems to address all of the main concerns that EV buyers have.
In addition to the EPA-rated driving range of 250 miles**, all versions of the ID.4 come standard with three years of free nationwide charging through Electrify America, which has more than 550 charging stations across the U.S. When it comes to price, the ID.4 starts at $39,995**, and that price doesn't include any available state, federal or local tax credits that some buyers will qualify for. This tester was the ID.4 1st Edition that starts at $43,995*, but this limited-edition model sold out quickly after the ordering books opened.
Shop Volkswagen ID.4 Inventory
---
Jeffrey N. Ross| Mar 25, 2021