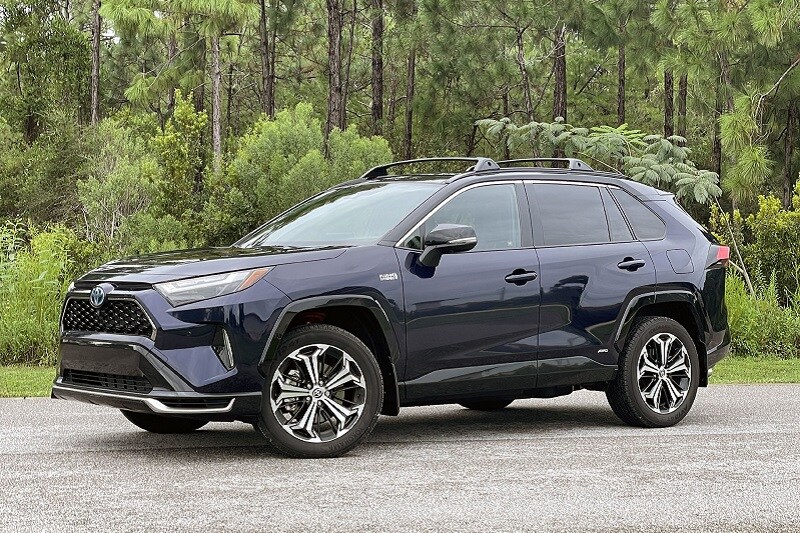 What does the Toyota RAV4 Prime have in common with the Ford Bronco and Chevrolet Corvette? Well, it's almost as impossible to find Toyota's plug-in hybrid on dealership lots as it is one of the aforementioned enthusiast vehicles. 
One reason for this lack of supply is the extreme demand among buyers looking for an ultra-efficient family vehicle. But another factor was that Toyota only offered this PHEV in states that have adopted zero emission vehicle (ZEV) regulations, which include California, Colorado, Connecticut, Maine, Maryland, Massachusetts, Minnesota, Nevada, New Jersey, New Mexico, New York, Oregon, Rhode Island, Vermont, Virginia, and Washington.  
While the 2022 RAV4 Prime carries over unchanged for 2022, Toyota has expanded the sales reach of this plug-in SUV, though sales remain prioritized in ZEV states.  
---
2022 Toyota RAV4 Prime Exterior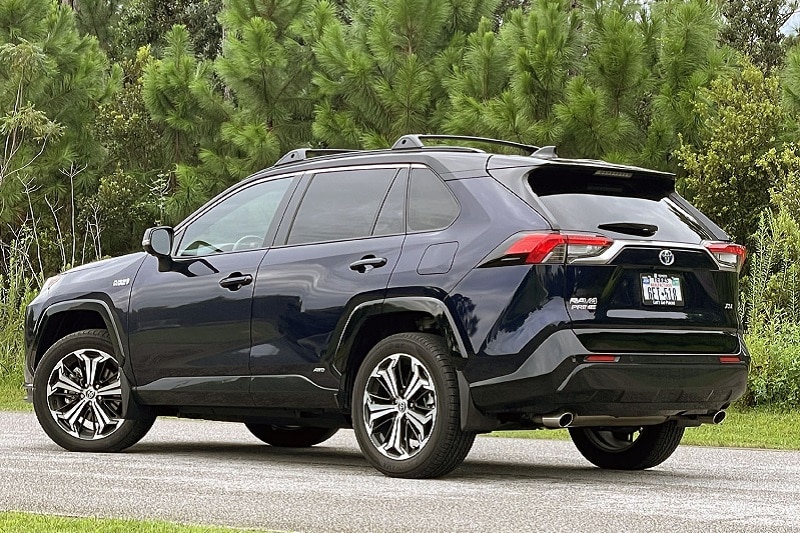 The 2022 Toyota RAV4 Prime is offered solely in the sportier SE and XSE trim levels, which makes it one of the sportiest-looking plug-in hybrids on the market. Toyota limited the styling differences between this ultra-fuel-efficient model and the rest of the RAV4 lineup, which means there's no special grille treatment or aero-sculpted wheels that you find on other plug-in hybrids. There's even dual exhaust at the rear. 
The vertical LED running lights were exclusive to the RAV4 Prime XSE, but for 2022, these lights have been added to the non-plug-in RAV4 Hybrid XSE. And speaking of the XSE, opting for this trim level on the RAV4 Prime adds a stylish two-tone paint job (this tester shows a Midnight Black Metallic roof over a dark blue "Blueprint" body) and five-spoke 19-inch alloy wheels. 
---
2022 Toyota RAV4 Prime Interior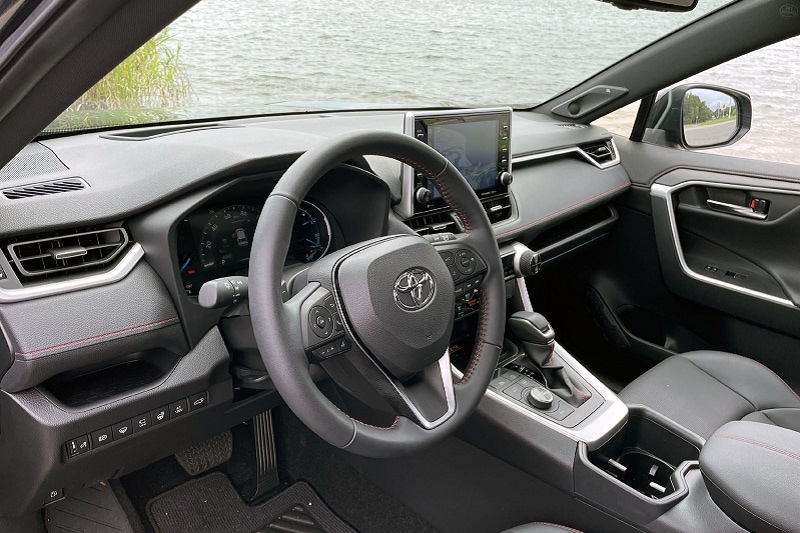 The inside of the 2022 Toyota RAV4 Prime is identical to the RAV4 Hybrid, which when decked out in the XSE trim level, is a very stylish and tech-filled cabin. Opting for the $3,350 XSE Premium Package adds a 10-inch head-up display unit, panoramic sunroof, heated and cooled front seats, heated outboard rear seats, foot-activated power liftgate and a digital rearview mirror. The $1,620 Premium Audio package upgrades the sound system with 11 JBL speakers and a nine-inch touchscreen display. All XSE trim levels get Toyota's leather-like Softex material on the seats, and the Premium Package adds a little more style with a two-tone pattern which features red accents and contrasting stitching. 
Unlike some other hybrids and plug-in hybrids, the Toyota RAV4 Prime doesn't lose any passenger space with the added battery capacity. The front seats have excellent support and are ultra comfortable, and there's enough space to fit three adults in the rear bench. The RAV4 Prime does give up a little cargo space compared to the standard RAV4 and RAV4 Hybrid, but the 33.4 cubic feet behind the rear seats and 63.1 cubic feet with the rear row folded flat is still a respectable amount for a compact crossover. 
---
2022 Toyota RAV4 Prime Powertrain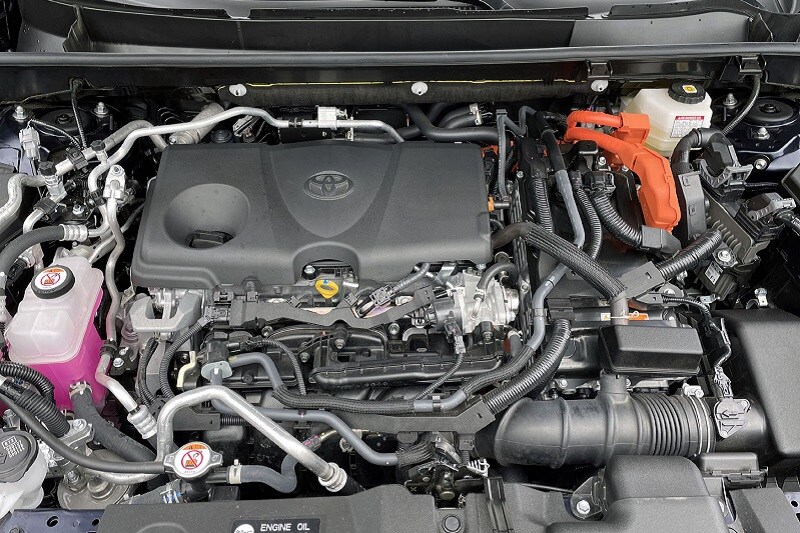 Toyota touts the RAV4 Prime as the "most powerful and quickest RAV4 ever," and these claims are backed up with a 302-horsepower output and a zero-to-60 time of just 5.8 seconds. Of course, the real reason buyers would want a plug-in hybrid is for its efficiency and electric-only driving capability, and the 2022 Toyota RAV4 Prime delivers there, too.  
Under the hood, there's a 2.5-liter four-cylinder paired to a continuously variable transmission, which is fortified by a pair of electric motors and an 18.1-kWh lithium-ion battery. That gives the RAV4 Prime an all-electric range of 42 miles, and EPA estimates of 94 MPGe in combined city/highway driving. Once the battery has been depleted, that drops to 38 mpg combined. Using my JuiceBox 40 Level 2 home charging station, I charged the RAV4 Prime's lithium-ion battery pack in just 2.5 hours using the optional 6.6 kW onboard charger. With a standard 110-volt plug will take closer to 12 hours.  
Other than the thrill of instant torque right off the line, there really aren't any ride or handling differences between the RAV4 Prime and the other RAV4 models. Even though it weighs about 700 pounds more than a comparable RAV4 AWD, the ride is still impressively smooth and responsive. One cool thing about this plug-in system is that there's a button that allows the battery to hold its charge, which is ideal if you're going to be driving on the interstate and want to save the EV power for city driving. 
hen it comes to the capability that people expect from a compact CUV, the RAV4 Prime comes standard with Electric On-Demand All-Wheel Drive, and it has up to 8.3 inches of ground clearance. 
---
2022 Toyota RAV4 Prime Safety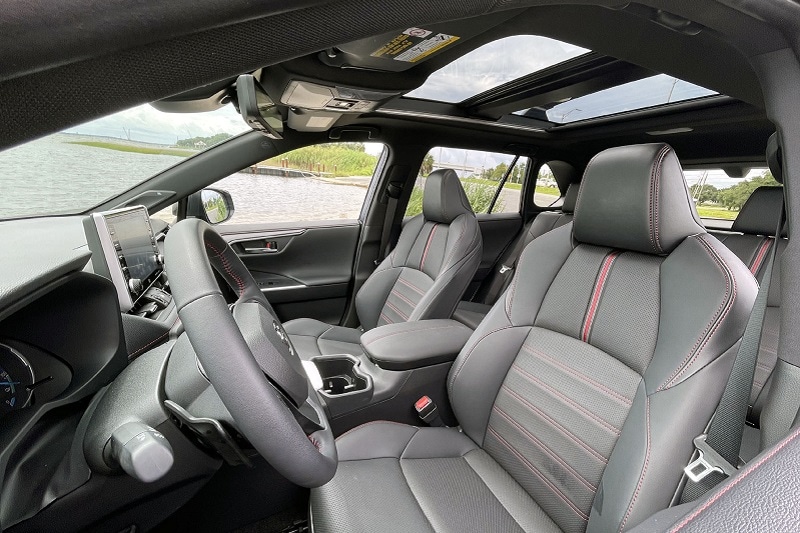 The 2022 Toyota RAV4 Prime has not been tested by the National Highway Traffic Safety Administration. But both the standard RAV4 and RAV4 Hybrid have earned 5-Star crash ratings.  
The RAV4 Prime comes standard with eight airbags as well as the Toyota Safety Sense and Star Safety System suite of safety features, and this tester added the XSE Premium Package, which includes a 360-degree camera, rear cross-traffic braking, front and rear park assist, adaptive front headlight system and automatic high beams.
---
2022 Toyota RAV4 Prime Overall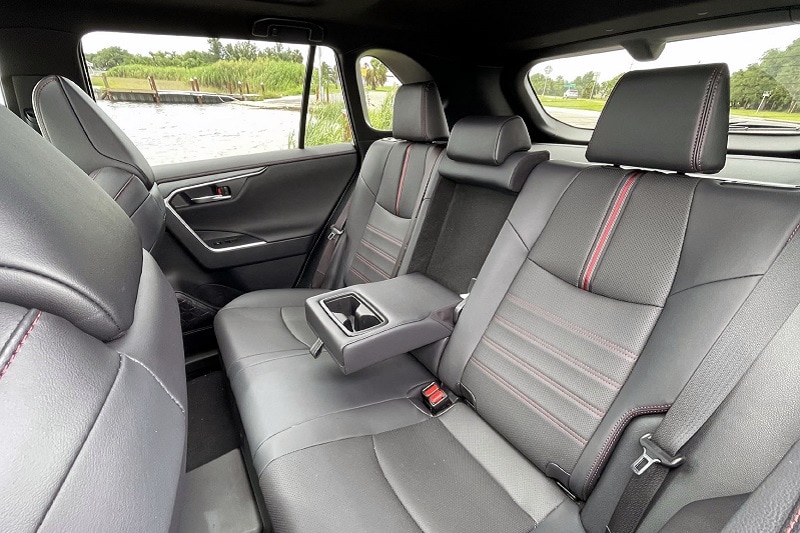 For drivers with short commutes, the 2022 Toyota RAV4 Prime can act as an EV, but if longer drives are needed, this efficient compact SUV delivers a driving range of 600 miles. That makes it a great choice for buyers looking to wean off gasoline without having to go fully electric.   
That said, there's still a price premium when it comes to advanced PHEVs. In comparison to the $32,230 starting price of the comparably equipped Hybrid SE, the RAV4 Prime has a starting MSRP of $40,300 for the SE trim level. Factor in the XSE trim level, and the various option packages, and this RAV4 Prime carried an as-tested price of $50,731.  
---
Jeffrey N. Ross
| Nov 2, 2022