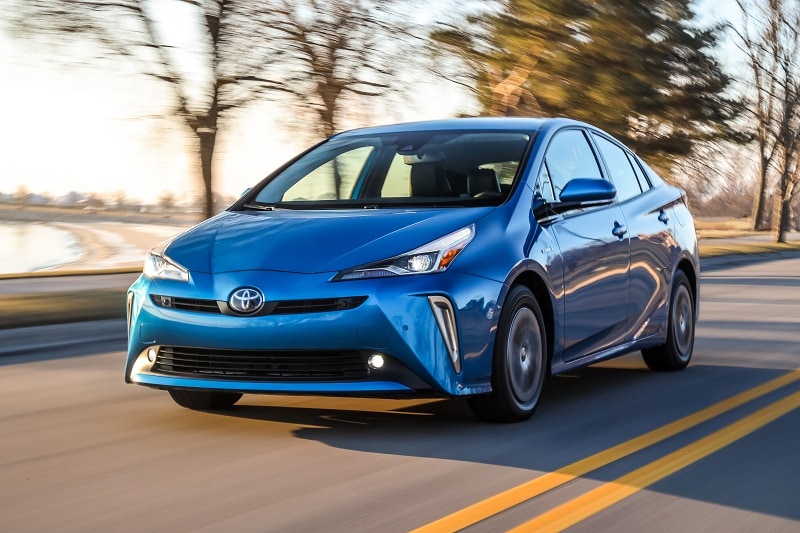 My first car was a Toyota. My parents had driven Toyotas of one kind or another ever since I was a little kid, so when it was time for me to start driving myself from my small town of Manchaca to San Marcos, Texas to attend classes at Texas State University, it came as no surprise that my first set of wheels was a Cressida.
I couldn't help but think of my college days when I sat down to write this review of another Toyota, the 2020 Prius XLE AWD-e. There are two extreme ends of the college student spectrum. On one, there's the kind that goes buck wild because they're finally away from their parents and starts partying on Wednesday nights…and failing classes. On the other end of the spectrum, there's the college student who's so afraid of disappointing themselves and their parents that they live with their nose in a textbook and never experience any of the fun and crazy nights that take place just outside of their study cave. In between, there are students who manage to balance their course load with the college lifestyle.
In terms of the automotive industry, that sweet spot is where Toyota seems to be. It's been having fun and letting all of us join the party. For 2020, it expanded its high-performance SUV lineup with the addition of the first-ever Sequoia TRD Pro and RAV4 TRD Off-Road models. After a decades-long absence, the Supra finally returned to the lineup. And now there are sporty TRD versions of the Camry and Avalon sedans.
Toyota hasn't lost track of its core subjects, though. It's made improvements to the Prius hybrid, one of its signature models. In 2019, Toyota restructured the trim level range, refreshed the Prius's exterior styling and introduced a new model with electrically assisted all-wheel drive, aka AWD-e. The 2020 model year brings even more updates, particularly to the Prius's infotainment and safety systems.
Shop Toyota Prius XLE AWD-e Inventory
---
2020 Toyota Prius XLE AWD-e Exterior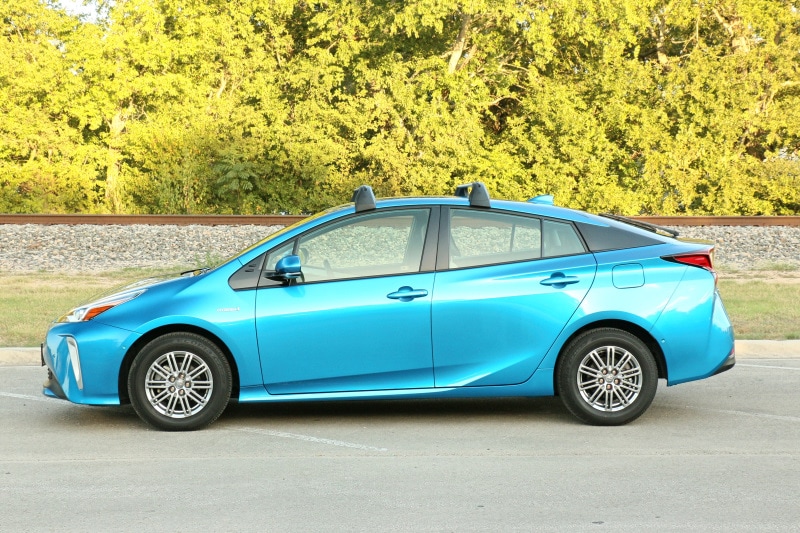 The Prius is a common sight down here in Austin. Even though I pass at least one most times I'm out and about, that familiarity doesn't dull the visual impact the new Prius makes when I see one up close.
No other cars look like it because those were all manufactured this year or before, not in the distant future in which the Prius seems to have been made. With its alien war blade-like automatic bi-LED headlights and LED daytime running lamps, slash-aperture LED accents, taillights shaped like chunky rayguns and see-through rear hatch panel, the Prius will look timeless in the year 3051, especially in the Electric Storm Blue paint that my tester wore.
The Prius's all-wheel drive system increases its capabilities in bad weather (and reduces the XLE trim level's wheels from 17 to 15 inches in diameter), making it more adventurous than before. Toyota clearly leaned into that image when it configured my test car. It added a pair of removable cross bars to the roof - perfect for taking a kayak to the lake and getting around 50 mpg along the way.
Shop Toyota Prius XLE AWD-e Inventory
---
2020 Toyota Prius XLE AWD-e Interior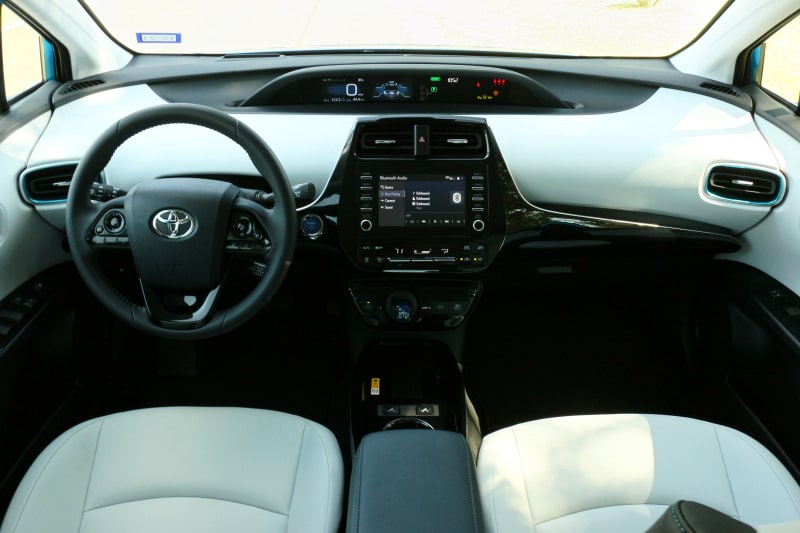 The Prius's cabin was just as unusual as the sci-fi shell around it. The majority of it, including its SofTex seats, was covered in a color Toyota calls Moonstone. The translucent blue shift knob seemed to be a repurposed die from a casino game on Venus. There was only blank space behind the steering wheel; the main gauges that would normally be there in most other cars were under a long hood in the middle of the upper part of the dashboard.
The touchscreen below those was where Toyota made one of the most significant upgrades to the Prius. L Eco, LE and XLE models now come with a 7-inch display; the infotainment in all trim levels is compatible with Apple CarPlay and Amazon Alexa.
The optional Advanced Technology Package added adaptive front lighting and one final screen to my test vehicle…sort of. It actually used the windshield for a head-up display that showed readouts for my speed and the status of the Prius's hybrid drive system.
Shop Toyota Prius XLE AWD-e Inventory
---
2020 Toyota Prius XLE AWD-e Performance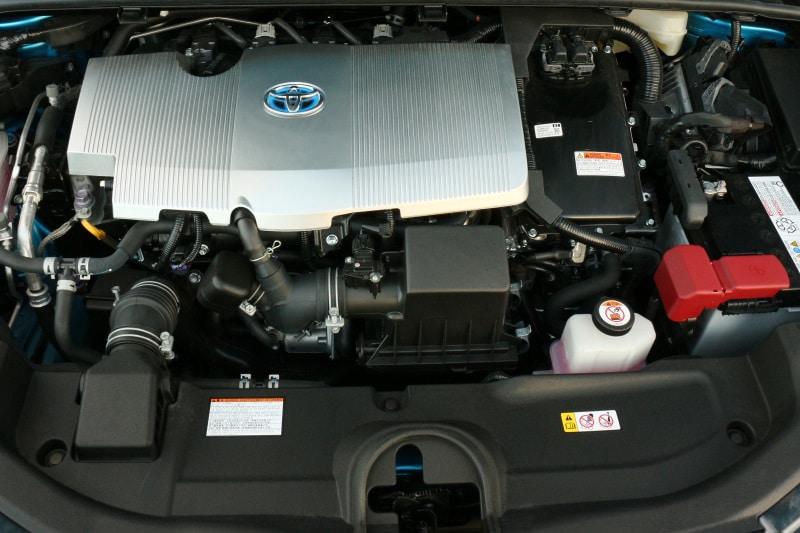 The internal combustion part of that setup is a 1.8-liter four-cylinder engine that produces 96 horsepower. That joins forces with three major electric elements to produce a net total of 121 horsepower and 105 lb-ft of torque. An electric motor that generates 71 horsepower and 120 lb-ft of torque drives the front wheels, recovers energy from the Prius's regenerative braking function and feeds it back to the nickel-metal hydride battery pack, which Toyota chose for its ability to perform well in cold weather.
The AWD-e system uses a separate electric motor with seven horsepower and 40 lb-ft of torque to turn the rear wheels. The back axle comes online to get the Prius rolling from a stop and up to 6 mph. If additional traction is needed, it can operate at speeds up to 43 mph. Otherwise, the front wheels do all of the work, which helps maximize the Prius's fuel economy. According to the EPA, that's 52 mpg in the city, 48 mpg on the highway and 50 mpg combined. My press loaner's onboard computer reported that I averaged 44.3 mpg after racking up 324.3 miles.
Shop Toyota Prius XLE AWD-e Inventory
---
2020 Toyota Prius XLE AWD-e Safety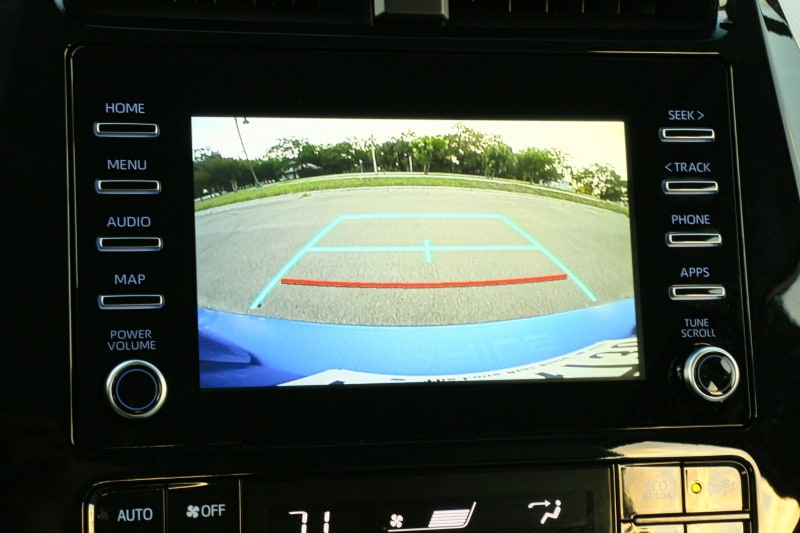 Two major packages make up the bulk of the Prius's safety equipment. The Star Safety System covers the basics, such as stability and traction control and anti-lock brakes, as well as braking-focused features.
Toyota Safety Sense P has more advanced tech in it, including a Pre-Collision System with Pedestrian Detection, Full-Speed Dynamic Radar Cruise Control and Lane Departure Alert with Steering Assist. Blind Spot Monitor with Rear Cross Traffic Alert and Intelligent Clearance Sonar with Intelligent Park Assist are standalone features that make the Prius's 5-star overall safety rating from the National Highway Traffic Safety Administration shine even brighter.
For 2020, the Prius Limited's Safety Connect tech filters down into all other Prius trim levels as standard gear. The package includes Emergency Assistance, Stolen Vehicle Locator, Roadside Assistance and Automatic Collision Notification services on a complimentary three-year trial subscription.
Shop Toyota Prius XLE AWD-e Inventory
---
2020 Toyota Prius XLE AWD-e Overall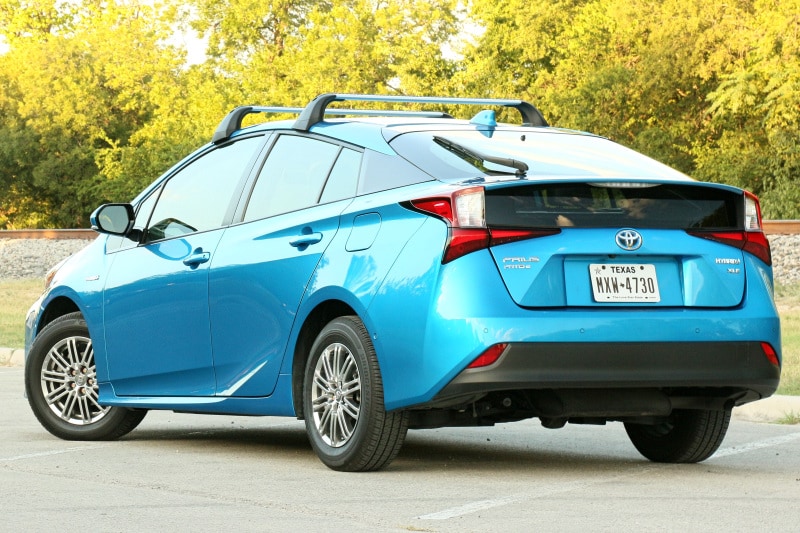 The Prius is just as distinctive as ever, but better equipped than before. To experience the 2020 Prius XLE AWD-e's blend of unique design and all-wheel-drive efficiency, head to your local AutoNation Toyota dealership. Pricing starts at $29,375 and goes up to $32,890 for a car configured just like the one you see here.
Shop Toyota Prius XLE AWD-e Inventory
---
Derek Shiekhi | Sep 30, 2020