John Coyle | Jan 14, 2021
---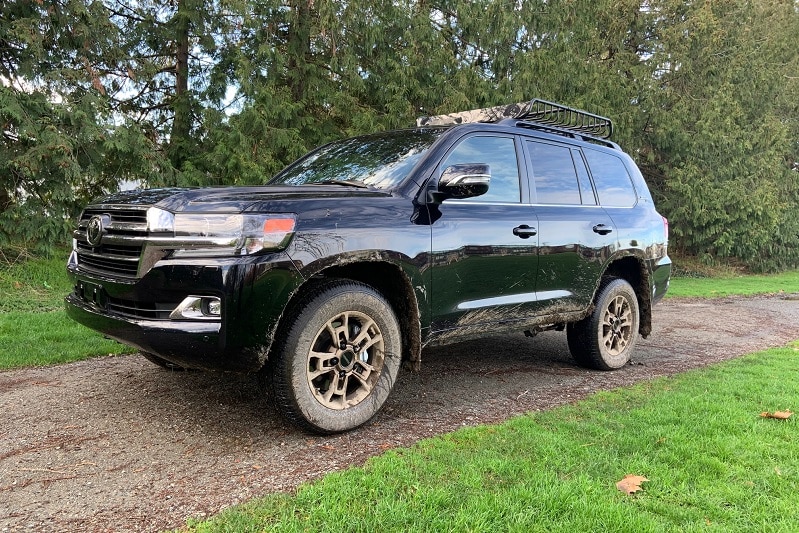 Virtuoso crime novelist Elmore Leonard had a famous piece of advice for writers: "Never open a book with weather." But since this is a car review, not a book, I'm going to say it was raining, and had been raining heavily for days, when I first got behind the wheel of Toyota's venerable Land Cruiser.
That was actually fine by me. Because while I had no intention of tackling terrain that would even approach this legendary vehicle's limitations, I will say deliberately steering into massive puddles, and watching the plumes of water wash over the windshield was immensely entertaining. For the record? That's not something I would generally do with a press vehicle. But the Land Cruiser practically begs you to do it, and shrugs off such antics like a rhinoceros might a mosquito bite.
Now, it's important to note that when I called the Land Cruiser a legendary vehicle, it was no hyperbole. With a lineage which dates to 1951, this is the oldest Toyota model still in production, and its extreme off-road capabilities, sunrise-like reliability, and near-infinite adaptability have made it a favorite of drivers in some of the most unforgiving environments on earth. And for what it's worth? The country club set loves them too.  
---
2021 Toyota Land Cruiser Heritage Edition Exterior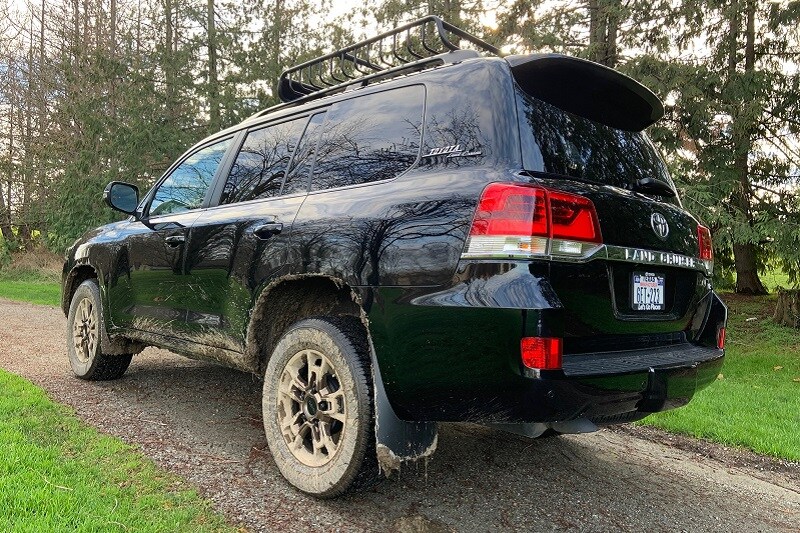 Buyers can get a Land Cruiser in any color they'd like, so long as it's black, white, silver, or gray. It's not the widest palate in the industry, to be sure, but the restrained hues seem to communicate that this beast means business.
My tester was finished in Midnight Black Metallic, which looked great against the Heritage Edition's standard gold wheels. Styling-wise, things are fairly restrained, and it's safe to say there's been no attempt to give a smooth, futuristic look as we've seen from some other offerings in the segment. Up front, there's a prominent Toyota badge in the grille, and at the bottom of the fascia, some comparatively small fog lights.
The most aggressive elements of the exterior are the chucky double flares of the hood, though there are some other touches, like the crease in front fenders, which give the sheet metal some edge.Along with providing handy storage, the standard Yakima rack mounted to the roof rails adds some overlanding flare, and gets points for both looking cool and being functional.
My favorite aspect of the exterior might be the fat D-pillar, which features a Toyota Land Cruiser logo in a retro script, which speaks to the model's long and storied history.      
Shop Toyota Land Cruiser Inventory
---
2021 Toyota Land Cruiser Heritage Edition Interior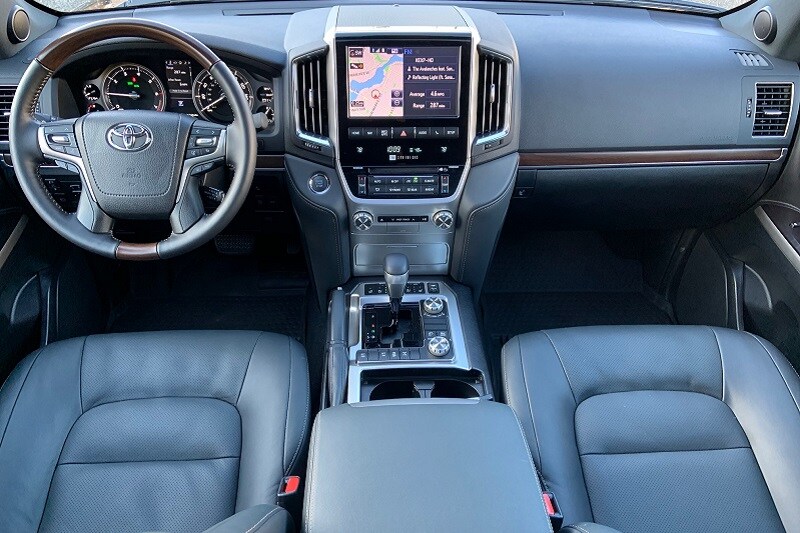 Even for larger adults like yours truly, getting into the Land Cruiser requires a significant step up. That translates to a commanding driving position, and great visibility in traffic, and makes the supple leather driver's seat feel like a throne.
It's no secret that the Land Cruiser is getting a little long in the tooth, but that also means there's virtually no learning curve to operating any of the functions. Creature comforts like the climate control, heated and cooled seats, along with radio tuning and volume, all get physical buttons, dials, or switches. The nine-inch touchscreen is reserved for accessing features like the satellite radio and navigation, and it's worth noting that Toyota's Entune system is easier to use than the interface found in Lexus models.
Unfortunately, there's no Apple CarPLay or Android Auto compatibility, but the intuitive nature of the infotainment essentially makes that a nonissue. At the bottom of the center stack, there's a wireless charging pad tucked in behind a little door, and the wide center console means there's loads of storage. There's loads of room in the cabin, and even larger adults will be comfortable in the back seats. My tester didn't have the optional third row seats, but as typical in the class, they're reported to be tight.
While the camera system is great, and provides the drone-like overhead view I've come to love in any vehicle, regardless of size, parking the Land Cruiser was far easier than I expected. Looking over the hood, you get a great view of the double flares in the sheetmetal, but more importantly, the square nature of the body makes it easy to see where this beast begins and ends, even without the 21st century tech helping you out.    
Shop Toyota Land Cruiser Inventory
---
2021 Toyota Land Cruiser Heritage Edition Powertrain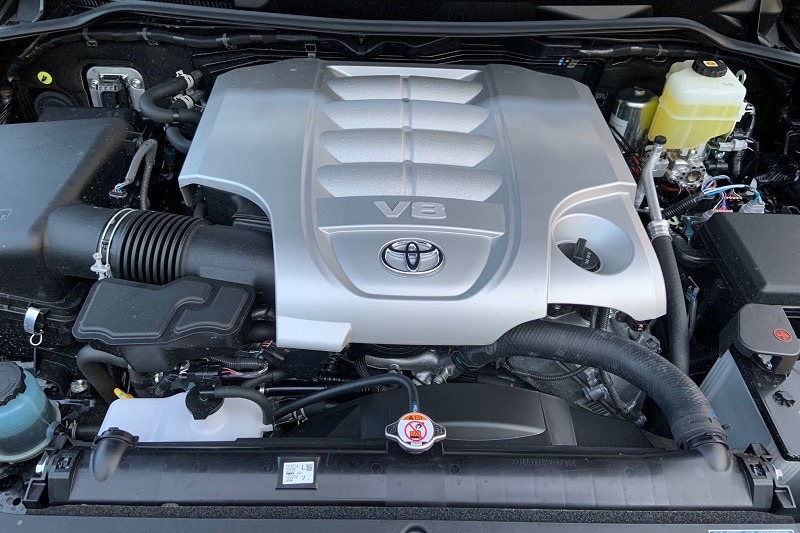 Under the hood, the Land Cruiser packs a 5.7-liter V8 good for 381 horsepower and 401 lb-ft of torque. It's mated to an eight-speed automatic transmission, which sends power to all four corners at all times, and it's the sole powertrain option. Towing capacity is a respectable 8,100 pounds.
Given that this beast tips the scales at nearly three tons, that might not seem like a lot of poke, but it's safe to say that this machine hardly feels underpowered. Bury your foot in the carpet, and the naturally aspirated eight-pot emits a satisfying growl, which reminds you of the rig's burly body-on-frame architecture and rugged underpinnings.
To aid in any off-road endeavours, there's a locking center differential, two-speed transfer case, and a low-speed crawl control feature, along with Toyota's Kinetic Dynamic Suspension System. This hydraulic suspension setup automatically adjusts to minimize body roll while you're cornering on pavement, but to aid wheel articulation while navigating tricky terrain, it can also disconnect the front and rear sway bars. Truth be told, none of that kit is groundbreaking stuff, and illustrates the "if it ain't broke, don't fix it" approach to development" which has characterized the Land Cruiser's history. But it's good enough that in at least one independent torture test, the Land Cruiser bested the Jeep Wrangler Rubicon, a vehicle that's virtually synonymous will go-anywhere capability. So if you're wondering whether the Land Cruiser will be able to handle your winter commute? Don't. Because unless you're planning to run the Dakar Rally, it's difficult to imagine a scenario where this machine wouldn't prove up to the task. 
Another way that the Land Cruiser communicates its athletic off-road ability is that the steering is significantly heavier than folks accustomed to modern soft-roaders crossovers might expect. It's not an uncomfortable feeling at all, rather, it contributes to the carved-from-granite feel of the Land Cruiser exhibits when you're driving it.Off-road readiness aside, for such a large vehicle, it proved far more adept at navigating tight urban side streets and parking lots than I anticipated it'd be, thanks in part to somewhat squared-off front end, and great camera system.  
Shop Toyota Land Cruiser Inventory
---
2021 Toyota Land Cruiser Heritage Edition Safety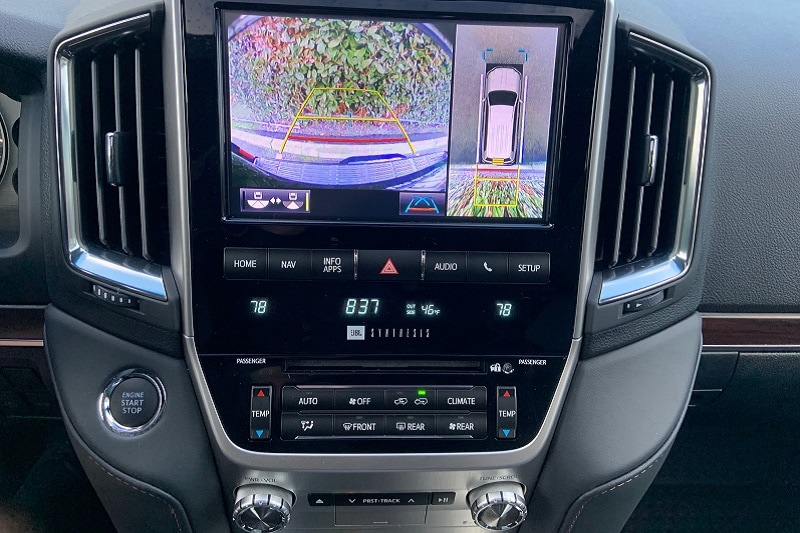 As of this writing, the latest Land Cruiser hasn't been tested by the National Highway Traffic Safety Administration. That said, subjective as it may be, the perception from the cabin is that you'd have to wind up inside an industrial car crusher to sustain an injury in this vehicle. Seriously, it feels like a tank. 
But perceived invincibility aside, Toyota has equipped the Land Cruiser with a solid suite of standard safety features, including Forward Collision Warning, Automatic Emergency Braking, Blind Spot Monitoring, and Rear Cross Traffic Alert. To assist with parking, there's also a Surround-view Camera System, along with front and rear parking sensors. Automatic High-beams and Adaptive Cruise Control are also on the menu.  
Shop Toyota Land Cruiser Inventory
---
2021 Toyota Land Cruiser Heritage Edition Overall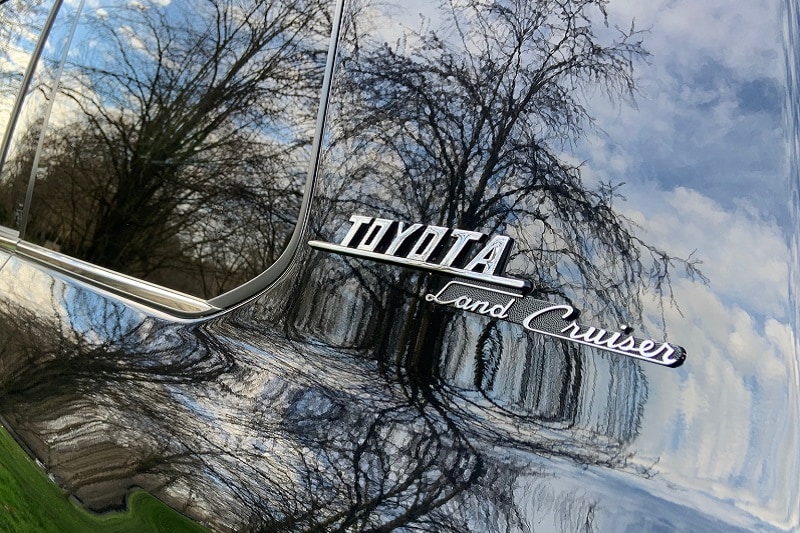 At this point, the future of the Toyota Land Cruiser in the United States is unclear. The current model has been largely unchanged for over a decade, and while its fans are a fiercely loyal bunch, they're also a relatively small set.
Another factor working against the Land Cruiser's continued presence on our shores is its less-than-ideal fuel economy. Because given how efficient the vast majority of Toyota's lineup is, a vehicle which is EPA-combined rating of 14 miles-per-gallon sticks out like a sore thumb. For folks keeping score at home? Even for a large, body-on-frame SUV, that's not great. The Land Cruiser also starts at a whopping $86,000, and while there might be limited ways to inflate that price with options, it's still a pretty penny.
That said, there's a reason why people love the Land Cruiser, and while the latest edition might have a backup camera, Bluetooth, heated seats, and other bells and whistles, when you drive one, you can't help but feel like you're driving a piece of history. Because all the little things which make it seem less modern also give it a reassuring, rock-solid feel, which provides peace of mind, regardless of what the weather might be doing.
In the interest of full disclosure, I'm a sports car fan, and was honestly surprised by how much I loved this thing. So if it does actually leave the domestic market? I'll be a little sad. If you've ever wanted a brand-new Land Cruiser, get one while you still can.