Derek Shiekhi | Jan 22, 2021
---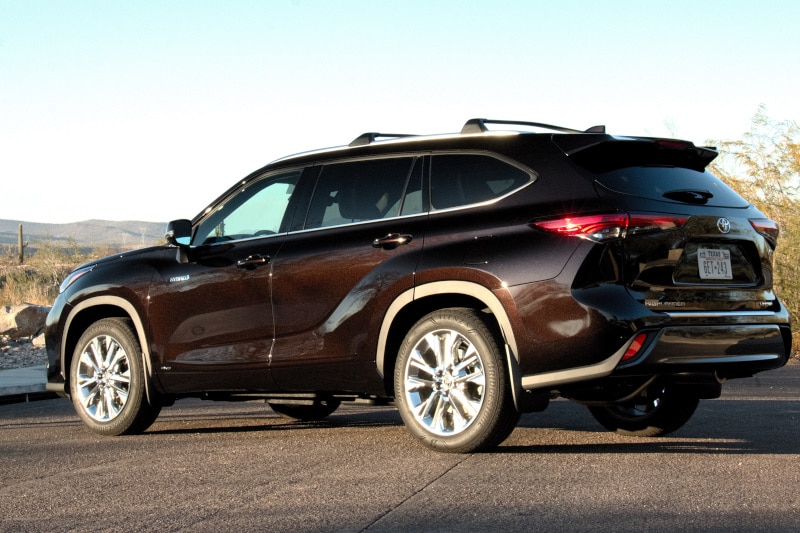 Toyota introduced an all-new version of its Highlander SUV for the 2020 model year. It totally reworked its popular people mover, from its new platform to its distinctive front end and curvaceous exterior to its tech-laden interior.
Now, just one year into its fourth generation, the 2021 Highlander gets even more new content. A sporty XSE model joins the lineup and features more aggressive exterior styling, special 20-inch wheels, unique and retuned suspension hardware, recalibrated steering and an available red and black leather interior. L, LE and XLE versions of the Highlander benefit from projector-style headlamps. The 2021 Highlander Hybrid LE and XLE variants receive minor cosmetic and functional tweaks of their own in the form of new LED headlights. All Highlanders across the board now come standard with the protection of Toyota Safety Sense 2.5 (TSS 2.5+).
Base prices for both the Highlander and Highlander Hybrid are up by $210 as a result of those enhancements. The gas-only model starts at $34,810; the Hybrid has an entry-level price of $38,410. I recently spent more than a week in an all-wheel-drive 2021 Highlander Hybrid Limited that had an as-tested price of $50,557.
---
2021 Toyota Highlander Hybrid Limited AWD Exterior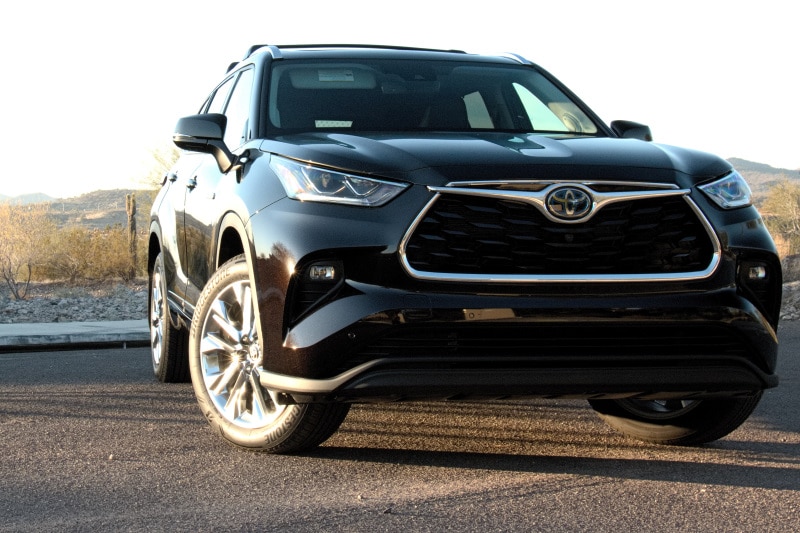 As a midsizer, the Highlander Hybrid has a lot of competition, but it manages to stand out from its rivals. I give most of the credit to its unmistakable front end. It reminded me of how certain creatures in the animal kingdom try to make themselves appear larger to ward off predators.
The twin bulges on the Highlander's hood imply that it's concealing something far more potent than a fuel-saving hybrid power plant. Everything below that was seemingly designed to make the Highlander look wider than it is on paper. The headlights are pushed out near the edges of the front fenders. Chrome spears flanking the blue-ringed Toyota badge come to soft points past the frame of the grille, which broadens toward the bottom. A thick beam of body work starts at one end of the front fascia, arches over the horizontal slats at the bottom and terminates at the opposite end.
In a way, my test vehicle had its own sort of camouflage. At first sight, with a gray sky and clouds overhead, it looked black to me. Then the sunlight poked through and lit up the 20-inch chrome wheels and ignited the metallic flake in the Opulent Amber paint. That little surprise only made me want to look at the Highlander Hybrid even more, especially from certain angles. I particularly liked the rear three-quarter view, as it gave me an eyeful of the flared rear hips, dramatically contoured fenders and attractive wraparound taillights.
Shop Toyota Highlander Inventory
---
2021 Toyota Highlander Hybrid Limited AWD Interior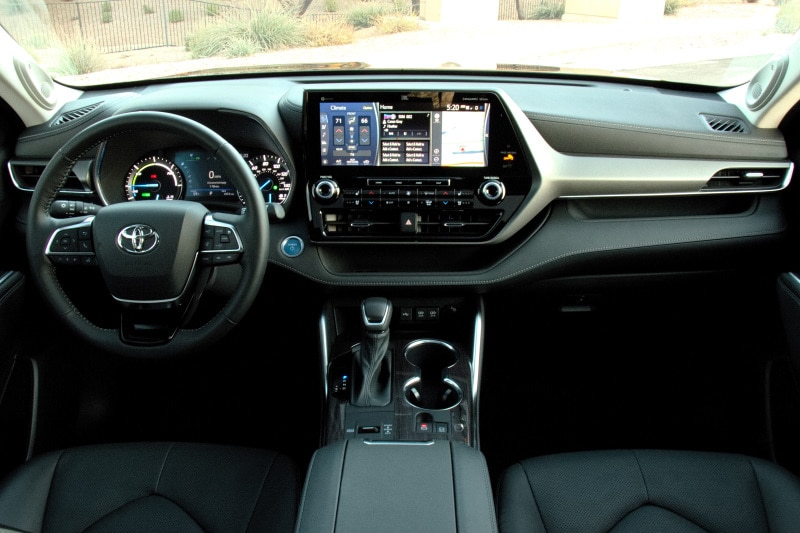 The more I drove my press loaner, the more I understood why Toyota sells so many Highlanders. I only put 362 miles on the odometer, but I wouldn't have hesitated to triple that in a short amount of time because I was so comfortable. On cold mornings, I fired up the heated steering wheel and front seats. When the cool burned off later in the day, I switched on the seat ventilators. Ride quality was gentle without being overly cushioned and uncomposed. Legroom in front of the manual tilt-and-slide second row bench seat was more than enough for all 5'10" of me. If I was a few inches shorter or the world's only ten-year-old automotive writer, the third row would've been a pleasant place to be, too. I tried every configuration of second- and third-row positioning and couldn't manage to find nearly enough legroom or headroom in the very back.
Toyota paired those (mostly) right-sized accommodations with well-placed conveniences and tech features. Large knobs under the massive 12.3-inch touchscreen allowed me to adjust the volume of the 1,200-watt, 11-speaker JBL audio system and tune to my favorite stations. Setting the right temperature and fan speed was easy, thanks to the wide buttons for the HVAC system. Unfortunately, I could only change the fan split (something I do often) by touching a small touchscreen button in the climate control menu. A variety of ports under a handy storage area in the middle of the dashboard gave me several hardwired ways to charge my iPhone. The most convenient one was in the center console, which contained a wireless charging pad.
If I wanted to change from the Normal drive mode into the Eco or Sport setting, I didn't have to take my eyes off of the road to locate and flip the corresponding switch. Before I started any trip in the Highlander, I pushed the brake hold button so that I wouldn't have to keep my foot on the brake pedal at the stop lights I would eventually encounter.
Shop Toyota Highlander Inventory
---
2021 Toyota Highlander Hybrid Limited AWD Powertrain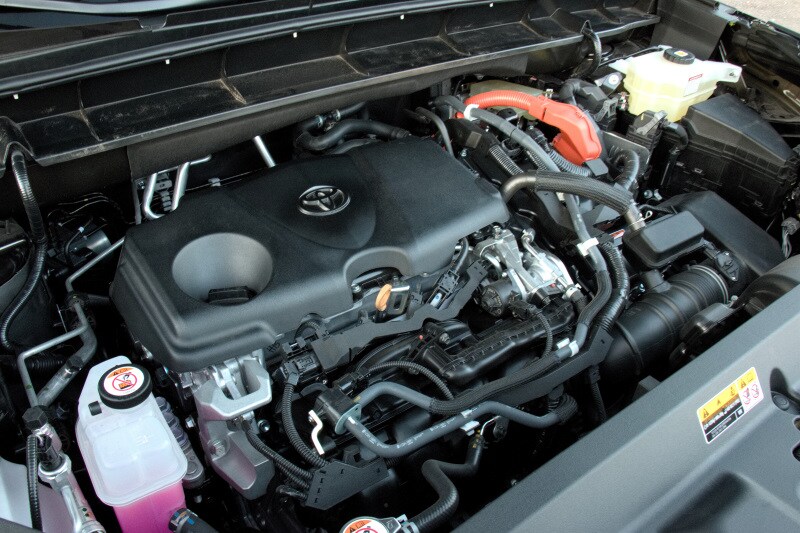 The internal combustion half of the Highlander Hybrid is a naturally aspirated 2.5-liter four-cylinder engine that generates 186 horsepower and 175 lb-ft of torque. The electric half consists of two electric motors and a Nickel Metal Hydride battery pack under the rear seats. Altogether, those components give the Highlander Hybrid a total of 243 net horsepower, which it channels through a continuously variable transmission (CVT).
On all-wheel-drive models, instead of using a driveshaft to transfer power to the rear, Toyota opts for a separate electric motor to turn the back wheels. A button-activated Trail mode enhances the AWD system's effectiveness on unpaved surfaces.The Highlander Hybrid's EPA fuel economy ratings are almost the same across the board: 35 city, 34 highway and 35 combined mpg. I made liberal use of Sport mode and still managed to average 33.5 mpg.
Shop Toyota Highlander Inventory
---
2021 Toyota Highlander Hybrid Limited AWD Safety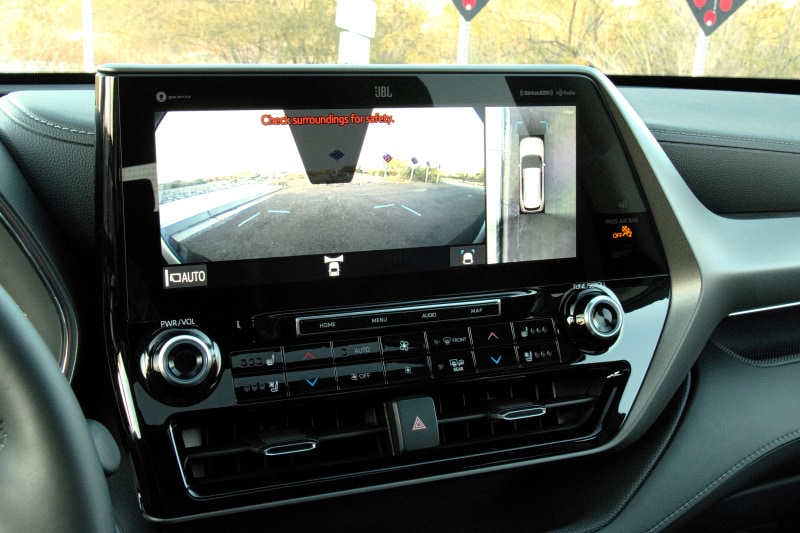 Toyota Safety Sense 2.5 contains the bulk of the Highlander's safety features, including Pre-Collision System with Pedestrian Detection, Full-Speed Dynamic Radar Cruise Control, Lane Departure Alert with Steering Assist and more. The Star Safety System's most notable contributions are stability and traction control and Brake Assist. Blind-Spot Monitor with Rear Cross-Traffic Alert and Front and Rear Parking Assist with Automatic Braking round out the standard safety features.
The addition of the optional 12.3-inch touchscreen brought camera angles that showed me bird's-eye and rotating views of the Highlander and its surroundings and even any curbs the front end may have been close to.
Shop Toyota Highlander Inventory
---
2021 Toyota Highlander Hybrid Limited AWD Overall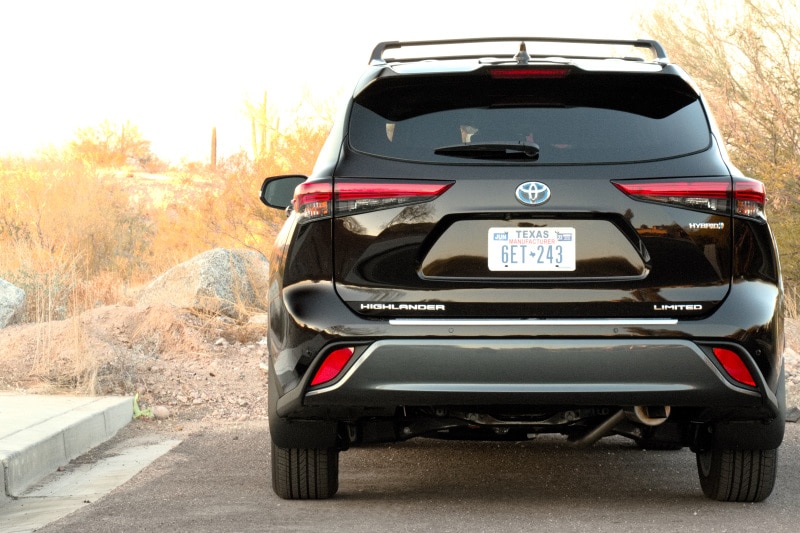 The Highlander Hybrid is just one year into its newest generation. Now, with its 2021 enhancements, it's even better equipped than before. You can test drive the latest and greatest Highlander Hybrid at your local AutoNation Toyota dealership.