Derek Shiekhi | Feb 19, 2021
---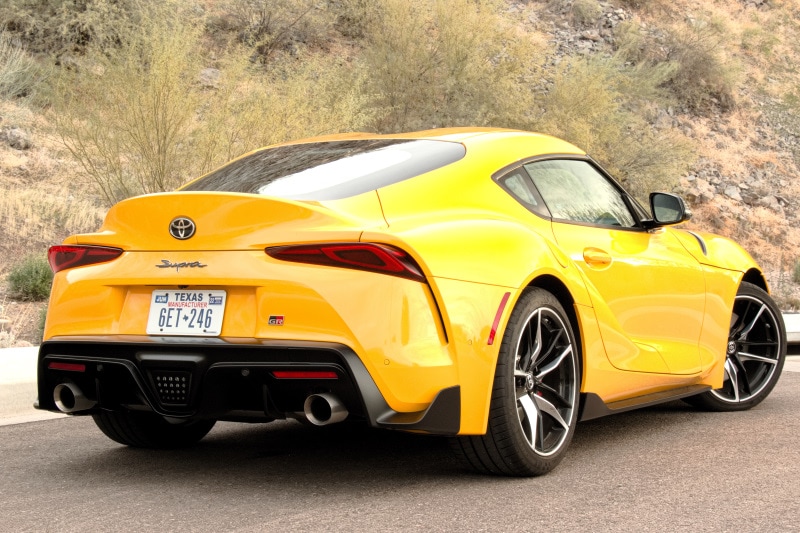 As soon as Toyota released official pictures and specs on the 2020 Supra, there was an uproar - and not the kind you'd expect over a car that U.S. enthusiasts had been feverishly anticipating since 1998.
The car internet was ablaze with anger over the fact that Toyota had partnered with BMW to produce the new Supra. It also worked with its Gazoo Racing team, hence the GR tag, but that escaped the collective cyber wrath. People were furious that the long-awaited successor to the legendary '90s model used a German engine, transmission, chassis and various other parts.
I was well aware of how people felt about the new Supra when it came out. I saw the complaints online. One thing I didn't see was anyone asking if the Supra is any good once the culture shock wears off and you get it out on the road. That's what I wanted to know. I found out behind the wheel of a 2021 Toyota GR Supra 3.0 Premium (MSRP: $54,490, as-tested price: $57,185).
---
2021 Toyota GR Supra 3.0 Premium Exterior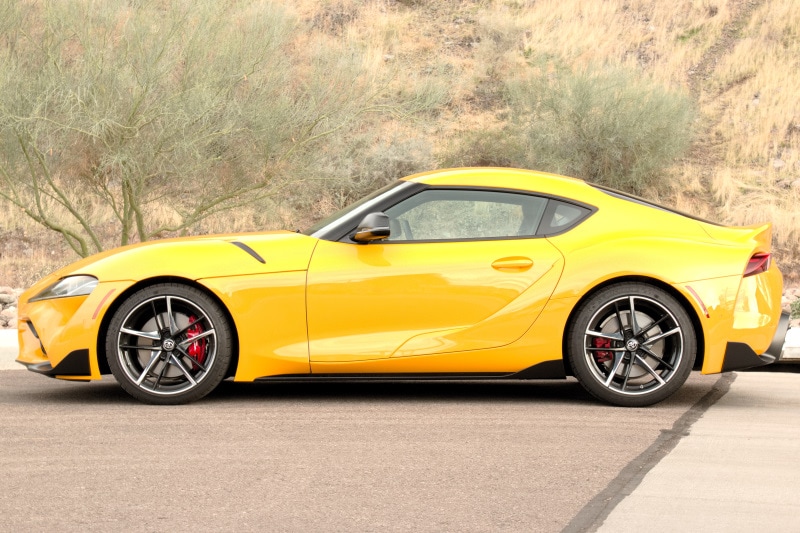 The Supra is a tamer, more subtle take on the Toyota FT-1 concept car's bold styling. It has the same basic shape and proportions, but does away with the front end's center protrusion, massive side scoops and ready-for-a-race-at-all-times rear wing. Despite those changes, the Supra makes a strong visual impact, especially when finished in Nitro Yellow paint like my test car. Every time I looked at the (closed-off) vents on the hood, I thought of the Ferrari F12tdf.
Toyota put a spin on the two-tone look by alternating between black and polished silver for the spokes on the 19-inch forged aluminum wheels. A double-bubble roof capped the greenhouse. The back end didn't need additional aero attached because Toyota's designers sculpted the end of the rear hatch to form a kicked-up spoiler. Out to the sides, dagger-like taillights sloped right into the slashes cut into the rear fenders.
There were a couple of times when I went out to the driveway and spent 30 seconds or so silently enjoying the Supra's curves and swoops. Even when it was being driven away, I got one last look at its shapely rear end and muttered to myself for probably the tenth time just how stunning the new Supra is.
---
2021 Toyota GR Supra 3.0 Premium Interior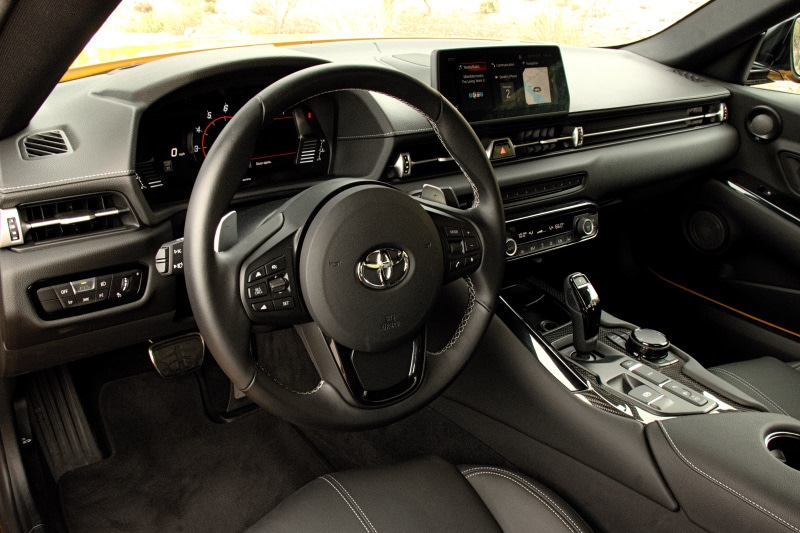 The Supra's fast roofline makes it seem as if you'd need butter and a shoehorn to fit inside the car. You do have to bend your neck the right way and watch your head as you slide into one of the 14-way power-adjustable buckets, but once you get into the cabin, you realize just how much headroom there is. I'm 5'10" and headroom was not an issue for me, but apparently carbs were, meaning the widest position of the adjustable side bolsters was a bit too snug.
All of the BMW parts were easy to spot, such as the lighting controls, shift paddles, 8.8-inch center display and infotainment switchgear. Fortunately, they were also easy to reach. Everything was right where I needed it to be, whether I needed to adjust my Dynamic Radar Cruise Control following speed or change gears.
The cockpit wasn't a total graft, though. The all-business digital gauge cluster with the tach right in the middle was new to my eyes. The 500-watt, 12-speaker JBL surround sound system? That was all Toyota.
---
2021 Toyota GR Supra 3.0 Premium Performance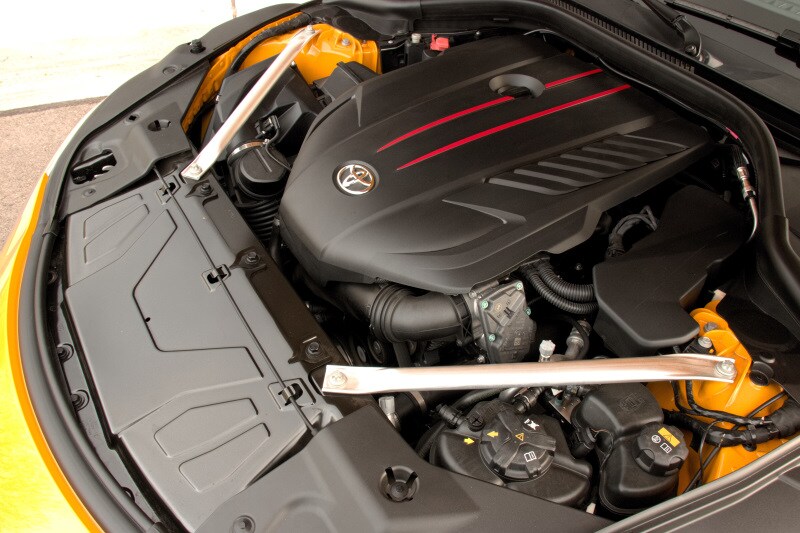 Another issue some people had with the 2020 Supra was the fact that its turbocharged straight-six engine generated 335 horsepower - an increase of only 15 compared to the 2JZ-GTE in the '90s Supra. Toyota addressed that with the 2021 model and added a new entry-level model to the range.
Both are equipped with an eight-speed automatic transmission. The new base Supra has a turbocharged 2.0-liter I4 that generates 255 horsepower and 295 lb-ft of torque. Its more potent sibling comes with a 3.0-liter straight-six huffing twin-scroll turbo boost. Output is up significantly to 382 horsepower and 368 lb-ft of torque. Those are the official figures. Unofficially, I say a dyno pull and some backwards math would show how "conservative" those numbers are. Even when the Supra was in its normal drive mode, it rewarded my right foot's demand for throttle with shocking potency and frenzied acceleration. Sport mode got me to the fireworks in even less time. No matter how fast I was already going, the Supra was ready to pull hard to an even higher speed.
The Supra was just as impressive when the road ahead started to curve. I found a series of sweepers outside of Phoenix and fired the Supra through them. The substantial weight dialed into its power electric steering came across as more organic than a few keystrokes from an engineer. I started one right-hand curve at an enthusiastic speed and finished it by shoving my right foot deep. I was thrilled; the Supra was unfazed. Its Adaptive Variable Sport suspension kept it absolutely level, as if I was just making a right turn at a red light.
It would be easy to say that the Supra felt like a BMW with Toyota badges on it. I wouldn't be telling the truth if I did, though. I had driven a car that felt just as taut, just as torqued to the exactly right levels, just as perfectly buttoned down before. It was a Toyota. Somehow, Toyota found a way to make a larger, heavier and more powerful car feel like the 86.
---
2021 Toyota GR Supra 3.0 Premium Safety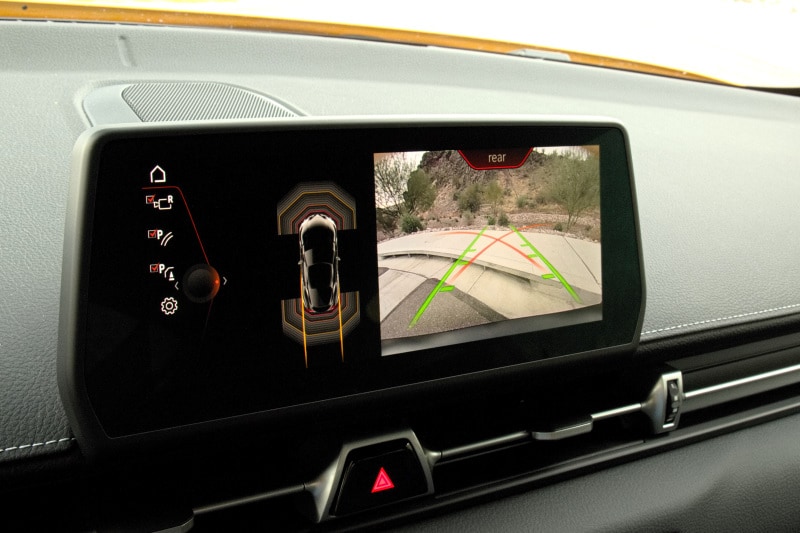 My time on Arizona roads has taught me that speed limits are more suggestions than generally followed rules. That knowledge made me especially glad the Supra 3.0 Premium comes standard with the Pre-Collision System with Pedestrian Detection and Lane Departure Warning with Steering Assist. My press loaner protected me even more with the optional Driver Assist Package, which added the Dynamic Radar Cruise Control I mentioned earlier, Blind Spot Monitor, Rear Cross Traffic Alert and more.
---
2021 Toyota GR Supra 3.0 Premium Overall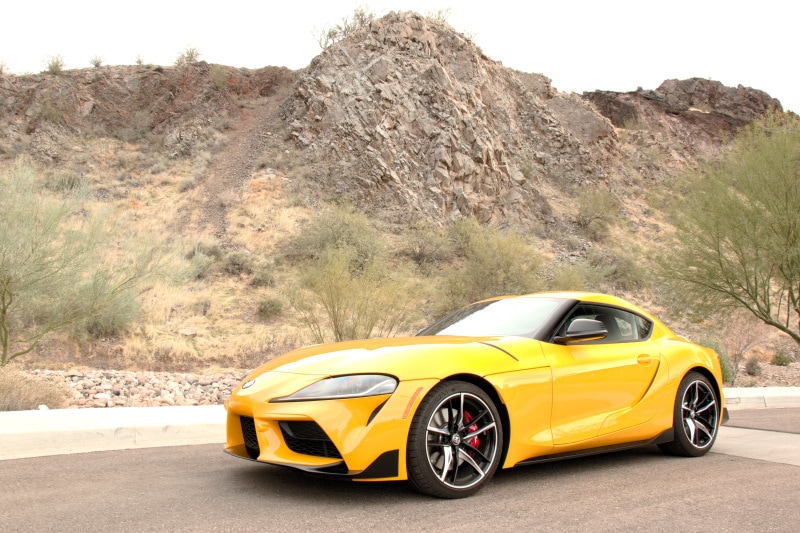 You know the fifth-generation Supra is the product of a Toyota/BMW joint collaboration. You've known it ever since it debuted as a 2020 model. What you may not know is how it looks in person, how forceful its acceleration is or how unflappable it is during spirited driving. But you can. Just go to an AutoNation Toyota dealership and test drive the 2021 Supra.