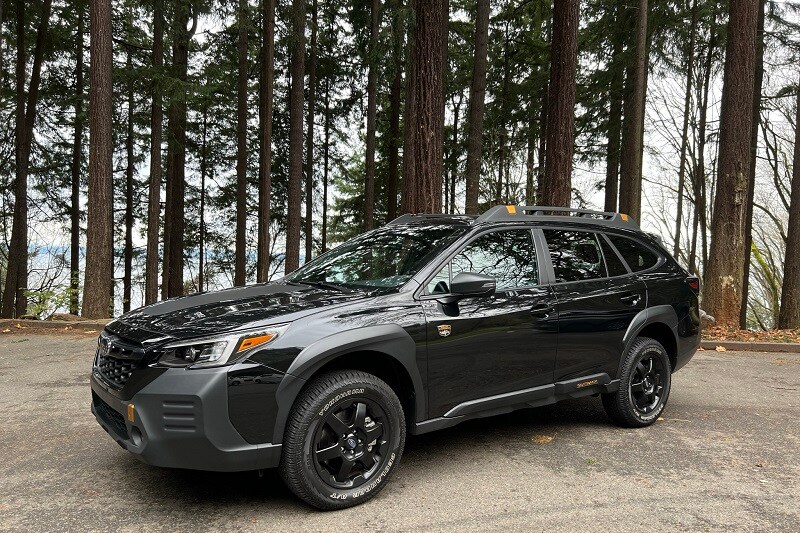 The Outback began life as an option package for the Subaru Legacy wagon, and it's been a staple of Subaru's North American lineup for nearly three decades. While older enthusiasts will likely remember Paul "Crocodile Dundee" Hogan's Australia-themed commercials, rest assured that this go-anywhere wagon has aged far better than Crocodile Dundee III.
For the 2020 model year, the Outback received a full redesign, so not a lot has changed across the board since then. Last year saw the inclusion of a rear-seat reminder and steering responsive headlights as standard equipment, and for 2022, Subaru has added the Wilderness trim. With beefier wheels and tires, a lifted suspension, and some new traction settings, this package ups the Outback's off-street cred, and gives it an aggressive look to boot.
---
2022 Subaru Outback Wilderness Exterior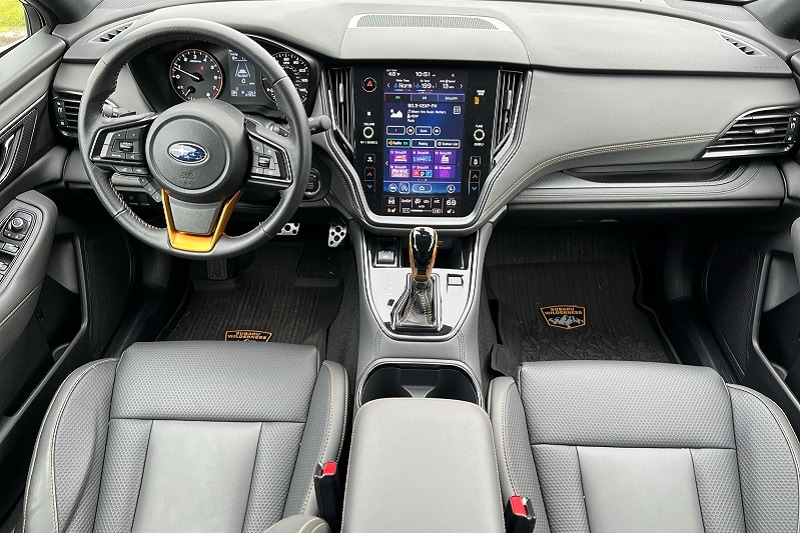 The Outback Wilderness is offered in six colors, including eye-catching finishes like Autumn Green Metallic and the trim-exclusive Geyser Blue. My tester was delivered in Crystal Black Silica, and while I've often argued that we need less silver, white, and black cars on the road, I appreciated the contrast between all the model's upsized matte-plastic cladding and shiny black paint. 
From the outside, there are a few things which differentiate the Wilderness from the standard Outback, the most obvious in the one-inch lift to the suspension. This allows for a whopping 9.5 inches of ground clearance, which is comparable to what you'll find on dedicated SUVs. So while the approach and departure angles (20 degrees and 23.6 degrees, respectively) aren't as steep as they'd be rigs like a Jeep Grand Cherokee or Toyota 4Runner, the Outback is more than ready to handle a rugged logging road. The black six-spoke wheels have a stout, purposeful look to them, and at 17-inches, they're also slightly smaller than the standard Outback's. For better off-road grip, the wheels are wrapped with Yokohama GEOLANDAR all-terrain rubber. 
Other exterior differences between the standard Outback and the Wilderness include a front skid plate, copper accents on the front and rear tow hooks, Wilderness badging on both front fenders, and more copper accents on the thick, ladder-style roof rails. If you're looking to carry lots of gear, the rack is rated for a 700-pounds static load and 220 pounds while underway. Unlike many cars on the road today, the Wilderness also comes with a full-size spare, so if you get a puncture you won't be stuck in the middle of nowhere.
---
2022 Subaru Outback Wilderness Interior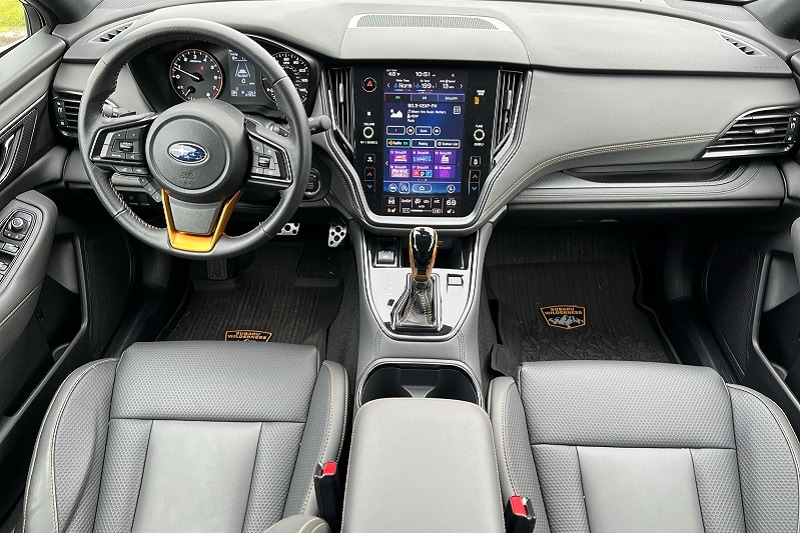 In keeping with the exterior theme, there are copper accents on the steering wheel and gear selector, the head rests feature an embossed Wilderness logo, and there are Wilderness tags on the door panels. In another nod to the aggressive use case Subaru has envisioned for the Wilderness, the floor mats are made of thick rubber, as opposed to carpet, and feature a textured mountain graphic. 
Other than that, this is a standard Outback cabin, meaning it's roomy, comfortable, and finished with high-quality materials. The only interior color offered for the Wilderness is Subaru's gray imitation leather, which looks and feels upscale - particularly with the contrasting cooper stitching on this trim. While there are dials for radio volume and tuning, and buttons for the driver and passenger temperature settings, most functions are controlled by the massive touchscreen in the center console. Overall, I think this OS is easy to use, though it's not quite as quick as other systems I've tested recently. Functions that drivers are likely to use frequently like the button to cancel the auto stop-start, and the heated seats, live at the bottom of the home screen, which is convenient enough.    
Every passenger will have plenty of space inside the Outback, and the cargo area is seriously impressive. With the 60/40 rear seats in place, there's 32.5 cubic feet available, but fold them flat, and that climbs to 75.7 cubic feet. I'm 6'3", and if I packed light, I'd have plenty of room to crash out in the back, so fans of car camping should take note.
---
2022 Subaru Outback Wilderness Performance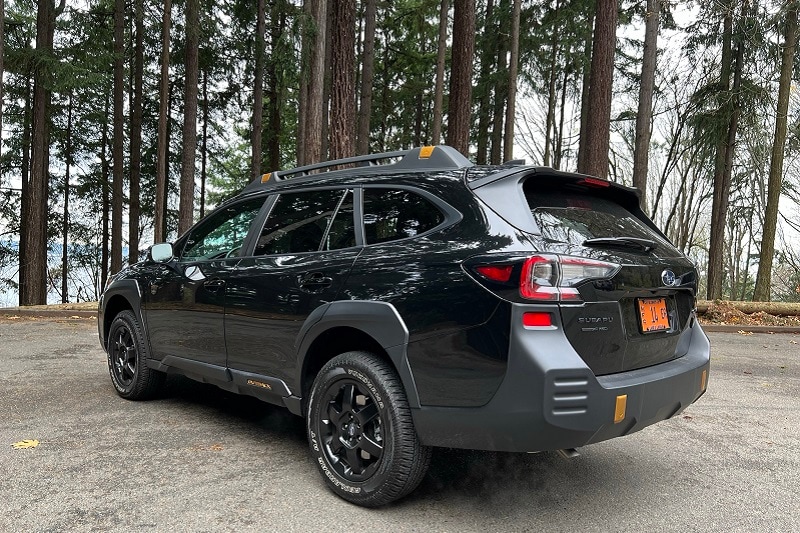 Base model Outbacks come standard with a 2.5-liter flat-four making 185 horsepower and 181 lb-ft of torque. But the Wilderness is only available with a more potent turbocharged 2.4-liter engine, which pumps out 260 horsepower and 277 lb-ft of torque. Power is piped to all four corners via a CVT transmission and Subaru's famous all-wheel drive system.
All told, there's enough poke on tap to make the Outback feel peppy around town, and there's no issue with passing power on the freeway either. Just as I was when I drove the Crosstrek earlier this year, I was surprised by just how well the CVT transmission performed. Importantly, acceleration felt brisk and smooth, without any of the racing and hunting which can characterize less-refined continuously variable units. While this type of transmission isn't something I'd opt for in an enthusiast vehicle, like the WRX or BRZ, in the Outback it did its job perfectly. 
Aside from some slightly numb steering, I was quite pleased with the driving experience of the Outback. It's sure-footed in corners, visibility is great, and overall I thought it felt smaller than its passenger and cargo numbers would reflect. Despite the lift and bigger tires, the cabin was impressively quiet, which contributed to its upscale feel. When properly equipped, the Outback Wilderness can tow up to 3,500 pounds, and is EPA rated at 22 mpg city and 26 highway.
---
2022 Subaru Outback Wilderness Safety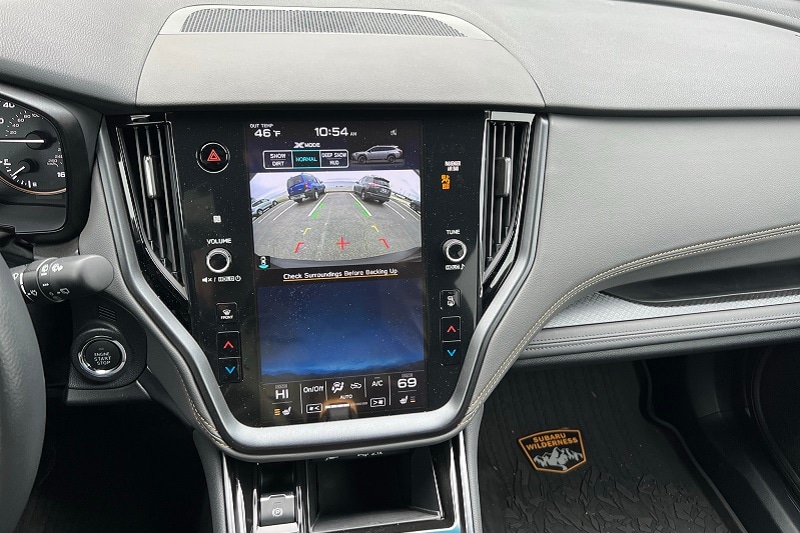 While the Wilderness trim is new for 2022, the Outback's platform is unchanged. So while the National Highway Traffic Safety Administration hasn't released crash data on the 2022 model, the 2021 model tested last year earned a 5-Star Rating.  
Safety rating aside, my tester was equipped with Subaru's EyeSight suite of safety systems. This robust package includes Adaptive Cruise Control, Lane Keep Assist and Sway Warning, Pre-Collision Braking, Pre-Collision Throttle Management, along with Blind Spot Monitoring, Driver Distraction Monitoring, Rear Seat Reminder, and Adaptive Headlights. During my week with the Outback, I found the Lane Keep Assist function to be on the more aggressive end of the spectrum, which took some getting used to. If it proves too intrusive for you, it can be disabled in the vehicle settings.
---
2022 Subaru Outback Wilderness Overall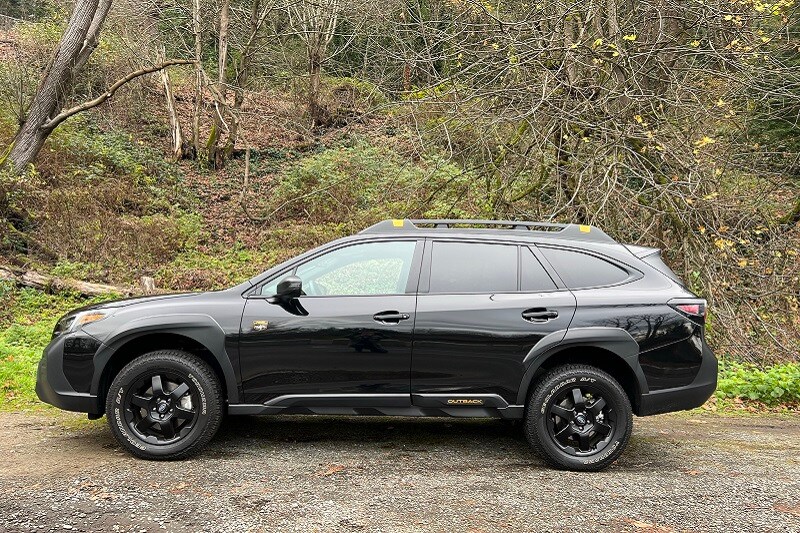 While SUVs and crossovers are the platform of the moment, the Subaru Outback is a rolling, 3,900-pound illustration of just how awesome the wagon platform can be. 
After spending a week with it, I'm convinced that most people who think they need an SUV actually need this vehicle instead. In turbo spec, the Outback is quick, and it's also roomy and comfortable. Plus, while it doesn't provide the high vantage point of an SUV, it features loads of cargo room, an awesome all-wheel drive system, and plenty of great standard tech. Before I'd even turned it in, I was already recommending it to family and friends - and I can't give it a more ringing endorsement than that. 
In base spec, the Outback starts at $26,945. But given that it's packing the more powerful engine, trick suspension bits, and creature comforts like heated front and rear seats, the Wilderness trim starts at $36,995. Add in Subaru's standard destination charge ($1,125), and the as-tested price comes to $38,120.
---
John Coyle
| Nov 23, 2021