Derek Shiekhi | Sep 01, 2020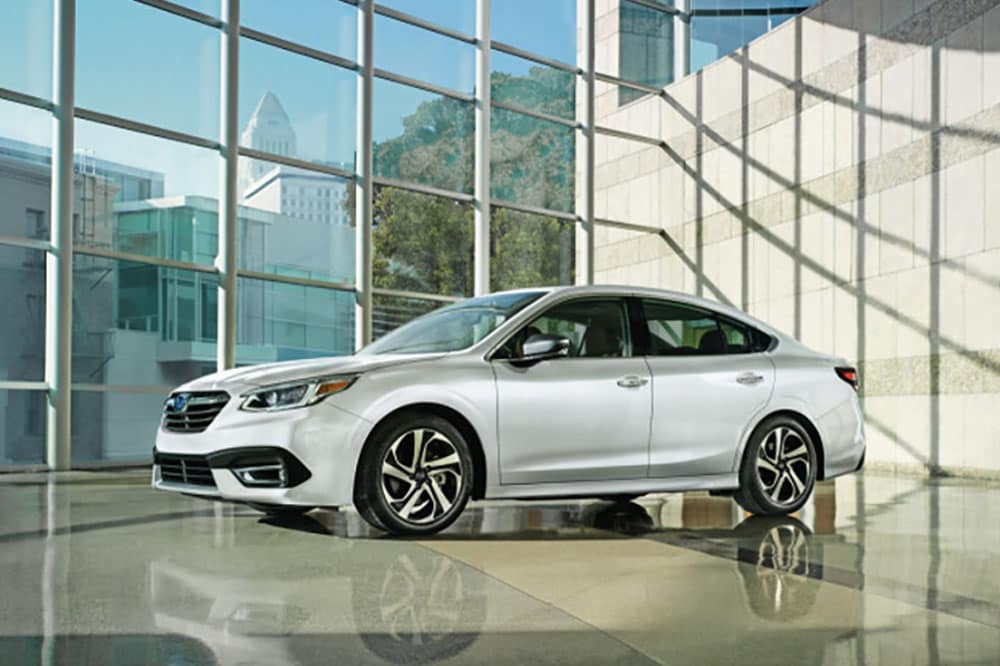 The Subaru Legacy is new from the ground up for 2020. It's based on the Subaru Global Platform, which makes the Legacy's foundation significantly stiffer than that of its predecessor. That, along with the Legacy's stronger suspension and lower center of gravity, give it sharper steering and handling and a smoother and quieter ride, according to Subaru.
Spending a week in a 2020 Legacy Premium reminded me there are some vehicles out there that are perfect for certain situations. If you want to cruise up the Pacific Coast Highway on a sunny day, a droptop, such as the Mustang GT convertible, is the ideal set of wheels. A burly diesel truck, whether it's the Chevrolet Silverado 2500HD or RAM 3500 Heavy Duty, is the right tool to get hard work done. I learned firsthand that the Shop 2020 Subaru Legacy Premium Inventory is the perfect car to drive when you need to unwind.
A few weeks before the Legacy showed up in our driveway, my girlfriend Eli suggested using a gift certificate to a day spa she had received on a couple of deep tissue massages. I immediately got onboard with the idea and she booked them for a Friday afternoon. That just happened to fall during my week with the Legacy.
---
2020 Subaru Legacy Premium Exterior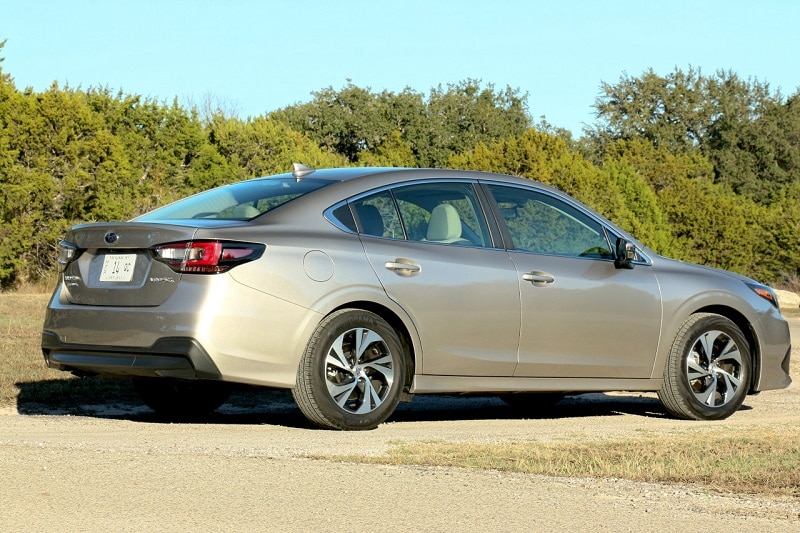 The design team behind the new Legacy gave it a more muscular exterior by widening the front fenders. The higher trunk lid makes the Legacy appear as if it's leaning forward, which suggests that the Legacy is in motion even when it's standing still.
Subaru offers the Premium model in seven colors, including Tungsten Metallic, which covered my test car. It definitely wasn't an attention-getter, but that was perfect for my needs. All Eli and I wanted to do was unplug and not worry about anything. I watched my speed on the winding route out to the lakeside spa; the Legacy's low-key paint job made me feel even less likely to get a stress-inducing ticket.
The weather was gloomy that day, a combination of dull gray skies, ghostly fog and unrelenting drizzle. Given the conditions, I was especially grateful for how Subaru configured my tester. It offers two options packages on the Legacy Premium. The one it added to the car I drove provided the convenience of keyless entry and start and LED fog lights, among other things. I didn't want to stand out to cops, but I certainly liked being easier for drivers without badges to see.
Shop 2020 Subaru Legacy Premium Inventory
---
2020 Subaru Legacy Premium Interior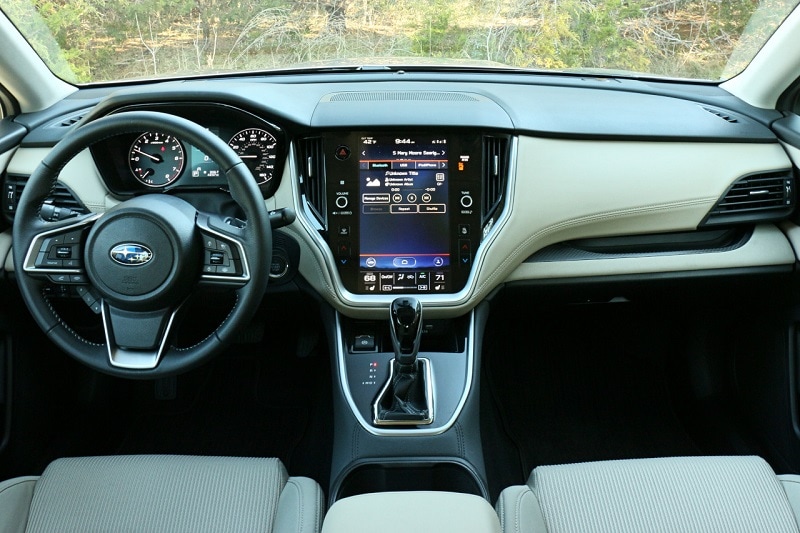 Inside, the 2020 Legacy is roomier, quieter and more technologically advanced than the 2019 model. Front shoulder room, front/rear hip room and rear legroom are all up. Thanks to redesigned exterior mirrors, new weather stripping and thicker, insulated glass, cabin noise at highway speeds is down by almost three decibels. Accessing the Legacy's array of infotainment features, including its first-ever Wi-Fi system, is easier to do on its new 11.6-inch Full HD touchscreen.
My press loaner's ribbed Warm Ivory Cloth seats made it as understated on the inside as it was on the outside. Premium models come standard with an All-Weather Package that includes a windshield wiper de-icer, heated side mirrors and three-stage heated front seats - something that Eli and I appreciated on such a cold and downbeat day.
These days, bigger is better when it comes to center touchscreens. Subaru seems well aware of that. Legacy Premium models come standard with an 11.6-inch display that you can use to access various functions, such as Apple CarPlay, Android Auto, Aha and Pandora. My tester's options package upgraded the unit by adding SiriusXM Traffic and TomTom navigation. I was pleased to see that Subaru made sure to leave plenty of space on the sides of the giant screen for traditional knobs and buttons.
Shop 2020 Subaru Legacy Premium Inventory
---
2020 Subaru Legacy Premium Performance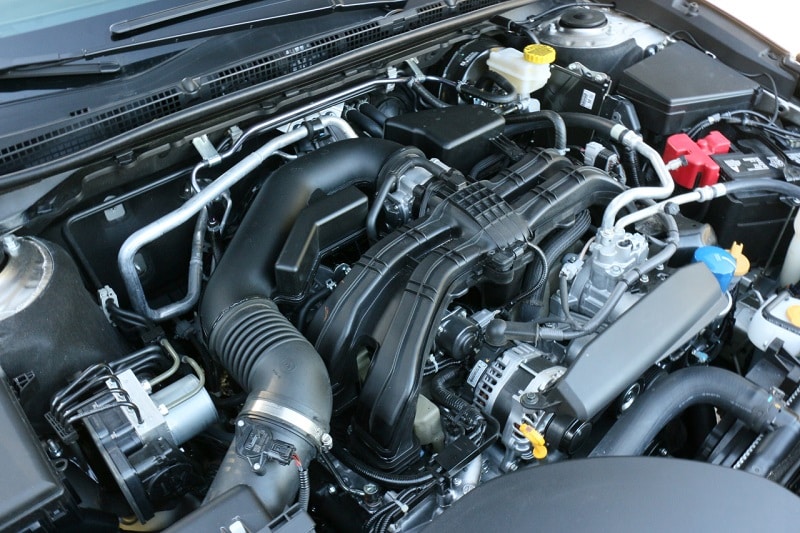 The 2020 Legacy is available in Base, Premium, Sport, Limited, Limited XT and Touring XT trim. Its standard engine, a naturally aspirated 2.5-liter Boxer four-cylinder unit with 182 horsepower and 176 lb-ft, features almost 90-percent-new parts and more power than before. XT models come with a turbocharged 2.4-liter Boxer four-cylinder engine - the first turbo engine for the Legacy since 2012. Output is 260 horsepower and 277 lb-ft. Both engines are connected to Subaru's Lineartronic CVT (Continuously Variable Transmission) and Symmetrical All-Wheel Drive.
The time I spent driving the Legacy Premium before my spa day with Eli showed me that its 2.5-liter boxer (aka flat-four) engine had the right amount of grunt to move the car around it. Fuel economy figures of 27 city, 35 highway and 30 mpg combined meant I didn't have to put any gas in the Legacy. Even if I had to visit a gas station, I could've filled the Legacy's 18.5-gallon tank with 87 octane.
Shop 2020 Subaru Legacy Premium Inventory
---
2020 Subaru Legacy Premium Safety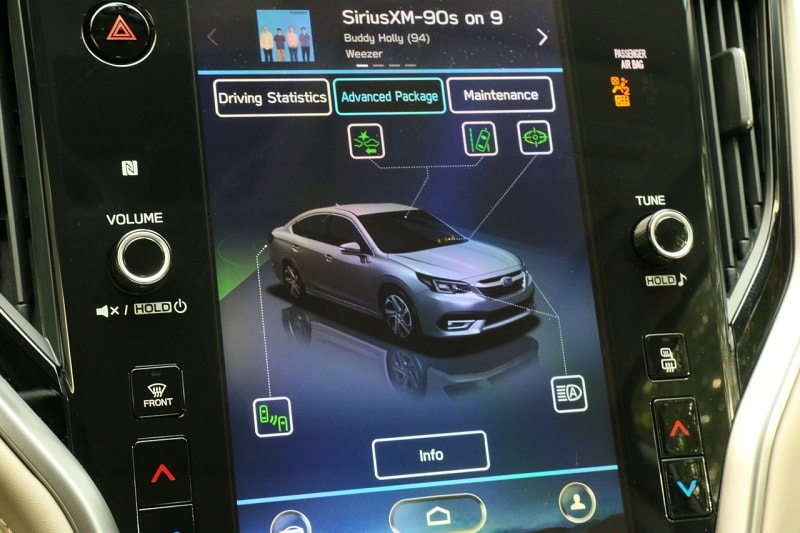 My drive out to the spa with Eli was intentionally calm and leisurely. I was looking forward to getting there, but I didn't want to rush, so acceleration was not a major concern to me. I wanted to be as mellow as possible when I went into the massage room. The Legacy's array of standard and optional safety features helped me get into the right state of mind. I didn't worry about the slick roads as much as I probably would have in another vehicle because I knew the Legacy was routing its power through its Symmetrical All-Wheel Drive system.
Subaru packed adaptive cruise control, pre-collision braking, lane departure and sway warning and lane keep assist into the EyeSight Driver Assist Technology bundle. High beam assist automatically cut off the LED high beams whenever I approached an oncoming vehicle at night so I could spend more time focusing on the road ahead. My media special's optional equipment package gave me the peace of mind of blind spot detection, lane change assist and rear cross-traffic alert.
Shop 2020 Subaru Legacy Premium Inventory
---
2020 Subaru Legacy Premium Overall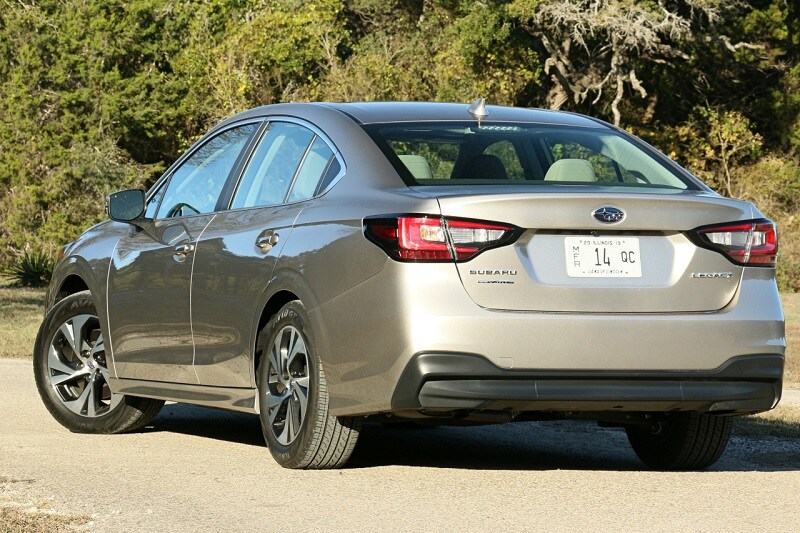 Eli and I could've taken any vehicle to the spa for our day of R&R. We took the right one: the all-new 2020 Subaru Legacy. Prices start at $22,745; a Premium model optioned like the one you see here goes for $28,490. If the Legacy sounds like the right vehicle for you, go to your local AutoNation Subaru dealership to learn more about it and take it for a test drive.