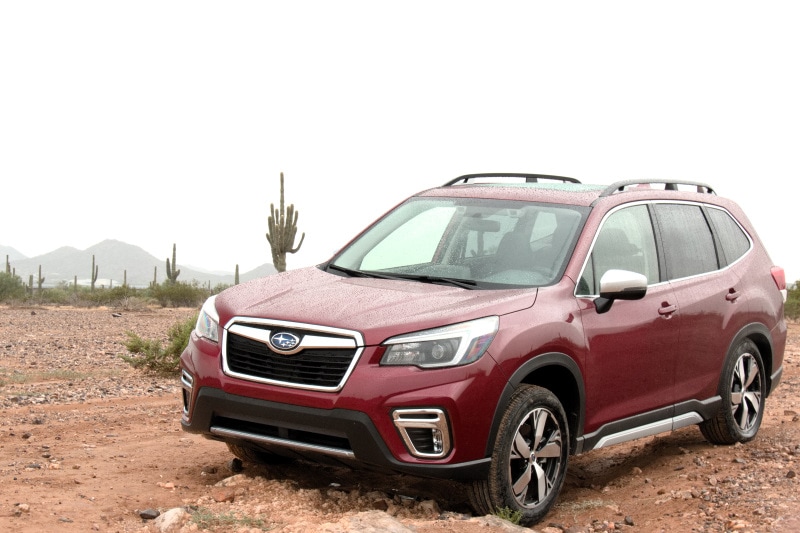 Subaru launched an all-new Forester for the 2019 model year that featured updated styling, a longer wheelbase that increased interior space, and a more powerful Boxer four-cylinder engine. Not long after it came out, I had the privilege of testing out a Sport model. Over the course of my week with it, I developed an appreciation for its impressive amount of features, ample rear legroom, snappy throttle response, and well-tuned suspension. But I wasn't able to take it off-road and use its X-Mode system, which Subaru equipped with two settings designed to help it take on snow and dirt and deep snow and mud. That changed when I got the keys to a 2021 Forester Touring model that came to me with an as-tested price of $35,945 and drove it over some rain-slicked Arizona trails.
2021 Subaru Forester Touring Exterior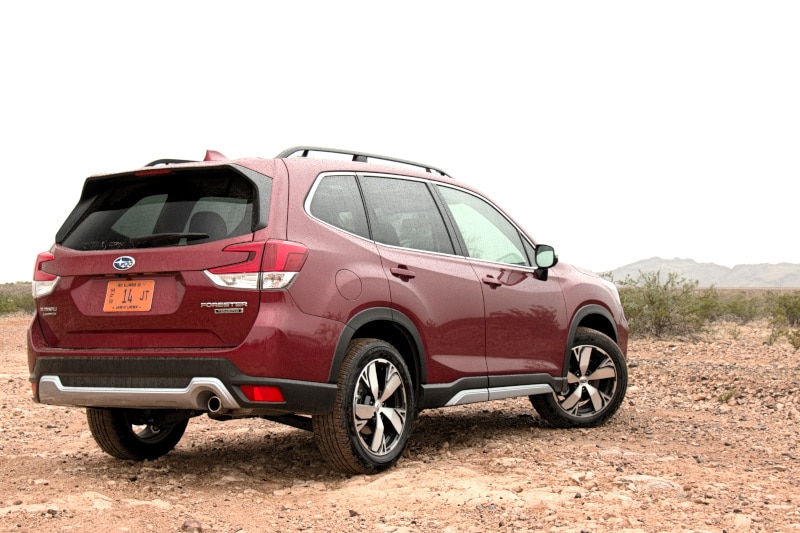 The Forester turned out to be the perfect vehicle for the terrain. At just over 15 feet long and less than six feet wide (mirrors excluded) with a wheelbase of 8.75 feet, it was the right size for the trails near my house. The sections I took it through had plenty of rocks that ate into the Forester Touring's 8.7 inches of ground clearance without taking a bite out of the unique silver accents on its lower front and rear fasciae and chunky black plastic rocker panels. I even managed to avoid scraping up its special two-tone 18-inch wheels, although I might have made it home with a few light "forest pinstripes" on the Crimson Red Pearl paint.
Shop Subaru Forester Inventory
---
2021 Subaru Forester Touring Interior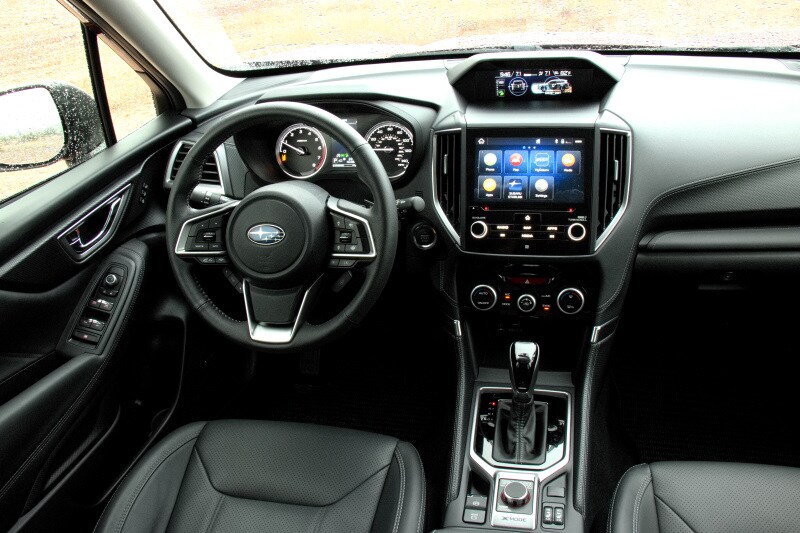 When I went out to get the Forester dirty, I found myself alone in a cool drizzle amongst the scrub brush and cacti that lined the paths of my rocky test course. Luckily, unless I had to get out to take photos, I was able to stay comfortable and dry inside the Forester's cozy cabin. Its leather interior provided the comfort of heated front seats, 10-way power adjustability for the driver's seat, a heated leather-wrapped steering wheel, dual-zone climate control, and Harman Kardon audio. I didn't have a particular destination in mind other than a place called "farther," so instead of looking at the navigation map on the eight-inch center screen, I occasionally checked the top display to see what kind of pitch and roll angles I was hitting.
I got more use out of the center touchscreen on public roads when I needed to punch in the address to an unfamiliar destination or make a call using the Apple CarPlay interface. Adaptive Cruise Control made trips across town less stressful. Even plodding through stop-and-go traffic was more pleasant because I was able to hit a button to engage the Auto Vehicle Hold button, which would hold the brakes at stops for me, instead of needing to dive through infotainment system menus to activate the feature the way I had to in previous Subaru media vehicles.
Shop Subaru Forester Inventory
---
2021 Subaru Forester Touring Performance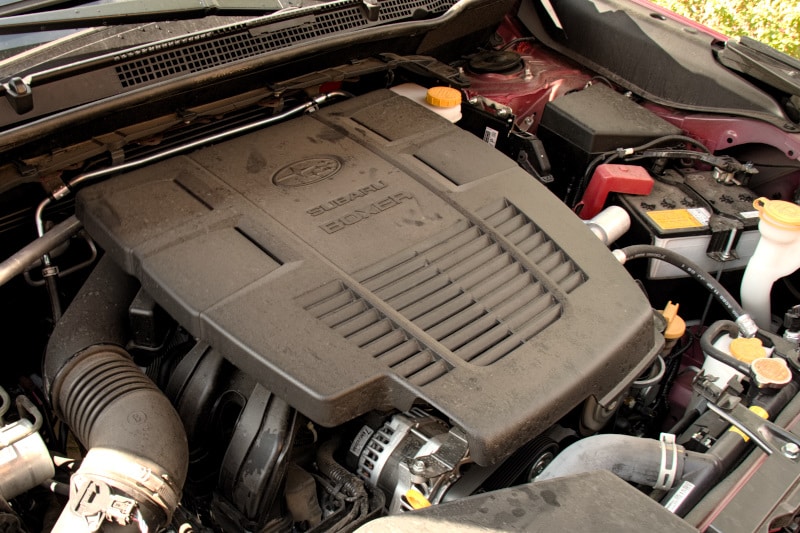 The Forester rolls on with a naturally aspirated and direct-injected 2.5-liter Boxer I4. After the Lineartronic CVT and the Symmetrical All-Wheel Drive system processed the engine's 182 horsepower and 176 lb-ft of torque, acceleration was expectedly relaxed, but I was able to wake it up a little by hitting a button on the steering wheel that switched the SI-DRIVE engine management system from Intelligent to Sport mode. I passed the majority of the 237.4 miles I racked up in the Forester in the Intelligent setting, which contributed to my average fuel economy of 27 mpg, a number that surpassed the EPA's city fuel economy rating of 26 mpg, but fell short of its 29 mpg combined and 33 mpg highway ratings.
The desert trails a few miles from my house seem to be maintained so that utility workers can reach massive electrical towers in their fleet trucks. Getting through them was easy thanks to the Forester's manageable dimensions. The further I went, the more important its ability to get over them became. A dial between the front seats gave me the choice between setting the X-Mode system up for Snow and Dirt or Deep Snow and Mud. Given my dusty surroundings, I opted for the former. With the Snow and Dirt setting engaged, initial throttle response was dulled so that I didn't have to worry about inadvertently goosing the throttle from a stop and losing traction. The Forester's Symmetrical All-Wheel Drive system worked as designed and delivered available torque to the wheels with the most grip to keep me moving. As long as I watched my entry and exit speeds, the Forester's 22.9-degree approach and 24.6-degree departure angles were enough to handle the most dramatic changes in elevation. One particular downhill section was steep enough to engage the included Hill Descent Control, which managed the Forester's braking and prevented me from barreling to the bottom while I focused on my steering. My tester's all-season tires had me concerned that one of them might get punctured by one of the thousands of rocks between me and home, but they survived the rigors of the terrain.
Shop Subaru Forester Inventory
---
2021 Subaru Forester Touring Safety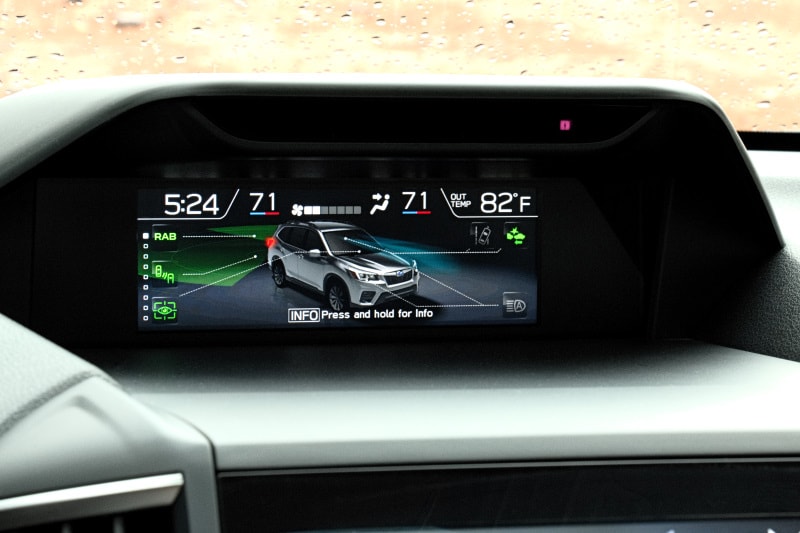 On paved roads, it was a comfort knowing I was surrounded by Subaru EyeSight Driver Assist Technology, a suite of features that includes Adaptive Cruise Control; Pre-Collision Braking; Pre-Collision Throttle Management; Lane Departure and Sway Warning; and Lead Vehicle Start Alert. My Forester Touring media vehicle was also equipped with LED Steering Responsive Headlights, High Beam Assist, and Rear Seatbelt Reminder, which Subaru made standard on all 2021 Forester models. The National Highway Traffic Safety Administration put the 2021 Forester through its series of crash tests and awarded it the highest possible Overall Rating of five stars.
Shop Subaru Forester Inventory
---
2021 Subaru Forester Touring Overall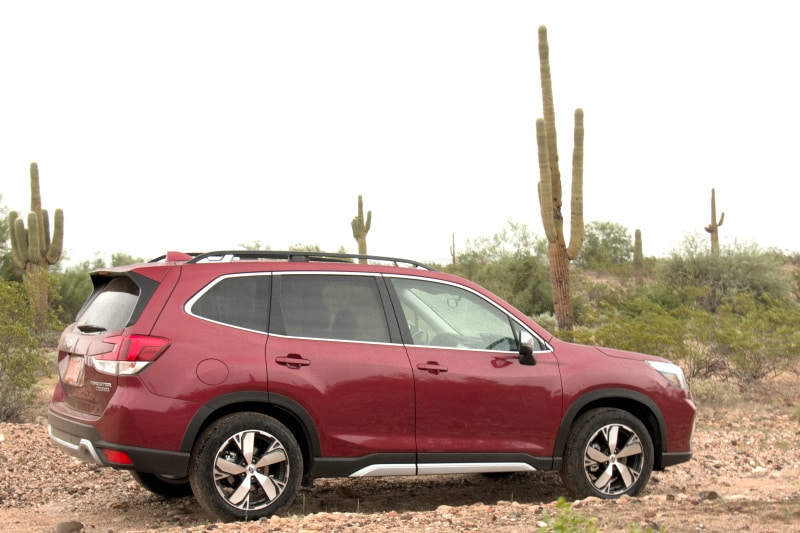 Whether it's on the road or off the beaten path, the fifth-generation Subaru Forester is a capable and comfortable machine, especially in Touring trim. To learn more about the 2021 Forester lineup, head to your closest AutoNation Subaru dealership.
Shop Subaru Forester Inventory
---
Derek Shiekhi
| Nov 23, 2021