The Crosstrek has been a staple of Subaru's lineup since 2012, when it was introduced to replace the Outback's more diminutive cousin, the Outback Sport. A redesign in 2018 brought standard Apple CarPlay and Android Auto to the table, and in 2019, a CVT automatic replaced the traditional nine-speed automatic.
For the 2021 model year, the Crosstrek gets some sheet metal tweaks, a new Sport trim, and most importantly, a 2.5-liter engine option which provides a significant boost over the standard mill. Even if they aren't numbers-focused performance enthusiasts, I think most drivers will appreciate the more robust flat-four, which is standard on the Limited trim model I used for this review. During my week with the Crosstrek, I drove it on the roads of the Northwest, which is basically as close to this machine's natural habitat as you can get. Read on to learn everything I discovered about this subcompact SUV!  
Shop Subaru Crosstrek Inventory
---
2021 Subaru Crosstrek Limited Exterior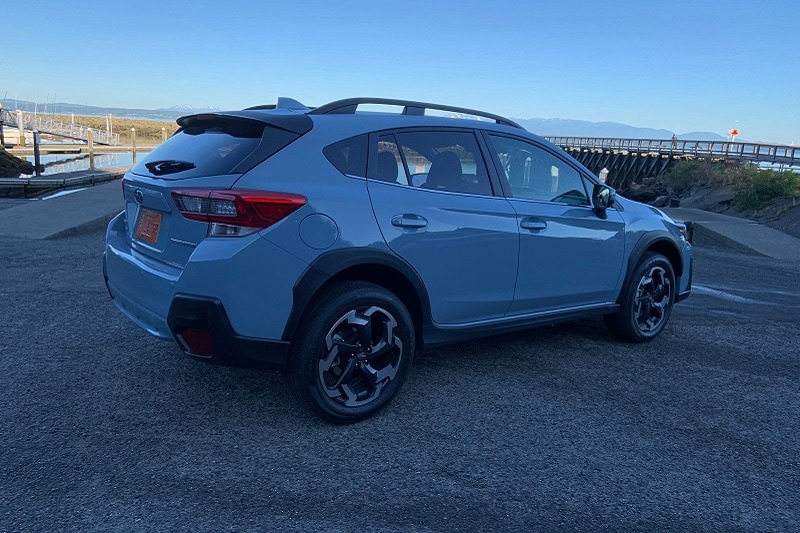 My tester was finished in Cool Gray Khaki, which given how blue it looks, seems like a misnomer. That said, it's a great color, and made the lines pop in a way they just wouldn't with more pedestrian hues like silver, gray, or black.
While it has received some substantial equipment and powertrain updates, the general look of the Crosstrek hasn't changed a ton since it was introduced, which is a great thing. There's a slight nose-down tilt that provides it with an aggressive stance, and works well with the machine's wagon-on-steroids vibe. Now, it's become quite popular to add plastic cladding over the wheel arches of compact SUVs, though I'm not sure anyone in the segment is doing it better than Subaru. Because while it can sometimes look cheap, here it looks tough, and I liked how the black surrounds complimented my tester's two-tone 19-inch wheels. 
Inspecting the revised front clip, the large honeycomb pattern of the 2020 model has been replaced with six more vertically angled slats. There's also a set of brushed aluminum pieces stretching out from either side of Subaru's famous Seven Sisters emblem. And while there are also some tweaks to the fog light surrounds and front cladding, they're minor. So safe to say, if you liked the look of last year's Crosstrek, you'll probably still dig the 2021 model. The important changes are under the hood.     
Shop Subaru Crosstrek Inventory
---
2021 Subaru Crosstrek Limited Interior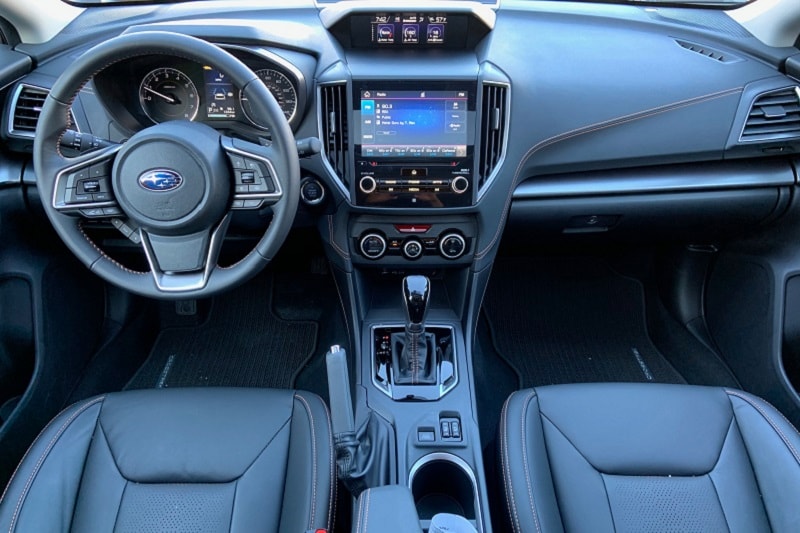 Since the exterior of the Subaru looks like it means business, the cabin is designed to match. By that, I mean that while it doesn't feel particularly cushy or luxurious, the ergonomics are great.
Even for taller folks, like yours truly, the driving position is comfortable and natural. Outward visibility is also excellent, and there's plenty of room throughout the cabin. In my tester, details like contrasting orange stitching on the seats, along with carbon fiber-esque trim bits on the doors and dash, provided some racey flare. Across the board, material quality is solid, though as I indicated above, there's a pleasantly utilitarian feel to most controls. For example, the switches for the heated seats give a satisfying snap when they're engaged, and the climate control, with its bank of three dials, was incredibly easy to use.
On Limited trim models like my tester, the infotainment is handled by Subaru's STARLINK system, which features an 8.0-inch touchscreen. One of my pet peeves is how some units stick way up over the dashboard, and wind up looking tacked on. That's not the case here, as while easily visible, the screen is integrated lower in the dash. Overall, my two complaints about Subaru's system were minor. One, I found the high reflectivity made it occasionally hard to see in direct sunlight. And two, when first starting the car, there was a brief delay when I raised or lowered the radio volume. Otherwise, this is a really great piece of kit which provides easy access to everything from Apple CarPlay to SiriusXM, and requires minimal inputs to navigate.
To help haul cargo, the Crosstrek features 60/40 folding rear seats. With the chairs in place, there's over 20 cubic-feet of cargo space. Fold them down, and you've got a whopping 55 cubic-feet to work with, which is very competitive for the class.  
Shop Subaru Crosstrek Inventory
---
2021 Subaru Crosstrek Limited Performance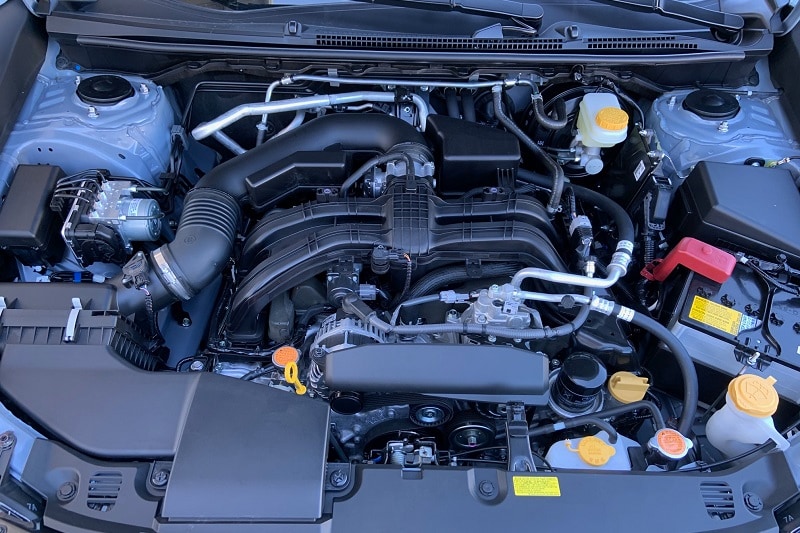 Among both enthusiasts and consumers, the Crosstrek has gotten consistently high marks in a laundry list of areas.For example, its excellent all-wheel drive system and car-like footprint mean it's great in slippery conditions, but still small enough to make maneuvering in tight parking lots a non-issue. While it's marketed as a subcompact SUV, in reality, it feels more like a beefy wagon, which alone endears it to legions of drivers.
Historically, where the Crosstrek has been something of a letdown is in the power department. Meaning previous models were on the slow side. Now for the record, I don't think Subaru went quite far enough with the power bump for the latest models. As an unrepentant gearhead, and someone who greatly appreciates the raw talent of the company's celebrated WRX, I'd love to see an STI-branded version of the Crosstrek, as the chassis would handle it beautifully. But the newly available 2.5-liter flat four is a welcome addition to the options sheet, and the extra ponies help round off one of the plucky little Subie's few rough edges. This engine is good for 182 horsepower and 176 lb-ft of torque, and it's standard on Limited trim models like my tester. Acceleration now feels zippy, and passing on the highway is no longer an issue.
Base models still feature the 2.0-liter unit, which pumps out 152 horsepower and 145 lb-ft of twist, and third pedal fans will appreciate that it's available with a six-speed stick. Unfortunately, the more powerful mill only comes married to a CVT, but as someone who generally isn't a fan of constant velocity transmissions, I think Subaru should be commended here, as it feels as refined as a traditional automatic, and delivers an impressive EPA-rated fuel economy of 27 city, 34 highway.               
Shop Subaru Crosstrek Inventory
---
2021 Subaru Crosstrek Limited Safety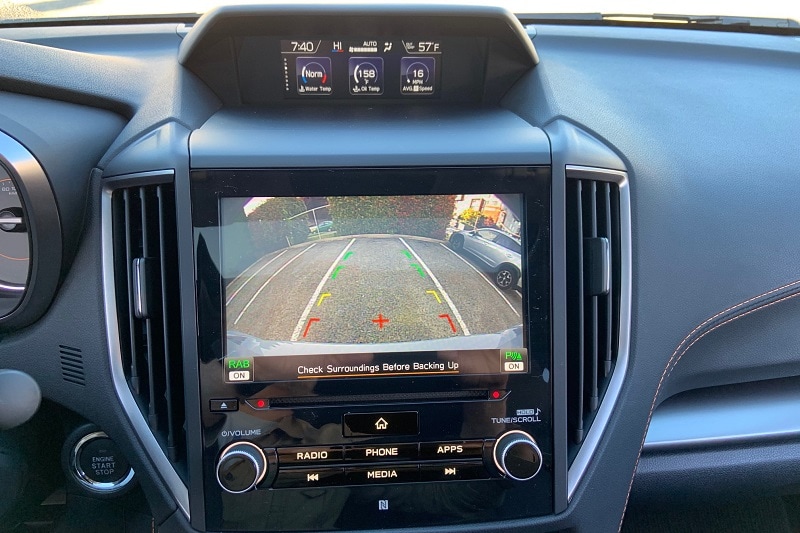 In testing from the National Highway Traffic Safety Administration, the 2021 Subaru Crosstrek earned a 5-Star rating, the agency's highest. Limited models, like the vehicle used for this review, were also named a Top Safety Pick by the Insurance Institute for Highway Safety, thanks to the trim's upgraded LED headlights.   
Every 2021 Crosstrek also comes standard with Subaru's EyeSight suite of driver aids. This robust suite of cutting-edge safety tech includes Automatic Pre-Collision Braking, Lane Keep Assist, and Advanced Adaptive Cruise Control with Lane Centering. That said, with its bold positioning lines and crisp display, I also found the rear-view camera system quite confidence inspiring.    
Shop Subaru Crosstrek Inventory
---
2021 Subaru Crosstrek Limited Overall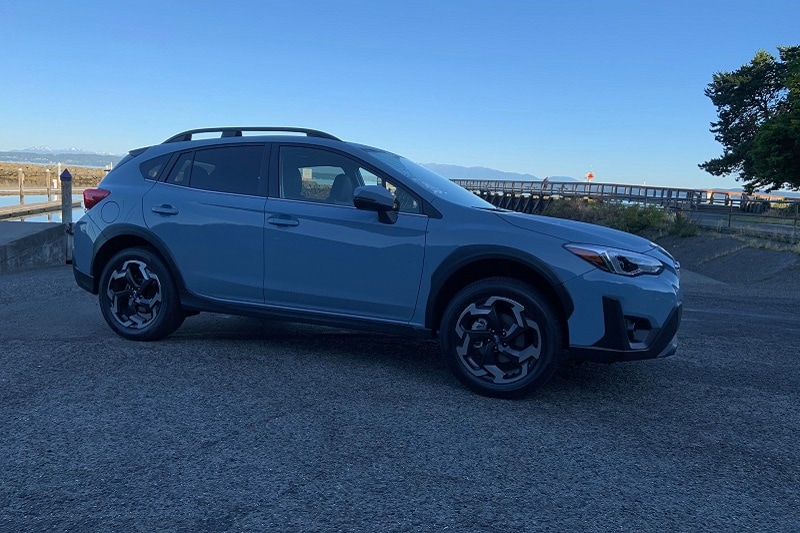 There's a reason that in my home city of Seattle, the Crosstrek is as ubiquitous as coffee shops, yoga studios, and community gardens. Because it fits the outdoors-focused, vitamin d-deprived, dog-loving tempo of the Emerald City to a tee. The purposeful sheet metal also dovetails neatly into the Northwest aesthetic, while cool color options, like Plasma Yellow Pearl, Lagoon Pearl Blue, and my tester's Cool-Gray Khaki make it easy to stand out from the crowd.
But you don't have to be a backcountry hiking guide or card-carrying member of the REI Co-Op to love the Crosstrek. With great driving dynamics, a user-friendly interior, ample storage, and excellent standard safety tech, this machine checks a lot of boxes. So if you were turned off by reports of underwhelming power or a drone-producing CVT transmission? Don't be. I was skeptical too, and my week with the Crosstrek made me understand exactly why it's so popular.
The as-tested price for the vehicle used for this review was $30,045. Schedule a test drive at your local AutoNation Subaru dealer to experience the Crosstrek for yourself.  
---
John Coyle | Jun 17, 2021