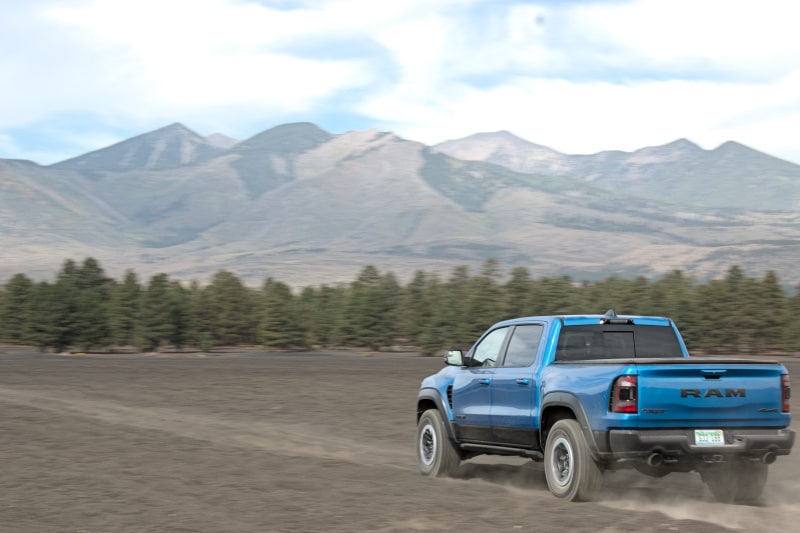 Every year, overlanding enthusiasts meet at Overland Expo events in different parts of the U.S. to go wheeling and camping, learn from industry experts, and buy off-road and camping gear for their rigs. RAM was at the Overland Expo West in Flagstaff, Arizona in September to show off its newest adventure-ready trucks and invited me to drive the 702-horsepower TRX at the Cinder Hills Off Highway Vehicle Area.
I had previously experienced the Hellcat-powered supertruck's capabilities by performing 55-mph jumps off of sand ramps during its media launch, so I thought I knew what to expect. I was completely unprepared for the terrain that lay ahead of me. Located within the Coconino National Forest, Cinder Hills is 13,500 acres of volcanic craters and loosely packed rock surrounded by towering ponderosa pine trees. 
Before my fellow journalists and I made our way out there in a convoy of TRXs, I overheard that the terrain could be exhausting because your feet would sink a few inches into the rocks every time you took a step. Taking a 6,300-pound full-size truck through that was going to be an interesting experience. Luckily, my colleagues and I were in excellent hands. RAM contracted Nena Barlow of Barlow Adventures, a company that guides four-wheel-drive adventures through Sedona, Arizona and Moab, Utah, to captain a lead-and-follow drive up, down, and around Cinder Hills. She was easy to keep track of in her giant red RAM 2500 Power Wagon equipped with suspension mods and aftermarket wheels and tires. Worst case scenario, we all had walkie talkies to communicate our whereabouts.
---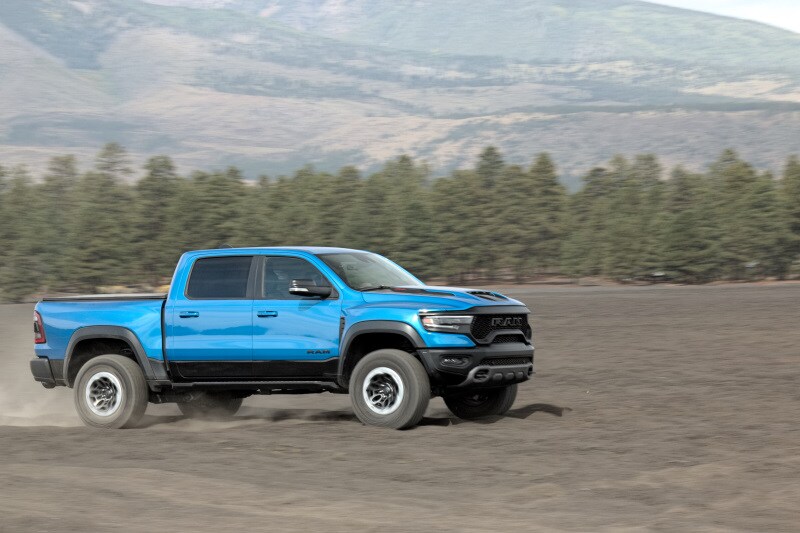 Once we got into the park, RAM's crew and Barlow aired our 35-inch Goodyear Wrangler Territory all-terrain tires down to 30 psi to give them the wide footprint and extra grip they were going to need. We then wound our way through a series of tree-lined serpentine trails that were just broad enough to allow our 88-inch-wide rigs through without getting too many forest pinstripes on them. Several sections subjected the trucks's front and rear ends to drastically different degrees of banking and used up substantial amounts of the TRX's suspension articulation and 13 inches of front and 14 inches of rear wheel travel.
 We dipped into those deep reserves again as we bobbed and bounded our way across the infinite divots in the remains of the Cinder Lakes Crater Fields where NASA's Apollo program astronauts tested rover prototypes in 1967.  We soon came to a stop to do some testing of our own. Not only does the TRX have 702 horsepower and 650 lb-ft of torque, it also has Launch Control and automatic full-time four-wheel drive to make the most of those insane numbers. I followed a RAM representative's instructions and engaged Sport mode to send 70 percent of available torque to the back wheels, pushed the Launch Control button, jammed my left foot down on the brake, brought the revs up with my right foot to the 2,200-rpm sweet spot he suggested, and then saw a message in the instrument cluster telling me the truck had to be on level ground. 
---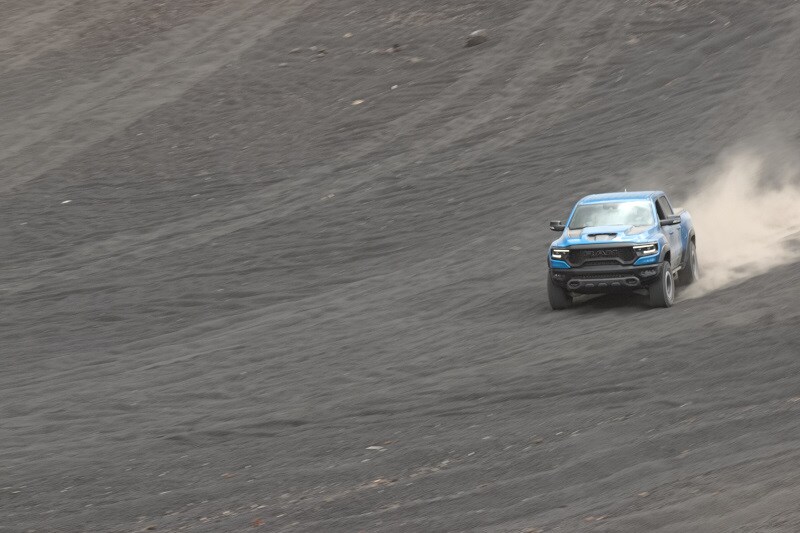 No matter how many times and how minutely I moved the truck forward or backward to satisfy the suspension's sensors, I couldn't convince them that the wheels were on the same plane. I ended up just doing things the old-fashioned way and pinned the brake, revved the TRX up to 2,200 rpm, then let it eat.  After I got off the line, I kept my right foot flat, but it took a second or so for the truck to let its horses know they could gallop at full speed. Once it did, we thundered forward until we reached a speed where the tires were floating above the rocks instead of battling against them on their level. The TRX had plenty more to give, but I didn't have time to sail toward the mountainous horizon. We had to head out of the crafter fields. And up.
Barlow guided us to the rim of a long-dormant volcano that gave us a breathtaking view from 8,000 feet. One by one, my fellow writers and I drove down what seemed like half a mile of ebony pyroclastic shrapnel to the base of the crater. Down there, it became clear where I needed to go next. I had to look to the sky. Getting to where I had just come from was going to take precision, persistence, and lots of throttle. My first pass had two out of the three. I chose an absolutely terrible line, lost my momentum, then tried to compensate with my right foot. It was too much too late. All I ended up doing was stay where I stopped and dig the truck into the uncooperative rocks while even more of them rained down on the windshield.
---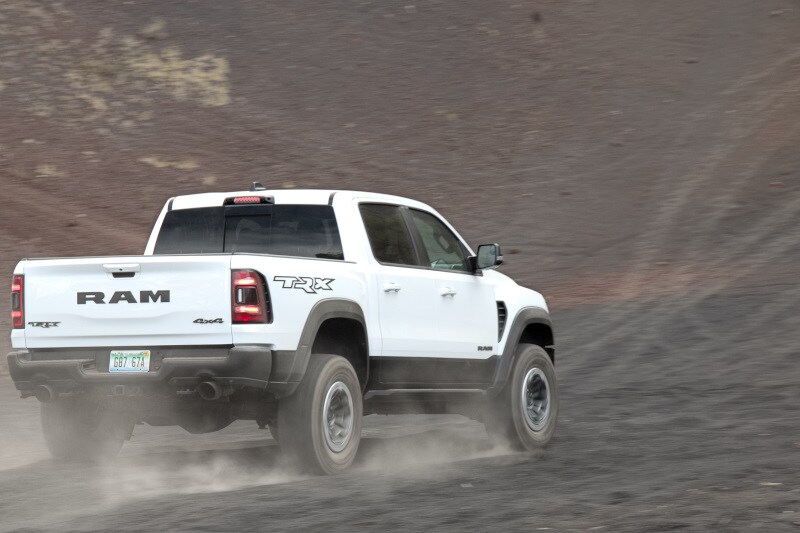 By the time I let off, the ancient rubble was up to the driver-side rocker panel. Barlow and her crew broke out a pair of traction pads and we used them to dig out from behind a few of the wheels, then strategically placed them so they'd be the first things the TRX's tires contacted when I reversed. With some careful wheel work and throttle application, I freed the mighty beast from the terrain's thousands of fingers. 
Barlow pointed out a pair of tire tracks that would take us to the summit. It was up to me to keep to the path and not let off the gas until we roared to the summit. I did as Barlow instructed and put the 8-speed automatic into drive, let the truck start rolling, leaned into the throttle, then pinned it. You can't floor the TRX on the street for long before you have to check your rearview mirror for flashing red and blue lights, but out there, the rules of the civilized world didn't apply. I didn't have to worry about fighting a ticket; I had to fight nature itself, which only understood force. I used my right foot to make it clear that I was going to make it to the top. With some more careful steering inputs and a few last-second bursts of throttle, Barlow and I reached the pinnacle that proved that fury is most potent when it's focused.
---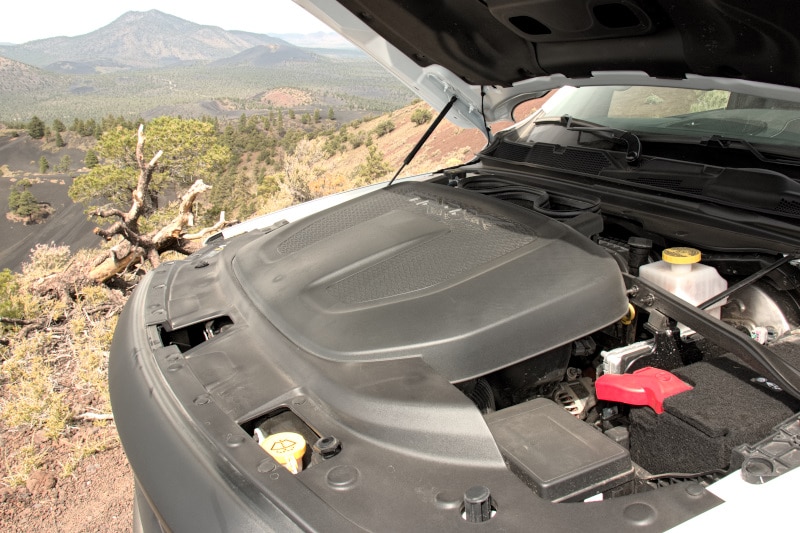 Just as Stellantis has done with its performance vehicles over the past several years, RAM and the Barlow crew found a way to top that. We climbed even higher into the park. By the time we stopped to take in the view, we were 13,000 feet up with seemingly limitless views of the ancient peaks that surrounded us. The quiet and stillness made it easy to reflect on what I had learned over the past few hours. 
When RAM initially announced it was making the TRX, it was hard to see it in more than one dimension, as something beyond just a pickup with a ridiculously powerful engine. Doing 55-mph jumps in it showed me it could be fun even when its tires weren't touching anything. But my time with the TRX at the Cinder Hills Off Highway Vehicle Area gave me undeniable, hands-on, foot-down proof that RAM's apex predator is more than a shocking novelty. It's a legitimately capable vehicle that got me through one of the most diverse, challenging, and humbling off-road adventures I've ever experienced.
---
Derek Shiekhi
| Oct 26, 2021