Derek Shiekhi | Apr 22, 2020
---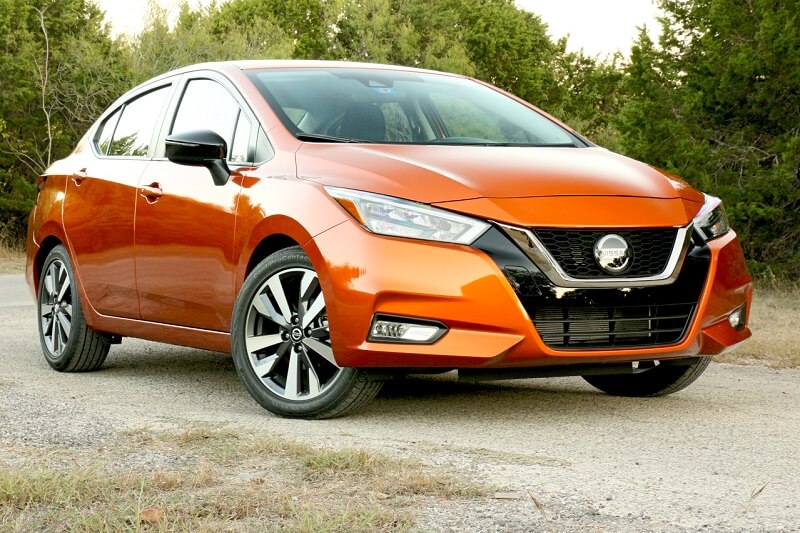 These days, trucks and SUVs generate a lot of headlines. Heavy duty pickup manufacturers are almost constantly upping the amount of torque their diesel engines pump out and how many tons of weight they can tow and haul. You can get a sport utility vehicle in a variety of sizes from budget-friendly automakers and even ultra-high-end companies such as Rolls-Royce and Lamborghini. It's easy to get lost in all of the facts and figures and forget about the basic sedan.
Nissan hasn't forgotten about it, though. It's actually spent the last few years completely overhauling its sedan lineup. According to its calculations, more than five million customers in the U.S. buy sedans each year. Nissan thoroughly revised the Maxima and introduced an all-new Altima for the 2019 model year. Now it's the Sentra's and Versa's turns, as 2020 marks the debuts of the newest versions of Nissan's smallest gas-powered cars.
My colleague Andrew Chen drove the 2020 Sentra during its media launch in Southern California. I spent a week driving the 2020 Versa, which features fresh styling, a redesigned interior, a more powerful engine, and impressive safety features. It's available in S (with either a five-speed manual or Xtronic CVT [Continuously Variable Transmission]), SV, and SR trim. The Versa's color pallet expands to eight colors, including the eye-catching Monarch Orange Metallic that my 2020 Nissan Versa SR test car wore.
---
2020 Nissan Versa SR Exterior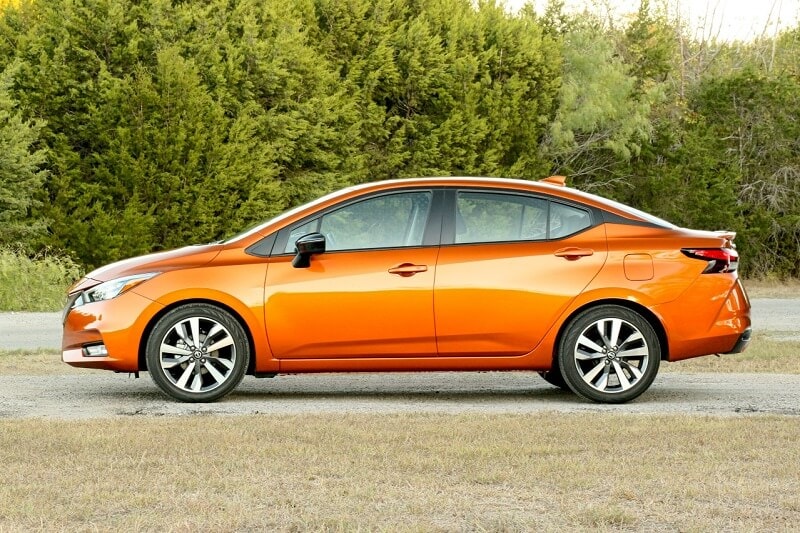 When Nissan set about creating an all-new Versa, it started at a dimensional level. The 2020 Versa is 1.6 inches longer, 1.8 inches wider, and more than two inches lower than the 2019 model. Designers went so far as to reduce the gap between the fenders and the wheels, which on the SR model are two-tone 17-inchers wrapped in 205/50R17 all-season tires. The end result of all of their work is a small car that doesn't look as if it's a larger car whose growth was suddenly stunted, an affliction that some other entry-level sedans in years past have suffered from.
The rest of the Versa's cosmetic changes give it an undeniable family resemblance to its larger siblings. There's a scaled-down version of Nissan's distinctive V-motion grille up front. A black line runs through the C-pillars to make the roof seem as if it's floating above the rest of the car. In the back, a pair of boomerang-like taillights flank the trunk, which offers 14.3 cubic feet of cargo space.
As the flagship of the range, the Versa SR gets extra equipment and style. Its grille has a dark chrome finish; its trunk lid spoiler is colored to match the rest of the body work. The headlights, high beams, signature lighting, and fog lights illuminate the road ahead with the power of LEDs.
Shop Nissan Versa SR Inventory
---
2020 Nissan Versa SR Interior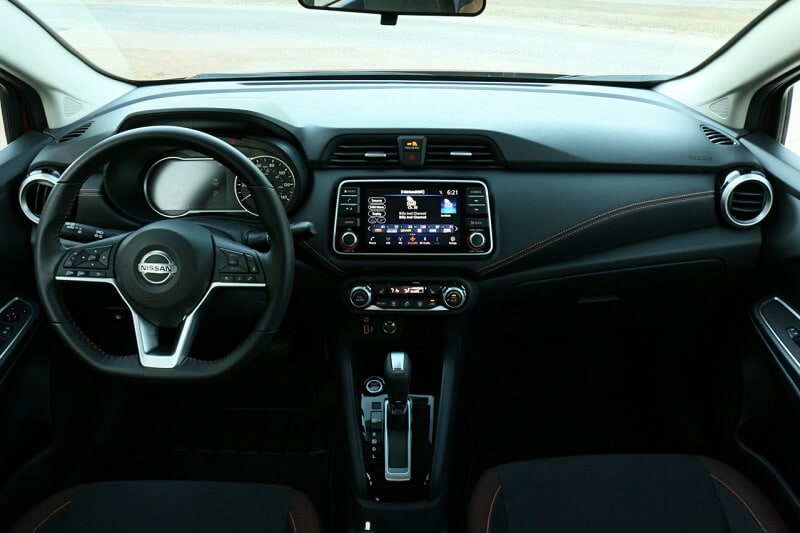 There's a certain simplicity to the Versa SR's cabin. The front seats are manually adjustable - six ways for the driver and four ways for the front passenger. Charcoal Sport Cloth is the sole available color choice, but it's brightened up with contrast stitching and accent panels.
But the Versa SR wasn't a bare bones commuter appliance. I was pleasantly surprised by how much technology and convenience Nissan packed into its smallest four-door (a lot of that tech was safety-related so I'll cover those further down in this review). It started in the main instrument cluster. The speedometer on the right was a traditional analog gauge. The tachometer on the left was a screen that could display not only the revs, but other important information such as my driving range. That connected to a central screen that told me which of the Nissan Safety Shield 360 safety systems I had engaged in addition to other things. In the middle of the dashboard, there was a seven-inch Apple CarPlay- and Android Auto-compatible touchscreen with redundant hard buttons for certain essential functions and volume and tuning knobs. Many of the conveniences built into the Versa SR were less tactile. Those included Siri Eyes Free, voice controls for the six-speaker audio system, and Hands-Free Text Messaging Assistant.
There's only one option available for the Versa SR and my press loaner had it. The appropriately named Convenience Package made the level of equipment in such a small package even more impressive by adding a heating function to the front seats and Intelligent Cruise Control, which allowed me to set a following speed and distance from the vehicle in front of me.
Shop Nissan Versa SR Inventory
---
2020 Nissan Versa SR Powertrain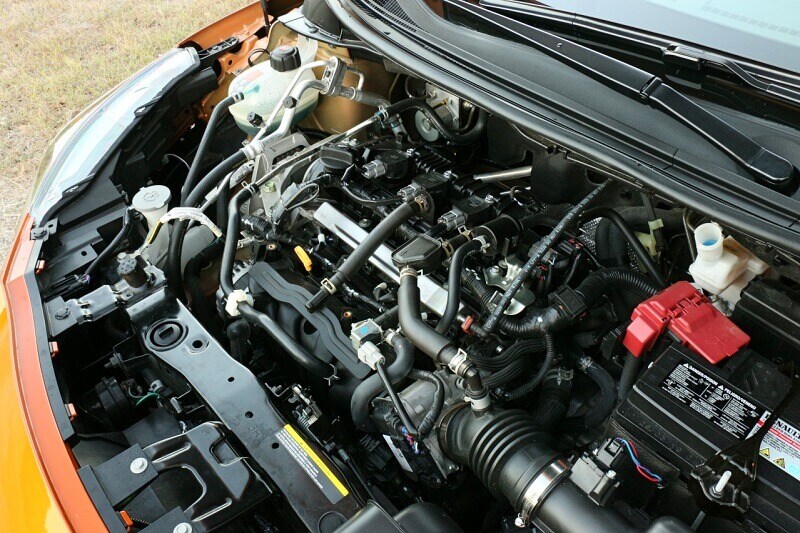 The 2020 Versa still has a naturally aspirated 1.6-liter four-cylinder engine under its hood, but Nissan has tweaked it to make more power than before. The I4 now generates 122 horsepower and 114 lb-ft of torque - increases of 12 and seven percent, respectively.
Nissan offers a five-speed manual gearbox in the S model. It's also available with an Xtronic CVT, which is standard equipment across the rest of the trim level range. Nissan adjusted the 2020 version of its CVT's D-step Logic Control to improve its shifting response and feel. Acceleration was predictably mild, although putting the transmission into its sport setting perked things up a little.
The Versa's main mechanical strength was its fuel economy. Versas with the CVT are the most fuel-efficient and are capable of getting 32 mpg in the city, 40 mpg on the highway, and 35 mpg combined.* Unfortunately, I was not able to hit any of those lofty figures; over the course of 130 miles, I averaged 30.7 mpg.
Shop Nissan Versa SR Inventory
---
2020 Nissan Versa SR Safety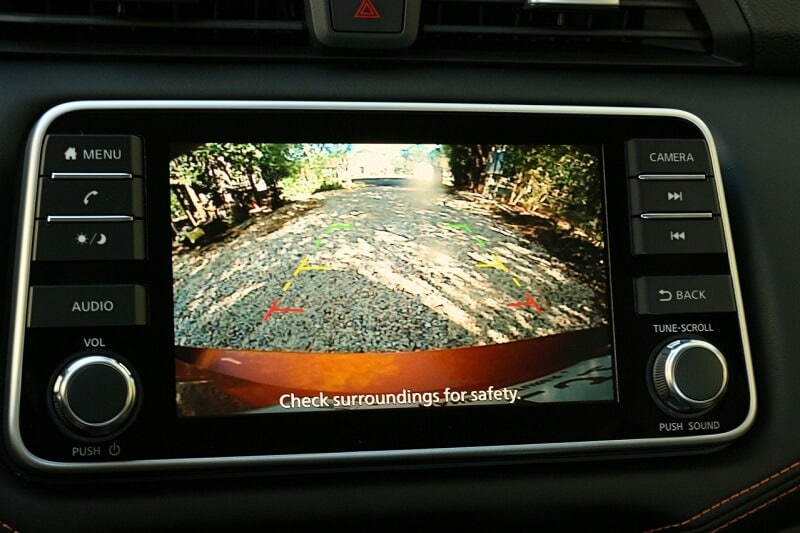 All 2020 Versas offer the protection of front, front knee, side-impact, and roof-mounted curtain side-impact airbags, as well as Vehicle Dynamic Control and traction control. A tire pressure monitoring system and Nissan's Easy Fill Tire Alert System, which honks the horn when you've inflated a tire to the correct PSI, help make sure the Versa's connection to the road is strong.
Versa SV and SR models provide additional peace of mind in the form of Safety Shield 360. That helps prevent collisions with High Beam Assist, Lane Departure Warning, Blind Spot Warning, Automatic Emergency Braking with Pedestrian Detection, Rear Cross Traffic Alert, and Rear Automatic Braking.
Shop Nissan Versa SR Inventory
---
2020 Nissan Versa SR Overall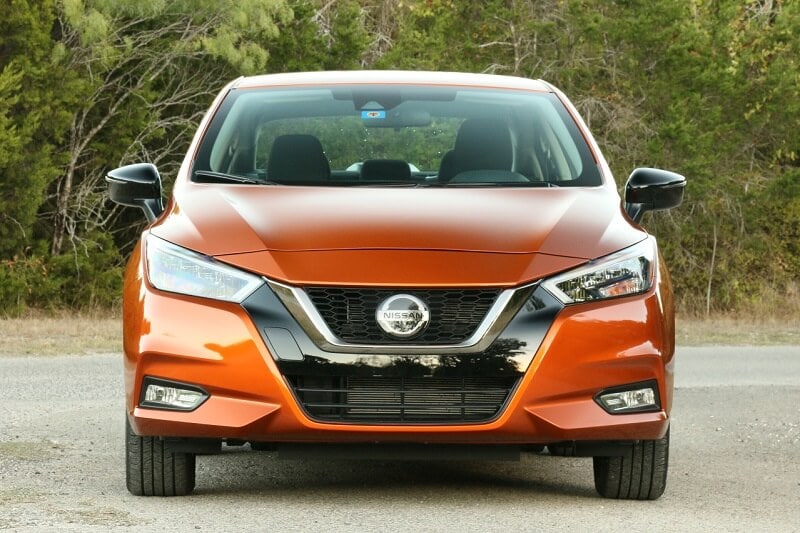 If you're one of the more than five million people in the U.S. who's looking for their next sedan, Nissan has plenty of recently updated and all-new options for you, including the 2020 Versa. The SR model combines tidy dimensions with up-market design, impressive technology, and budget-friendly fuel economy. You can get all of that at a starting price of $18,240* at your local AutoNation Nissan dealership.