---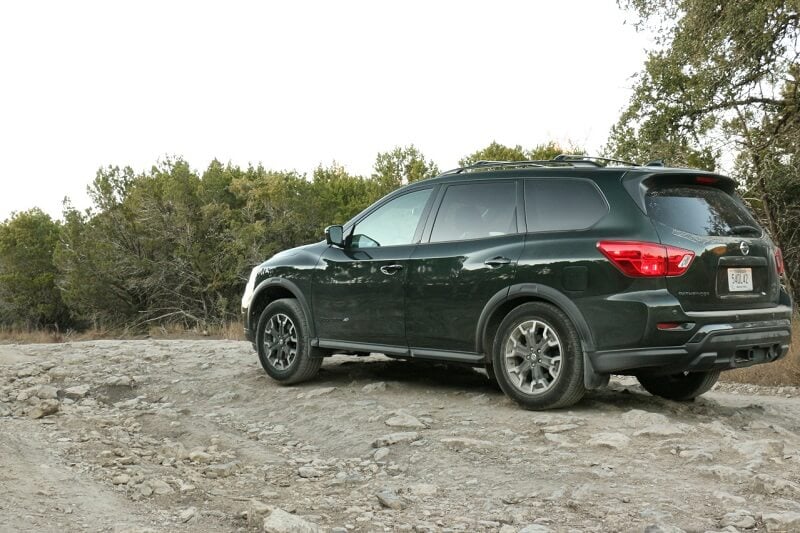 When I was a teenager, my parents owned a Cobalt Green Pearl 1995 Nissan Pathfinder Rock Creek. I used to daydream about picking up my buddies Jake and Evan in it and hauling a boat out to Lake Travis in Central Texas.
Unfortunately, I never got the chance to make that fantasy into a reality, because my parents sold the Pathfinder Rock Creek. The good news is that I was able to go on an adventure in a green Pathfinder Rock Creek - I just had to wait about 20 years.
Last year, Nissan introduced an all-new options package for two- and four-wheel-drive Pathfinder Rock Creek SV and SL models. The Rock Creek Edition was an outdoors-themed nod to the Pathfinder Rock Creek's rugged heritage. It was mainly a cosmetics package, but it did come standard with a tow hitch and harness and a 6,000-pound towing capacity for both 2WD and 4WD models.
Ever since Nissan had announced it was introducing the Rock Creek Edition, I had visions of taking one on an adventure. Late last year, I learned that the Nissan press fleet manager in Central Texas had a four-wheel-drive 2020 Pathfinder Rock Creek SL Rock Creek Edition available. So I did a quick search on Nissan's website and sure enough, I found that one of the accessories available for the Pathfinder Rock Creek is a $360 10' X 10' tent with a sleeve that you can connect to the rear cargo opening.
I crossed my fingers that Nissan could get the tent down in time to deliver it with the Pathfinder Rock Creek. They came through with it, and then I went out to the Hidden Falls Adventure Park in Marble Falls with my pal Bryan to go wheeling and camping.
---
2020 Nissan Pathfinder Rock Creek Exterior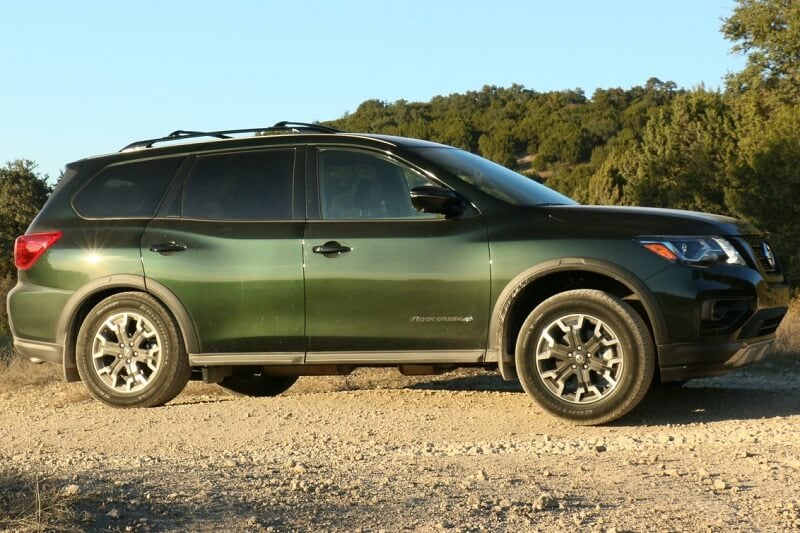 Nissan went with a low-key, custom look for the Rock Creek Edition, and blacked out several of the Pathfinder Rock Creek's exterior components, including the grille, mirror caps, door handles, wheel arch moldings and badges. The Rock Creek Edition also gets its own special wheels: a set of two-tone 18-inchers surrounded by 255/60R18 all-season tires.
You can combine the Rock Creek visual treatment with one of seven colors. I couldn't believe my luck when I found out my test vehicle was going to come in Midnight Pine Metallic. It wasn't the exact color of my family's old rig, but that was fine with me. It was a green Pathfinder Rock Creek - just what it needed to be.
Shop Nissan Pathfinder Rock Creek Inventory
---
2020 Nissan Pathfinder Rock Creek Interior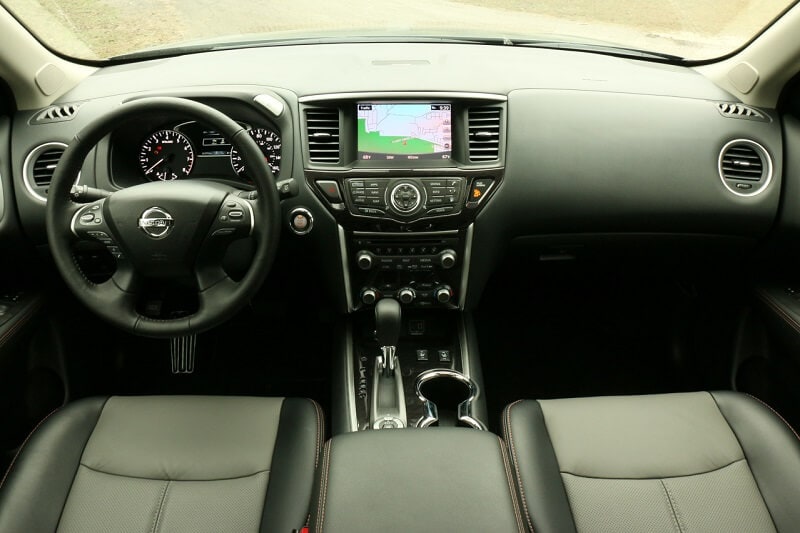 Nissan went with a sportier approach for the Rock Creek's cabin. All seven seats were covered in black and gray leather/leatherette and accented with orange stitching. I couldn't help but think of a diver's wetsuit when I looked at them. There was more orange stitching on the doors, console lid, and wheel. Even the glossy carbon fiber-like trim panels had pops of orange in them.
I knew Bryan and I had a bumpy day and cold night of camping ahead of us, so I was thankful for the comfort of the heated front (and rear) seats and steering wheel. Nissan made the inside of my test vehicle an even more pleasant place to be by adding the SL Rock Creek Edition Premium Package, which includes a power dual-panel panoramic moonroof and a 13-speaker Bose Premium Audio System.
The eight-inch touchscreen in the middle of the dashboard displayed a variety of information, such as the navigation route to Hidden Falls, the temperature settings for the tri-zone climate control system and traffic updates from SiriusXM. I was glad to see that Nissan didn't forget that some people still like having hard buttons and knobs to control certain functions.
Bryan and I needed to bring a couple of duffle bags, a pair of camping chairs, campfire food and supplies and the packed tent with us for our time at the off-road park. That was too much stuff for us to fit in the 16-cubic-foot space behind the upright 50/50-split third row, so we lowered it to free up a total of 47 cubic feet of camper-friendly room.
Shop Nissan Pathfinder Rock Creek Inventory
---
2020 Nissan Pathfinder Rock Creek Powertrain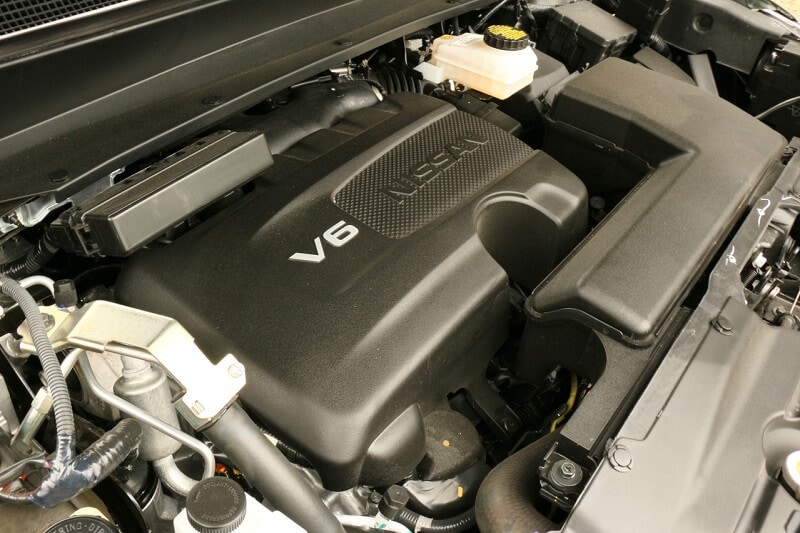 On the road from Austin to Marble Falls, the Pathfinder felt more like a sedan than a three-row SUV. The suspension was reasonably compliant and comfortable, but I could definitely feel how soft it was in curves. The naturally aspirated 3.5-liter V6 sent its 284 horsepower and 259 lb-ft of torque through an Xtronic CVT (Continuously Variable Transmission). Together, those made the Pathfinder capable of getting up to speed in a respectable amount of time. According to the EPA, my four-wheel-drive press loaner could get 20 mpg in the city, 27 mpg on the highway, and 22 mpg combined.* I didn't fare that well; I put 328.6 miles on the Pathfinder and only averaged 18.8 mpg.
Once Bryan and I were at the park, it was time to get some dirt on the Pathfinder. Hidden Falls divides its trails into five levels of difficulty, with those marked 1 being the least challenging and those marked 5 being the most arduous. Out of consideration for Nissan and the future journalists that would be reviewing the Pathfinder we were in, I decided to stick to the 1s and 2s. By default, the Pathfinder operated in front-wheel drive. To bring both axles online, all I had to do was twist a dial in front of the shifter. By turning it to the lock position, I could keep all four wheels engaged. I used that for a few minutes just to see what it was like, but the Auto setting, which adjusted the power split between the front and rear wheels to optimize traction, was the one I used the most because it was quick and effective.
With seven inches of ground clearance, the Pathfinder had no problem getting over the trails Bryan and I took it down, especially when I engaged Hill Descent Control. I had to pick my battles with Mother Nature carefully, though. One incline showed me that the Pathfinder's approach angle could run out in a hurry. Luckily for me, Bryan was spotting me and kept me from giving the Pathfinder's chin a bad case of rock rash.
We drove to our campsite well before the sun went down to start erecting the 10' X 10' tent. We laid the floor down on the ground, ran the structural poles through the sleeves in the fabric roof, raised everything into place, then anchored the ends of the poles in their corresponding grommets at each corner of the tent. The tent Nissan loaned me also had a detachable 6' X 7' screening room on the front of it. Bryan and I left it in place and ended up using it as a spot to leave our shoes before entering the main part of the tent where our sleeping bags were.
We had no real need for the sleeve that attached to the back of the Pathfinder, but we wanted to see what it was like. Installing it required unzipping a portal in the tent, raising the Pathfinder's motion-activated power liftgate, pulling the sleeve over the roof and under the rear bumper, and using the built-in straps to secure everything - including those for the roof rack and the rear wheel wells.
One thing Bryan and I did need was some good firewood. The logs we bought must've been pulled out of the bottom of a lake. After a trip to a nearby general store for some dry wood and a bottle of lighter fluid, we got a roaring fire going. Bryan and I used it to cook a traditional camping dinner of hot dogs and s'mores. We capped the night off with cigars and some spicy Bourbon.
Shop Nissan Pathfinder Rock Creek Inventory
---
2020 Nissan Pathfinder Rock Creek Safety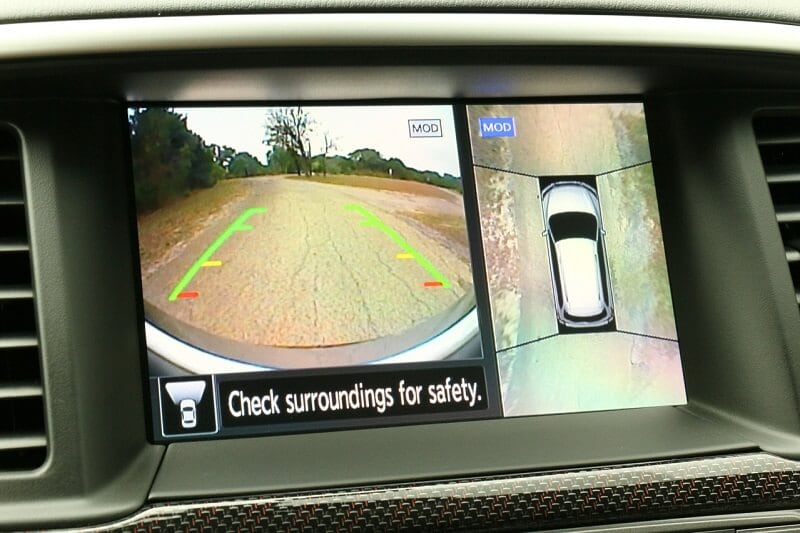 In National Highway Traffic Safety Administration testing the Pathfinder earned a 5 Star safety rating. At this time, there is no rating from the Insurance Institute for Highway Safety.
High tech safety features like forward collision warning and automatic emergency braking are standard on the Pathfinder, while blind spot warning, rear cross traffic alert, and automatic emergency braking is available.
Shop Nissan Pathfinder Rock Creek Inventory
---
2020 Nissan Pathfinder Rock Creek Overall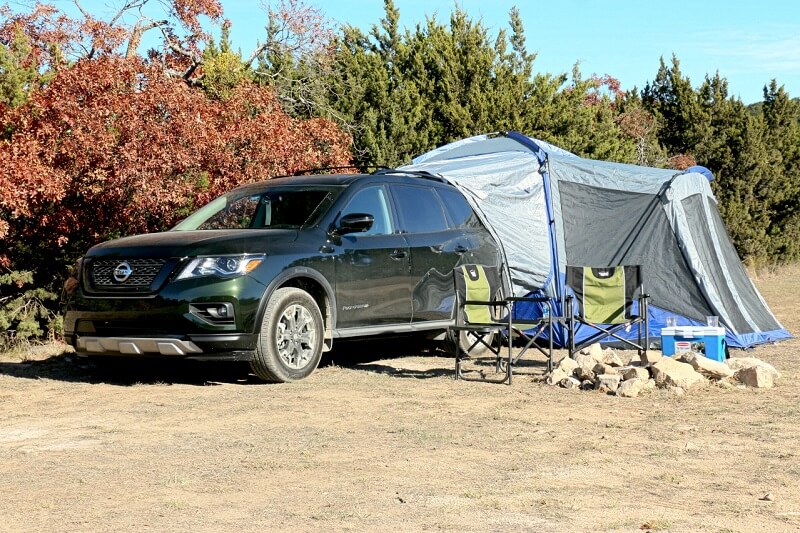 If you've been waiting to go on an adventure of your own, take a look at - and a test drive in - the 2020 Pathfinder SL Rock Creek Edition at your local AutoNation Nissan dealership. Prices start at $39,085.** One outfitted like my tester will have a sticker price of $45,030. Just remember to budget a little extra for that tent to make your next adventure a little more comfortable.