For more than 35 years, the Nissan Pathfinder has had an image as a rugged adventure vehicle. At various points in its history, it had a truck-like body-on-frame foundation and even V8 grunt to help it power through mud bogs and crawl over rocks. The last-generation model, which ran until the 2020 model year, was a V6-powered unibody, but that didn't stop me from taking the outdoorsy
Rock Creek version
 of it wheeling and camping at an off-highway vehicle park early last year. 
That experience made me look forward to the all-new
the all-new 2022 Pathfinder
, which has a bolder appearance and more advanced safety and infotainment tech than its long-running predecessor. But when my pre-production SV test vehicle ($41,420 as tested) came in, it didn't have a tent that connected to its rear cargo area or a paint color that reminded me of being surrounded by tall trees. In fact, it didn't even have four-wheel drive. So what did I do with a Pathfinder that was better equipped for navigating through the urban sprawl instead of unfamiliar territory? I discovered the characteristics that make it an appealing vehicle for all of the times when you can't get away from it all. 
---
2022 Nissan Pathfinder SV Exterior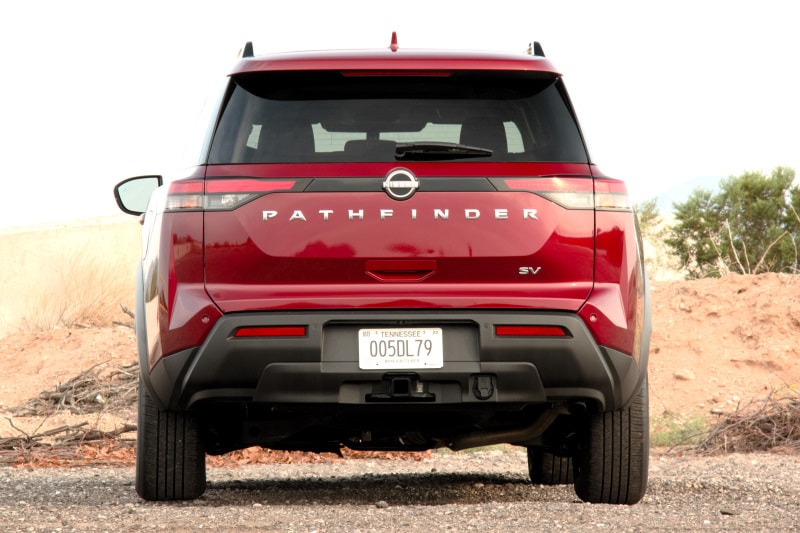 When
Nissan
a fitting metaphor for the chasm between the old model and the new one. The 2022 Pathfinder isn't just a new vehicle, it's a rolling billboard for the new face of Nissan. Like the new Rogue and updated Armada, the Pathfinder has a defined, trapezoidal grille and unmistakable two-tier front lighting. Notches in the topmost grille bar are a visual nod to the original Pathfinder. The new Nissan badge below, which looks as if it's made out of engraved metal, is all about the future. The soft lines and curves of the 2013-2020 model are gone and have been replaced with a more upright and solid appearance. Even though my test vehicle routed its power through the front wheels, the black plastic cladding around its wheel arches and along its rocker panels made it look as if it could keep going once the pavement ended and nature began. The back end was just as distinctive and bold as the front end with "Pathfinder" spelled out in capital letters.
---
2022 Nissan Pathfinder SV Interior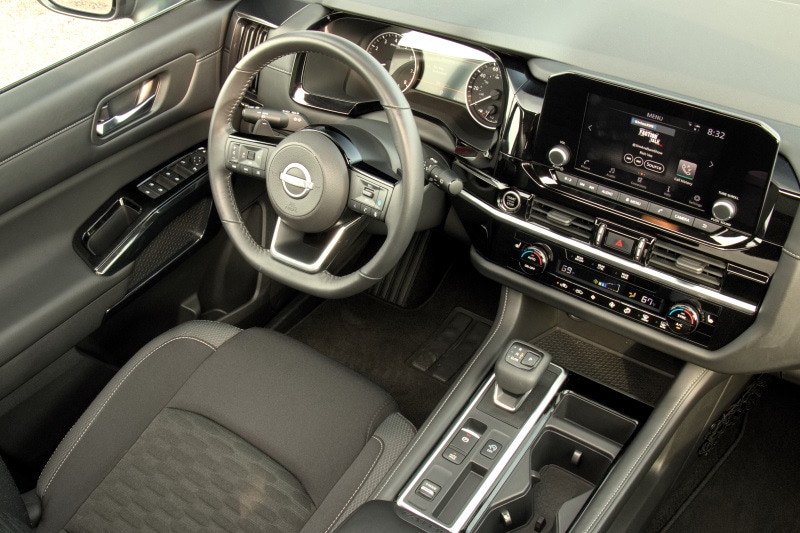 Changes to the Pathfinder's cabin are just as pronounced. Like the 2021 Rogue, the Pathfinder has a new three-spoke, flat-bottom steering wheel and a chunky block of a shifter that slides into gear instead of tilts. Even though there were fewer buttons on the center stack than there were in the outgoing model, it was easy to quickly and easily adjust my section of the tri-zone automatic climate control system to my liking or take a shortcut to a function accessible through the Apple CarPlay- and Android Auto-compatible eight-inch touchscreen. 
Legroom in the second-row captain's chairs was plentiful. In between the two seats was a lightweight and easily removable center console. In fact, it was lightweight enough to take out from the driver's seat with one arm. Pulling that out made it easier to get to the third row, but children will probably get the most benefit from taking that route; adults are better off just tilting the second-row seats forward and climbing into the back. Given that the Pathfinder is not a full-size SUV, I had reason to believe its third row would not be roomy enough for an average-size adult, especially because some larger rigs don't always have the most generously sized rear accommodations. The Pathfinder proved me wrong. I was surprised by how much headroom I had; I was able to adjust the second- and third-row seats in ways that allowed me to sit comfortably in both areas. 
---
2022 Nissan Pathfinder SV Performance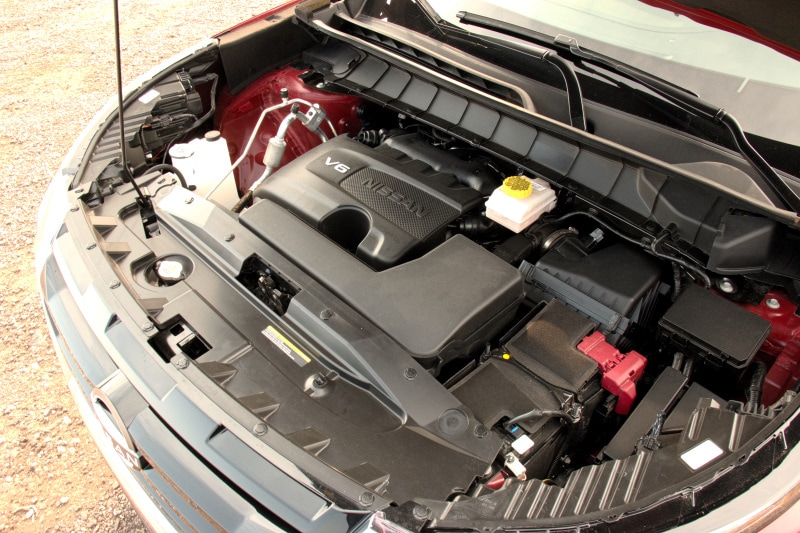 One thing that isn't new about the 2022 Pathfinder is its engine. The naturally aspirated 3.5-liter V6 is a carryover unit that produces the same 284 horsepower and 259 lb-ft of torque as before. The major difference is that, this time around, the Pathfinder uses a traditional nine-speed automatic instead of an Xtronic CVT (Continuously Variable Transmission) to get those figures to the road. The new gearbox didn't make the Pathfinder feel any more urgent, but it did make power delivery more predictable and pleasant. 
I ended up putting 353.2 miles on the Pathfinder SV by the time my week with it ended. I averaged just under 21 mpg from mixed driving. That's exactly the kind of fuel economy it should be getting in the city, according to the EPA, but below the agency's combined rating of 23 mpg. 
---
2022 Nissan Pathfinder SV Safety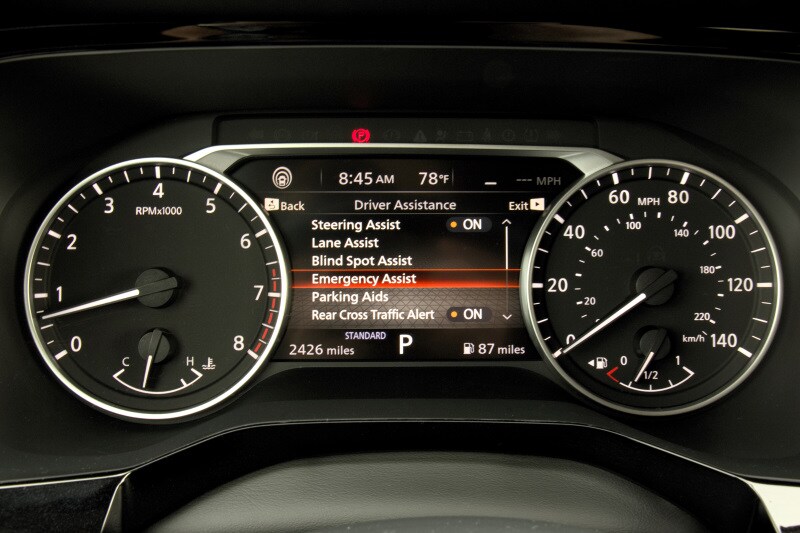 The Nissan Safety Shield 360 suite of driver assistance features makes its way into the Pathfinder for 2022, equipping it with Automatic Emergency Braking with Pedestrian Detection, Blind Spot Warning, Rear Cross Traffic Alert, Lane Departure Warning, Rear Automatic Braking, and more. In the SV, those features join forces with Blind Spot Intervention, Intelligent Lane Intervention, and the ProPilot Assist System's Steering Assist and Intelligent Cruise Control with Full Speed Range and Hold.
As of right now, the National Highway Traffic Safety Administration has not tested the new Pathfinder. The same is true for the Insurance Institute for Highway Safety. 
---
2022 Nissan Pathfinder SV Overall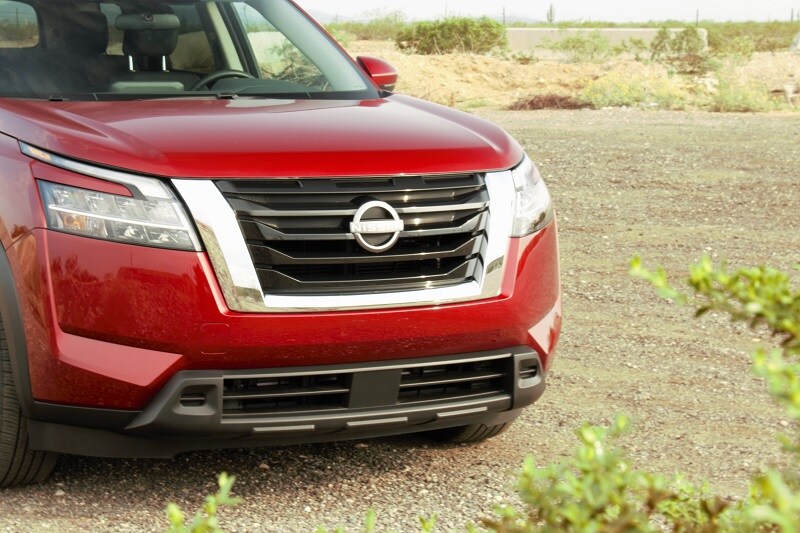 Nissan has spent the past several decades making it seem as if the Pathfinder can only be driven on unpaved roads. The newest model proved that it can be capable in its own ways when you have to drive through the suburbs instead of the Sahara. My 2022 Pathfinder SV press loaner didn't have the Intelligent 4WD or Terrain Mode Selector available in more adventurously equipped models, but it made up for that with its handsome new looks, user-friendly technology, spacious interior, and long list of standard safety and driver assistance features. You can learn even more about the 2022 Pathfinder at your local AutoNation Nissan dealership.
Shop Nissan Pathfinder Inventory
---
Derek Shiekhi
| Sep 29, 2021