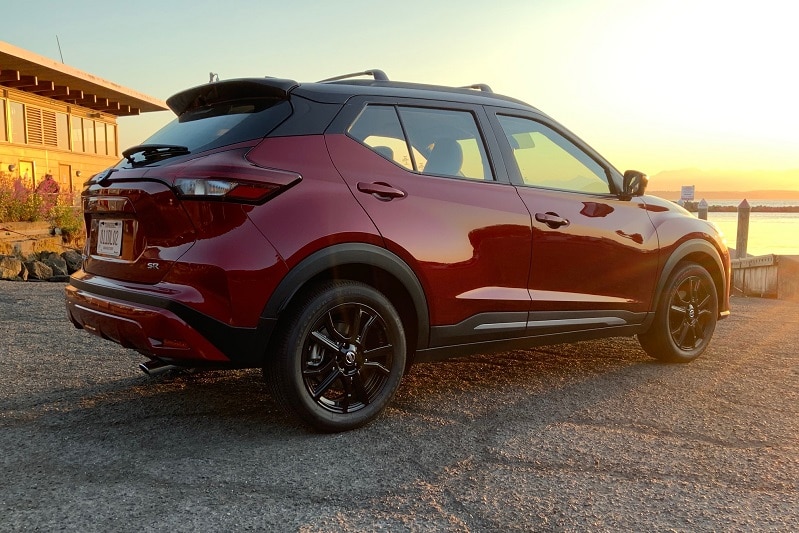 Automotive writers are a funny lot. Most are obsessed with performance, and will drop specs about the latest high-dollar hardware like Gordon Ramsay drops unprintable putdowns. There's a sliver of high-octane hooligan in all of us, so spirited arguments about what's good and bad and awful and downright weird are all part of industry culture.
But every once in a while, a dark horse champion appears, which inspires near-universal praise from my friends in the field. And in 2018, that vehicle was the Nissan Kicks.   
In the chat rooms and watering holes where we congregate, my little cohort of horsepower hungry hot-shoes just simply couldn't shut up about how great Nissan's subcompact crossover was. At the time, I couldn't contribute to the lovefest, as I'd hadn't gotten the opportunity to get behind the wheel. So I was excited to finally check out the 2021 Nissan Kicks SR, and see what all the fuss was about. Spoiler alert: I loved it.     
---
2021 Nissan Kicks SR Exterior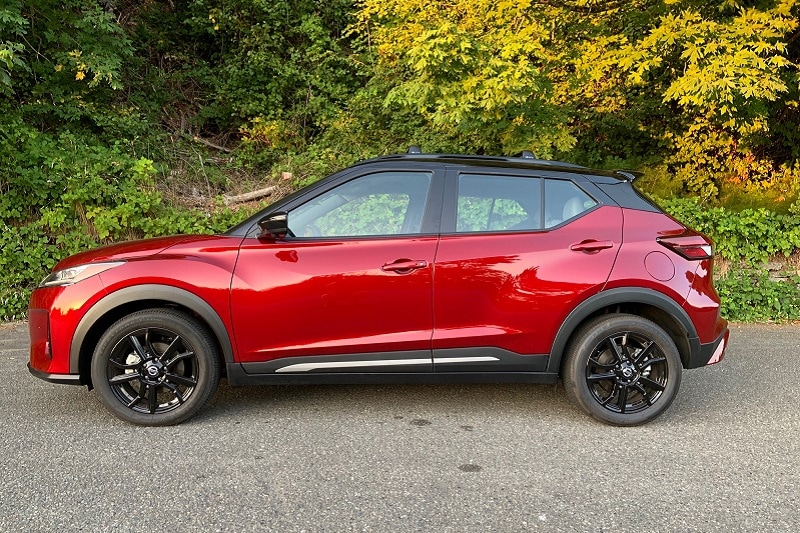 For 2021, Nissan updated the front fascia to give the Kicks more of an angular look, and the "Double V-motion" grille is massive in proportion to the rest of the car. That element alone gives it a presence which belies its relatively tiny footprint. Along the side, there's a character line which slopes down from the hindquarters into the front doors, and gives the impression the Kicks is leaning forward, in a sprightly, ready-for-anything fashion.
The most dramatic aspect of the exterior styling is the two-tone paint, and while that's a design element that's becoming more and more common, it really works here. My tester was finished in Scarlet Ember Tintcoat on the body and Super Black on the roof, and it provided the Kicks with a dramatic bit of upmarket flare. The spoiler at the top of the hatch punctuates the roofline nicely, and provides another sporty touch to the stylized, but not busy exterior.
The optional 17-inch black finished wheels looked great against the rest of the black accents, like the mirrors and wheel well cladding. Slightly bigger units might look even better, as there's a decent amount of gap in the wheel well, but all told, this is a good looking ride.   
---
2021 Nissan Kicks SR Interior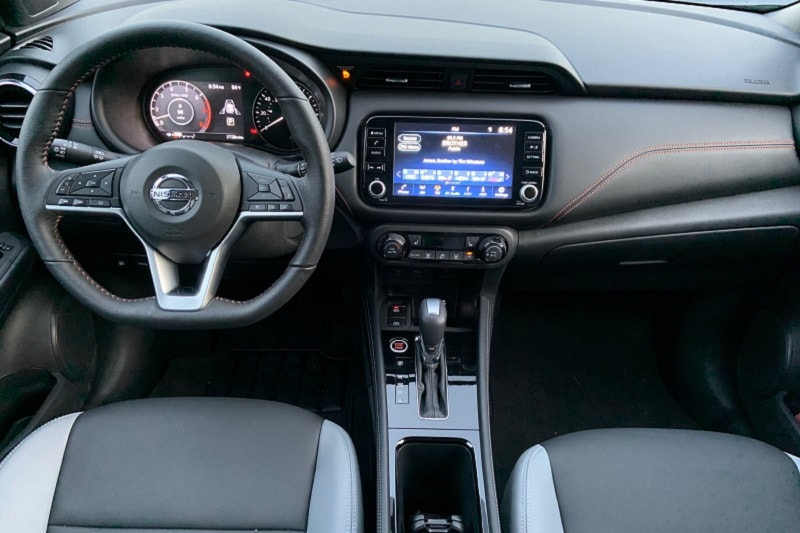 On my tester, the two-tone treatment continued into the cabin. The seats were gray and black, with bright orange stitching, and while they weren't leather, Nissan has done a nice job with its leatherette-style fabric. For how small of a vehicle this is, I was quite surprised at just how roomy it was inside. Seriously, even with the driver's seat adjusted for my 6'3" frame, I had plenty of room in the back.
The flat-bottom steering wheel was a nice touch, even if it seems a little aspirational in comparison to what's actually under the hood. Overall, there's nothing revolutionary happening inside the Kicks, but the piano black console and the contrasting stitching on the dash looked great, and every control was basically right where you'd expect it to be. 
One of my personal pet peeves is how some modern infotainment screens stick up over the top of the dash, because I think that makes them look like an afterthought that's been tacked on. So I appreciated how well the 8.0-inch touchscreen was integrated into the dash. It's easy to see while you're driving, doesn't catch glare, and features Apple CarPlay and Android Auto, along with Bluetooth and SiriusXM radio. There are physical buttons on each side which make navigation a snap, and most importantly, there was no learning curve. If you can read, you will have no issues finding any setting.  
Cargo wise, there's 25.3 cubic feet of space behind the rear seats, and that number jumps to 53.1 cubic feet with them folded. While those numbers aren't quite the best in class, I was able to load my two turntables, DJ mixer, and two crates of records into the back of the Kicks with no drama. 
---
2021 Nissan Kicks SR Performance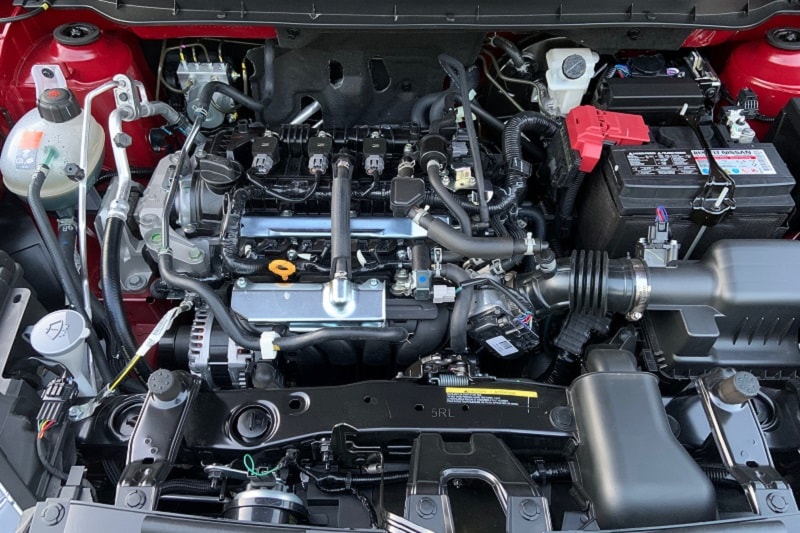 The Kicks is powered by a 1.6-liter four cylinder making 122 horsepower and 114 lb-ft of torque. Now, if you didn't suddenly hear a choir of angels break into song when you read those numbers? That's understandable. But given the whole package only tips the scales at around 2,700 pounds, it's enough poke to put some pep in its step when you're running around town. That's this little rig's stomping grounds.
With its 103-inch wheelbase, the Kicks is remarkably nimble on tight city streets, where its diminutive dimensions provide distinct advantages, not the least of which is the ability to park virtually anywhere. The electric power-assisted steering is light, but it never feels toy-like, and direction changes are quick as a wink. Of course, you'd expect a subcompact to be good in an urban environment. What you might not expect is just well it can handle a twisty road. But during my week with the Kicks, I took it down some seriously serpentine stretches of tarmac, and had an absolute hoot doing it.
On the freeway, the modest power means passing takes a bit of planning, and the short wheelbase which is so advantageous in the city makes the Kicks somewhat susceptible to strong gusts of wind. That said, extended highway cruising presents no real problems, and keeping up with fast traffic is a non-issue. What truly surprised me about the Kicks was just how well the Nissan engineers dialed in the CVT. Generally, I'm not a fan of continuously variable transmissions, but I found this unit performed more like a conventional gearbox, with none of the straining and droning typical of the breed. Plus? It's hard to argue with an EPA-estimated 31 city, 36 highway.  
---
2021 Nissan Kicks SR Safety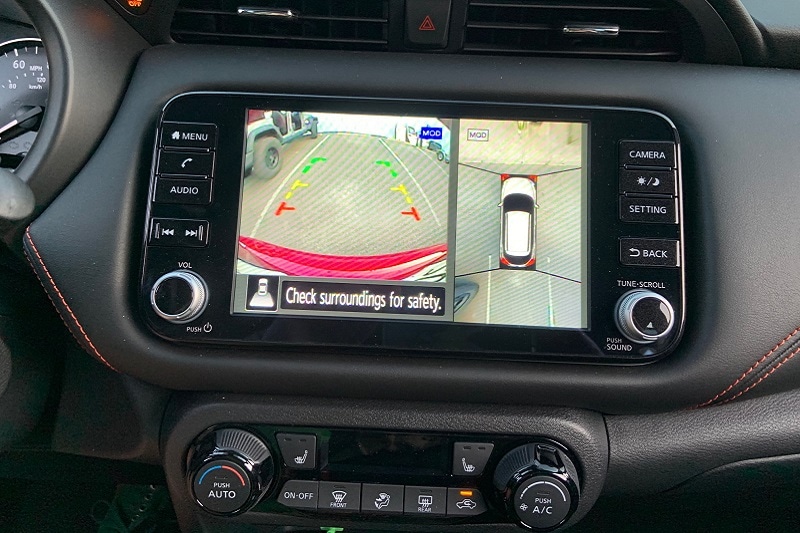 In testing by the National Highway Traffic Safety Administration, the Kicks received four out of five stars. The Insurance Institute for Highway Safety rated the Kicks as Good, which is its highest rating.
The Kicks also comes standard with a robust list of standard safety features, including Automatic Emergency Braking with Pedestrian Detection, Rear Automatic Braking, Lane Departure Warning, Blind Spot Warning, Rear Cross Traffic Alert, and Rear Sonar. My test model was also equipped with advanced options like Adaptive Cruise Control and a 360-Degree "drone-view" camera. While both worked beautifully, it's worth noting that Nissan's camera system is as good or better than any I've tested this year. 
---
2021 Nissan Kicks SR Overall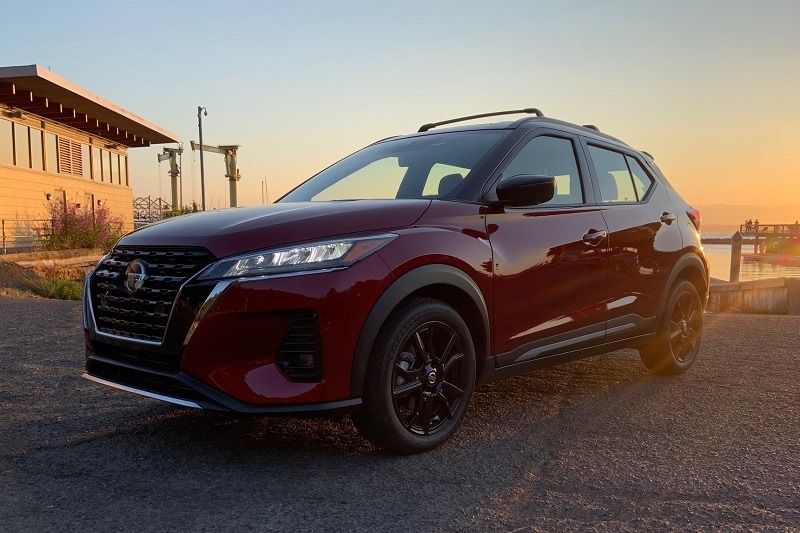 At the end of the day, it's easy to make a fast, expensive car. The bigger trick is making a reasonably priced, attractive, and versatile machine that's also fun to drive. That's what Nissan has done with the Kicks, and I thoroughly enjoyed my time with this plucky little subcompact. So if you're looking for a Jack of all trades that'll handle daily duty and deliver enjoyable driving dynamics, make sure to put the Kicks on your list. Turns out all my industry buddies were on to something.     
The Kicks SR used for this review had a starting price of $21,940, and adding options like the Premium Package ($1,200), Two-Tone Premium Paint ($595), and 17-inch Black Alloy Wheels ($495) brought the total up to $27,075. 
---
John Coyle | Jul 15, 2021