Derek Shiekhi | Nov 12, 2020
---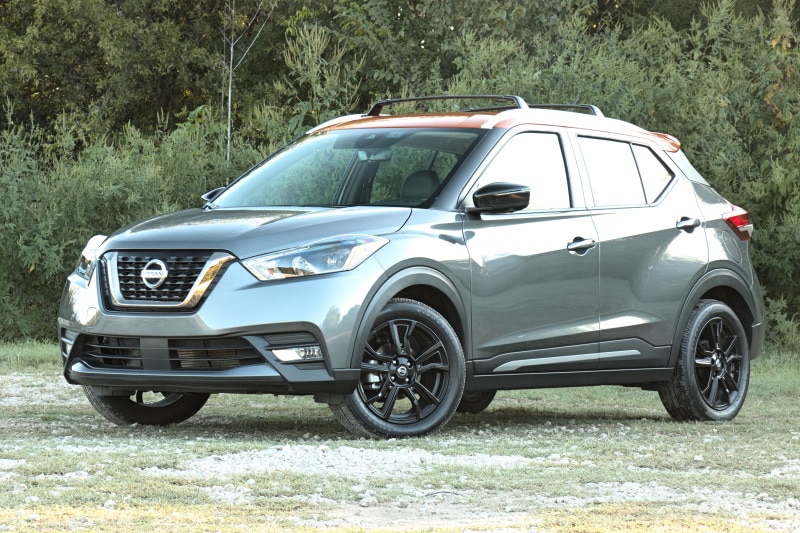 Consumer demand for crossovers and SUVs has motivated automakers to look for different niches to fill with them. Not everyone needs room for eight or front and rear locking differentials. A rig with enough horsepower to smoke sports cars off the line is not a must-have feature for a grocery getter/kid hauler.
The truth is some people want the looks and higher driving position of a utility vehicle, but spend more time driving around the city than crawling over rocks to reach a summit in the clouds. That's why vehicles like the Nissan Kicks exist. It's a small, nimble, fuel-efficient CUV designed to take on "the intensity of the urban landscape." That's exactly what I did with my 2020 Kicks SR test vehicle (base price: $21,320, as-tested price: $26,430).
---
2020 Nissan Kicks Exterior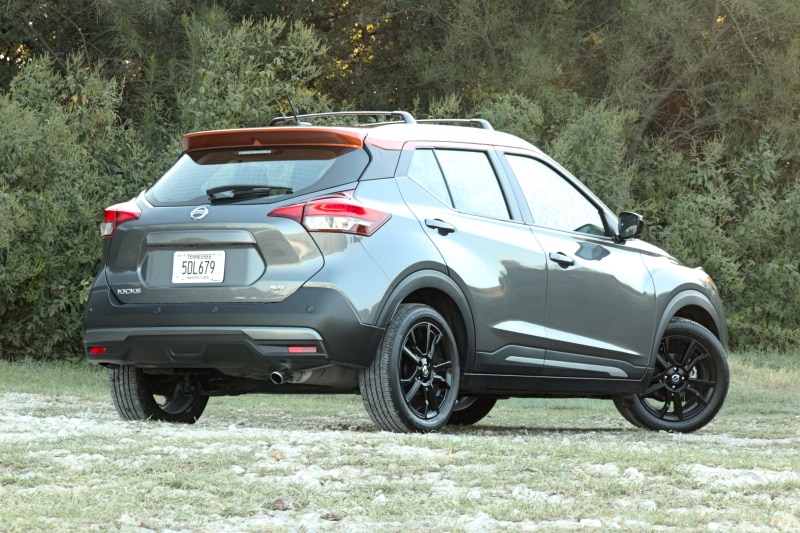 In my neck of the woods, Austin, Texas, crossovers and SUVs are a common sight. Despite how ubiquitous they are, my Kicks test vehicle managed to stand out. Its chrome-trimmed V-motion grille, pronounced wheel arches, upswept profile and blacked-out body pillars certainly made it a cute ute with obvious Nissan DNA. But none of those were the most attention-getting thing about the Kicks. The same goes for the optional exterior ground lighting, black 17-inch wheels, rear roof spoiler and the Exterior Package's roof crossbars, rear bumper protector plate and chrome exhaust finisher. What distinguished my press loaner from all of the other people movers around it was its paint color. Correction: colors. My tester wore a completely different take on the two-tone look. Instead of one color on the lower body and a different one above that, the Kicks SR had Gun Metallic everywhere except its roof, which was covered in distinctive Monarch Orange Metallic.
It takes a lot to get me to venture out of the suburbs and into the city. I had a great reason to do that during my week with the Kicks SR: Grabbing lunch with my fiancé Eli and our friend Rachel at a restaurant on the east side of Austin. After Eli and I picked Rachel up at her house, we all made the trip to Counter Café. Driving through downtown Austin typically stresses me out because the traffic can be thick, one-way streets are abundant and I always have to check for people darting out from behind parked cars on the sides of the street. I didn't have to worry about the Kicks's extremities, though. At less than six feet wide and 14 feet long, it was nimble. Parking was hassle free thanks to the 103.1-inch wheelbase; I was able to whip into my parking spot without worrying about the back end hanging over into the next space.
---
2020 Nissan Kicks Interior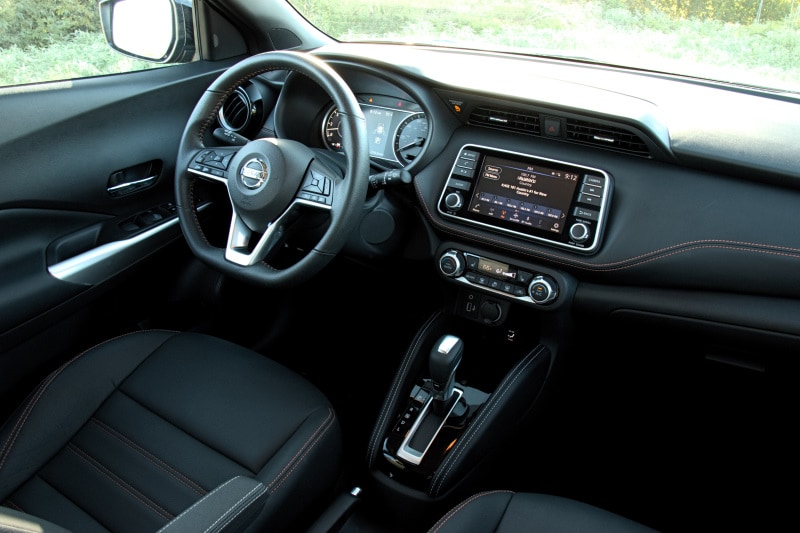 Any vehicle primarily designed for city driving needs to have enough space to keep everyone comfortable and smartphone-friendly tech. The Kicks SR had both. Nissan configured it with the Premium Package, so Eli and I sat in heated seats covered in Prima-Tex fabric up front. The combination of an analog speedometer and 7-inch display for the tachometer and other important readouts kept me informed while I was threading the Kicks through gaps in traffic.
After lunch, I needed to meet my colleague Scotty at Mattie's, an upscale Southern food restaurant, so I could shoot some footage for her. I couldn't quite remember how to get there, so I used a USB cable to plug my iPhone into the Android Auto- and Apple CarPlay-compatible infotainment system, punched in the address and followed the directions on the Kicks's 7-inch center touchscreen. A 12-volt plug and auxiliary and USB ports below the HVAC controls offered multiple ways of charging devices or accessing content on them. When I was by myself, I preferred streaming audio from YouTube through the eight speakers of the Premium Package's Bose Personal Plus audio system, especially the pair of speakers integrated into the driver's headrest.
Rachel spent the rides to and from Counter Café in the back seat and had plenty of legroom (full disclosure: she's 5'2"), as well as access to two USB charging ports.
---
2020 Nissan Kicks Powertrain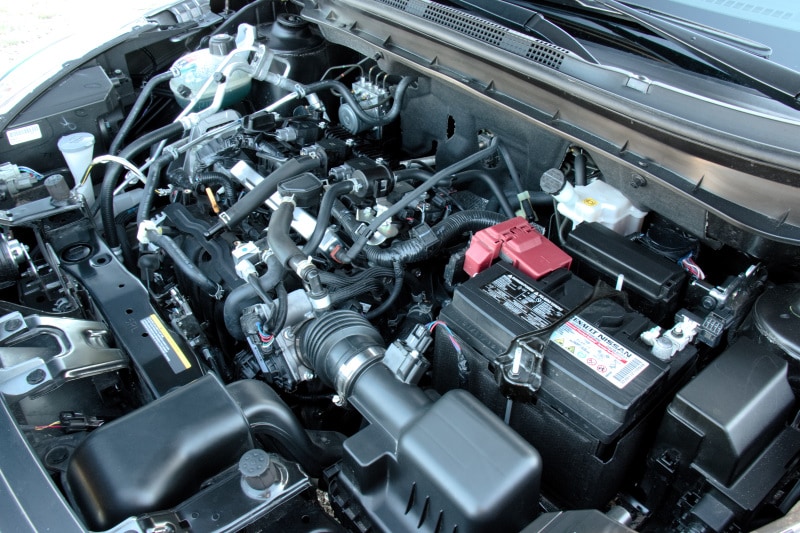 All Kicks models use the same naturally aspirated 1.6-liter 4-cylinder engine to get around town. With only 122 horsepower and 114 lb-ft of torque, it's built more for high gas mileage than acceleration. An Xtronic CVT (continuously variable transmission) and front-wheel drive also contribute to the Kicks's EPA fuel economy figures of 31 city, 36 highway and 33 combined mpg. I put 244.8 miles on my tester and averaged 31 flat.
The Kick's lack of pep wasn't an issue downtown, where it was able to get up to the necessary speeds without an issue. Its output was more noticeable when the limits went up. Fortunately, the CVT had a sport mode that made the Kicks seem a little peppier.
---
2020 Nissan Kicks Safety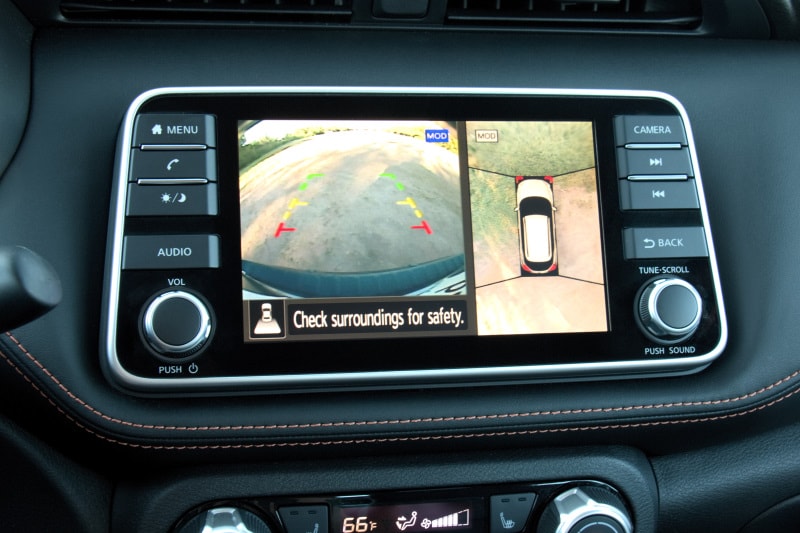 Nissan Safety Shield 360 technology is now standard across the entire 2020 Kicks range. It includes High Beam Assist, Blind Spot Warning, Lane Departure Warning, Rear Cross Traffic Alert, Rear Automatic Braking and Automatic Emergency Braking with Pedestrian Detection - perfect for fast-paced, constantly changing urban environments full of moving people, cyclists and cars.
The National Highway Traffic Safety Administration didn't have to worry about hitting anything in the Kicks. In fact, the NHTSA had to crash it on purpose to evaluate the effectiveness of its safety hardware. When all the debris settled, the Kicks earned an Overall Safety Score of four out of five stars.
---
2020 Nissan Kicks Overall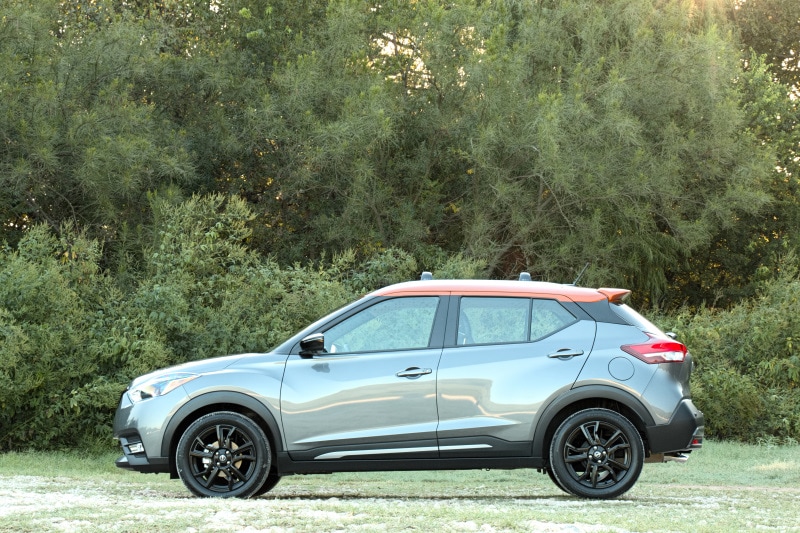 Not all adventure vehicles have a snorkel or factory-mounted winch. Some are made to get through the city instead of away from it. If you're looking for a crossover that'll get you to avocado toast instead of the Adirondacks, go to your local AutoNation Nissan dealership and check out the 2020 Kicks.
---
2020 Nissan Kicks SR Specs
Layout
4-door, 5-passenger, FWD
Engine/Transmission
1.6L I4, 122 hp, 114 lb-ft
CVT automatic
Mileage
31/36 mpg (city/hwy)
NHTSA Safety Rating

★ ★ ★ ★ ★
AutoNation Drive Test Drive Review: ★ ★ ★ ★
---
More Research
Browse more automotive research than you can shake a stick shift at.
---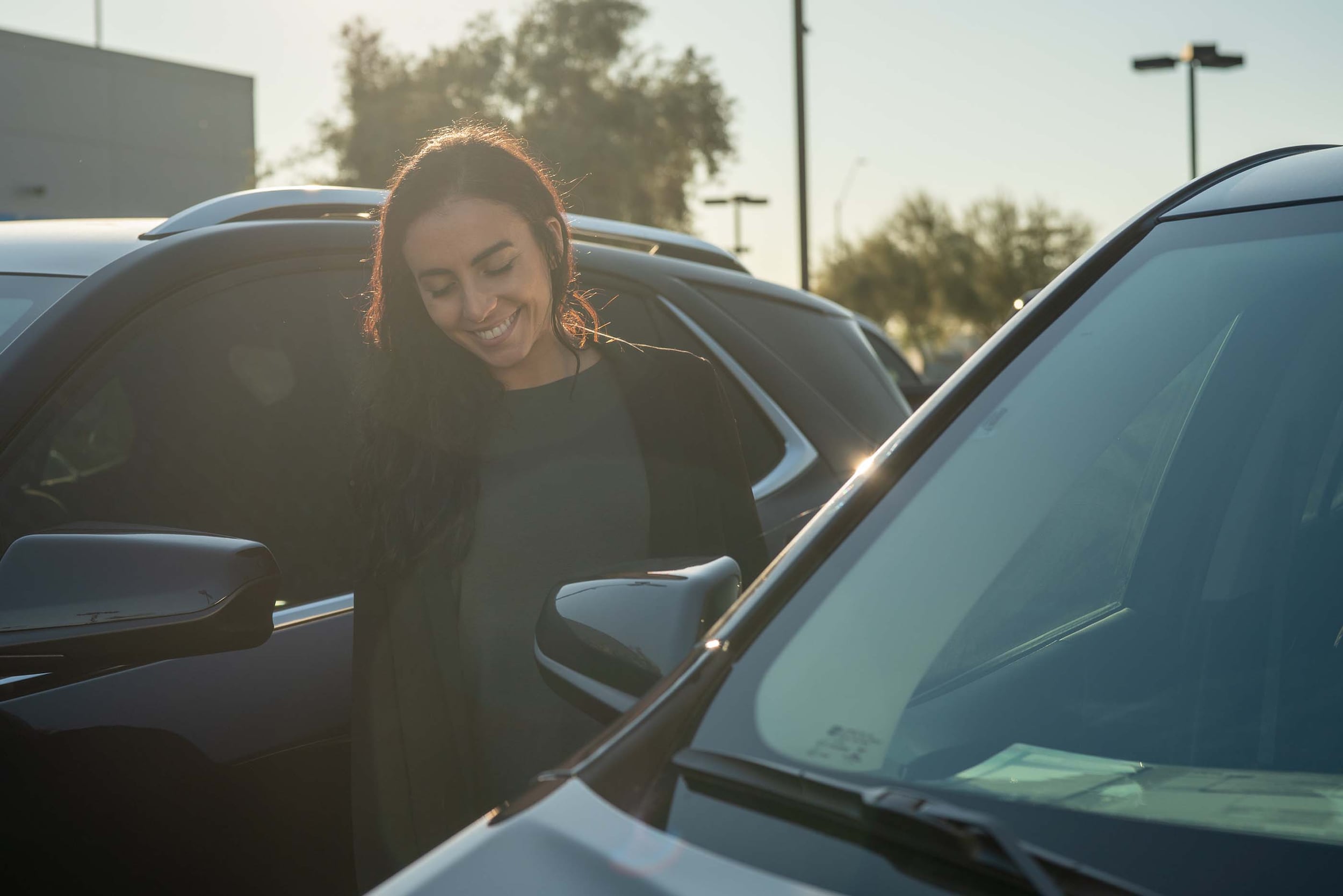 Test Drive Reviews
Our automotive experts at AutoNation Drive weigh in on price, safety, and performance of popular cars, trucks, and SUVs.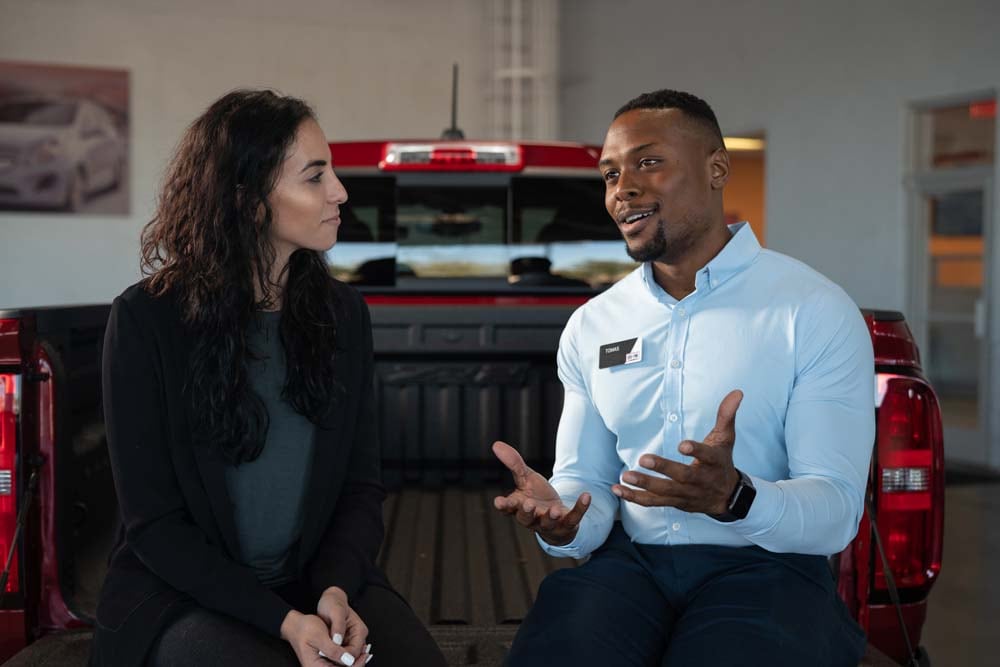 Car Buying Advice
If you're buying a car, truck, or SUV, the chances are - you need help. Don't worry. Our automotive experts are here to help.
---
*MSRP excludes tax, license, registration, destination charge and options. Dealer prices may vary.
**Based on EPA mileage ratings. Your mileage will vary depending on specific vehicle trim, how you drive and maintain your vehicle, driving conditions, and other factors.