Omar Rana
| Mar 02, 2020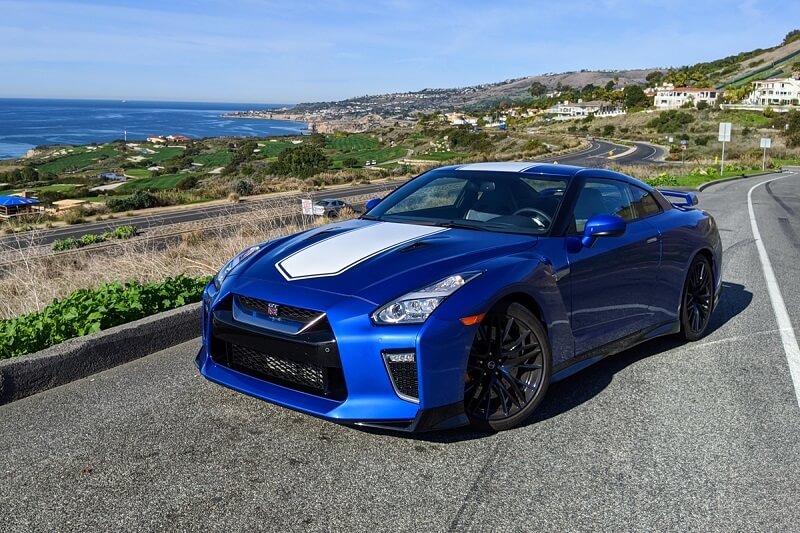 For most U.S. car buyers, the GT-R moniker has only been on the radar for a little over a decade. But these three letters have represented Nissan's engineering breakthroughs and racing success for the last 50 years.
Now, as a pop culture icon and benchmark for many sports cars, the 2020 Nissan GT-R 50th Anniversary Edition celebrates its decades of ingenuity and legendary status with exclusive paint schemes and interior appointments.
Join us as we explore the mind-bending performance features of a car that's lovingly nicknamed "Godzilla."
---
2020 Nissan GT-R Exterior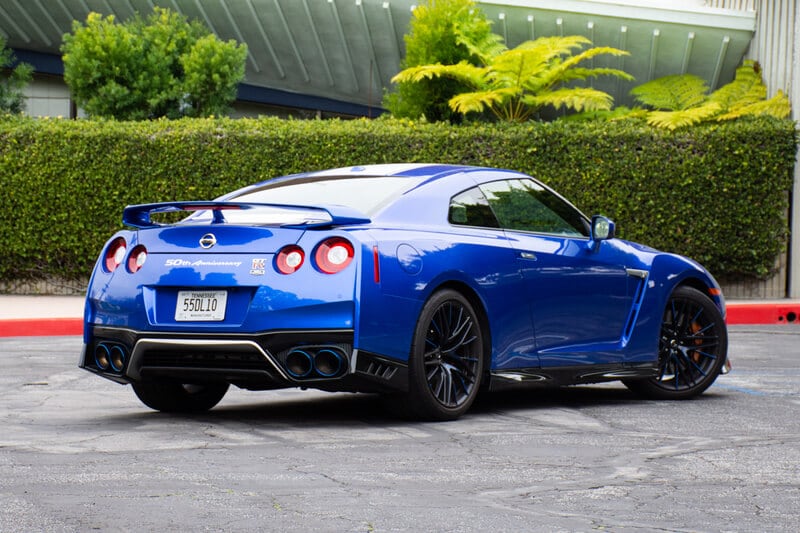 In 1999, the video game Gran Turismo 2 introduced the Nissan Skyline GT-R (R34) to a new generation of American car enthusiasts, providing virtual access to a homegrown sports car that wasn't available domestically. Since U.S. media didn't really write about the Skyline, and social media wasn't a thing yet, it's safe to say that Gran Turismo 2 single-handedly popularized the Skyline along with its exclusive Bayside Blue color.
Fast forward to now, and the 2020 Nissan GT-R is commemorating its 50th anniversary across the world. And part of the celebration includes limited edition liveries that feature, for the first time ever in the United States, Bayside Blue with white racing stripes. Two more exclusive colorways - Pearl White with red stripes and Super Silver with white stripes - complete the limited edition 50th Anniversary paint options.
As a fan of Bayside Blue (I'd even go so far to say it's my favorite car color of all time), the experience of seeing this complex and dynamic color in person is breathtaking. This heritage paint is applied in four coats along with a double-heat treatment process, and the result is a velvet-y deepness with highlights and shadows that move according to the sunlight. Blue accents on the new 20-inch RAYS forged aluminum-alloy wheels add a finishing touch to this long-awaited offering.
In terms of physical shape, the overall design hasn't changed dramatically, but its refinements continue to focus on three main areas: downforce generation, drag reduction, and systems cooling. For example, the hood's pronounced character lines not only provide visual impact, but also eliminate deformation at high speeds, ultimately improving aerodynamic performance. To us, the GT-R's sparse use of physical updates is proof that Nissan's designers are true visionaries, having created a sports car that's still competitive and attractive after a decade on the roads.
And this sentiment isn't limited to just yours truly. The GT-R turned heads and inspired photos everywhere I went. It was an instant poster car when it was first released, and continues to win fans nearly a decade later. /
---
2020 Nissan GT-R Interior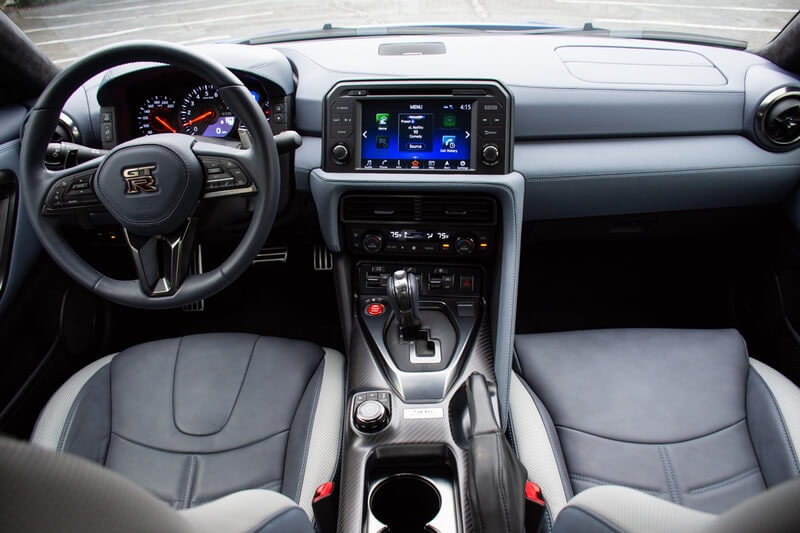 Part racing cockpit, part luxury tourer, the interior of the 2020 GT-R is maximum functionality interwoven with master craftsmanship. The tailored cabin has been designed to offer a distraction-free experience, giving you just the essentials to go fast, yet every surface feels immensely elegant.
My 50th Anniversary Edition test model features an exclusive gray interior color theme that spans the embossed racing seats, Alcantara headliner and Nappa leather-wrapped instrument panel. Carbon fiber accents are also strategically installed on the center console to really enhance the sporty feel of the cabin space.
The GT-R's eight-inch touchscreen monitor provides quick and easy access to phone functions, music, navigation, Nissan connected services, and also hosts a special "performance data" viewer. This live data feed - designed by Polyphony Digital, the makers of the Gran Turismo video game series - offers real-time stats on the vehicle's condition. Think G-force, operating temperatures, boost pressure and much, much more.
Standard on all 2020 GT-Rs is Apple CarPlay and Nissan Voice Recognition, so you can access the most important entertainment and connectivity features without taking your hands off the steering wheel. When you don't want to interrupt the music or a phone call, the Display Command multi-function knob on the center console is positioned perfectly for quick navigation through the menu screens.
And for a car that's primarily set up for high performance, the cabin is surprisingly quiet, blocking out unwanted tones via thoughtful design as well as active noise cancellation. Sound absorbing material behind the instrument panel, an acoustic windshield and noise insulators in the rear fenders are just some of the ways the GT-R minimizes low "booming" frequencies. Don't worry, though, the song of the titanium exhaust system can still be enjoyed to the fullest.
With standard heated and powered seats, an 11-speaker BOSE sound system and unmatched comfort, the only thing we're left to complain about is the lack of support for Google Android Auto.
---
2020 Nissan GT-R Powertrain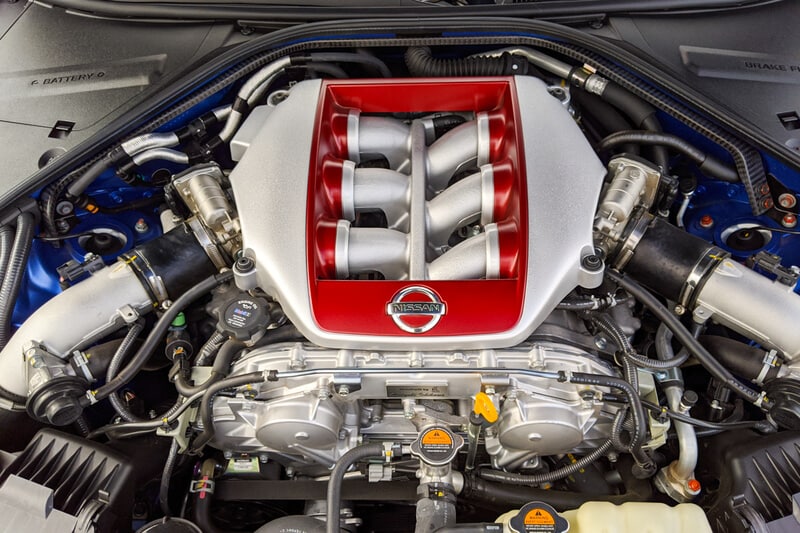 "Hrngh! That's so fast!" grunted our passenger, as the GT-R's acceleration pinned them to the seat. That was also my exact sentiment every time we opened the throttle -- and I simply couldn't get enough of it! Revised turbocharger tuning helps every 2020 GT-R Premium grade (which the 50th Anniversary Edition is based on) make the best use of the engine's 565 horsepower and 467 lb-ft of torque. Power delivery from the hand-assembled 3.8-liter engine is much more linear than previous model years, meaning peak torque comes in sooner (3,300 rpm) and progresses in a predictable manner.
These engine dynamics plus the storied ATTESA E-TS all-wheel drive system empower the GT-R with incredible corner ability - it's as if the car throws out an anchor before a turn and uses it to whip around. Thanks to these high levels of grip, we were able to get back on the accelerator much earlier when exiting a tight turn - a sure advantage when trying to lay down a fast track time. For straight-line speed, the advanced paddle-shifted sequential six-speed dual clutch transmission delivers the next gear almost instantaneously, utilizing predictive programming and a smart system that adapts to best fit each driver's style. This means you can leave the drive mode in "automatic," and be confident that the GT-R will always give you the best performance for the situation, from the streets to the track.
But wait, there's more. Activating "R" mode reveals the true "Godzilla," as the transmission delivers more aggressive downshifts, the electronically controlled suspension stiffens, and vehicle dynamic control (VDC) is less intrusive. These systems have been refined together to produce the best on-track experience with maximum grip, response and excitement. And putting a bow on the entire package is the standard titanium exhaust with hand-crafted burnished blue tips. Not only does it look amazing, but is lightweight, keeps gas temperatures low, and sounds incredible as it belts out pops and burbles during gear shifts.
While it's no secret that the 2020 GT-R is a track monster, its versatility, and how completely civil it is during daily use, is also impressive. Active noise cancellation, an electronic exhaust valve, and comfort mode settings transform the GT-R into a poised grand tourer, rolling smoothly across some of Los Angeles' bumpiest highways just as well as the next sport-tuned luxury vehicle. The GT-R doesn't make any compromises for performance, and at the same time, doesn't ask drivers to compromise on comfort and daily practicality. It's literally the best of both worlds.
Fuel economy for the 2020 Nissan GT-R 50th Anniversary Edition is an EPA-estimated 16 mpg city and 22 mpg highway**.
---
2020 Nissan GT-R Safety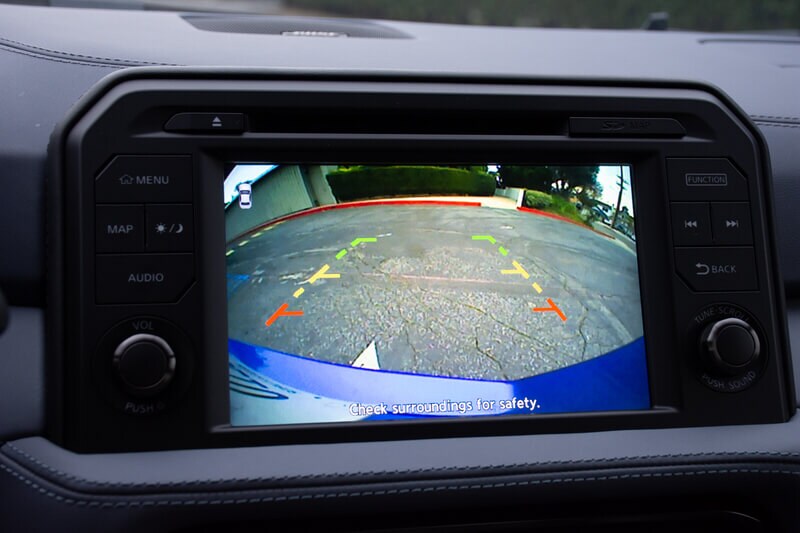 For the new model year, the Nissan GT-R comes loaded with a comprehensive suite of active and passive safety features. While in motion, Vehicle Dynamic Control, Traction Control and Electronic Brake Force Distribution work in harmony to make sure there are no surprises during emergency maneuvers.
Front, side and curtain airbags help minimize injuries in the event of a crash, along with Lower Anchors & Tethers for CHildren (LATCH).
For the driver, a RearView Monitor and front/rear parking sensors make maneuvering in tight spaces a breeze.
---
2020 Nissan GT-R Overall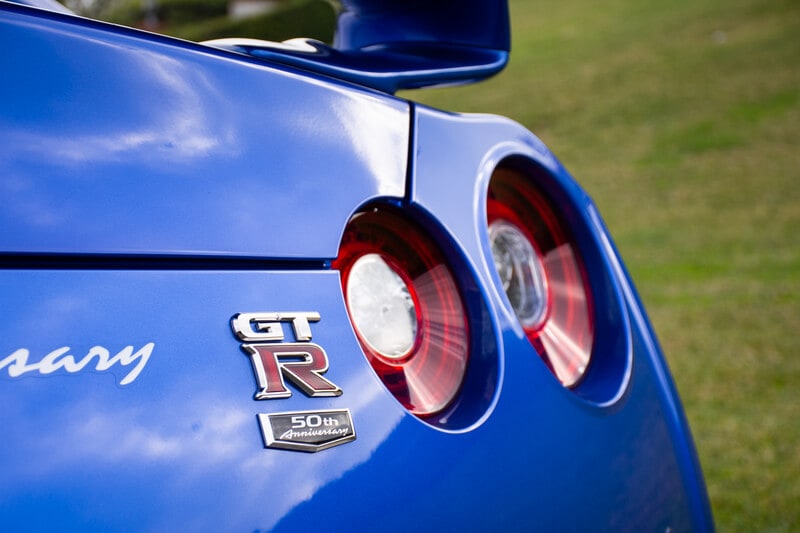 The 2020 Nissan GT-R 50th Anniversary Edition confidently delivers a supercar experience without the supercar price tag, and it's one of the many reasons that keeps the GT-R at the top of our wishlist.
Starting MSRP for the 2020 Nissan GT-R Premium is $113,540, and our test model's 50th Anniversary Package brings the price to $125,160*.