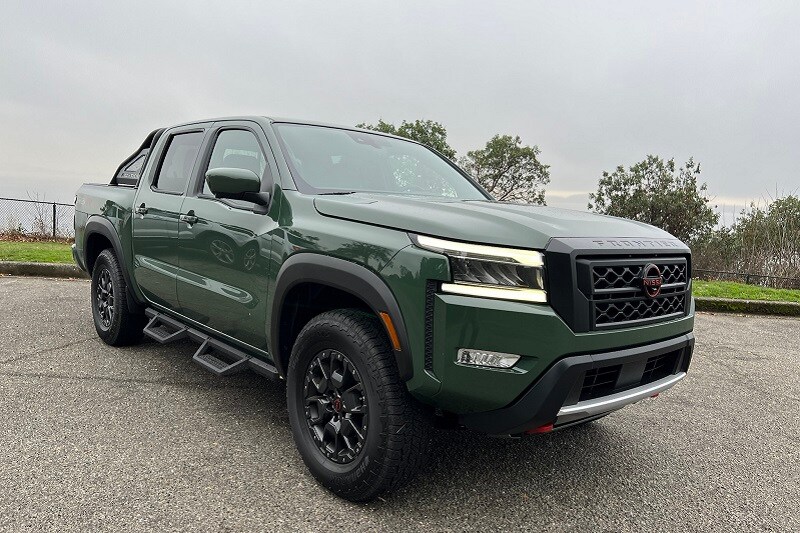 You don't have to look hard to spot a previous-generation Nissan Frontier. The capable rig enjoyed an epic 15-year run in the United States, and while it got mostly evolutionary updates over that period, it remained a strong seller. But with the mid-size truck market heating up, Nissan has completely redesigned the Frontier for the 2022 model year.
Shop Nissan Frontier Inventory
---
2022 Nissan Frontier PRO-4X Exterior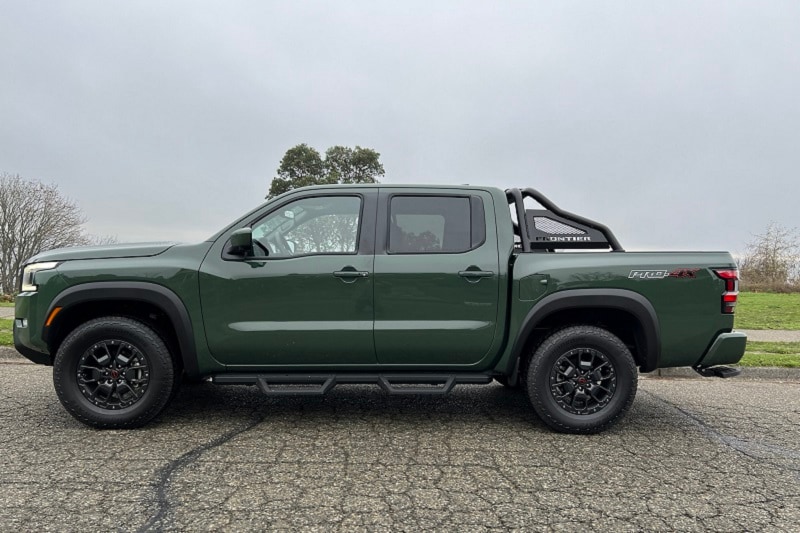 My tester was finished in Tactical Green Metallic, the color that's predominantly used in Nissan's Frontier press shots. That makes it what industry folks call the vehicle's "hero color," and it totally works on this rig. Over the week I spent with the Frontier, it got loads of positive attention, and the crew of mechanics which serves as my unofficial vehicle focus group gave the rig an enthusiastic, if unprintable, reception.  
Since my truck was delivered in PRO-4X spec, it was also equipped with a host of visual enhancements, including blacked out trim, red tow hooks, rock rails with wide step plates for front and rear passengers, and a trick sport bar at the front of the bed. Along with the black, beadlock-style 17-wheels and off-road rubber, the Frontier looked every bit the go-anywhere off-roader.    
At a hair under five feet, the bed on the PRO-4X isn't huge, but it was fitted with some interesting features, including a foldable grab handle, and extendable step under the rear bumper. Both would be useful features for folks who are constantly reaching into the bed, and the LED lighting on the sport bar made sure it was easy to see into the cargo area. There were also four sliding tie downs on the sides of the bed, and a 120-volt outlet to provide power.
Shop Nissan Frontier Inventory
---
2022 Nissan Frontier PRO-4X Interior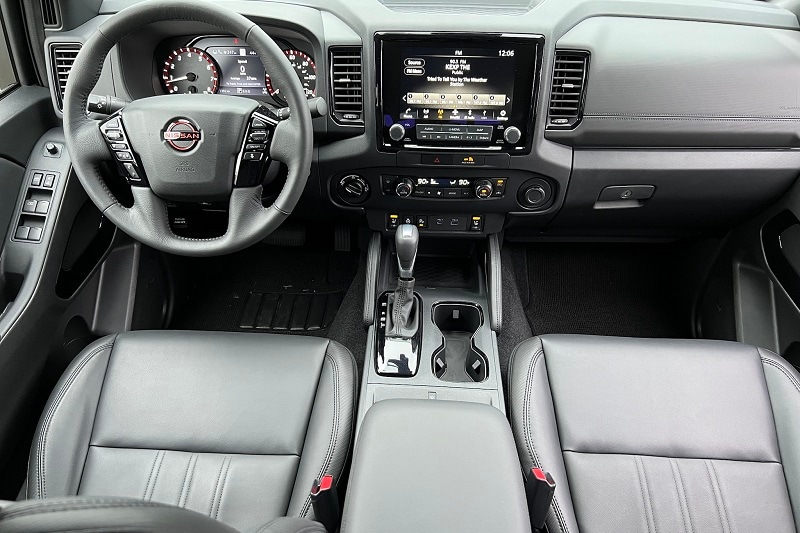 You don't have to be an industry expert to know that trucks have long outgrown their status as stripped-down work vehicles. That said, I like it when their utilitarian roots shine through -- and that's the case with the Nissan Frontier. Because while it features a quick-responding 9-inch touchscreen, Apple CarPlay, Android Auto, SiriusXM satellite radio, a WiFi hotspot, heated seats and dual-zone climate control, the layout is strictly business. It's a great example of form following function. 
I particularly liked how there's plenty of wide, flat storage surfaces, including a super-convenient wireless charging pad in the center console. So if you climb in with something in your hands, there's always an easy place to stow it. Also, while the touchscreen is well integrated, doesn't easily catch glare, and has loads of features, using it isn't a requirement for most vehicle functions, as there are physical buttons for most everything -- including access to the 360-degree camera. Everything is at your fingertips, and the intuitive organization of the controls means there's zero learning curve.
While I was comfortable driving, there's not a lot of headroom, even in the front seats. Or as my brother succinctly put it, "you're not wearing a cowboy hat and driving this truck." The rear seats also felt a little tight for adults, though I appreciated the underseat storage beneath the rear chairs.
Shop Nissan Frontier Inventory
---
2022 Nissan Frontier PRO-4X Performance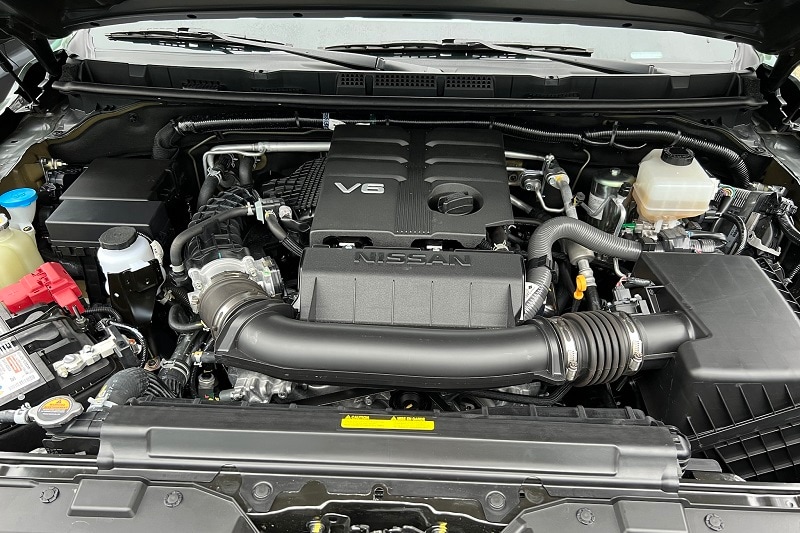 All Frontiers are packing a 3.8-liter V6, which makes 310 horsepower and 281 lb-ft of torque, which are solid figures for the mid-size class. In PRO-4X spec, power gets to the ground via a nine-speed automatic transmission with a shift-on-the-fly four-wheel drive system. Plus, there's a two-speed transfer case with high and low settings, an electronic locking rear differential, and beefy Bilstein shocks at all four corners. So when it comes to off-road chops, the Frontier does more than look the part. 
The first thing I noticed about driving the Frontier was that the steering was heavy. While it's hardly unmanageable, it's particularly noticeable at low speeds, and I'm honestly curious as to whether Nissan's engineers dialed in some extra heft to give the rig a beefy feel. That said, the driving experience is great, the big six gets it down the road nicely, and though it's a traditional body-on-frame design, I found it had great road manners, and even at highway speeds, wind and road noise weren't an issue. 
The Frontier has a payload capacity of 1,610 pounds, which is a little under the Ford Ranger (1,860 lbs), but higher than the Toyota Tacoma (1,440 lbs) and the Chevy Colorado (1,566 lbs). When properly equipped, it can haul up to 6,720 pounds, which is a little shy of those competitors, but plenty to tow toys like a pop up trailer, dirt bikes, or a medium-sized sailboat. In four-wheel drive spec, the Frontier is rated at 17 city, 22 highway.
Shop Nissan Frontier Inventory
---
2022 Nissan Frontier PRO-4X Safety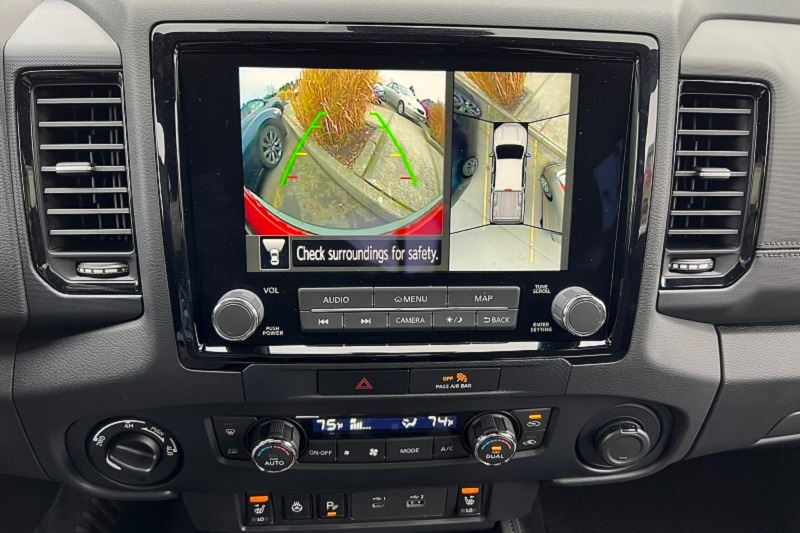 At this time, the 2022 Nissan Frontier has not been tested by the National Highway Traffic Safety Administration or the Insurance Institute for Highway Safety. 
But the Frontier featured a robust list of safety tech, including Blind Spot Warning, Lane Departure Warning, Rear Cross Traffic Alert, Rear Automatic Braking, Automatic High Beams, and Intelligent Cruise Control. Given that I wind up in a lot of congested parking lots, I also appreciated the physical button to activate the truck's great 360-degree camera. This is a great little addition which takes lots of the stress out of parking in tight quarters.
Shop Nissan Frontier Inventory
---
2022 Nissan Frontier PRO-4X Overall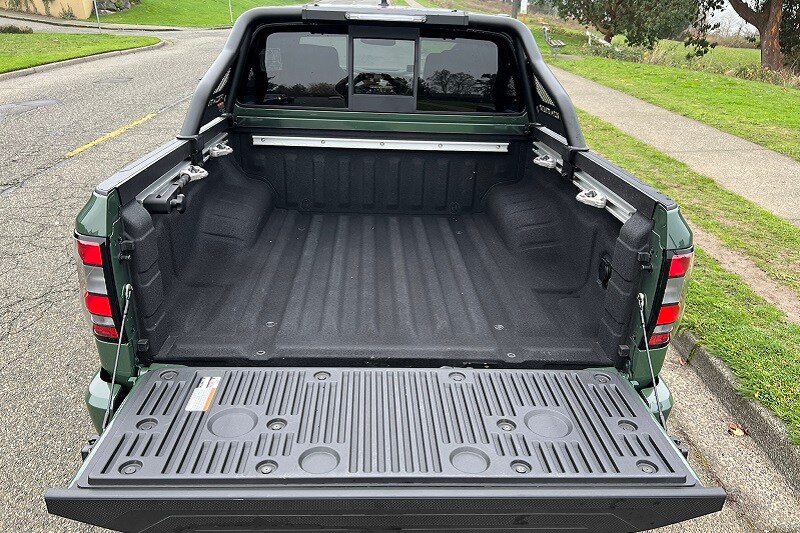 The mid-size truck market is red hot right now, and the Frontier is a great addition to the segment. The hauling and towing specs should prove plenty for most buyers, and its off-road chops don't come at the expense of on-road manners. Plus, the tech is great, and I happen to think it looks the business -- especially in Tactical Green Metallic. 
The list price of my tester was $37,240, but it was equipped with some options which raised the price. These included the Pro Convenience Package ($1,990), which added kit like the spray-in bedliner, tie-down system, wireless charging, and trailer hitch, and the Pro Premium Package ($2,790), which included leather seats, a Fender ten-speaker audio system, leather seats, the 17-inch wheels, and the sunroof. Including other accessories like the Sport Bar ($1,095), Side Steps ($750), and Tactical Green Metallic paint ($395) brought the grand total to $46,965.
Shop Nissan Frontier Inventory
---
John Coyle
| Dec 8, 2021