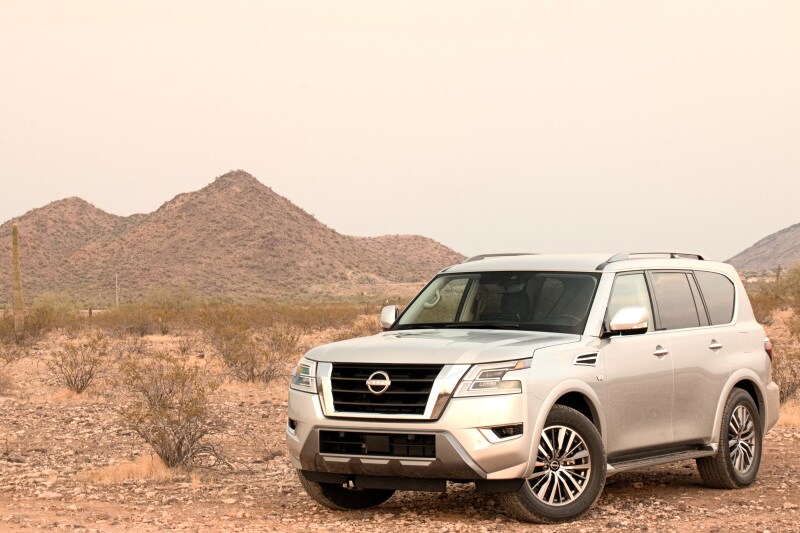 Did you know that July is National Ice Cream Month? I sure didn't. I only found out because
Nissan
told me after I made arrangements to review the 2021 Armada SV 4X4. They suggested I take it out to some of the ice cream shops in my area. It sounded like a fun idea and a great way to beat the summer heat, so I obliged--and indulged. 
It was a learning experience in more ways than one. By the time the Armada showed up in my driveway, I had lived in the Phoenix area for more than six months, but I hadn't tried out any of the local ice cream parlors. And I hadn't had the opportunity to test the newest Armada, which received updated exterior styling and new interior tech for 2021. That all changed when I find out how my $60,305 test vehicle functioned as an unusual ice cream truck - the kind that you drive to pick up the delicious treat, not deliver it.
---

2021 Nissan Armada SV Exterior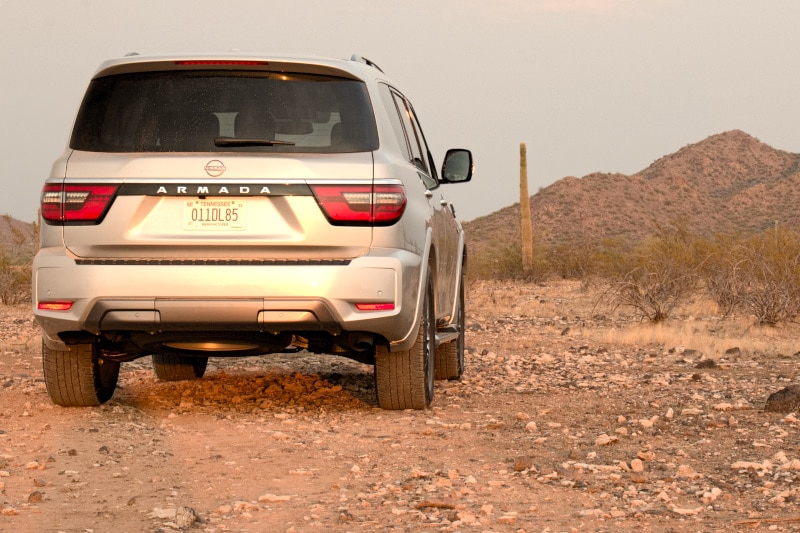 The 2021 Armada is the latest vehicle to get the new face of Nissan SUVs. Reshaped front fenders, a grille with a bolder frame, C-shaped LED headlights, and a redesigned front bumper give it a more defined, industrial look and an undeniable family resemblance to its Pathfinder sibling. The rear end received a similar treatment in the form of restyled LED taillights linked by a black trim bar that spells out the Armada's name in chrome letters. A more chiseled rear bumper brings the Armada's makeover to a literal end. 
There are two areas on the 2021 Armada that are significant not just to it, but to Nissan's future vehicles as well. Nissan chose the Armada to be the launch vehicle for its new logo, which has a low-key gray and white color scheme that makes it look as if it was made out of metal and then etched and enameled by hand.
My SV press loaner had a little extra style, thanks to the Appearance Package. In addition to LED fog lights and a set of eye-catching 20-inch wheels, it also adds an automatically dimming rearview mirror and a power rear liftgate. For a complete breakdown of
Nissan trim packages
, make sure to check out our handy guide!
---

2021 Nissan Armada SV Interior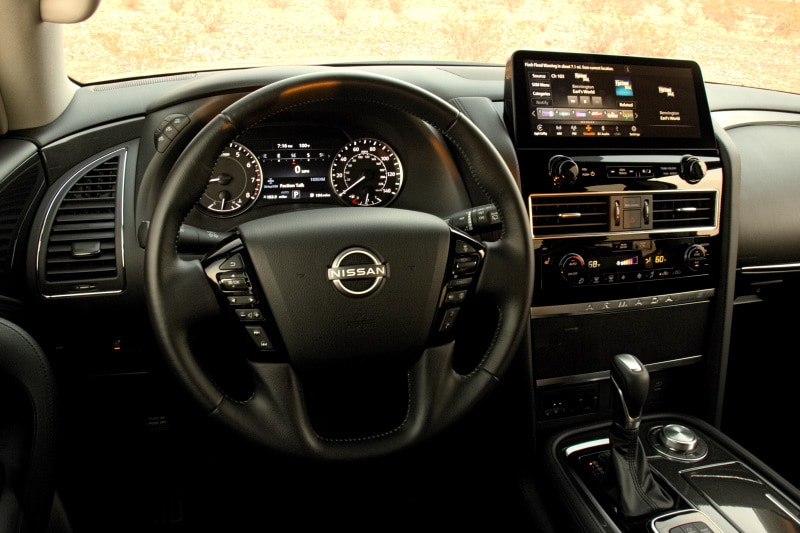 My fiancé and I made Handel's the first stop on our list. I wasn't familiar with the city of Surprise, so the trip gave me the perfect opportunity to punch in the address on the Armada's new 12.3-inch touchscreen. Not only is it larger than the outgoing display, but the new system also reduces clutter in the center stack. Oddly, the Armada's infotainment system is right in the middle of the auto industry's transition from largely hard-wired to wireless smartphone interfaces. It provides wireless Apple CarPlay, but Android Auto still requires using a USB cable.  
We opted for Strawberry Cheesecake Chunk, which was just as wonderful as it sounds, and Heavenly Hash, a mashup of chocolate ice cream, chocolate-covered peanuts, chocolate chips and marshmallow cream. To keep the mess to a minimum, my fiancé and I opted for cups. I wanted to see how the Armada's primary front cup holders would accommodate them, so I needed to move our beverages. Luckily, the Armada has plenty more drink-friendly space in the front door pockets, the second row's fold-down center armrest, and outboard third-row armrests. I didn't have to take up precious treat space with my phone because there was a handy wireless charging pad with a flip-up door below the climate controls. 
The second and final stop on our tasting tour was Bruster's. My fiancé chose a combination of Pistachio and Chocolate Chip Cookie Dough; I went with straight-up Black Cherry. This time, we didn't even have to get out of the Armada and leave the precious cool air that surrounded us. We just pulled up to the drive-through window. Given the Armada's roughly 10-foot wheelbase, 17-foot length, and nearly seven-foot width, I was concerned it would be a bit of a bear to get through the lane's entry point cleanly, but I managed to avoid curbing a wheel or dragging a fender against a pole. 
It's a shame we didn't have more people with us. The second row had more than enough adult-sized headroom and legroom. It even had its own climate controls and ceiling-mounted HVAC vents. Levers on top of the outboard seatbacks made it easy to get to the third row.
---

2021 Nissan Armada SV Performance
Nissan did a great job of dialing in the Armada's suspension to cushion against lumps in the road without heaving up and down in a way that can cause sea sickness on dry land. I could definitely feel the Armada's connection to the Titan truck through the steering, which had a pronounced low level of power assistance at parking lot speeds. The 5.6-liter Endurance V8 under the hood made getting up to highway velocities easy and gave me a throaty soundtrack to listen to along the way.
My fuel economy was not nearly as sweet as the ice cream my fiancé and I tried, but it was not out of the range the EPA estimated for the Armada. According to the agency, my tester was capable of returning 13 city, 18 highway, and 15 combined mpg. I averaged 15.5 mpg over the course of 194.5 miles. 
---

2021 Nissan Armada SV Safety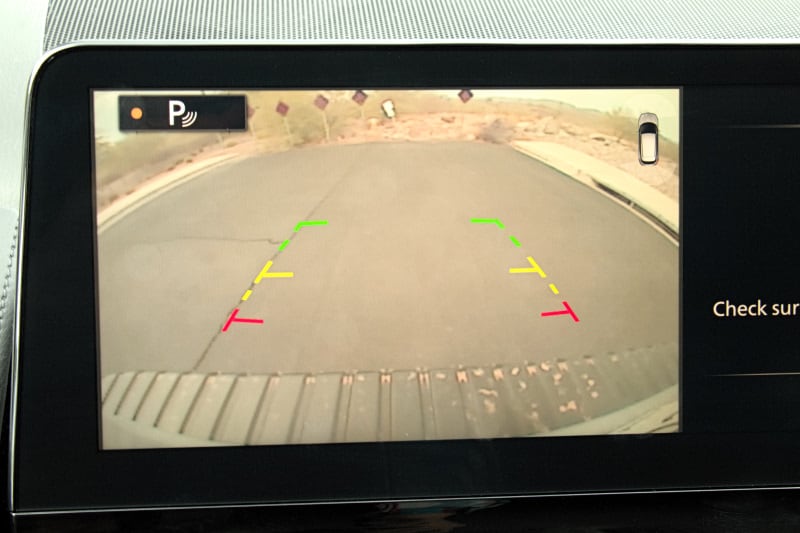 All Armada trim levels come standard with the Nissan Safety Shield 360 bundle, which includes High Beam Assist, Automatic Emergency Braking with Pedestrian Detection, Lane Departure Warning, Blind Spot Warning, Rear Cross Traffic Alert, and Rear Automatic Braking. Intelligent Forward Collision Warning, Full Speed Range Intelligent Cruise Control, Intelligent Lane Intervention, Intelligent Blind Spot Intervention and more are also on the Armada's long list of reassuring features.
---

2021 Nissan Armada SV Overall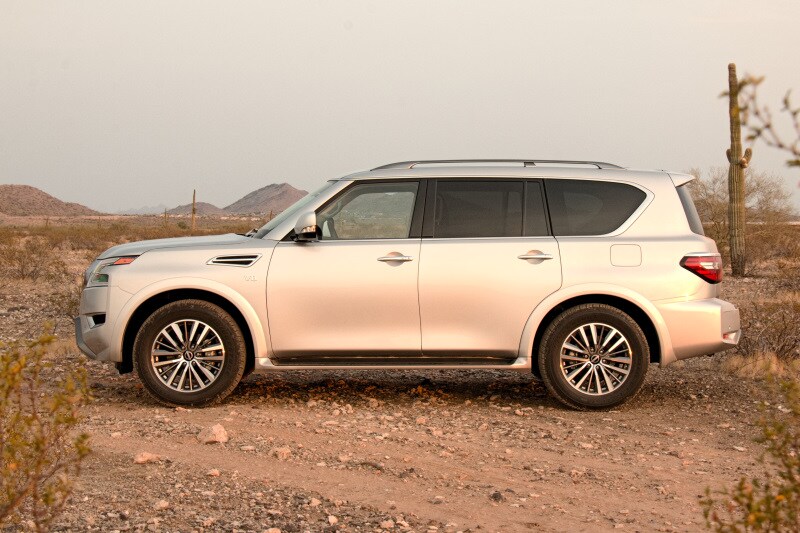 The updated 2021 Armada performed well as the world's most specific and unorthodox ice cream truck. The only thing that would've made my time in the SV model even sweeter is ventilated front seats. Then again, a scoop of Butter Brickle or Salty Caramel Truffle has a similar effect. 
To put the 2021 Armada to your own kind of special test, head to your closest
AutoNation Nissan dealerships
. If you take it to get ice cream, be careful not to spill any on the carpet. Just to be safe, bring back an extra cone for the sales associate who lent you the keys.
Derek Shiekhi
| Aug 24, 2021