Derek Shiekhi
| Mar 02, 2020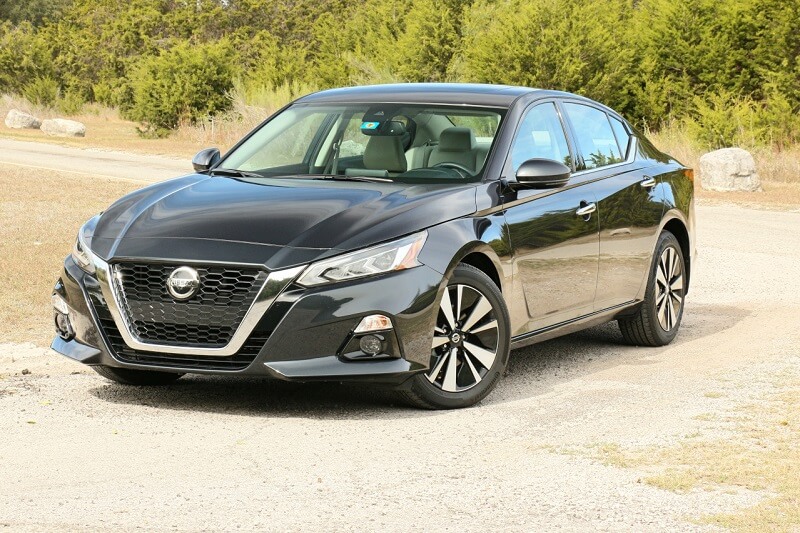 ---
Over the past couple of years, Nissan has completely revamped its sedan lineup. The Versa and Sentra are all-new for 2020. The year before that, Nissan introduced a thoroughly refreshed Maxima.In 2019, Nissan also debuted the sixth-generation Altima. Incorporating styling cues from the award-winning Vmotion 2.0 concept car shown at the 2017 North American International Auto Show, designers made the newest model longer, lower, and wider than its predecessor. The "gliding wing" dashboard spread out across an interior filled with updated infotainment and safety tech, including Nissan's ProPILOT Assist system.One of the biggest changes was under the hood.

The 2019 Altima was available with an extensively revised, more powerful four-cylinder engine and a variable-compression turbocharged power plant appropriately dubbed the "VC-Turbo." For the first time ever, the Altima could push its power to the road through either front- or all-wheel drive.Nissan didn't stop there. It made significant upgrades to the 2020 Altima lineup, which includes the S, SR, SV, SL and Platinum trim levels. The Altima S is now available with a Driver Assist Package; the Altima SR gets Nissan's Safety Shield 360 technology as standard equipment. SV and SL models receive new Piano Black interior trim. The Altima Platinum also gets it, as well as a mirror memory function.I missed my chance to drive the Altima when it was an all-new 2019 model, but things ended up working out for the best. A 2020 Altima SL with all-wheel drive ($34,855 as tested) showed up at my house just in time for me and my girlfriend to take it on a road trip from Austin to Dallas, Texas and back.
---
2020 Nissan Altima Exterior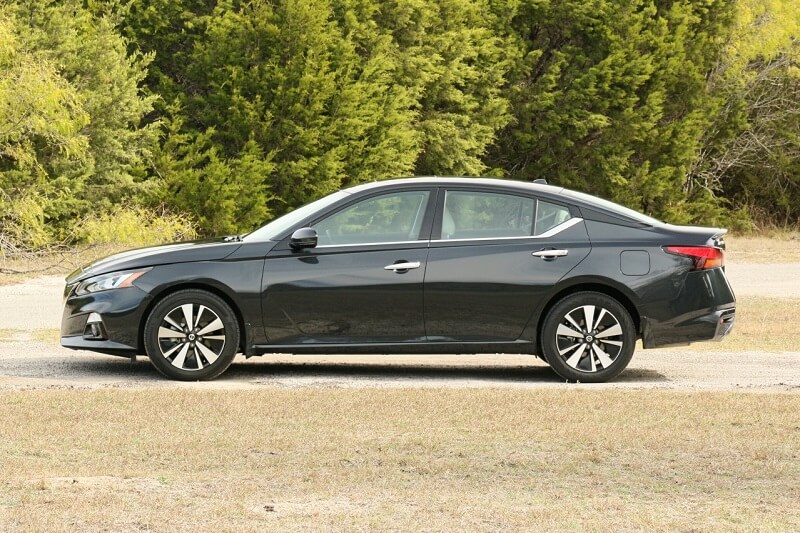 It wasn't that long ago when mid-size sedans had safe, bland lines. The 2018 Toyota Camry started a new era of boldly styled four-doors and the 2020 Altima continues it. My test car's unmistakably Nissan V-motion grille started low down on the front fascia between the LED fog lamps and fanned out to connect to the distinctive daytime running lights and LED projector headlights. A pronounced style line ran down the Altima's sides, dividing them into two distinct regions.
Above the line, the window glass seemed to flow into a black stripe through the C-pillar, making the roof look as if it was floating - another Nissan design trait. Below the line, there was an upward sweep to the bodywork, which made the Altima appear poised and ready to charge ahead on its 17-inch wheels.
Nissan put a couple of subtly sporty touches on the rear end. It topped the trunk lid with an optional low-profile lip spoiler colored to match my press loaner's Storm Blue Metallic body work. A diffuser, one of the distinguishing characteristics of many high-performance cars, spanned the distance between the chromed dual exhaust finishers.
---
2020 Nissan Altima Interior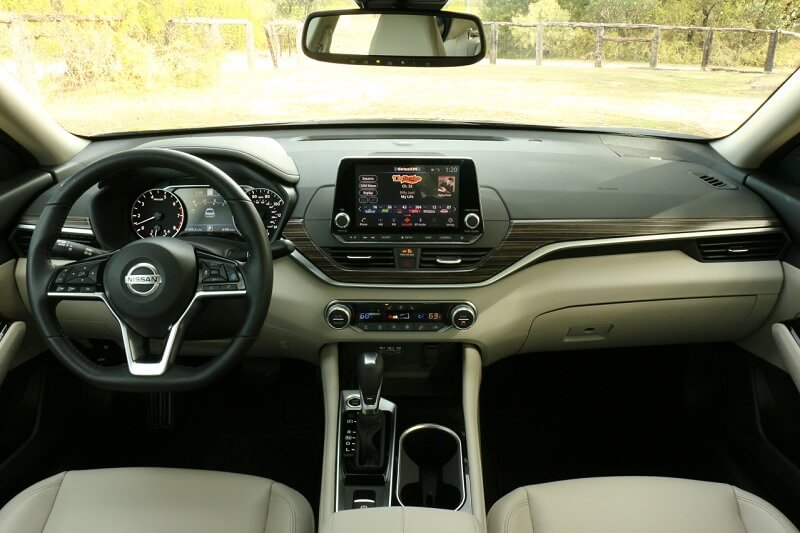 According to Google, the distance between Austin and Dallas is 195 miles. My girlfriend Eli and I were going to make the roundtrip to visit my pal Bryan - and a drive from Dallas to Rockwall to see Eli's aunt and uncle - in one day, so we were going to need a comfortable car. I knew the Altima was going to be a pleasant way to pass the miles, but I didn't expect it to be as remarkable as it was. The SL trim level came with a long list of standard features, ranging from a heated steering wheel to dual-zone automatic climate control to a nine-speaker Bose audio system to a power sliding and tilting moonroof.
As nice as those things were, they weren't nearly as wonderful as the heated leather front seats. I'd heard that Nissan's NASA-inspired "Zero Gravity" seats were comfortable, and once Eli and I had gone about 75 miles in the Altima SL, I knew what everyone had been raving about. I felt it. So did Eli. The dual-density foam in the seats gave them the perfect combination of cushion and support. To this day, I am evangelical about them.
I was also impressed by the rear seats, but not for the obvious reasons. At one point during my week with the Altima, I needed to transport a pair of tall bar stools in it. The trunk opening's dimensions didn't allow me to load them in that way. Fortunately, I was able to open the back doors, fold the rear seat backs down and carefully maneuver the bar stools onto the new load floor that they formed.
Whenever Eli and I go on road trips, I do the driving while she plays DJ. The Altima SL made both of our jobs easier. On the highway, I didn't have to worry about my speed or following distance because my press loaner's standard ProPILOT Assist system included Intelligent Cruise Control with Full Speed Range and Hold. That could not only bring me to a complete stop, but manage the throttle and braking during traffic jams. Once Eli and I got into town, the electronic parking brake's Auto Hold feature allowed me to keep my foot off the brake pedal at stop lights; once the light turned green, all I had to do was press on the gas. "DJ Eli" had an Apple CarPlay- and Android Auto-compatible eight-inch touchscreen and user-friendly knobs for the volume and tuning at her fingertips.
---
2020 Nissan Altima Performance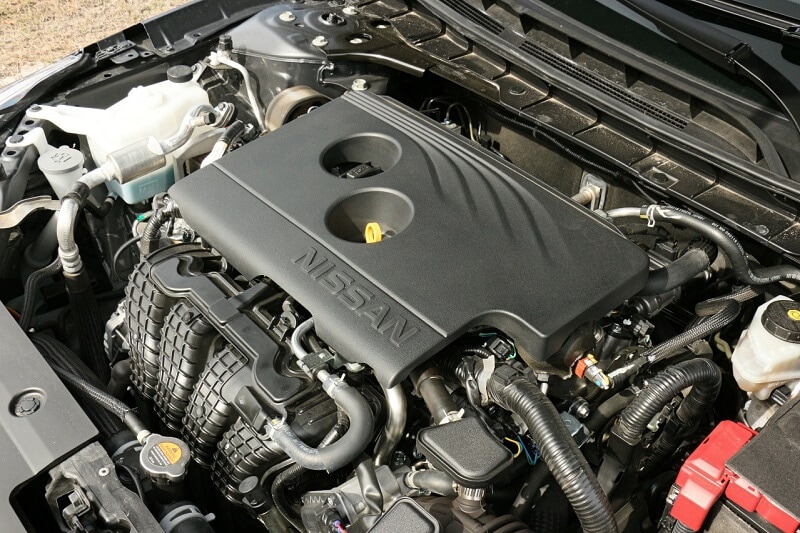 The Altima's engine also made it a great long-distance cruiser. Nissan pairs the naturally aspirated 2.5-liter four-cylinder engine with an Xtronic CVT (continuously variable transmission) and either front- or all-wheel drive.
Altimas with all-wheel drive, like my SL tester, generate slightly less power than their FWD counterparts: 182 horsepower and 178 lb-ft of torque vs. 188 and 180, respectively. I didn't feel as if I was missing out. The Altima had plenty of get-up-and-go when I needed it. Acceleration wasn't my main concern, though. I was more interested in what kind of gas mileage I was going to get in the Altima. Its on-paper numbers were promising.
The EPA determined that my test car was capable of hitting 26 mpg in the city, 36 mpg on the highway, and 30 mpg under mixed conditions. The Altima's real-world fuel economy was better than I expected it to be. By the time my week with the Altima was over, I had put 597.3 miles on it and averaged 34.6 mpg.
---
2020 Nissan Altima Safety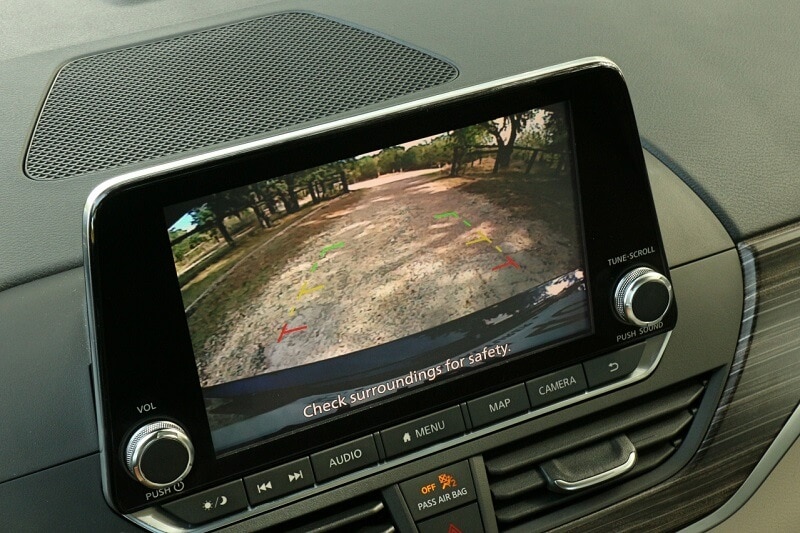 Given how many miles Eli and I had to cover in the Altima, I was glad to know it was generously stocked with safety features. The best part was that they were all standard. In addition to all-wheel drive, my test car also had Traffic Sign Recognition, Intelligent Forward Collision Warning and Intelligent Lane Intervention.
As its name implies, Nissan Safety Shield 360 provides all-around protection with its automatic high beams, Automatic Emergency Braking with Pedestrian Detection, Lane Departure Warning, Blind Spot Warning, Rear Cross Traffic Alert, and Rear Automatic Braking.
---
2020 Nissan Altima Overall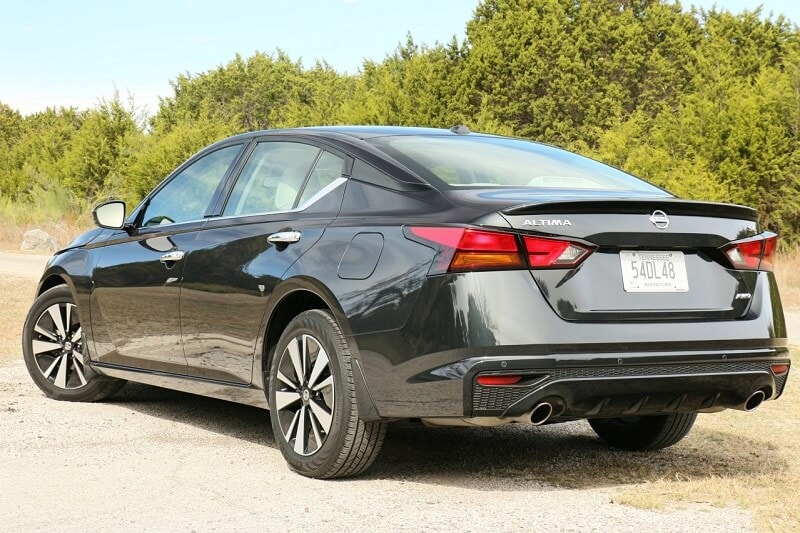 The newest generation of the Nissan Altima is off to a great start. In SL form, it has familiar good looks and a genuinely shocking level of comfort for a base price of $31,590.** Its impressive fuel economy is a nice bonus, especially given the Altima's generous dimensions. You don't have to drive almost 600 miles like I did to learn more about the 2020 Altima. All you have to do is go to your local AutoNation Nissan dealership.