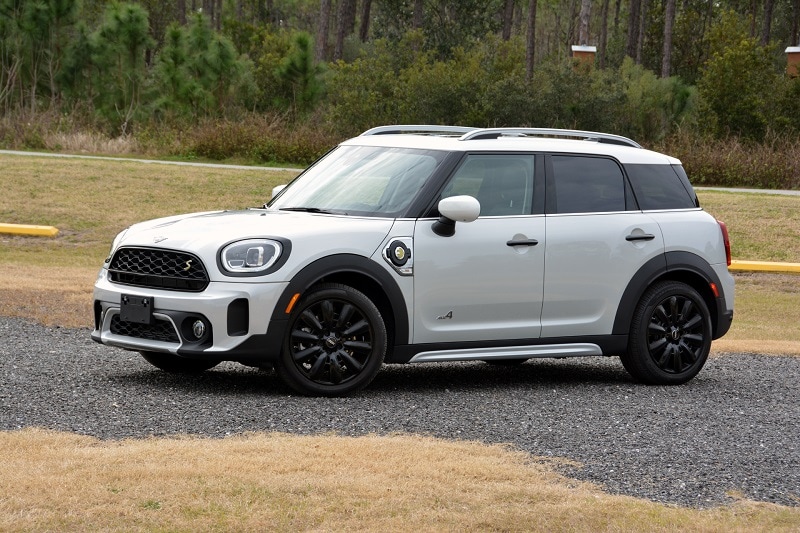 There's no denying the fact that electrification is the future of transportation. But as the charging infrastructure continues to grow, it's plug-in hybrid electric vehicles (PHEVs) that will help American drivers acclimate to plugging in.
One such vehicle that's bridging the gap is the 2021 MINI Cooper SE Countryman ALL4 PHEV, which has been offering its advanced plug-in powertrain to premium crossover shoppers since 2017. Following a 2020 battery update which increases the overall EV driving range, the MINI Countryman PHEV got a styling update for 2021, so now MINI's top-selling model has even more of a unique attitude.
---
2021 MINI Cooper SE Countryman ALL4 PHEV Exterior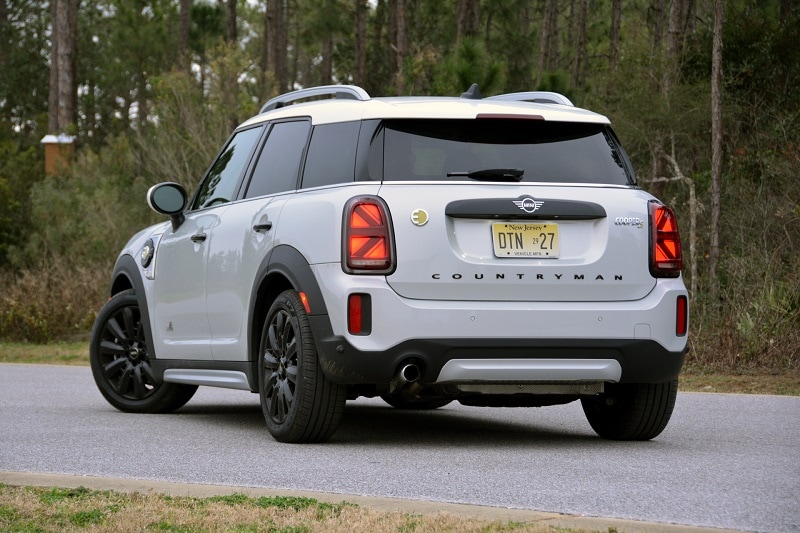 The MINI Countryman hasn't changed tremendously since it was first introduced back in 2010. But the refreshed design offers a bolder appearance which pays homage to MINI's British heritage.
The 2020 facelift saw slight tweaks to the front and rear bumpers, while the coolest part of the 2021 MINI Countryman is the new LED taillights that incorporate the United Kingdom's Union Jack flag. With subtle green accents on the badging, along with E badges on the liftgate and fenders, only minimal changes are visible for the plug-in model. Even the charging door is cleverly incorporated into the Countryman's fender accent. As bold as MINI colors can get, this tester was painted in a very understated combination of White Silver with white mirror caps and roof, subtle white hood stripes (a $100 option) and black 18-inch wheels.
---
2021 MINI Cooper SE Countryman ALL4 PHEV Interior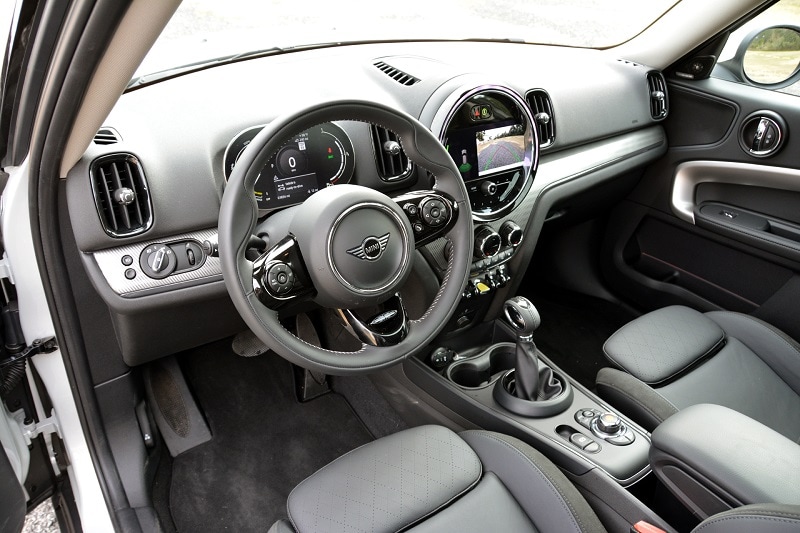 Once inside the 2021 MINI Countryman PHEV, there's no doubt that this crossover - or Sport Activity Vehicle as BMW and MINI call it - is a premium offering. Puddle lights with the MINI logo illuminate on the ground as you approach the Countryman, and opening the doors reveals a stylish - yet quirky - cabin lined in dark leather and suede-like accents.
To go along with the updated exterior design, the new Countryman gets a restyled digital instrument gauge cluster and a new 8.8-inch touchscreen navigation system in the middle of the oversized, center display housing. My tester also had the $2,500 Signature Trim and Premium Package which bundle features such as power-folding mirrors, a power liftgate, a panoramic roof, and Apple CarPlay compatibility. Thankfully, the facelifted 2021 MINI Countryman retained our favorite part about this car's interior - the toggle switches on the center stack and overhead console.
Unlike some plug-in hybrids, the additional battery and electric drive components don't cramp interior space too much. There's still plenty of room for five passengers, including plenty of headroom, thanks to that tall, squared-off roofline. In terms of cargo space, the 2021 MINI Cooper SE Countryman ALL4 PHEV only loses 0.2 cubic feet of cargo space compared to its non-hybrid model, meaning there's 17.4 cubic-feet behind the seats and 47.4 cubic feet with the rear seats folded.
---
2021 MINI Cooper SE Countryman ALL4 PHEV Performance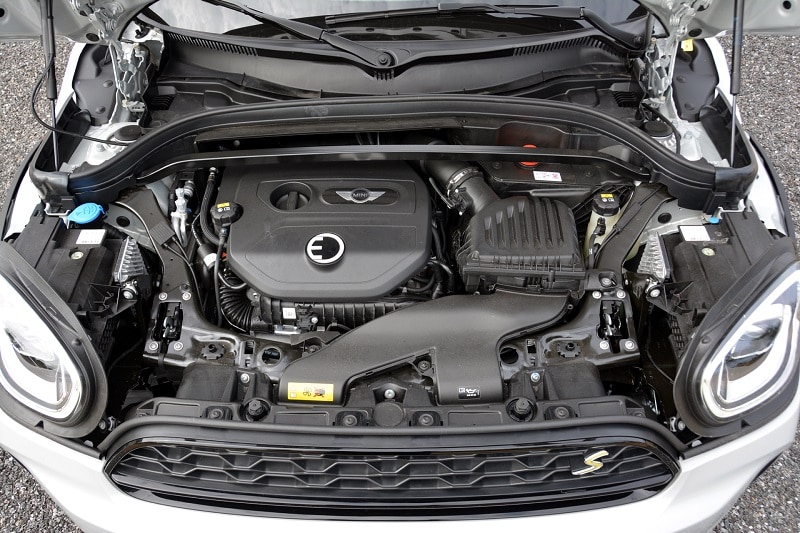 The plug-in hybrid powertrain used in the 2021 MINI Cooper SE Countryman ALL4 combines a 1.5-liter inline three-cylinder turbocharged engine, a six-speed automatic transmission, and a 10 kWh battery pack for a total net power output of 224 horsepower.
Since PHEV buyers are mostly concerned with efficiency, the MINI Countryman plug-in has EPA-rated fuel economy estimates of 73 MPGe** in combined city/highway driving with a fully charged battery, 29 MPGe** once the battery has been depleted and 18 miles of all-electric driving range. That's definitely not the best of modern plug-in hybrids, but you'll be hard-pressed to find many others that are more entertaining to drive.
Thanks to its wide stance and low center of gravity, this plug-in Countryman still feels like an oversized go-kart, and delivers a zero-to-60 time of 6.5 seconds, along with a 122 mph top speed. The Countryman rides on the same front-wheel-drive platform as the BMW X1 and X2 crossovers, and the rear-mounted electric motor provides the SE Countryman ALL4 with all-wheel-drive capability.
Despite the obvious gains in fuel efficiency, the plug-in Countryman actually has a lower overall driving range than its non-hybrid counterpart due to a much smaller fuel tank. While the standard Countryman can hold 16.1 gallons of premium gas, the Countryman PHEV holds just 9.5 gallons. That means even with a fully charged battery, the plug-in model has a range of 300 miles compared to the 419-mile range of the non-hybrid Countryman S ALL4.
---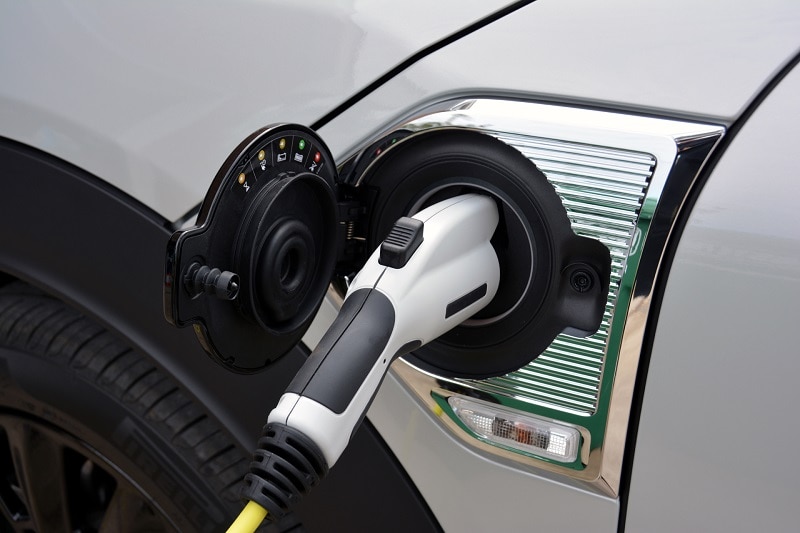 2021 MINI Cooper SE Countryman ALL4 PHEV Safety
The 2021 MINI Countryman has not been tested by the National Highway Traffic Safety AdMINIstration, but it does come standard with Active Driving Assistant, Forward Collision Warning, Rear Park Distance Control, and Rain-Sensing Wipers.
---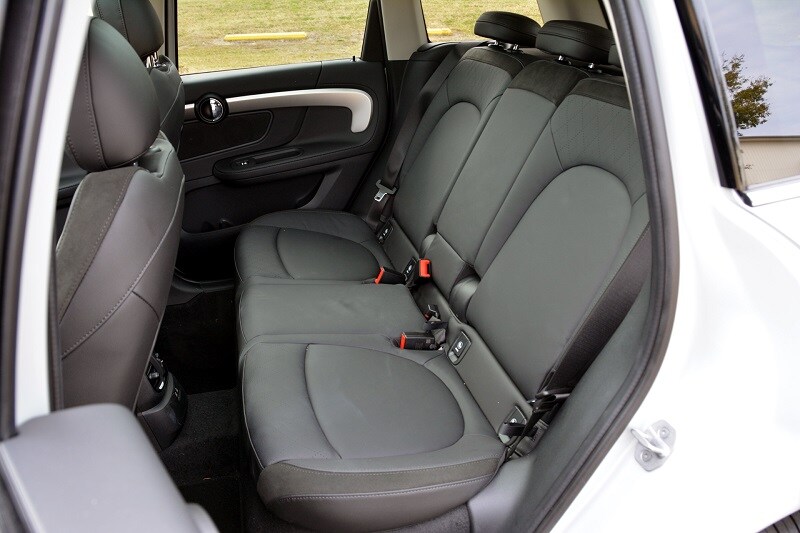 2021 MINI Cooper SE Countryman ALL4 PHEV Overall
In the last two years, the Countryman SE ALL4 PHEV has received extensive updates to combine the fun, energetic driving experience of a MINI with the advanced, fuel-efficient powertrain of a plug-in hybrid. As expected, though, there is a price premium for the plug-in model.
The $41,500* 2021 MINI Cooper SE Countryman ALL4 plug-in model costs about $8,000 more than the $33,900 Countryman S ALL4, and for reference, the entry-level 2021 Countryman Oxford Edition starts at $25,900*. With all of its options, the plug-in Countryman used for this review had an as-tested price of $46,450, which doesn't include any available local, state or federal tax credits which might be available.
---
Jeffrey N. Ross | May 13, 2021