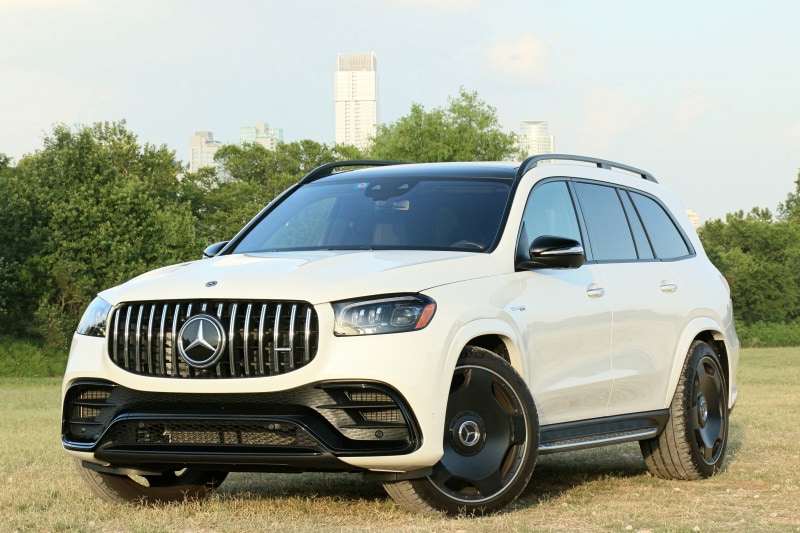 There's a running joke about Texas that everyone down here wears a cowboy hat and rides a horse. To a certain extent, that's true. There are definitely people in the Lone Star State that lean into the rugged western look and enjoy saddling up for a ride. Overall, we Texans overwhelmingly favor using wheels instead of legs to get where we need to go. Those wheels are attached to plenty of muscle cars and commuter sedans, but you can't look up from eating your BBQ without seeing a truck or sport utility vehicle.
With so many SUVs on the road, you can become desensitized to the sight of them. In such a sea of sameness, it's hard for any one of them to stand out. The 2021 Mercedes-AMG GLS 63 I recently tested (starting price: $132,100, as-tested price: $149,160) managed to do it - in more ways than one.
---
2021 Mercedes-AMG GLS 63 Exterior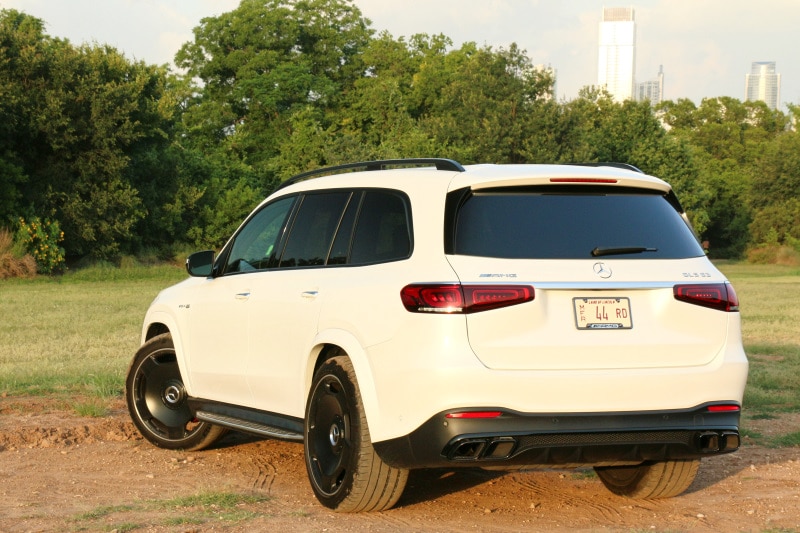 At the beginning of my week with the GLS 63, I didn't notice all of the heads swiveling to catch a glimpse of it, but my fiancé Eli sure did. Once she mentioned how many people in traffic and parking lots eyed it, I became more aware of the attention it received wherever we went. I put part of that down to the GLS 63's sheer size. The GLS 63 rides on more than ten feet of wheelbase and measures more than seven feet wide, nearly six feet tall and more than 17 feet long.
Then there was the fact Mercedes dressed the GLS 63 in the high-contrast combination of designo Diamond White Metallic paint and the Night Package, which blacked out the lower front and rear fascias, front splitter, roof rails, greenhouse trim and exhaust finishers. By far, the most eye-catching thing about my test vehicle was its wheels. Mercedes swapped out its stock rollers for a set of optional black and silver 23-inch forged monoblocks. They were so massive that even I couldn't help but look at them every time I was around the GLS 63 and I saw it every single day for a week straight. A closer look revealed that Mercedes-AMG had gone full sports car and wrapped them in staggered-width Michelin Pilot Sport 4S rubber: 285/40 in the front and 325/35 in the back.
Shop Mercedes-AMG GLS 63 Inventory
---
2021 Mercedes-AMG GLS 63 Interior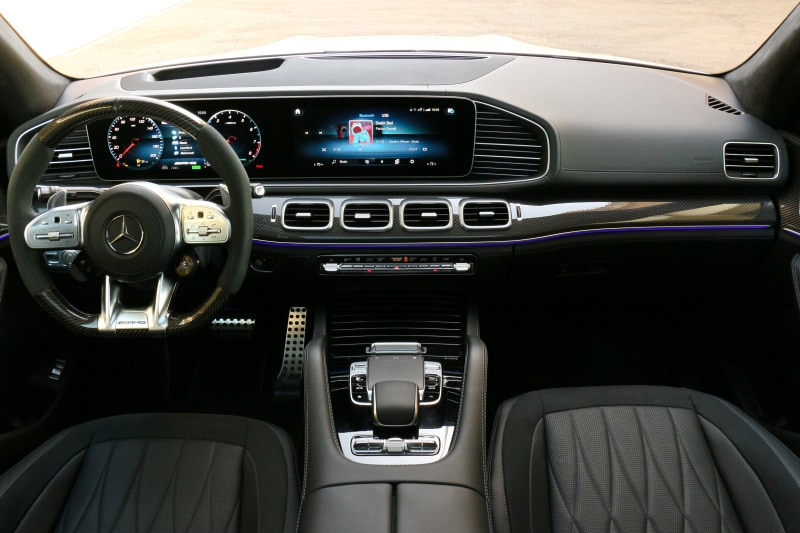 Several years ago, Mercedes adopted a new nomenclature to make it easier to tell where each of its models ranked in terms of prestige and size. Its largest utility vehicle, the GL-Class, turned into the GLS, essentially the SUV equivalent of the S-Class sedan. My press loaner lived up to the name ... er ... letter. A thick ribbon of glossy carbon fiber trim ran from the door panels, under the pair of 12.3-inch widescreens for the main gauges and MBUX infotainment system, and across the dashboard. There was more of the racy, lightweight material on the optional AMG Performance steering wheel, which featured side grips covered in fine DINAMICA microfiber.
Each row of seats treated me and my passengers to diamond-quilted leather. The front buckets offered heating, ventilation and multiple massage modes. The optional Energizing Package Plus combined the Air Balance cabin fragrance system (which pumped out a subtly sweet scent named "AMG #63") with something Mercedes calls Energizing Comfort. That's basically a bundle of spa-like programs that coordinate the climate control, ambient lighting, Burmester surround sound system, cabin fragrance system and front seat temperature and massage settings to provide relaxing or invigorating experiences.
There was more than enough legroom in the power-adjustable second row for all 5'10" of me, as well as dedicated climate controls and HVAC vents in the B-pillars and ceiling. Pulling on a seatback-mounted switch made each section of the bench tilt and slide forward to make getting into the third row easier. Even that had enough space for my legs and head so I could sit comfortably. Fitting seven grownups into the GLS 63 shouldn't be a problem, although those in the back two rows may have to compromise a little in terms of seat position and angle to make sure everyone can travel comfortably.
Shop Mercedes-AMG GLS 63 Inventory
---
2021 Mercedes-AMG GLS 63 Powertrain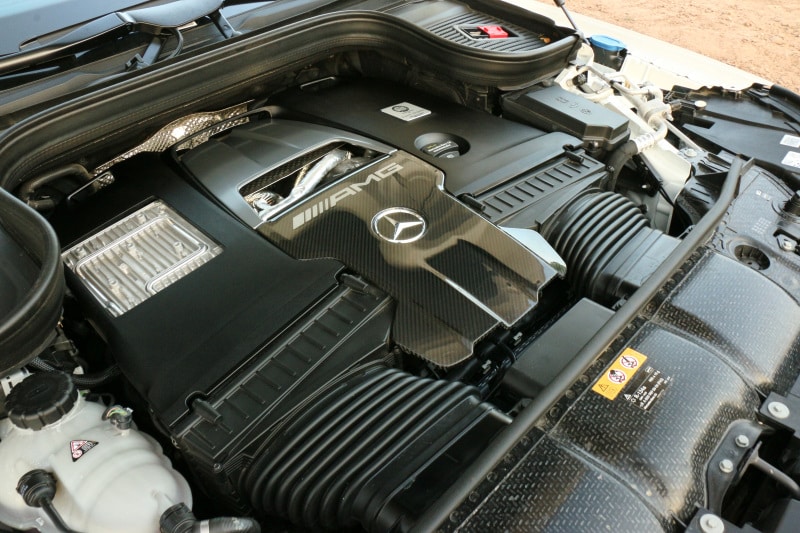 The GLS's six-figure price tag, three rows of seats and 23-inch wheels make it what I call a "numbers vehicle." Every figure attached to it is impressive, especially those under the hood.
By itself, the twin-turbo 4.0-liter V8 produces a face-flattening 603 horsepower and 627 lb-ft of torque. It channels that through a nine-speed automatic transmission and AMG Performance 4MATIC+ all-wheel drive. Mercedes-AMG enhances the 2021 GLS 63 by adding the EQ Boost system, which consists of an electric starter-generator combo, 48-volt electrical system and lithium-ion battery. In certain instances, such as standing starts or overtaking another vehicle on the highway, EQ Boost can supply an additional 21 horsepower and 184 lb-ft of torque. It's as crazy as it sounds.
Something as large and heavy as the GLS 63 shouldn't be able to bolt to 60 mph in 4.1 seconds, but I believed it every time I mashed the throttle and unleashed a rageful roar that quickly filled the cabin. Let's just say the GLS 63 made me a believer more than once. By the time I had finished using the optional AMG Drive Unit to put the GLS 63 in its more focused Sport and Sport+ Dynamic Select drive modes, I was a devout follower.
Shop Mercedes-AMG GLS 63 Inventory
---
2021 Mercedes-AMG GLS 63 Safety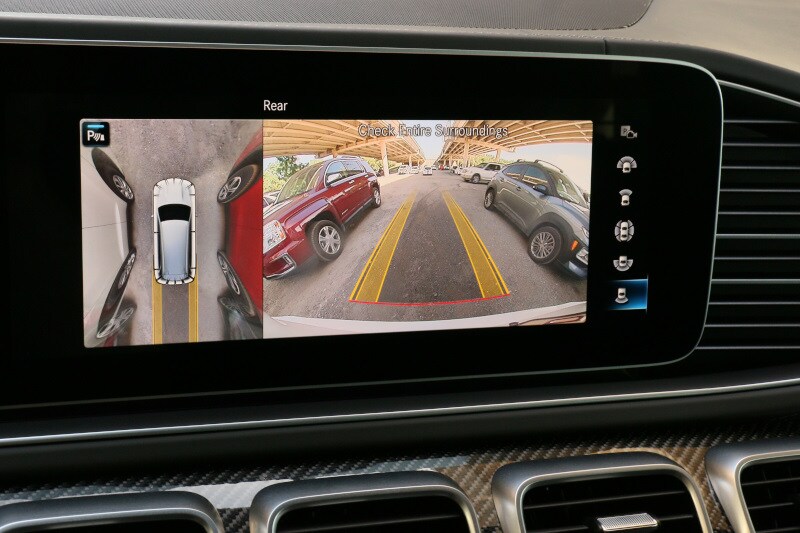 Luckily for me, the GLS 63 had the safety equipment to match its bonkers power. Behind those huge monoblocks were 15.7-inch ventilated and perforated front rotors and ventilated 14.6-inch rear rotors squeezed by red calipers. Those joined forces with the GLS 63's adaptive LED headlights, automatic high beams, 360-degree camera package, Active Blind Spot and Lane Keeping Assist systems and other safety features to keep me shiny-side-up.
Shop Mercedes-AMG GLS 63 Inventory
---
2021 Mercedes-AMG GLS 63 Overall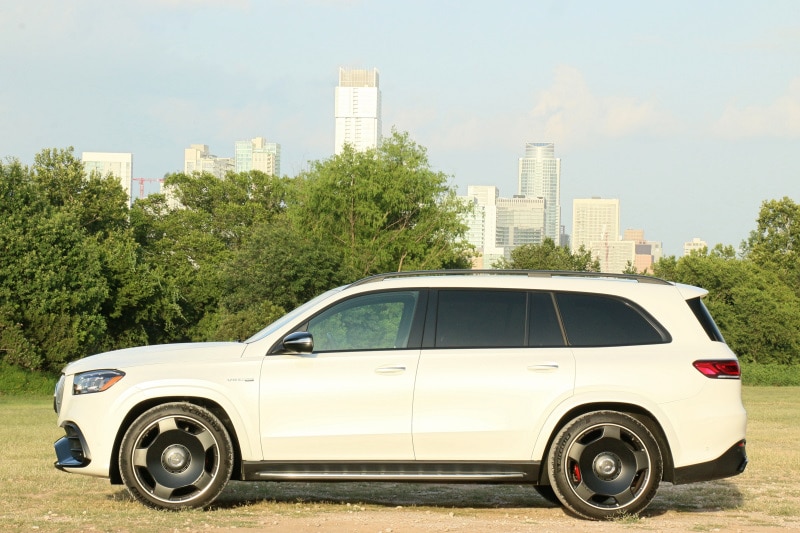 I never thought I'd say this about a three-row SUV, but the 2021 GLS 63 is one of the most extreme vehicles I've ever tested. Its massive wheels complemented its enormous body - and put its colossal power to the road. You'll see what I'm talking about when you go to an AutoNation Mercedes-Benz dealership and take one for a - and I mean this in the strongest sense of the word - quick test drive.
Shop Mercedes-AMG GLS 63 Inventory
---
Derek Shiekhi | Mar 26, 2021