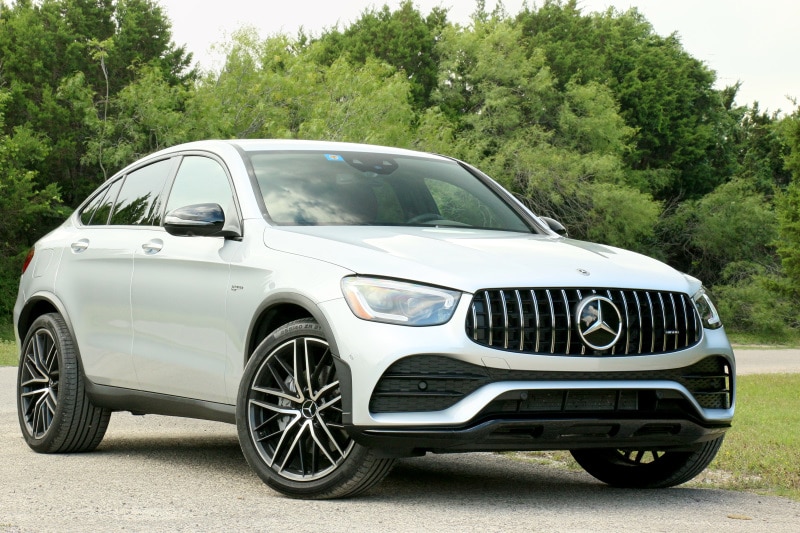 "Luxury" is a word that's said so much that we rarely stop and think about its various meanings. It's often synonymous with sprawling estates filled with fine furniture and rare works of art. Luxury also takes the form of a massage- and aromatherapy-filled day at a spa. To some, time - whether it's time to do what you want to do or not having to spend time on the things you find undesirable - is a luxury.
All of those certainly qualify, but that list doesn't include one of the greatest luxuries of all: choice. It doesn't matter if you're at an ice cream shop or getting custom clothing made - being able to choose exactly what fits your tastes and preferences is always an indulgence.
Mercedes-Benz seems to look at automobiles the same way. Its lineup covers an impressively broad spectrum of body styles, sizes, engine types and performance levels. Think of a permutation and Mercedes probably offers it. Four-door "coupe" with a turbocharged 4-cylinder engine? Take a look at the CLA 250. Sedan with a gas inline-6, forced induction and electric boost? The E 53 fills that narrow niche. Boxy off-roader powered by a twin-turbo V8? You're thinking of the G 550. Let's try a really hard one. What about a two-row SUV, with a swoopy roofline... and... a high-output V6? Yep, Mercedes makes one. It's called the 2020 Mercedes-AMG GLC 43 Coupe.
---
2020 Mercedes-AMG GLC 43 Exterior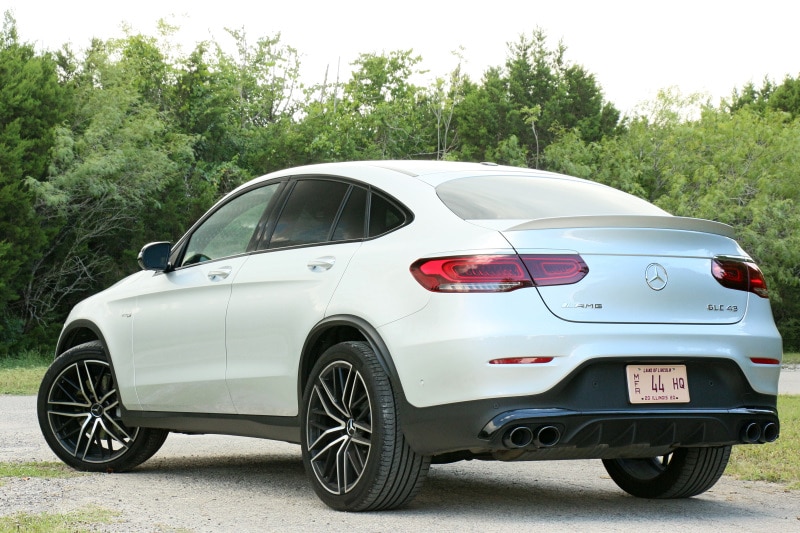 The press car Mercedes delivered to my apartment was decked out with cosmetic, multimedia, performance and safety upgrades that took it from a base price of $63,000 to an as-tested price of $79,850. The adaptive LED headlights and automatic high beams of the Exterior Lighting Package flanked the broad, chrome-striped grille. The AMG Night Package complemented the Iridium Silver paint with a variety of blacked-out parts, including the trim on the front and rear fascias, mirror caps, greenhouse frame and quad finishers for the optional AMG performance exhaust system. The roof's fast line picked up speed as it headed down toward the end of the rear hatch and launched into space off the edge of its rear spoiler.
The more I looked at the GLC 43, the more it reminded me of something. A few days into my week of evaluating it, I figured out what it was. Instead of its standard 20-inch wheels, my tester wore a set of two-tone AMG 21s. Those large rollers and their staggered-width Continental ContiSportContact tires (255/40s in the front, 285/35s in the back) gave the GLC 43 the stout, muscular stance of a bulldog that was ready to sink its teeth into the road.
Shop Mercedes-AMG GLC 43 Inventory
---
2020 Mercedes-AMG GLC 43 Interior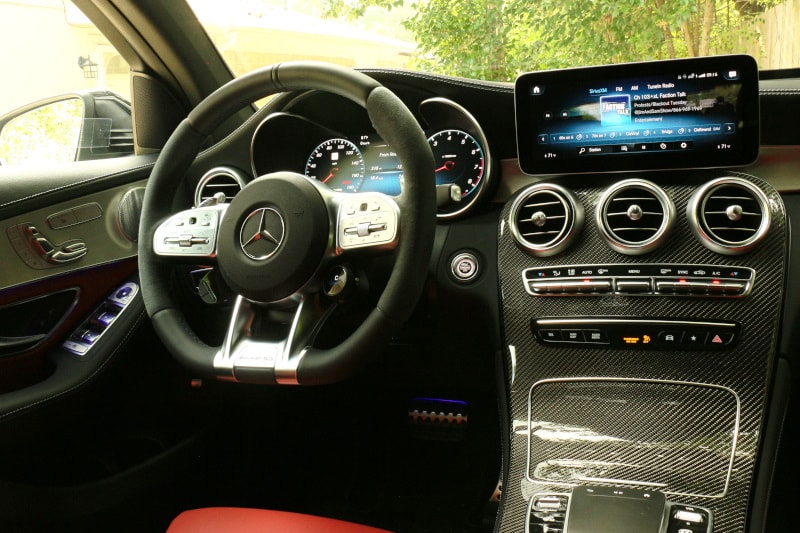 The silver and black theme continued on the inside, but with a big splash of color. Swaths of  metallic trim spread across the door panels and dashboard. Glossy carbon fiber surrounded the stylish center HVAC vents and climate control, infotainment and performance switchgear. All of those neutrals made the Cranberry Red seat and door panel inserts seem even more festive.
I had a nice view straight ahead from the driver's seat, too. An optional head-up display kept me informed about my speed and RPMs. The upgraded 12.3-inch digital instrument screen below it gave me even more information. With its flat bottom, bolsters that kept my thumbs right where they needed to be and shift paddles at the 9 and 3 o'clock positions, the upgraded Nappa leather/Dinamica steering wheel felt just as sporty as it looked. Mercedes made it even cooler - and more convenient - by adding the AMG Drive Unit. A small screen below the wheel's left horizontal spoke allowed me to cycle through various systems, such as the Electronic Stability Programming and AMG Performance exhaust; the attached buttons enabled me to change their settings. A screen and dial combo below the right spoke let me change the Dynamic Select performance mode without having to reach for the redundant switch on the center stack.
The GLC 43's dramatically sloping roofline gave me reason to think, There's a good chance I'm not going to have enough headroom in the back seat. To my surprise, the GLC 43 proved me wrong. Its second row had enough space in front of my legs and above my head to comfortably fit all 5'10" of me.
Shop Mercedes-AMG GLC 43 Inventory
---
2020 Mercedes-AMG GLC 43 Performance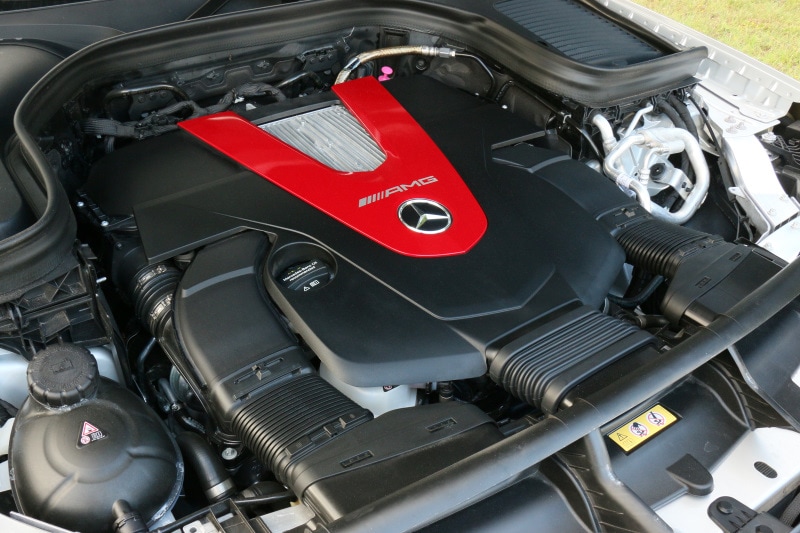 Believe it or not, the engine is not always the most notable stunning part of an AMG vehicle. When I drove the AMG GT through a series of performance exercises (slalom, 0-60, etc.) on the Circuit of the Americas a few years ago, its twin-turbo V8 was, of course, unforgettably powerful and lovably raucous, but its steering was what made it truly remarkable to me.
It was similar with the GLC 43 Coupe. AMG enhanced the twin-turbo 3.0-liter V6 to produce 385 horsepower and 384 lb-ft of torque. A nine-speed automatic and AMG Performance 4MATIC all-wheel drive with a 31:69 front/rear torque split put that ample output to the road. Even breathing through the optional exhaust, the GLC 43 didn't have a loud bark. But it definitely had a strong bite. Out in the curves that wind through the Texas Hill Country, the GLC 43 shocked me with how much grip it had. It didn't just look like a bulldog, it chomped down like one, too. Thanks to its staggered setup and sticky Continentals, it bit into the pavement and didn't let go whether I was going straight or through a sharp turn.
Shop Mercedes-AMG GLC 43 Inventory
---
2020 Mercedes-AMG GLC 43 Safety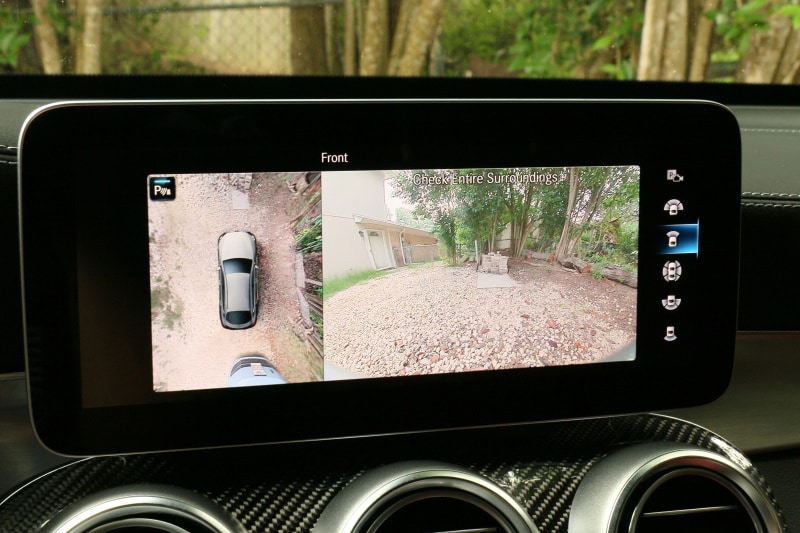 While it was ticking boxes and adding content to my press car, Mercedes made sure to check off the one for the Parking Assistance Package and Driver Assistance Package. The first one's most significant contributions were its 360-degree Surround View System and Active Parking Assist technology, which could steer (and brake) me into and guide me out of parking spots. The second package protected me with a multitude of features that included Active Lane Keeping Assist, Active Brake Assist with Cross Traffic Function, Active Emergency Stop Assist and much more.
Shop Mercedes-AMG GLC 43 Inventory
---
2020 Mercedes-AMG GLC 43 Overall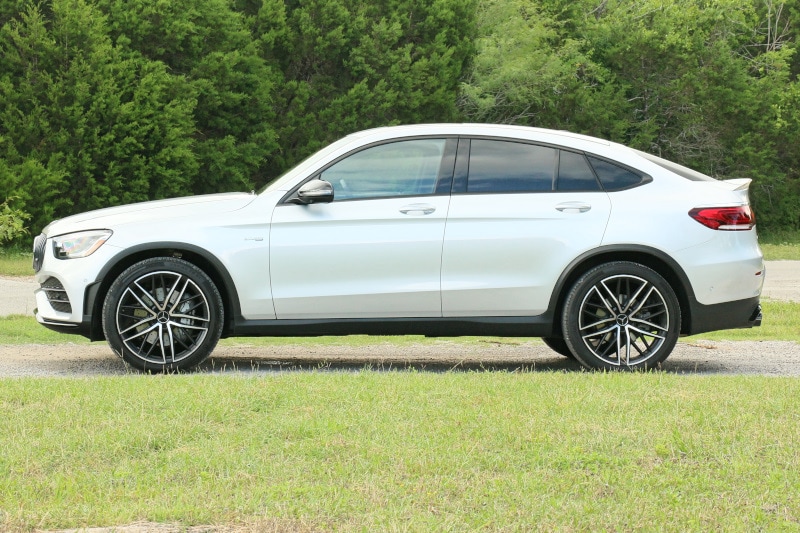 Mercedes-Benz offers a vast array of high-end and performance vehicles that fit every segment and most of the white space between them. And it gives you the luxury of choosing from several SUVs that combine interior room with turbocharged zoom. If you decide that the 2020 GLC 43 Coupe is the right one for you, go and make it yours at an AutoNation Mercedes-Benz dealership.
Shop Mercedes-AMG GLC 43 Inventory
---
Derek Shiekhi | Mar 26, 2021