2021 Mercedes-Benz GLB 250 4MATIC
---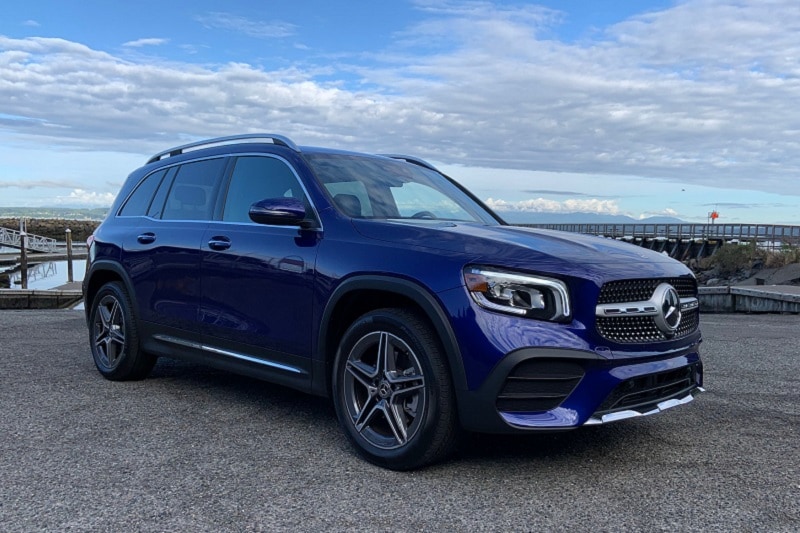 Of all the battlegrounds in today's automotive industry, there's no segment as ferociously competitive as the luxury SUV.
Today, they're available in all shapes and sizes, and the Mercedes-Benz GLB sits between the German giant's GLA and GLC as an upscale offering in the cut-throat compact class. For the 2021 model year, the GLB gets some updated safety technology, including now-standard blindspot monitoring. Notably, while Mercedes-Benz isn't known for competing on price, the relatively low  MSRP, along with a robust list of standard features makes it a bargain in the class.
Since the last Mercedes-Benz SUV I'd drive was the ferociously capable G Wagen, I was more than a little curious to see what one of Stuttgart's tamer, less off-road oriented models was like, and I wasn't disappointed. Read on to find out how my week with the 2021 GLB 250 4MATIC went!
Shop Mercedes-Benz GLB 250 4MATIC Inventory
---
2021 Mercedes-Benz GLB 250 4MATIC Exterior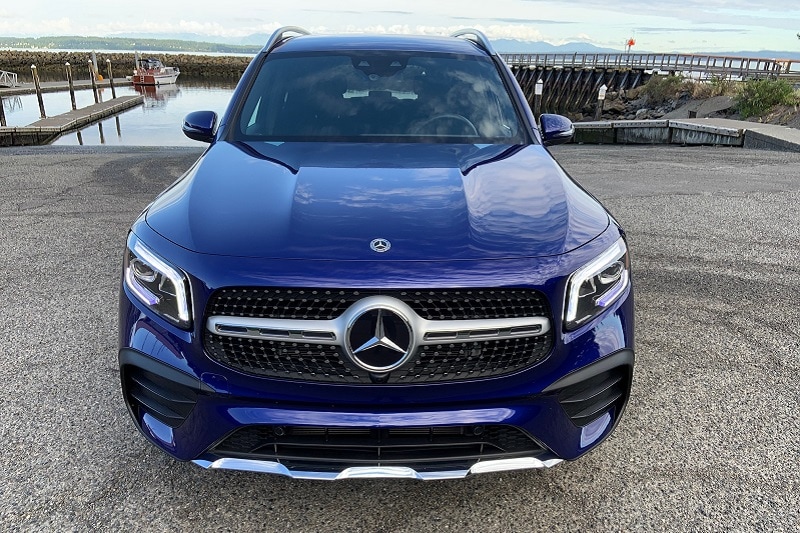 While the GLB is loaded with cutting-edge kit, and there's plenty of contour on the sheet metal, the bones of this machine are old-school SUV all the way. By that, I mean it's basically a two-box design, with one for the engine, and another for the passenger compartment.
In my opinion, it works in a big way, as this machine doesn't need a big footprint to attract attention. Pull into a standard parking space, and you'll be surprised at just how much cushion you'll have left between the lines. Given the massive three-pointed star in the middle of the AMG Diamond Block grille, there's no mistaking the GLB for anything but a Mercedes-Benz, so I felt like the tiny version mounted at the front of the hood was a bit of overkill. I particularly liked how the LED eyebrows over the headlights visually connected with the silver bars extending from the emblem.  
My tester was finished in a vibrant Galaxy Blue Metallic, which changed dramatically given the light, and made some of the character creases, especially the ones on the hood, really pop. Along with the paint, and the general squared-off nature of the lines, I really dug the 19-inch AMG wheels. Their two-tone, five-spoke design is purposeful and elegant, and since there was a meaty amount of sidewall on the Continental ProContact tires, they seemed well insulated from curb rash.
Shop Mercedes-Benz GLB 250 4MATIC Inventory
---
2021 Mercedes-Benz GLB 250 4MATIC Interior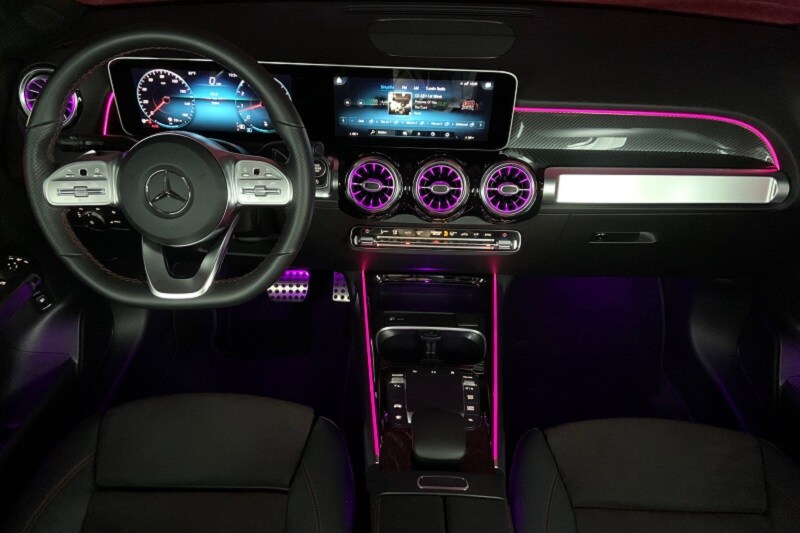 The folks at Mercedes-Benz might think subtlety is overrated. Because for the interior of the GLB,  Stuttgart's designers went full shock and awe.
The result is a glorious riot of plush materials, cutting-edge style, and killer tech. At the center of the dash, there's a trio of air vents which resemble turbofan jet engines, and they're surrounded by beautifully sculpted piano-black trim. Enter the vehicle, and they immediately draw your eyes. The well-bolstered seats are a combination of leather, Alcantara, and contrasting red stitching, and boast infinite adjustability, thanks to door-mounted switches which are a thing of beauty. From the beveled fan switches, to the volume control knobs, to the brushed aluminum door pulls, every touch point is elegant, and large carbon fiber trim panels add a racey flare.  
Both the gauge cluster and the infotainment controls are part of a single screen which stretches more than two feet across the top of the dash. Now, with augmented reality navigation, voice recognition, and enough customizable lighting choices to embarrass an Ibiza nightclub, there's an enormous amount of functionality available from the MBX system. There's even a kinetic seat function which makes tiny adjustments while you're underway, to mitigate driver fatigue. The true triumph, however, is how easy it is to use. Yes, it looks dizzying at first. But there are redundant controls for creature comforts, and just saying, "hey Mercedes, turn on the heated seats," "play First Wave on Sirius XM," or "turn up the air conditioning," gets a prompt response. It's futuristic in the best possible way.       
Sure, the GLB has a couple of eccentricities. The gear selector looks like a turn signal, for example, and the button to close the rear hatch, counterintuitively, is red and says "STOP." But overall this is a compelling piece of automotive interior design.      
Shop Mercedes-Benz GLB 250 4MATIC Inventory
---
2021 Mercedes-Benz GLB 250 4MATIC Performance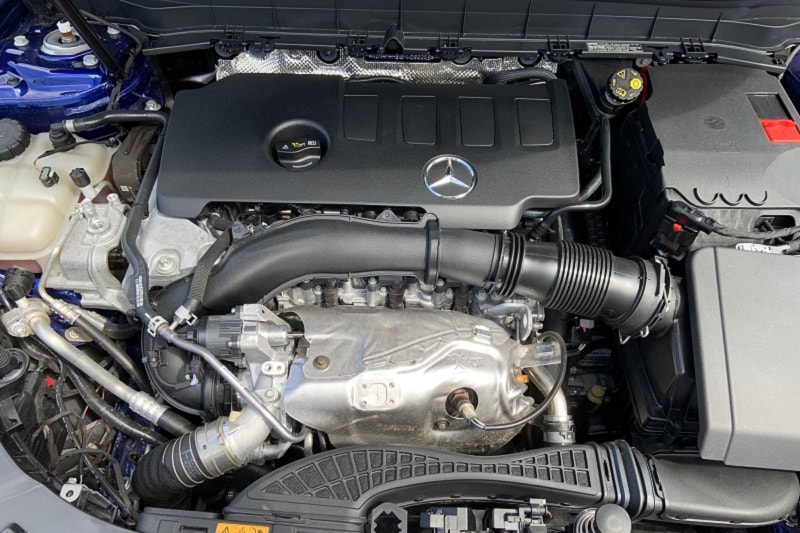 You don't have to do more than grip the pleasantly thick, flat-bottomed wheel of the GLB 250 to understand that the engineers who designed it didn't dismiss driving dynamics.
The sculpted hand positions at ten and two feel fantastic, and while it might not exactly be this luxury people mover's raison d'etre, the meaty tiller made me want to huck it into a few hard corners. So obviously, I did. Under the hood, the GLB 250 is packing a turbocharged 2.0-liter four cylinder good for 221 horsepower and 258 lb-ft of torque, which is sent to all four corners by an eight-speed dual clutch transmission, instead of a traditional automatic. Of course, enthusiasts know that's the same kind of trick transmission technology found in high-end sports cars, and it's a rarity in the segment.
So while the GLB is happy to amble along, it's a proper hoot to use the paddles, drop a couple of gears, and dive into a corner. When pushed, the steering of the GLB provides good feedback, and while there was a tiny bit of body roll, it kept its composure. The brakes were also progressive and easy to modulate, which contributed to the confidence-inspiring nature of the ride. On rough pavement, the suspension soaked up bumps without complaint, and the cabin was well insulated from the outside world.
Even at highway speeds, there's plenty of passing power, and on tight city streets the baby Benz feels nice and zippy, even if the engine note isn't particularly inspired. That said, at 23 mpg in the city and 31 mpg on the highway, the GLB is surprisingly fuel efficient.     
Shop Mercedes-Benz GLB 250 4MATIC Inventory
---
2021 Mercedes-Benz GLB 250 4MATIC Safety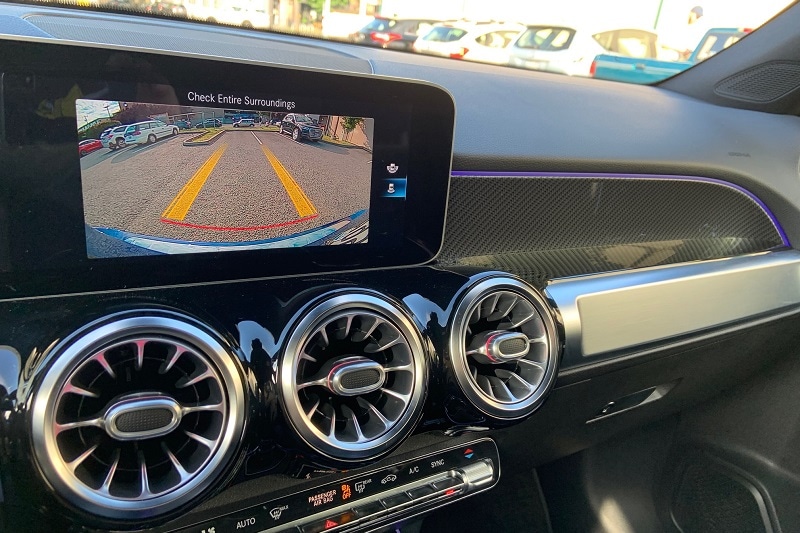 At the time of this writing, the 2021 Mercedes-Benz GLB has not been tested by either the National Highway Traffic Safety Administration or the Insurance Institute for Highway Safety. That said, the doors close with the authority of an airlock, which gives it a tank-like feel. 
Every GLB comes with Automatic Emergency Braking, Forward Collision Warning, Blind Spot Monitoring, and Driver Drowsiness Monitoring. Other safety features, including Lane Departure Warning, Lane Keep Assist, Adaptive Cruise Control, and Automatic High Beams are available as optional equipment.
Shop Mercedes-Benz GLB 250 4MATIC Inventory
---
2021 Mercedes-Benz GLB 250 4MATIC Overall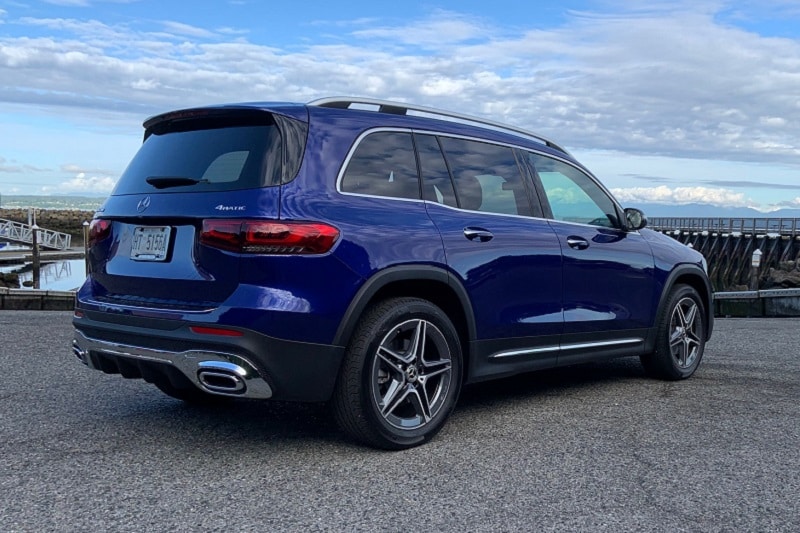 Sure, wicked quick Nurburgring lap times and blistering zero-to-60 sprints might provide fodder for the bench racers of the world. Luxurious people movers, however, are where the money is. And with the GLB 250, the formidable talents at Mercedes-Benz have clearly brought their A game.
Because in parking lots increasingly filled with soft lines and rounded corners, the GLB's chunky, traditional SUV styling stands out, and its relatively compact exterior dimensions belie an interior with loads of space for passengers and cargo. So buyers looking for a versatile, fun-to-drive SUV that's loaded with technology will likely be charmed by the GLB. If you're looking in the segment, it needs to be on your list.
The as-tested price for the vehicle used for this review was $49,725. Contact your local AutoNation-affiliated Mercedes-Benz dealer to arrange a test drive today.
Shop Mercedes-Benz GLB 250 4MATIC Inventory
---
John Coyle  | Jun 09, 2021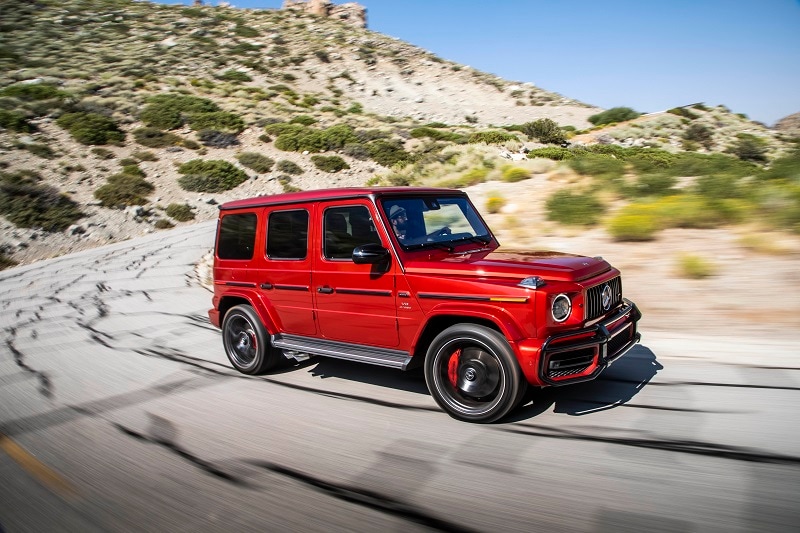 Mercedes-Benz Trim Guide
Get the breakdown of the Mercedes-Benz powertrain options for cars and SUVs.
---
2021 Mercedes-Benz GLB 250 4MATIC Specs
Layout
4-door, 5-passenger, AWD
Engine/Transmission
Turbocharged 2.0L I4, 221 hp, 258 lb-ft
Eight-speed automatic
Mileage
23/30 mpg (city/hwy)
---
AutoNation Drive Test Drive Review: ★ ★ ★ ★
---
More Research
Browse more automotive research than you can shake a stick shift at.
---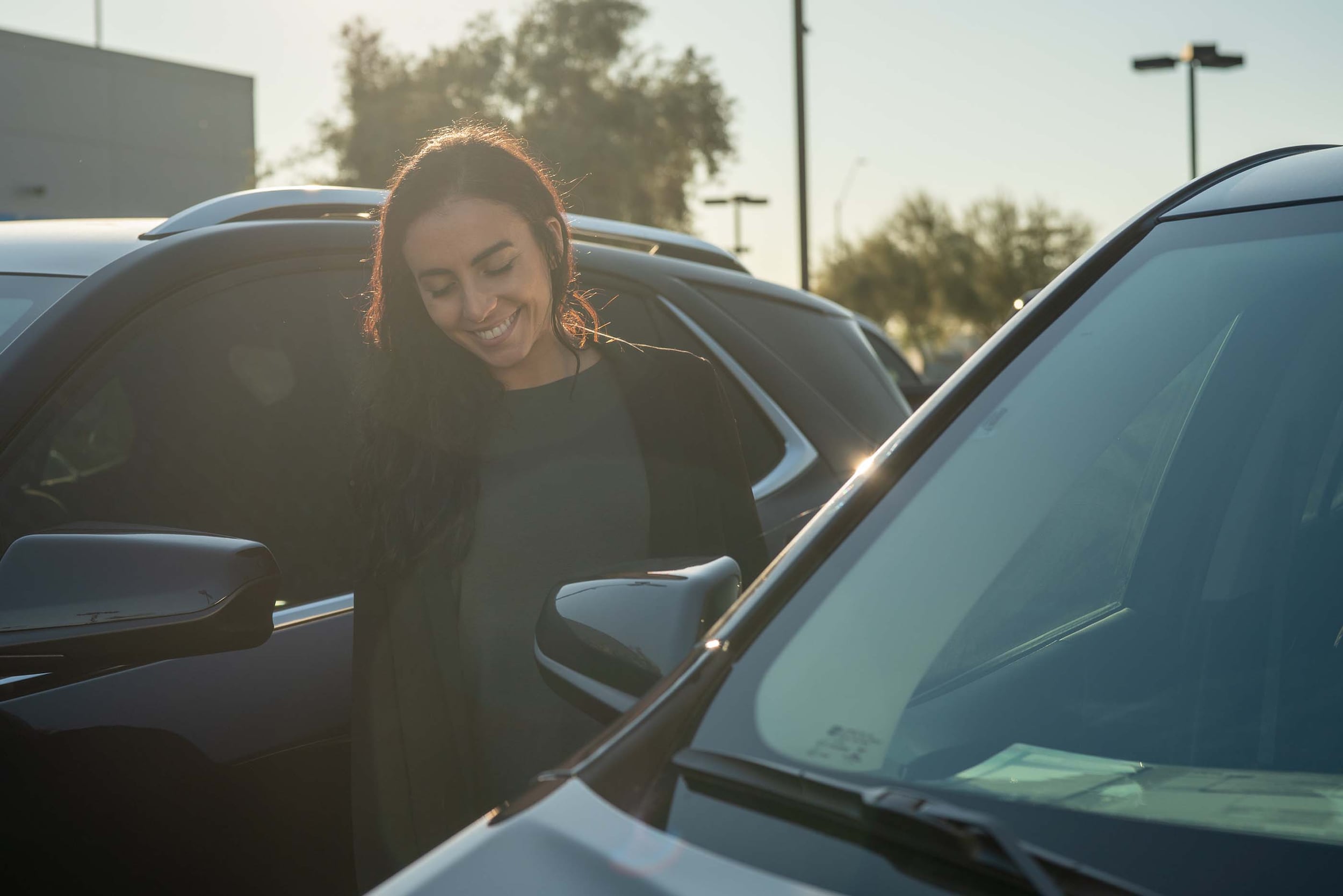 Test Drive Reviews
Our automotive experts at AutoNation Drive weigh in on price, safety, and performance of popular cars, trucks, and SUVs.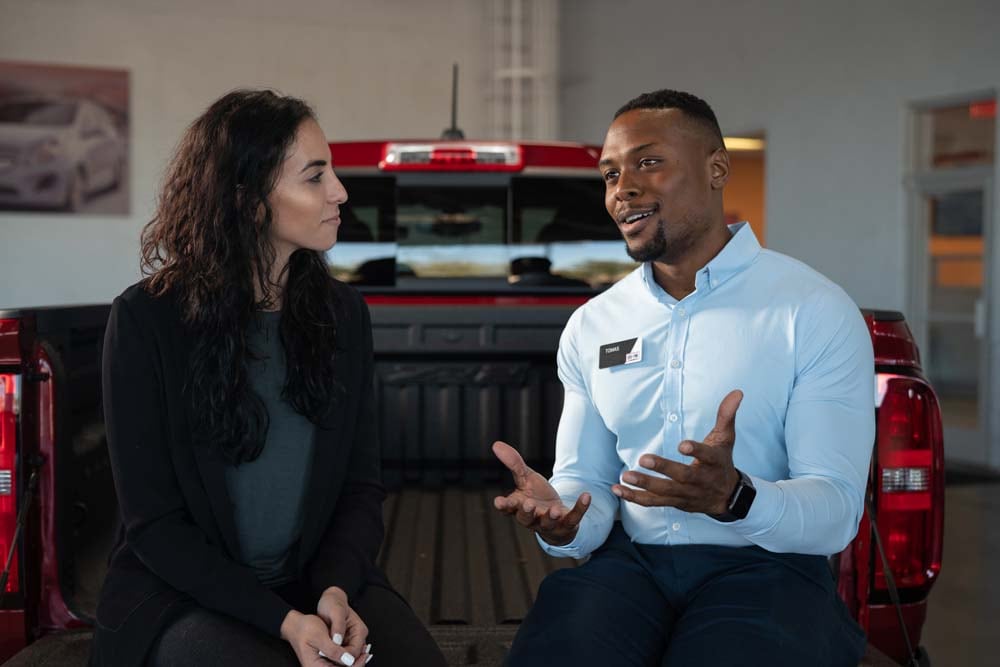 Car Buying Advice
If you're buying a car, truck, or SUV, the chances are - you need help. Don't worry. Our automotive experts are here to help.
---
*MSRP excludes tax, license, registration, destination charge and options. Dealer prices may vary.
**Based on EPA mileage ratings. Your mileage will vary depending on specific vehicle trim, how you drive and maintain your vehicle, driving conditions, and other factors.