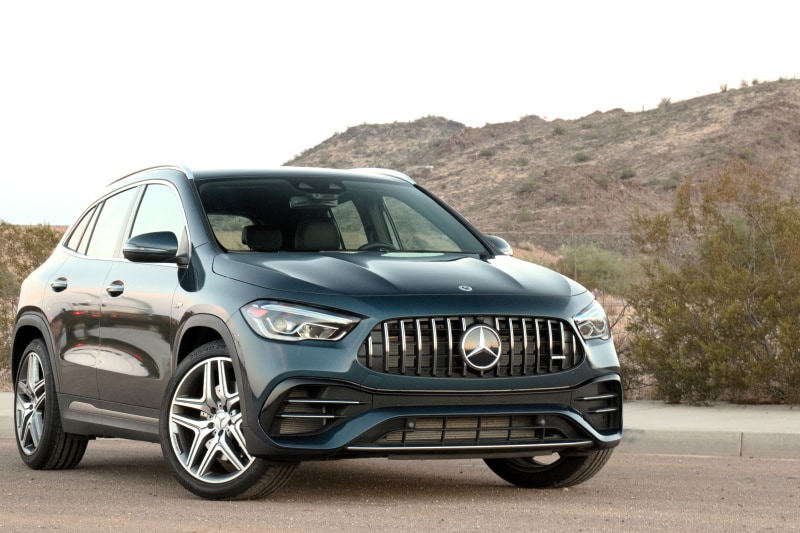 Mercedes-Benz offers coupes, sedans, wagons, crossovers, SUVs and, in other markets, even a pickup truck. But while the company even has a
four-door supercar
in its stable, there's one vehicle Mercedes does not officially sell: a hot hatchback. Key word: officially. On Mercedes-Benz's website, the new 2021 Mercedes-AMG GLA 45 is under the SUVs tab. 
Unofficially, the GLA 45 is the ultimate hot hatch. In many ways, it's a luxury alternative to the Volkswagen Golf R. Both cars have compact dimensions, a potent turbocharged engine that sends its power through all four wheels, four side doors, and a rear hatch. The most substantial difference is that the GLA is significantly more powerful than the outgoing and even the upcoming Golf R, which partly explains its higher base price of $54,500.
Mercedes-AMG
used a relatively light touch when configuring my GLA 45 media loaner with cosmetic and performance upgrades, bringing its final price to $59,560.
---

2021 Mercedes-AMG GLA 45 Exterior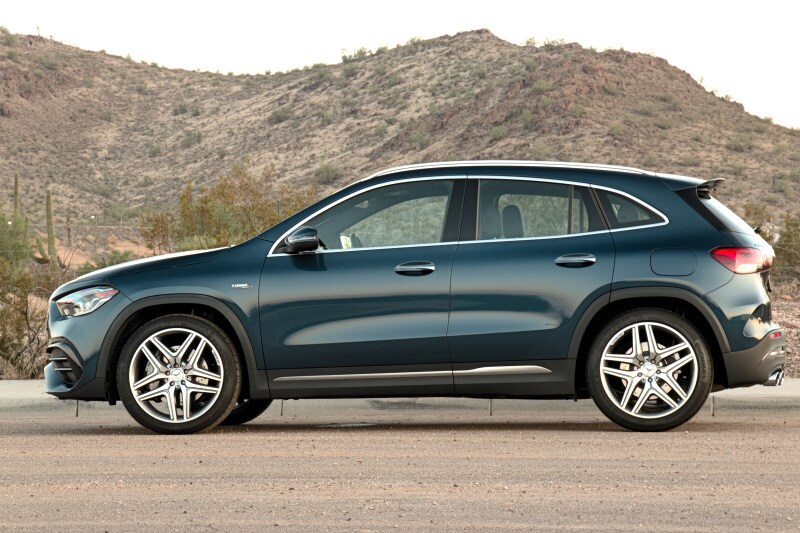 You can get an all-out AMG version of almost any model Mercedes offers, even the entry-level GLA. At first glance, I thought the GLA 45 was too low-key, that its gentle curves dulled any visual impact its AMG design elements could make. But that changed over the course of my week with it. I developed an appreciation for the GLA 45's soft-spoken design. Its chrome grille slats, pronounced front intakes, optional 20-inch AMG wheels, and quad exhaust finishers delivered its message in a calm, low tone instead of a shout. The GLA 45 didn't have to beat its chest to beat other vehicles off the line.
---

2021 Mercedes-AMG GLA 45 Interior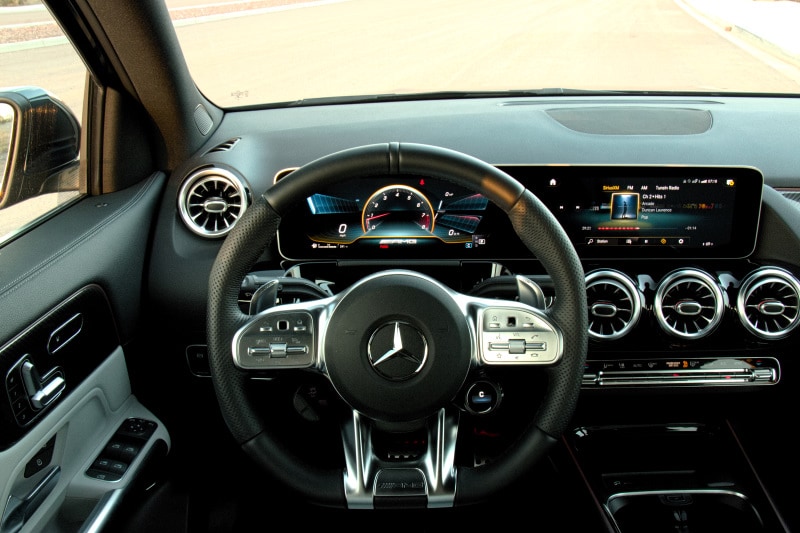 Things were a little more festive inside. The seats and door panels were covered in Neva Grey and Black MB-Tex material. Glossy Carbon Structure trim added an appropriately sporty touch. Nighttime drives were softly illuminated by the glow of 64-color LED ambient lighting in the dash vents, footwells, door handles, and door pockets.
Dual 10.25-inch screens displayed the main gauges behind the optional Nappa leather-wrapped AMG steering wheel and the readouts for the infotainment system's various functions, such as the navigation bundled into the optional Multimedia Package. Small control pads on both sides of the wheel allowed me to change the kind of information each screen showed. If I didn't feel like using my hands at all, I could just say "Hey Mercedes" to have the MBUX (Mercedes-Benz User Experience) system take care of certain tasks for me. I didn't have to waste time pulling over and punching in the address of a coffee shop I wanted to work at; I just uttered the wake words, said the name of the place I wanted guidance to, and followed the route the system threw onto the center screen.
Despite its modest exterior dimensions, the GLA 45 was surprisingly roomy on the inside. I'm 5'10" and had more than enough room in the front row. Even the back seat provided plenty of legroom and head space for me. My fiancé and I put the rear cargo area to the test by going to Costco. We had to Tetris a couple of our larger, boxy purchases around to get them to fit, but we managed to get everything in without folding the second row down.
---

2021 Mercedes-AMG GLA 45 Performance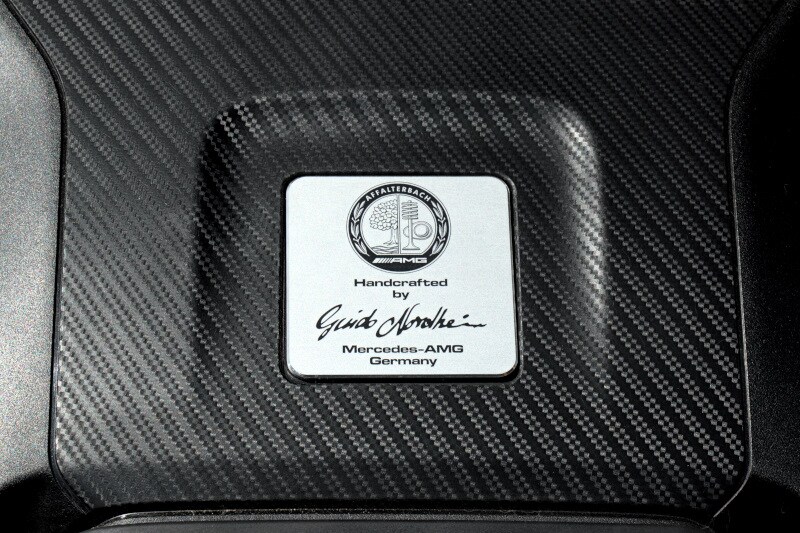 Mercedes completely reworked the GLA 45's turbocharged 2.0-liter four-cylinder engine for the second-generation model. The hand-built power plant features a combination of port and direct fuel injection and a twin-scroll turbo that stuffs in 27.5 psi of boost. The results are 382 horsepower and 354 lb-ft of torque. The GLA 45 channels all of that to the road through an eight-speed dual-clutch automatic transmission and 4MATIC+ all-wheel drive. 
When I used the optional AMG Drive Unit on the steering wheel to dial up one of the GLA 45's performance drive modes and let the engine loose on an empty back road near my house, a nickname for the GLA 45 quickly popped into my head: Bear in a Breadbox. It was small, but ferocious. It was fun, too. I kept the main gauges in their Super Sport display setting and played a little game with myself every time I went for a full-throttle romp. The right side of the screen showed me how much horsepower, torque, and boost I was using at a given moment. Whenever I pegged the readouts, I won. 
Doing that also changed the way time passed. I would take my eyes off of the speedo for what seemed like a second or two and when I looked back down, I was doing 15 or 20 mph over my expected speed. I've gotten used to that in supercharged muscle cars, not hatchbacks…ahem…SUVs. The 13.8-inch front and 13-inch rear brake rotors made it easy to bring that back down to more socially acceptable levels, although I would've appreciated a little more of an initial bite from the brake pedal.
The GLA 45's size was largely a positive on twisting roads. It did have a tendency to get slightly diverted by imperfections in the pavement, but its dimensions also allowed me to focus on steering and ripping off quick "manual" gear changes with the aluminum shift paddles, not worry about the GLA 45's extremities. 
---

2021 Mercedes-AMG GLA 45 Safety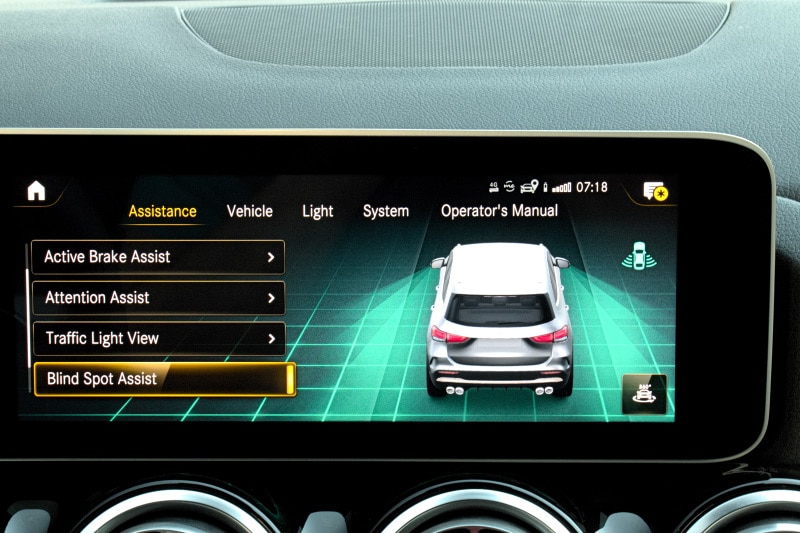 Mercedes didn't add any safety or driver assistance packages to my test vehicle, so it came with all of its standard equipment. That included seven airbags; Active Brake Assist, which could automatically apply the brakes to help prevent a collision with a vehicle or even a pedestrian ahead; and Crosswind Assist to keep the GLA 45 stable if it got hit with a sudden gust. The rain-sensing wipers and Slippery drive mode gave me peace of mind during an unexpected downpour. One bonus feature bundled into my press loaner's Multimedia Package was augmented reality for the nav system. If I punched in a destination address, it would overlay street names, house numbers, and the direction I needed to turn next onto the feed from the front-mounted camera. 
---

2021 Mercedes-AMG GLA 45 Overall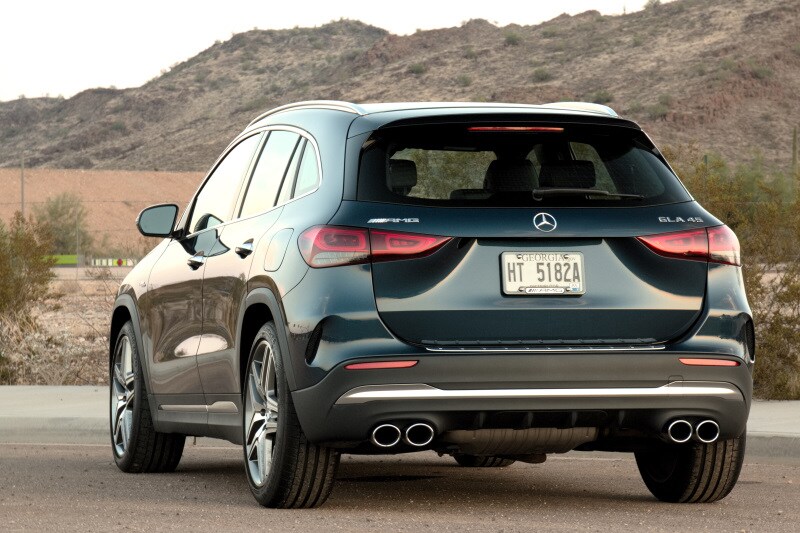 If you're wondering what a hatchback with nearly 400 horsepower and all-wheel drive is like on the road, it's as bonkers as you'd expect it to be. You might have trouble processing the logic of the 2021 GLA 45's existence, but when you peg its boost gauge, you forget about all of that and just enjoy the rush. Explore the various
Mercedes-Benz trim levels
with this handy guide, then head to your closest AutoNation-associated Mercedes-Benz dealership. Just remember to go to the SUVs section of the showroom.
---
Derek Shiekhi
| Sep 4, 2021