2021 Mercedes-Benz GLA 250
---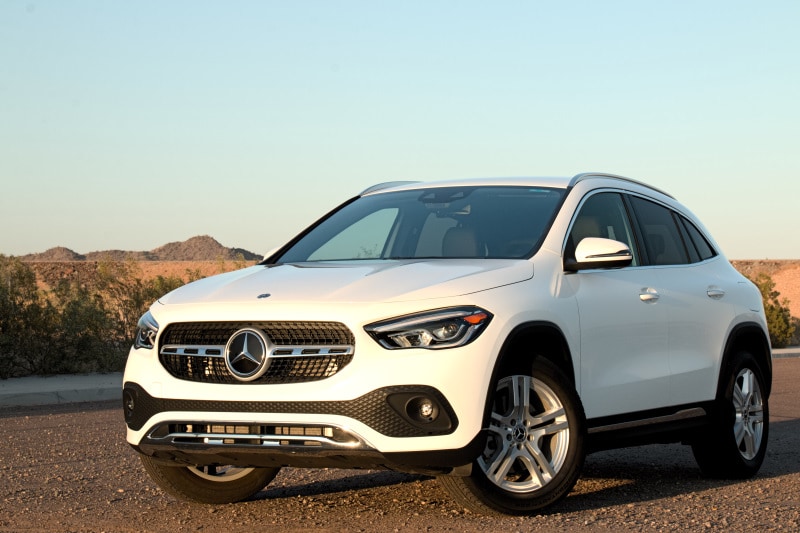 The S-Class sedan and G- Class SUV are some of Mercedes-Benz's most iconic vehicles, but to many people, the GLA is the most significant. As the brand's least expensive crossover, it's their entry point into Mercedes ownership. Many have gone through it, as according to the automaker, "more than a million units of the first GLA were built."
Mercedes completely renovated and restyled the gateway to three-pointed star luxury for the 2021 model year, which marks the start of the GLA's second generation. The newest GLA is shorter, wider, and taller than its predecessor and wrapped in updated styling that brings it in line with its siblings. Those larger dimensions translate to increased front row headroom and rear legroom, which substantially increases by 4.5 inches. The MBUX (Mercedes-Benz User Experience) infotainment system comes standard and responds to a wide array of voice commands, including the wake words "Hey Mercedes." Properly equipped GLAs have an enhanced version of the Driver Assistance Package.
There are currently four models in the 2021 GLA lineup, which ranges from the $36,230, front-wheel-drive GLA 250 to the $54,500, 382-horsepower AMG GLA 45. I spent a week in the base model. To my surprise, Mercedes used a light touch when it added optional equipment to it. My tester's assorted interior upgrades, Multimedia Package, and Premium Package brought its total retail price up to $41,620.
Shop Mercedes-Benz GLA 250 Inventory
---
2021 Mercedes-Benz GLA 250 Exterior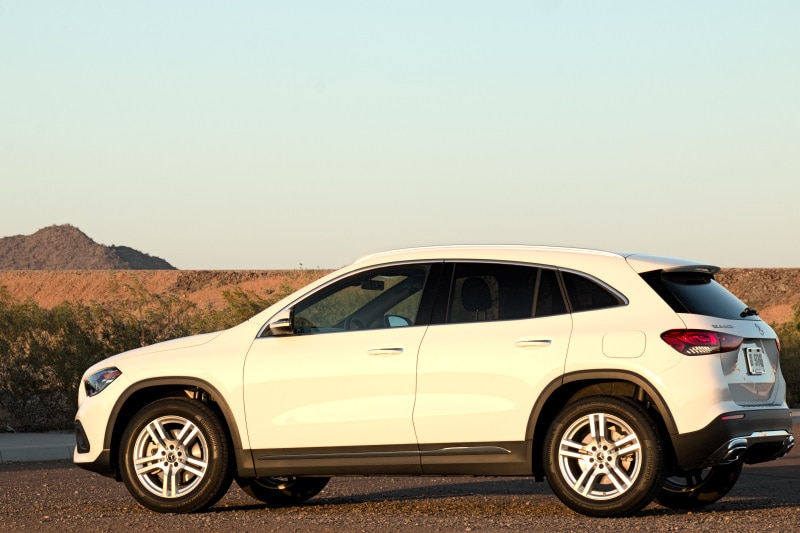 There are so many crossovers and SUVs on the market with hard lines, prominent creases, and "floating" roofs that the GLA manages to stand out. What it lacks in flash it makes up for with simplicity and attractive curves. A massive Mercedes badge sits in the middle of a lone grille bar. Textured black trim highlights the lower front fascia and surrounds the LED fog lights. The front end's biggest flourish is its LED headlights, which could pass for pieces of artisan glass creations.
Short front and rear overhangs bookend a low-key set of 18-inch five-spoke wheels. Black wheel arch and rocker panel cladding makes the GLA appear a little more rugged. The two-piece LED taillights taper and come to a fine point on the hands-free power liftgate, visually linking the GLA to some of its fellow Mercedes SUVs. A broad swath of chrome brightens the lower rear fascia and highlights the dual rectangular exhaust finishers.
Shop Mercedes-Benz GLA 250 Inventory
---
2021 Mercedes-Benz GLA 250 Interior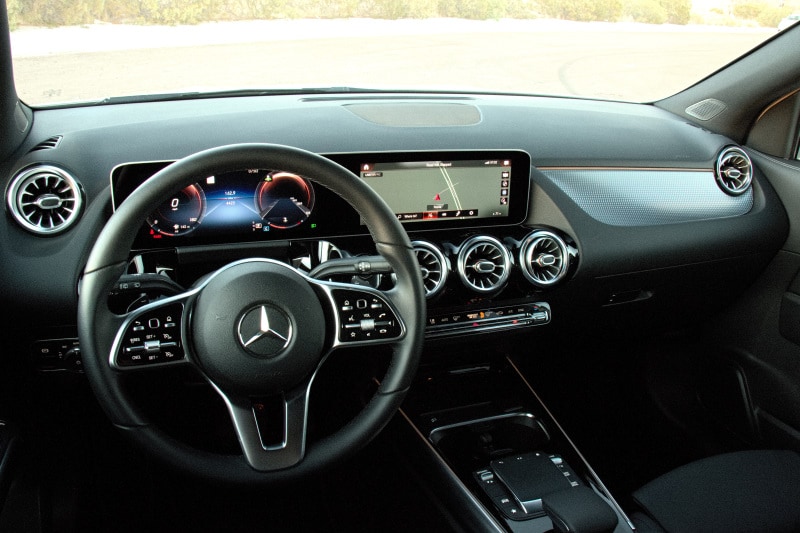 Mercedes saved the outright visual flourishes for the GLA's interior. LED light pipes ran across sections of the cabin and filled with my choice of the optional interior ambient lighting system's 64 available colors. Along with certain convenience features, the Premium Package added a pair of 10.25-inch screens - one for the main gauges and one that functioned as the main screen for the MBUX infotainment system. A touchpad between the heated front seats allowed me to input commands, but sometimes it was just quicker and easier to tap the screen itself. If I didn't feel like touching anything, I could say the words "Hey Mercedes" to make certain adjustments with just voice commands. During one particular drive through the Arizona heat, I told the system I was hot and it responded by telling me it had lowered the temperature by two degrees. Feeling playful, I asked MBUX to tell me a joke. It didn't feel the same. It declined by telling me it was too busy watching the road ahead.
The Multimedia Package's primary contribution was navigation. Its augmented reality function was a great bonus. Every time I entered a destination address and started heading toward it, the feature would display the route map on the left side of the center screen and use the right side to show a real-time view of the road in front of me with an overlay of the street name I needed to turn on and which direction I needed to head on it.
Given that the GLA is still Mercedes's smallest SUV, I felt certain that its back seat would be undersized even for someone my height (5'10"). I'm happy to report that it was more than spacious enough for me to sit comfortably.
Shop Mercedes-Benz GLA 250 Inventory
---
2021 Mercedes-Benz GLA 250 Performance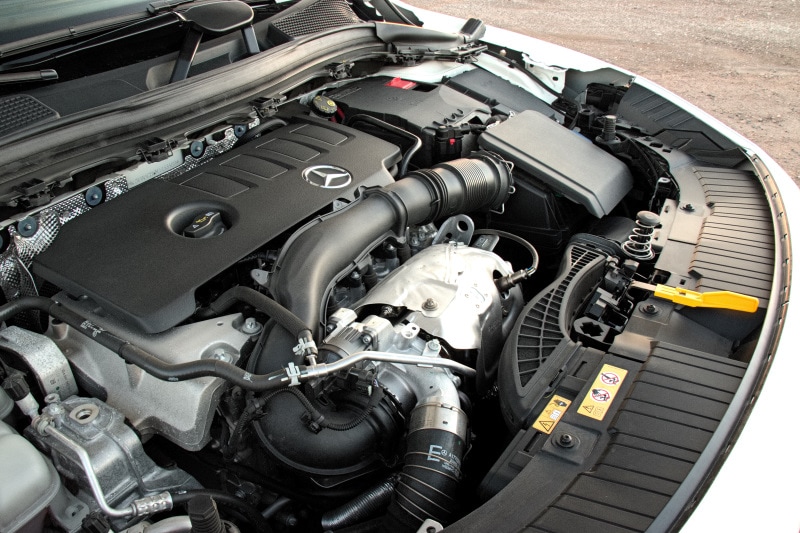 The GLA 250's engine was similarly right-sized. Its turbocharged 2.0-liter I4 generates 221 horsepower and 258 lb-ft of torque. That's enough to keep things interesting, but not so much that it overwhelms the front end with torque steer.
An eight-speed dual-clutch automatic delivers satisfyingly quick shifts and contributes to the GLA 250's EPA-estimated fuel economy figures of 25 city, 34 highway, and 28 combined mpg. Once again, the GLA 250 surprised me. After covering 235 mostly city miles, I averaged a gauge-indicated 29.4 mpg.
No matter how low of a price Mercedes attached to my tester, it still had to meet certain standards of refinement. It passed the test. Ride quality was slightly firmer than I expected it would be, but comfortable. In fact, I'm glad Mercedes went that direction because I prefer more composure than outright cushioning, which can toss you around your seat if not dialed in correctly, when traveling over bumps in the road. Thanks in part to its low 0.30 coefficient of drag, the GLA's cabin was impressively quiet at highway speeds.
Shop Mercedes-Benz GLA 250 Inventory
---
2021 Mercedes-Benz GLA 250 Safety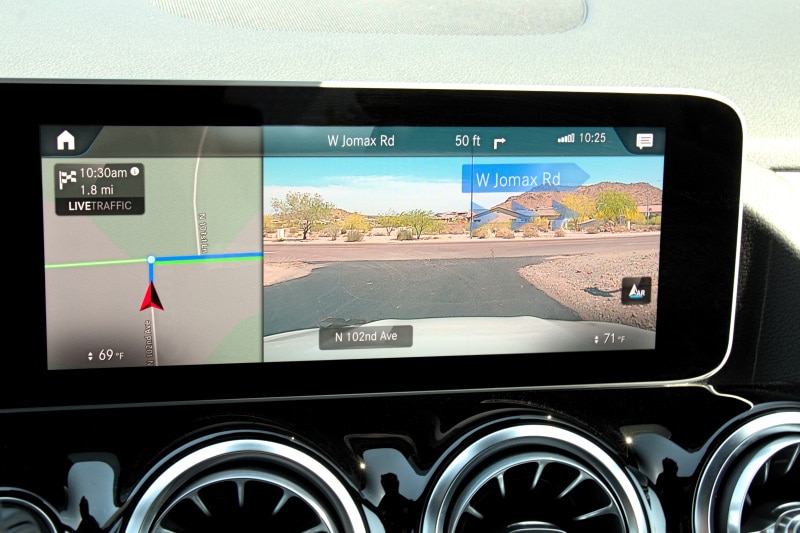 In terms of safety features and driver aids, my test vehicle was largely standard issue. That means it came with seven airbags, a rearview camera, traction and stability control, ABS, etc. Blind Spot Assist and rain-sensing wipers were nice to see on the list.
A closer look revealed some of the GLA's more interesting features. Active Brake Assist watches for an impending collision with a vehicle, object, or pedestrian (when the GLA is traveling at city speeds), then applies enough braking to prevent impact or reduce the severity of it as much as possible. Cross Wind Assist works with the stability control and suspension sensors to counteract strong lateral winds and gusts from passing semis by applying the brakes on the appropriate side of the GLA to keep it straight and steady.
Shop Mercedes-Benz GLA 250 Inventory
---
2021 Mercedes-Benz GLA 250 Overall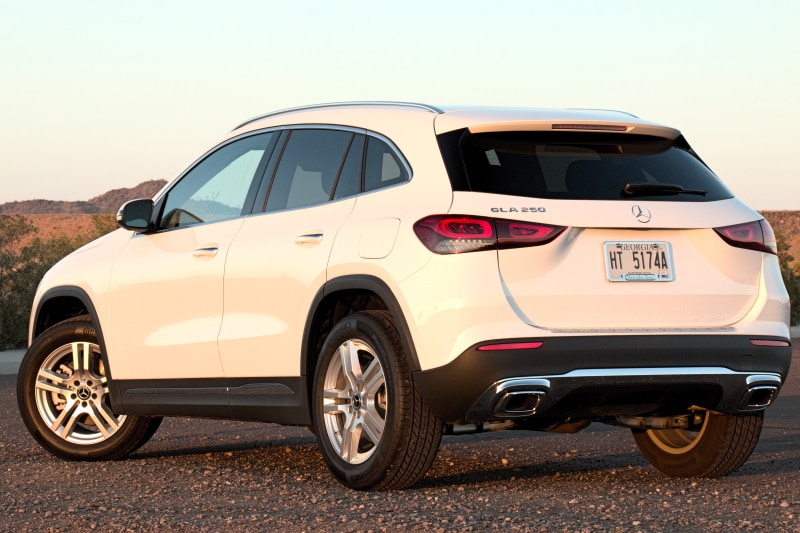 The all-new 2021 GLA 250 gives aspiring Mercedes-Benz SUV owners a new entry-level model to set their sights on. It's larger and more advanced than before. And just as any Mercedes should, it provides a refined driving experience. You can learn even more about the newest baby Benz at your local AutoNation Mercedes dealership.
Shop Mercedes-Benz GLA 250 Inventory
---
Derek Shiekhi | Jun 01, 2021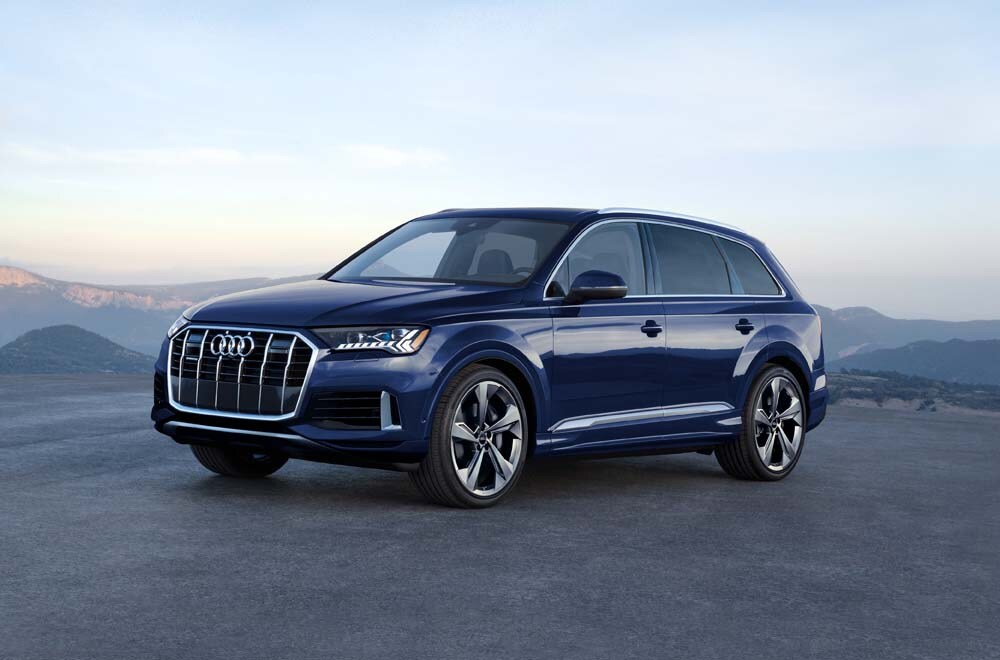 Three-Row SUVs Research
Discover a great family SUV that offers third-row seating.
---
2021 Mercedes-Benz GLA 250 Specs
Layout
4-door, 5-passenger, FWD
Engine/Transmission
Turbocharged 2.0L I4, 221 hp, 258 lb-ft
Eight-speed dual-clutch automatic
Mileage
21/31 mpg (city/hwy)
---
AutoNation Drive Test Drive Review: ★ ★ ★ ★
---
---
More Research
Browse more automotive research than you can shake a stick shift at.
---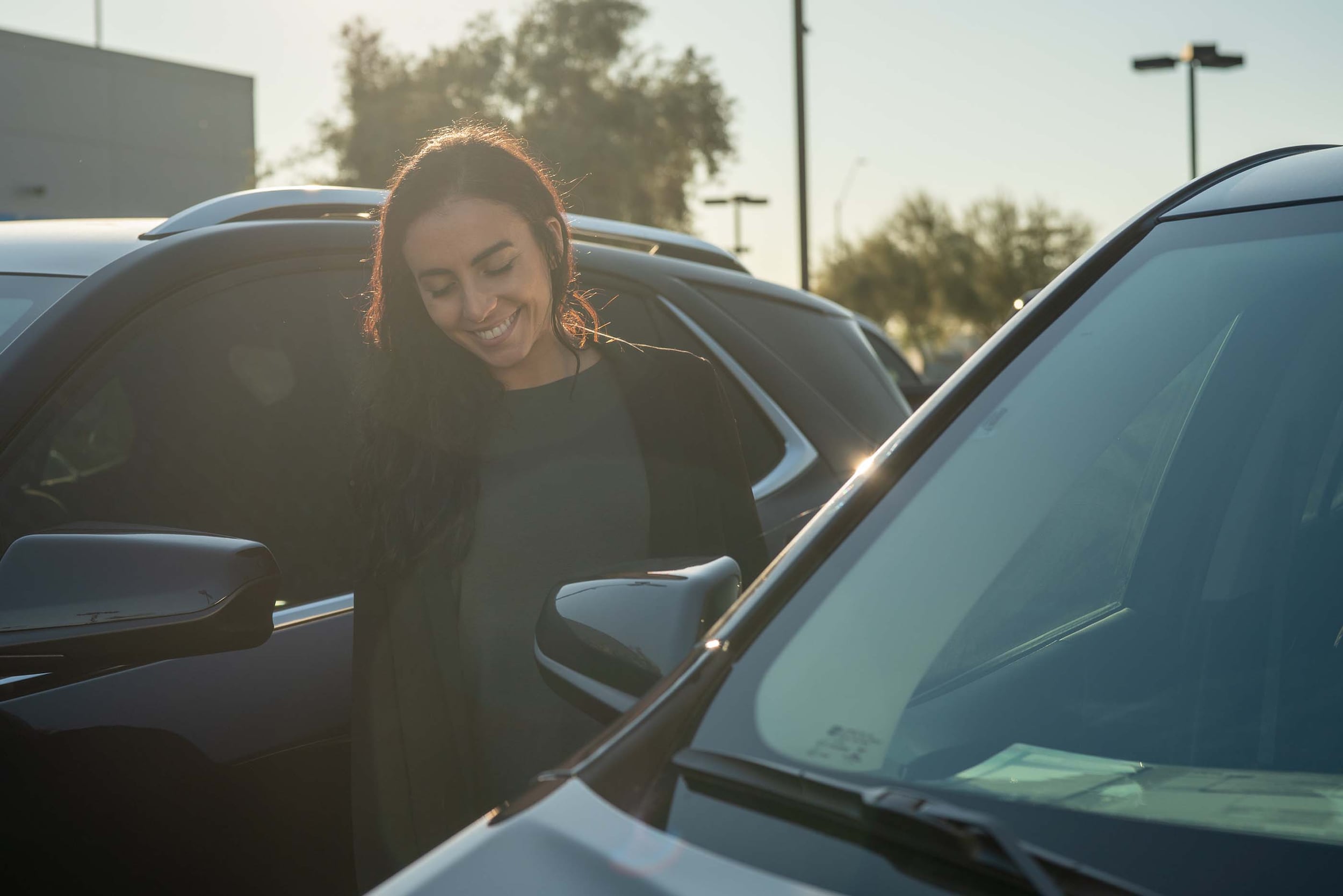 Test Drive Reviews
Our automotive experts at AutoNation Drive weigh in on price, safety, and performance of popular cars, trucks, and SUVs.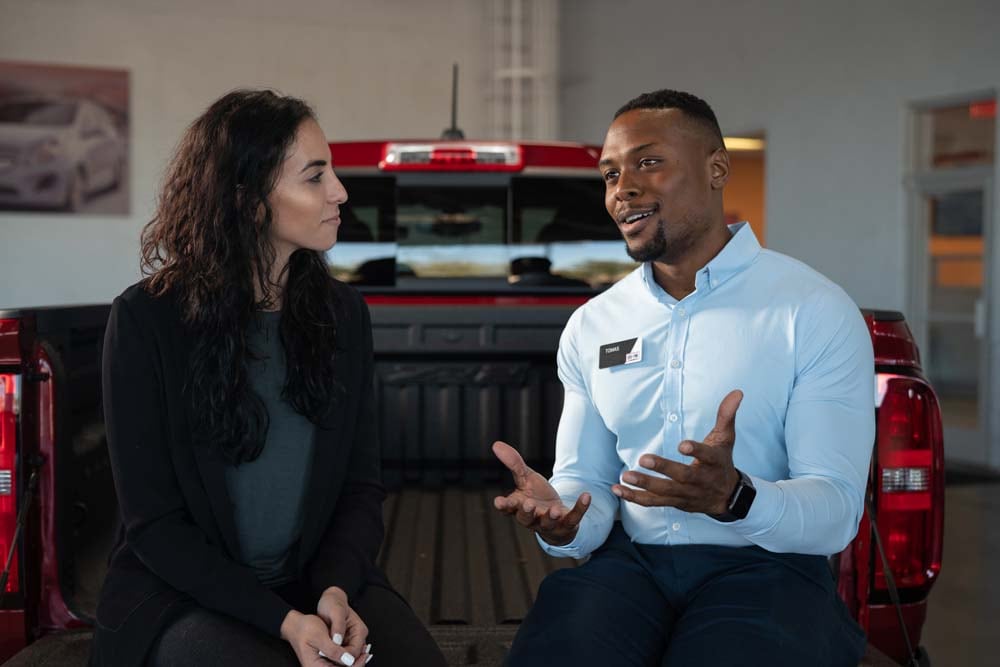 Car Buying Advice
If you're buying a car, truck, or SUV, the chances are - you need help. Don't worry. Our automotive experts are here to help.
---
*MSRP excludes tax, license, registration, destination charge and options. Dealer prices may vary.
**Based on EPA mileage ratings. Your mileage will vary depending on specific vehicle trim, how you drive and maintain your vehicle, driving conditions, and other factors.