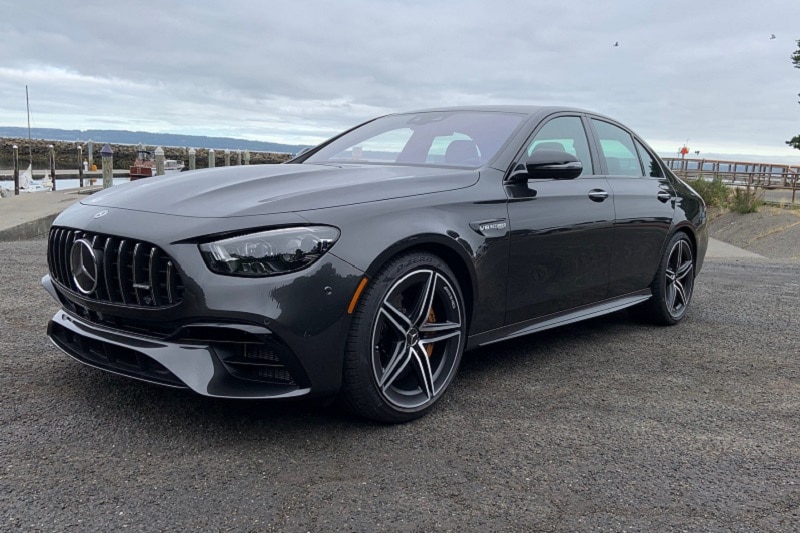 The car in the pictures didn't look like anything else I was obsessed with at the time. It was 1986, the heady era of the Ferrari 288 GTO, the Lamborghini Countach, and the mighty Porsche 930 Turbo. As a child, I obviously had exotics plastered to my walls. But in the December issue of Car and Driver, the subject I was most intrigued by was a four-door sedan. That machine was the original Hammer, a European-spec Mercedes 230E, which independent tuning firm AMG had transformed into a supercar-destroying weapon with room for five.   
Ultimately, AMG made such a name for itself that Mercedes-Benz bought the company outright, and the 2021 AMG E63 S Sedan I tested is the spiritual heir to the Hammer which captivated me all those years ago. In a nod to AMG's enthusiast roots, every AMG V8 is hand assembled by a single technician, and when the last bolt is torqued to spec, a plaque engraved with their name is affixed to the top. That personal touch is just one of the many elements which makes the AMG E63 S extraordinary, and highlights how seriously Mercedes-Benz takes its "the best or nothing" slogan.
Shop Mercedes-AMG E63 S Inventory
---
2021 Mercedes-AMG E63 S Exterior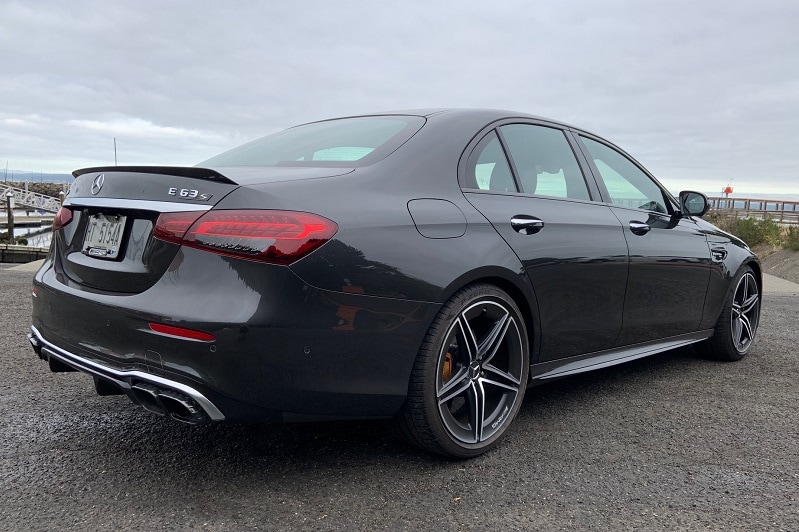 Unless you're an enthusiast, you might not be familiar with just what a wicked performance car the E63 S is. So I thought the Graphite Grey Metallic finish of my tester fit the car's undercover character perfectly. That said, with the massive three-pointed star at the center of the grille, there's no mistaking this machine for anything but a Mercedes-Benz.
Styling wise, the sheetmetal is relatively subtle, but look close and you can see details which telegraph its athletic potential. First, there's the massive grille, which is flanked by large inlets at the lower corners of the front fascia. Behind the grille, the creases in the hood make it look like a dress shirt that's been pulled taut by a bodybuilder's muscles, and I also liked the character crease which runs from the front fender, through the door handles, and into the sculpted hindquarters. Beneath the trick ducktail spoiler on the decklid, the bold AMG lettering reveals the sedan's performance nature, and there's also a tiny AMG badge in the grille, along with BiTurbo V8 badges just behind the front wheel arches.  
The wheels themselves are purposeful looking five-spoke units, and also bear the AMG emblem. Given the nature of the beast, my tester was shod with high-performance summer rubber, which made up for their somewhat unforgiving ride by being sticky as flypaper.  
Shop Mercedes-AMG E63 S Inventory
---
2021 Mercedes-AMG E63 S Interior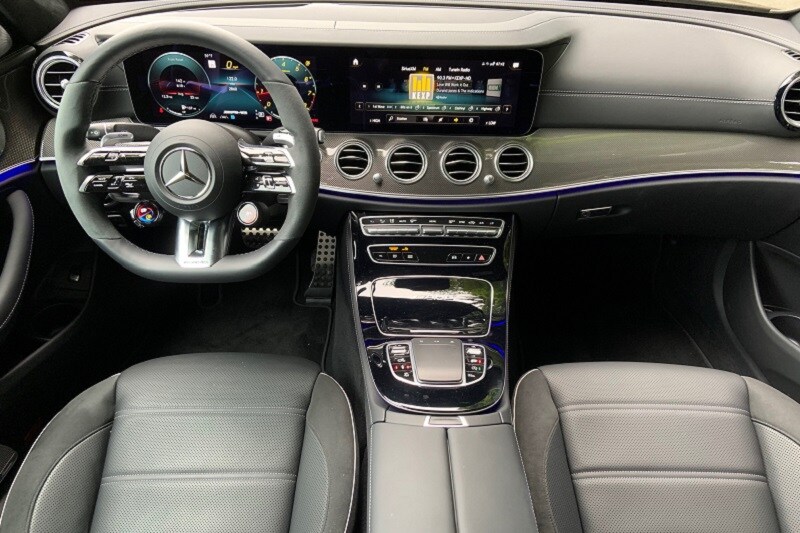 The cabin of the E63 S is a masterpiece of automotive design, and feels more like a luxury spaceship than earth-based vehicle. The interstellar vibe is heightened by the huge digital display which stretches seamlessly from edge of the instrument cluster to the center of the dashboard, and renders information in stunning 4K clarity. Pretty as it is, the real trick is how well the Mercedes designers were able to simultaneously provide acres of screen space and an unobstructed view out the windshield. All too often today, the infotainment screen pokes up over the dash, which makes it look less like an integrated part of the vehicle, and more like a tacked on accessory. That's not the case in the E63 S, and it's refreshing in both its elegance and simplicity.
The color palette of my tester was composed mostly of gray tones, with the piano black console surround, intricate white stitching, and tasteful LED lighting providing subtle bits of contrast. As you'd expect in a car of this caliber, material quality was excellent, and if a touchpoint wasn't subtle leather or silky-smooth Alcantara, it was a beautifully machined metal. Case in point? The gorgeous Burmester speakers which spin out from pods beneath the A-pillars upon startup. Maybe there's a reason they need to do that, but even if it's just a flourish, it's sure nothing to complain about. Even the tiny stalks used to direct airflow from the vents felt like tiny pieces of jewelry, and communicated the level of craftsmanship which went into every single area of this vehicle. My favorite part of the cabin was the organically flowing carbon fiber trim which wrapped across the dash and into the door panels, beautifully tying all the elements of the interior together. The driver and front passenger seats were both heated and cooled, and also had a massage feature, in the unlikely event that you were not already supremely comfortable. It's also worth noting that while I'm over six feet tall, I still had plenty of room in the rear seats.  
Unsurprisingly, Apple CarPLay, Android Auto, and SiriusXM were all on board, and I found using the native MBUX system to be a joy. The voice control, which allows drivers to speak an address, adjust the temperature, or change the radio station, worked flawlessly. Just say "hey Mercedes," and the car will respond. Given that there are redundant buttons for most features, you generally won't find yourself having to navigate the touchscreen while you're underway. If you do, the menus are arranged intuitively, and the response is snappy.  
Shop Mercedes-AMG E63 S Inventory
---
2021 Mercedes-AMG E63 S Performance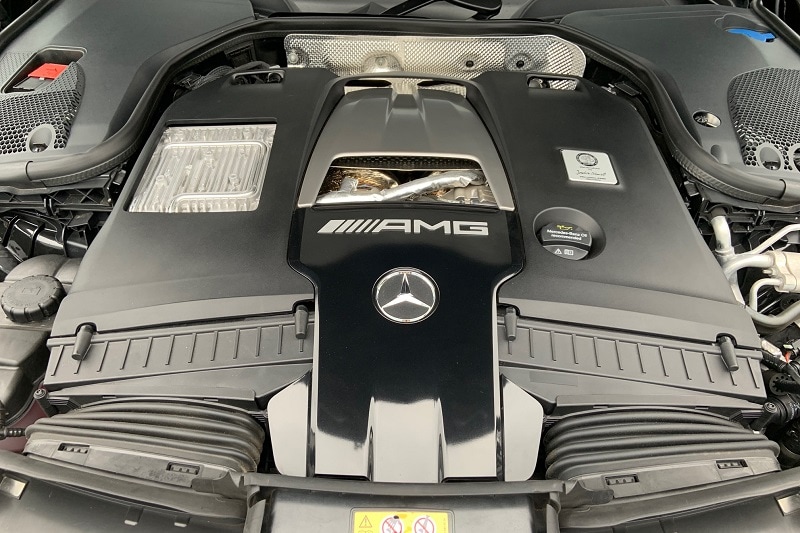 In a word, the performance of the AMG E63 S is outrageous. As luxurious as it might be, this is an absolute monster of a machine, and it's almost frightening to think that as you read this, the wizards at AMG are working tirelessly to boost performance. Under the hood, there's a handcrafted 4.0-liter twin-turbo V8 making a whopping 603 horsepower and a tire-melting 627 lb-ft of torque. This mighty mill is mated to a wicked-quick nine-speed dual-clutch transmission, and while I didn't find it as smooth as a conventional automatic at low speeds, wow, does it ever earn its keep.   
Punch the throttle, and Mercedes says this uber sedan will rocket from zero to 60 mph in a blistering 3.3 seconds. But independent testing has found it to be even quicker than that, with Car and Driver reporting an astonishing 2.8 seconds. Getting under the three-second mark is a huge achievement for anything save a funny car, and acceleration-wise, the lower figure puts the AMG E63 in the same league as the Corvette Stingray Z51, Porsche GT3 RS, and the McLaren 12C. Forward progress is simply relentless, and will continue all the way up to 186 mph.
But straight-line speed is just part of the package here, as the time I spent attacking some of my favorite Northwest backroads wholeheartedly demonstrated. In S+ mode, the suspension is as firm as an enforcer of Germany's 500-year-old beer purity law. That means if someone left a shoelace laying across the center of the road, you're going to be able to feel everything about said shoelace, down to what color it is. Overall, there's an exceptional amount of communication in the steering of the E63 S, with none of the numbness which can deaden the driving experience of even the fastest car. Head into a corner, and the all-wheel drive system grips like a cat on carpet, and while it'll report every bump or ripple in the tarmac, the Mercedes never feels like it's going to lose its composure.
What will cause drivers and passengers to lose their composure is the savage sound of the exhaust note. Because at full song in Sport+, it's an all-encompassing wail of ferocity that you feel in your gut as much as hear with your ears. Make no mistake, the E63 makes the kind of noises humans are genetically programmed to respond to, because it sounds like a predator. Take your foot off the gas after a wide-open throttle blast, and you'll be treated to a symphony of snaps, crackles, and pops which sound more like a 1970s Formula 1 car than a modern luxury sedan. And it's magnificent. This is the epic poetry of internal combustion, and while there are certainly faster machines coming down the pipeline from the virtuosos of AMG, it's heartbreaking to think the days of cars sounding like this are numbered.     
Shop Mercedes-AMG E63 S Inventory
---
2021 Mercedes-AMG E63 S Safety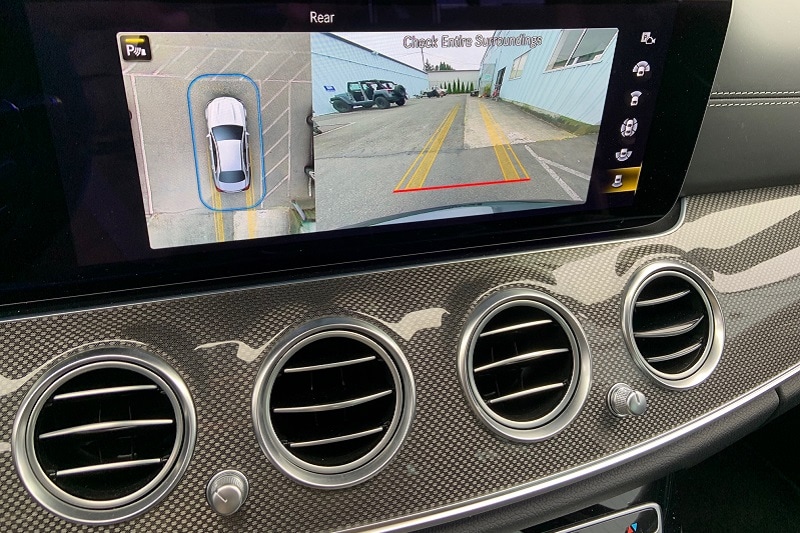 In testing by the National Highway Traffic Safety Administration, the AMG E63 S received a 5-Star overall safety rating.
Additionally, this tester was loaded with advanced safety equipment, including Active Steering Assist, Active Lane Change Assist, Active Emergency Stop Assist, Active Speed Limit Assist, Active Brake Assist with Cross-Traffic Function, Evasive Steering Assist, Active Lane KeepingAssist, Active Blind Spot Assist, and Route-Based Speed Adaptation.
Shop Mercedes-AMG E63 S Inventory
---
2021 Mercedes-AMG E63 S Overall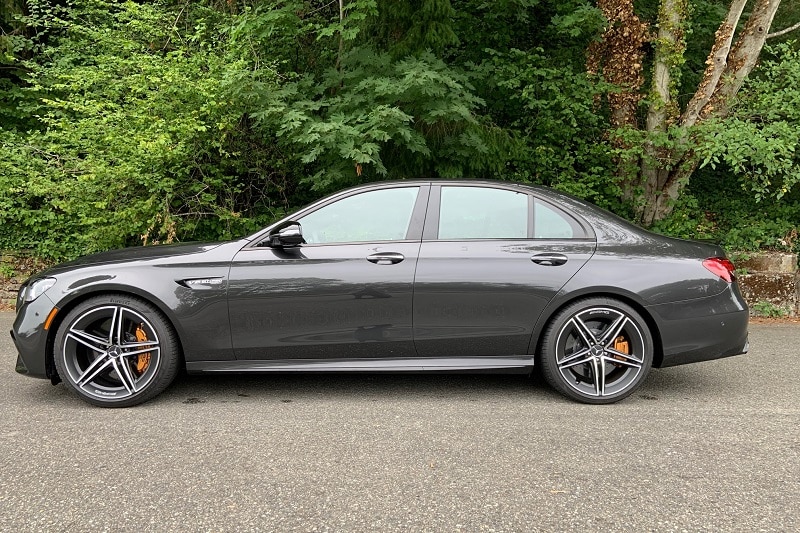 There's an old piece of advice that says you should never meet your heroes. And given the potential for disappointment? Maybe that's true. But with the AMG E63 S, I met the grandchild of one of my vehicular heroes, and boy, was I ever impressed. This is a sensational machine that's comfortable, practical, and absolutely dazzling when push comes to shove. Given the way that Mercedes has married the luxury and ferocity with the E63 S, it's no wonder every other team in Formula 1 has been playing catch-up for the past five years. The expertise on display here is phenomenal.    
Of course, all this luxury and performance comes with a cost. The MSRP for my E63 S was $107,500, but adding options like the Carbon Ceramic Brakes ($8,950), Burmester High-End Surround Sound System ($4,550), and Active Multicontour Front Seats w/ Massage Feature ($1,320), the price rose to a whopping $134,440. And for the record? I think it's worth every single penny.    
Shop Mercedes-AMG E63 S Inventory
---
John Coyle  | Jun 15, 2021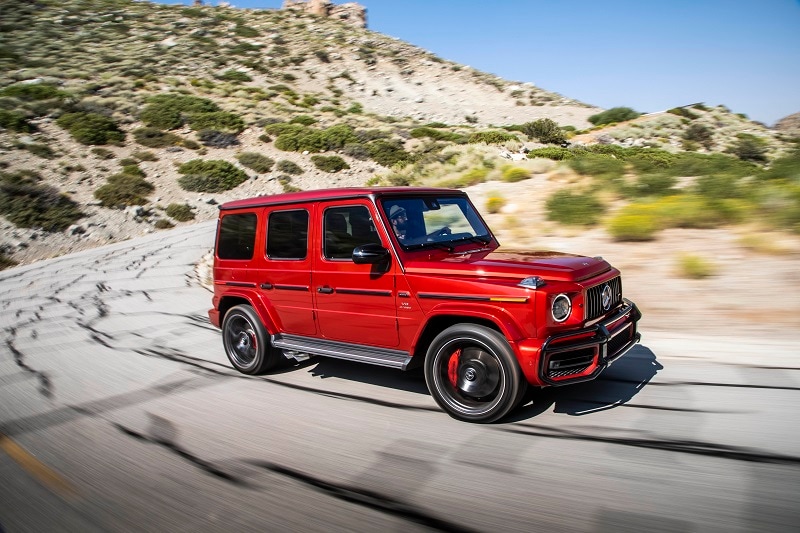 Mercedes-Benz Trim Guide
Get the breakdown of the Mercedes-Benz powertrain options for cars and SUVs.
---
2021 Mercedes-AMG E63 S Specs
Layout
4-door, 5-passenger, AWD
Engine/Transmission
Twin turbo 4.0L V8, 603 hp, 627 lb-ft
Nine-speed dual-clutch automatic
Mileage
16/23 mpg (city/hwy)
NHTSA Safety Rating

★ ★ ★ ★ ★  
---
AutoNation Drive Test Drive Review: ★ ★ ★ ★ ★
---
More Research
Browse more automotive research than you can shake a stick shift at.
---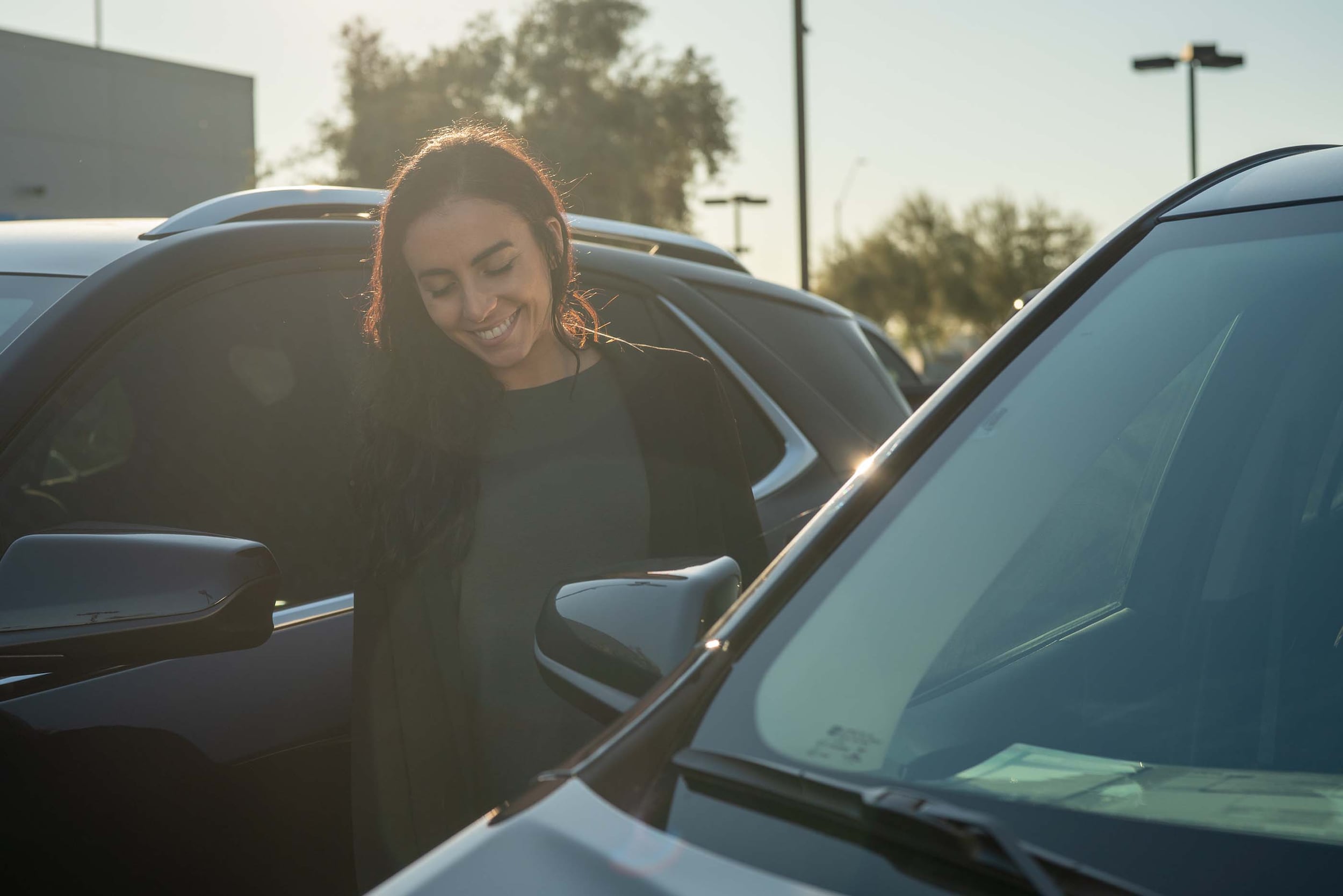 Test Drive Reviews
Our automotive experts at AutoNation Drive weigh in on price, safety, and performance of popular cars, trucks, and SUVs.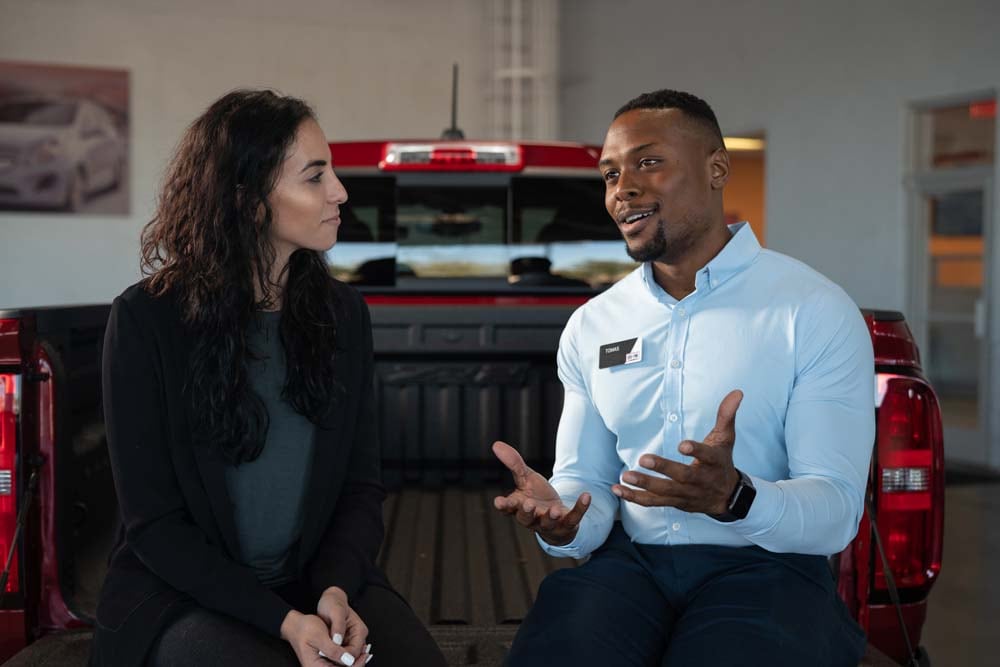 Car Buying Advice
If you're buying a car, truck, or SUV, the chances are - you need help. Don't worry. Our automotive experts are here to help.
---
*MSRP excludes tax, license, registration, destination charge and options. Dealer prices may vary.
**Based on EPA mileage ratings. Your mileage will vary depending on specific vehicle trim, how you drive and maintain your vehicle, driving conditions, and other factors.