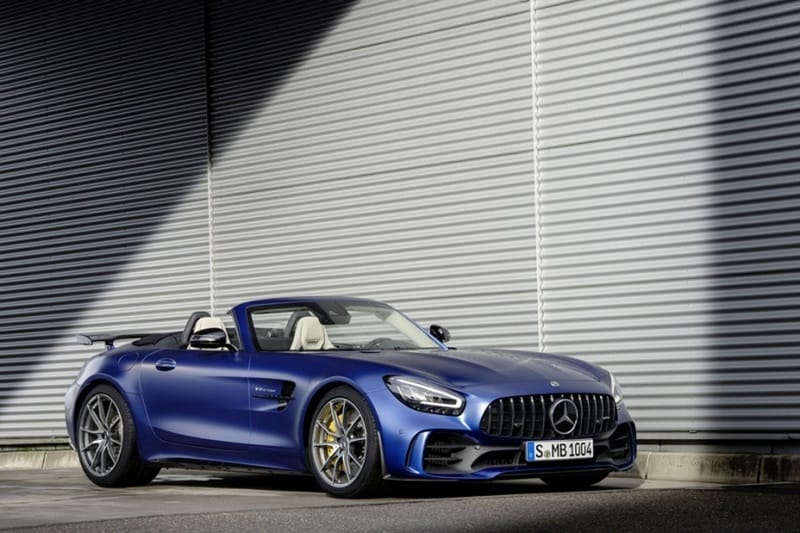 It's been roughly six years since the debut of the Mercedes-AMG GT. It continues to steal the spotlight wherever it goes.
With its extremely long hood, giant grille, and low stance, it has a menacing presence that makes even seasoned automotive industry folks do a double take. Until the AMG ONE and the new AMG GT Black Series arrive, it will remain the sharpest arrow in Mercedes-Benz's formidable quiver. So let's take a closer look at the 2020 Mercedes-AMG GT R.
---
2020 Mercedes-AMG GT R Exterior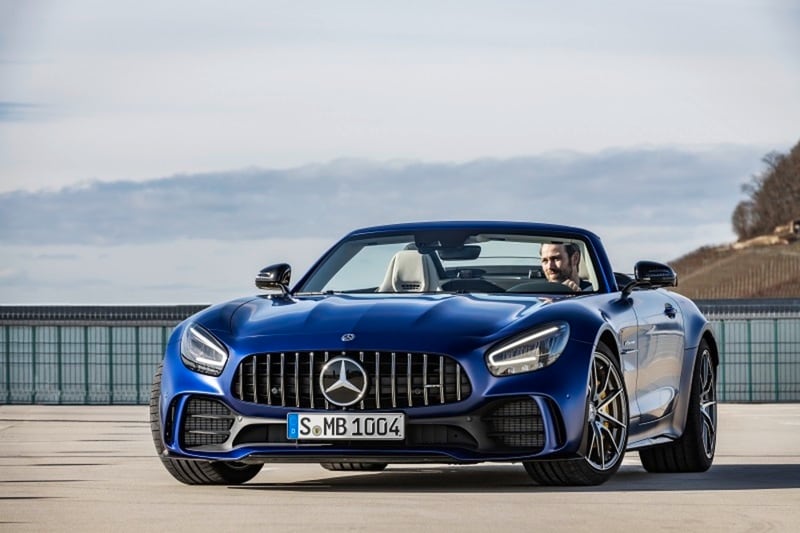 Now, I'm not a huge fan of convertibles, but I have to say the Mercedes-AMG GT R Roadster is definitely one of the best looking convertibles on the market. The top can be had in three color choices, including black, red or beige, and regardless of which color you choose, everything about the machine will scream tough.
The easiest way to tell a non AMG GT R apart from the standard AMG GT is the giant spoiler and yellow badging. The long hood and short rear end showcase a stunning take on classic sports design, and the wide, athletic stance conveys that this car means business. Look closely, and you can cues from the legendary Mercedes-Benz Gullwing of the late 1950s. But cutting-edge features like active aerodynamic elements drive home that there's nothing retro about the performance.
Personally, I think this is one of the best designs to come from Mercedes-Benz in recent years, and believe it will continue to age beautifully.
Shop Mercedes-AMG GT R Inventory
---
2020 Mercedes-AMG GT R Interior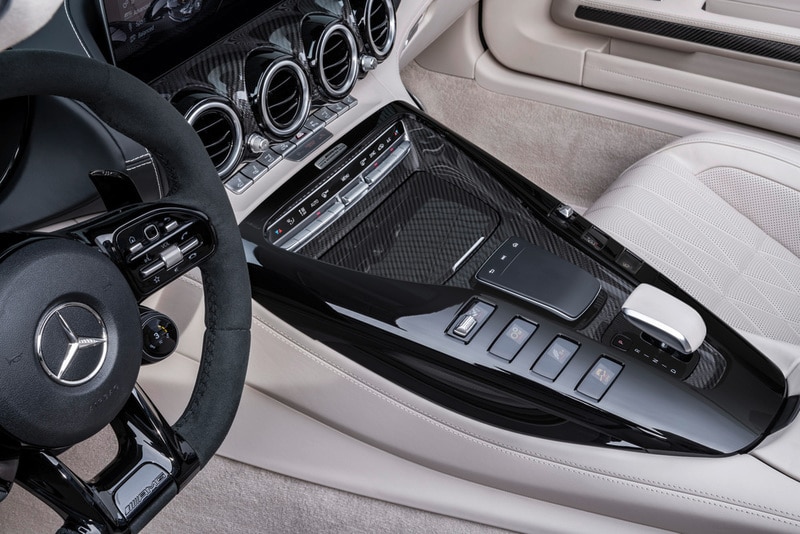 While the cabin of the Mercedes-AMG GT R is gorgeous, given that this is the most extreme AMG currently available, it's not particularly comfortable. Which makes sense, because this is first and foremost a performance car. And as with most high-end sports cars, getting in and out of the AMG GT-R can be a challenge - especially if you're over six feet tall.
Nonetheless, from a performance standpoint, the AMG Performance Seats are extremely useful, and will grip you tightly if you're pushing the AMG GT-R to its limits. Since the AMG GT R is a very expensive car, there are loads of standard luxury features, and all the materials are extremely high quality. 
However, there are a few things you don't get including a heated steering wheel, an ambient lighting system, a wireless charger, or a touchscreen display. In fact, the Mercedes-AMG GT R here doesn't use Mercedes-Benz's new MBUX infotainment system. Rather, it uses a more advanced version of the Mercedes-Benz COMAND system, which is housed in a 10.25-inch display that you control through a rotary knob or the touchpad. Apple CarPlay and navigation system as standard.
Overall the interior isn't a bad place to be at all. For the most extreme AMG that you can buy right now, it's every bit of luxurious and stylish as it gets.
Shop Mercedes-AMG GT R Inventory
---
2020 Mercedes-AMG GT R Performance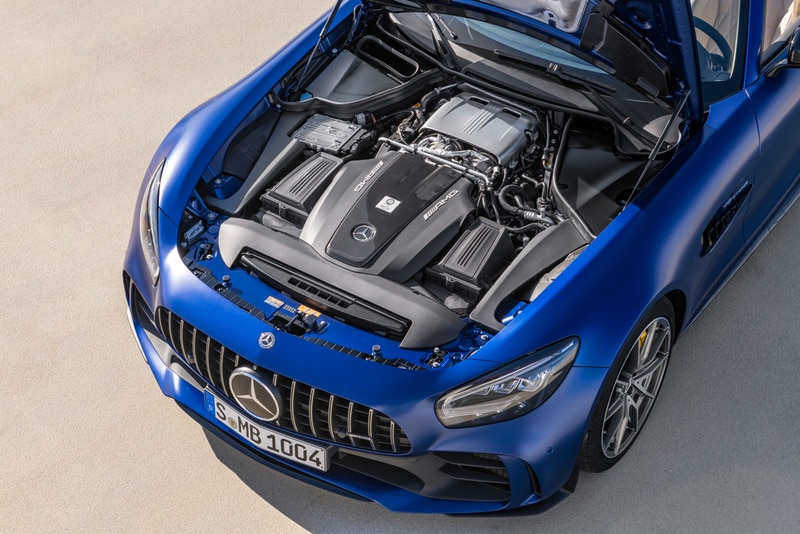 Simply put, blistering fast acceleration and razor-sharp handling make this one of the most amazing driving machines to ever come out of Affalterbach. Given the company's sterling reputation, it shouldn't surprise anyone that performance-wise, the Mercedes-AMG GT R is also one of the best in the segment. 
Power comes from a 4.0-liter twin-turbo V8 making 577 horsepower and 516 lb-ft of torque. Top speed is 197 mph, and the sprint from zero to 60 takes just 3.5 seconds. So rest assured, it's as fast as it looks. When it comes to drive modes, drivers can choose between Comfort, Sport, Sport+ and RACE - but that's not where the customization stops. The AMG GT R has something called AMG Dynamics, which is a set of stability control settings which includes Basic, Advanced, Pro, or Master. Now, if that's not enough customization for you, there are nine different levels of traction control available, so even extremely advanced drivers will be able to find a sweet spot.
Of course, people buying the Mercedes-AMG GT-R probably aren't terribly concerned with fuel economy, as it wasn't designed to be a gas-sipping commuter. But for the record, the AMG GT R Roadster I drove here averages an EPA-rated fuel economy of 15 mpg city, 20 highway.
Shop Mercedes-AMG GT R Inventory
---
2020 Mercedes-AMG GT R Safety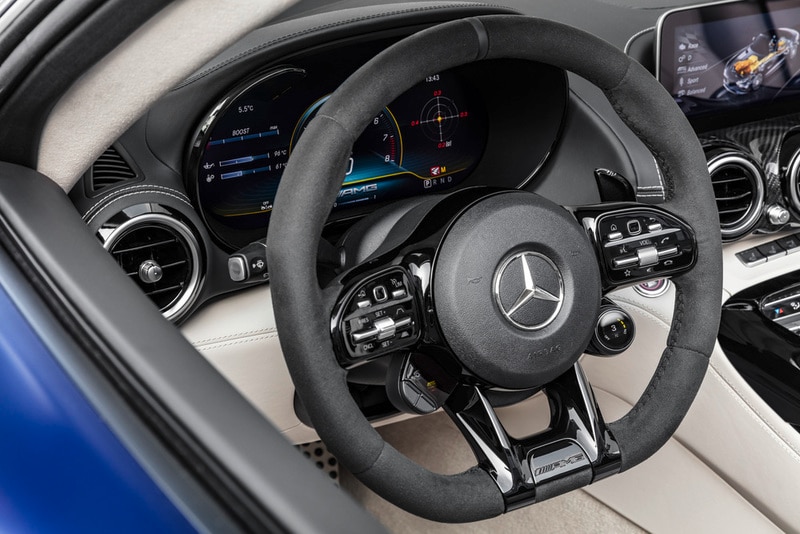 In the safety department, the Mercedes-AMG GT R comes standard with a long list of driver-assist technology.
Mercedes-Benz has included active brake assist, attention assist, front and rear view cameras, brake assist, lane keep assist, blind spot monitoring, and much more. For more information on the GT R's comprehensive suite of safety features, contact your local AutoNation-affiliated Mercedes-Benz dealer.
Shop Mercedes-AMG GT R Inventory
---
2020 Mercedes-AMG GT R Overall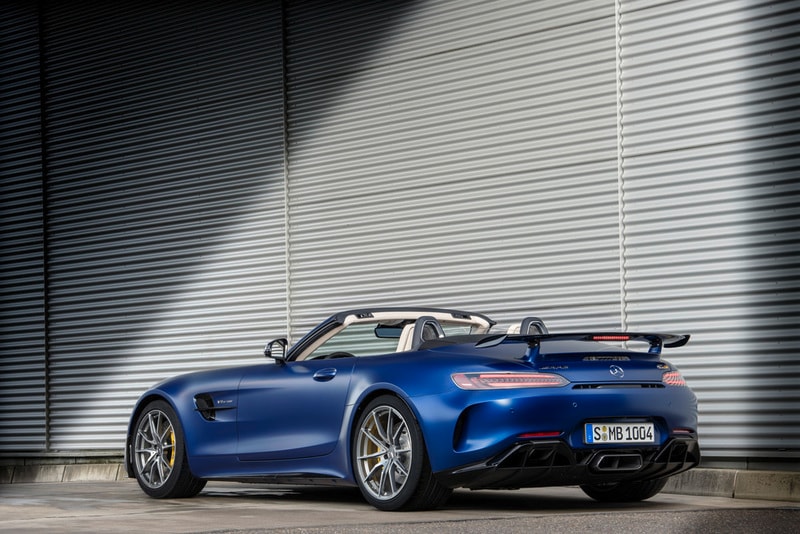 The AMG GT R here is the most extreme AMG you can buy, and it definitely sounds and feels like it. That said, a 720-horsepower AMG GT Black Series is on the way, which given how fast the GT R is already, seems more than a little insane.
In all honesty, the entry-level AMG GT is plenty fast for me, but if you're looking for  something that's a little more powerful, a little tougher, and more exclusive, the GT R is just the ticket.
Mercedes-Benz will only make 750 units of the AMG GT R Roadster available for the American market, and even with a sky-high starting price of $189,750, they're sure to go quick. So if you'd like the opportunity to put this monster in your garage, pay a visit to your local AutoNation-affiliated Mercedes-Benz dealership today!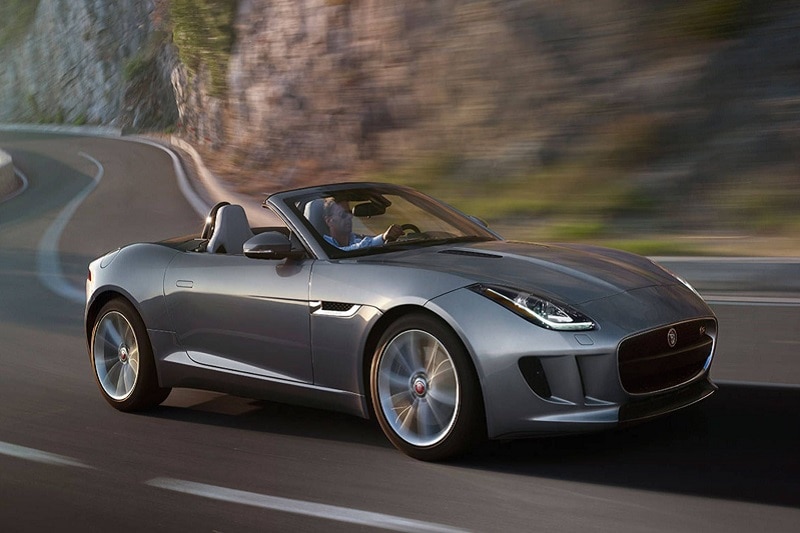 Luxury Car Research
Discover best-in-class luxury cars, trucks, and SUVs that will turn heads no matter where you drive.
---
2020 Mercedes-AMG GT R Specs
Layout
2-door, 2-passenger, RWD4
Engine/Transmission
4.0L twin-turbo V8, 577 hp, 516 lb-ft
Seven-speed, dual-clutch automatic
Mileage
15/20 mpg (city/hwy)
---
AutoNation Drive Test Drive Review: ★ ★ ★ ★
---
More Research
Browse more automotive research than you can shake a stick shift at.
---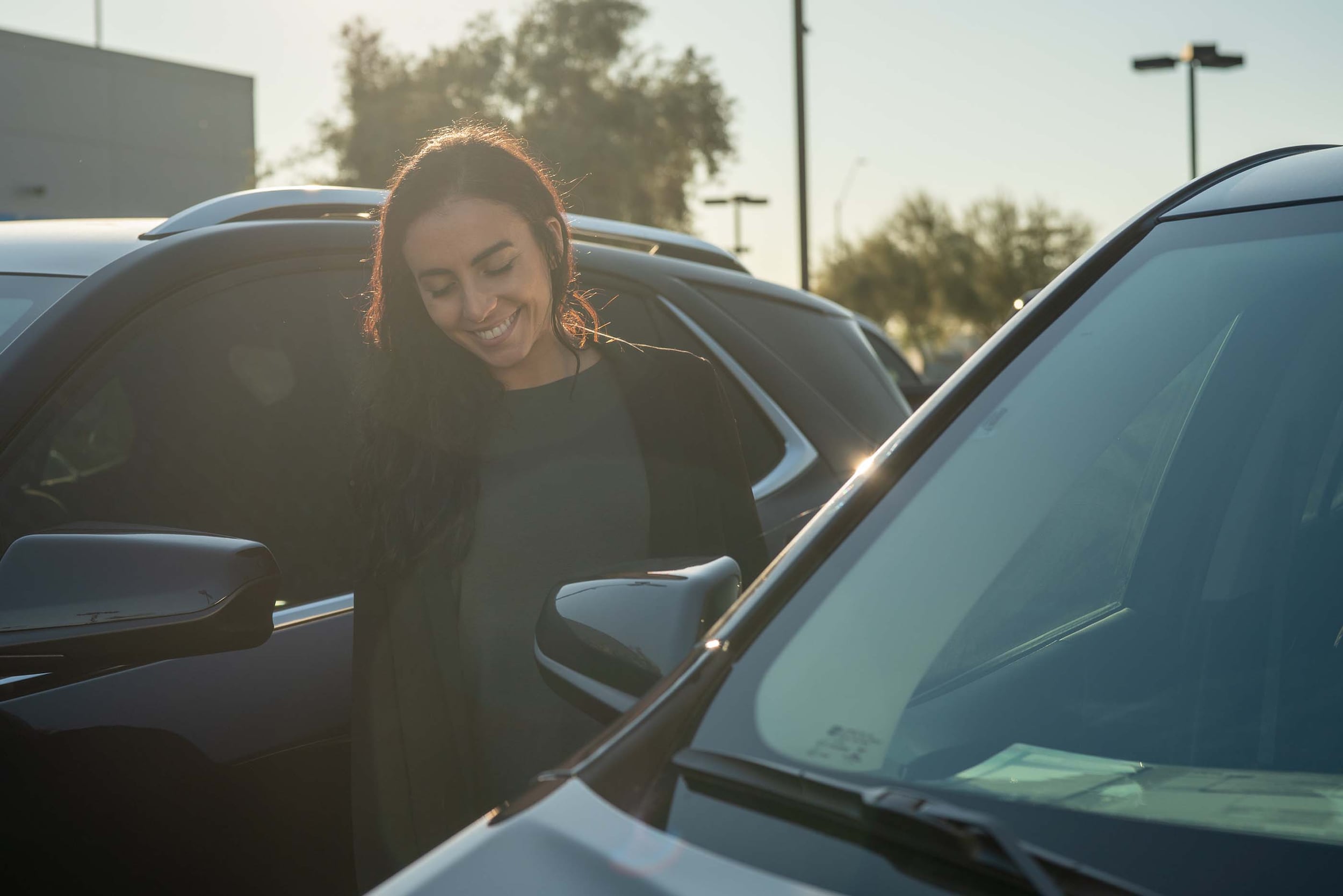 Test Drive Reviews
Our automotive experts at AutoNation Drive weigh in on price, safety, and performance of popular cars, trucks, and SUVs.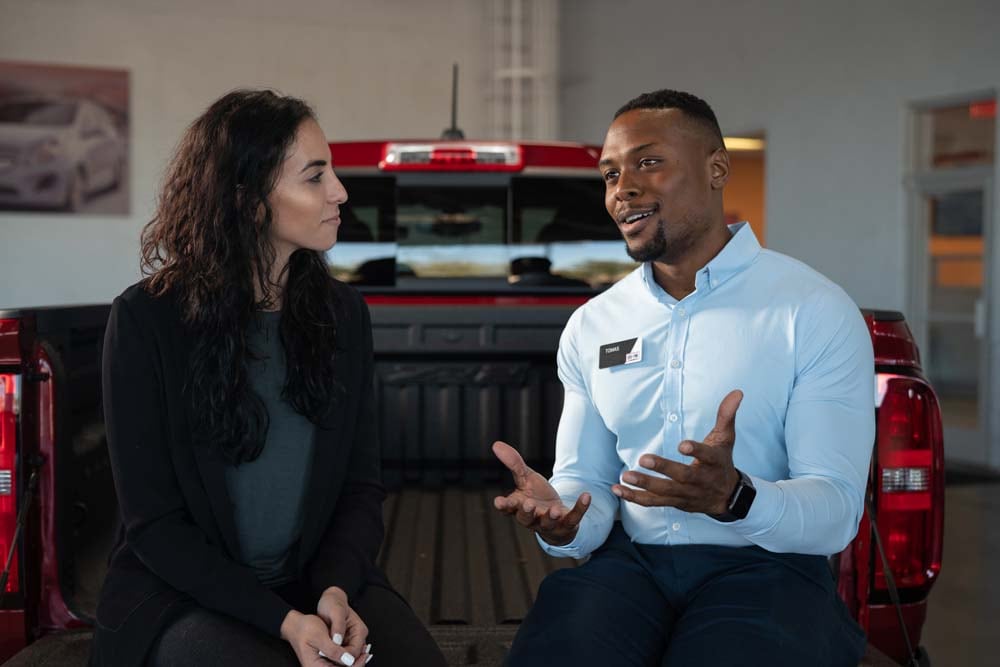 Car Buying Advice
If you're buying a car, truck, or SUV, the chances are - you need help. Don't worry. Our automotive experts are here to help.
---
*MSRP excludes tax, license, registration, destination charge and options. Dealer prices may vary.
**Based on EPA mileage ratings. Your mileage will vary depending on specific vehicle trim, how you drive and maintain your vehicle, driving conditions, and other factors.