Derek Shiekhi | Sep 09, 2020
---
When I was in high school, I spent a lot of my time in the library reading car magazines. Back then, Mercedes-Benz produced the W210 version of the E 55 AMG sedan and C215 iteration of the CL 600 coupe. The even more powerful, supercharged W211 E 55 AMG eventually replaced its naturally aspirated predecessor and Mercedes started twin-turbocharging the CL 600. Those cars became my definition of an AMG Mercedes: big-bodied and powered by a torque-rich V8 or V12. Mercedes also made the C32 AMG and SLK32 AMG, which had supercharged V6s, but when I pictured the quintessential AMG in my mind, I didn't see either of those models. To me, an AMG was a large car with ingot-like heft and brute force that you used to bash and bludgeon your way through long distances.
It was hard to shake that mindset, even once I started getting Mercedes-AMG vehicles to review. Three of the earliest AMGs I received were the C 63 S Coupe, GLC 63 S Coupe and E 63 S Wagon. They had slightly different bodies than what I usually envisioned an AMG having, but they definitely had the outrageous V8 power I expected.
When the 2020 Mercedes-AMG CLA 35 (starting price: $46,900) showed up in my driveway, I was intrigued. On paper, its compact dimensions, turbocharged four-cylinder engine and front-wheel drive underpinnings made it a radical departure from the AMGs I was used to. The CLA 35's driving dynamics were equally different, and gave me an experience I had never had in an AMG before.
---
2020 Mercedes-AMG CLA 35 Exterior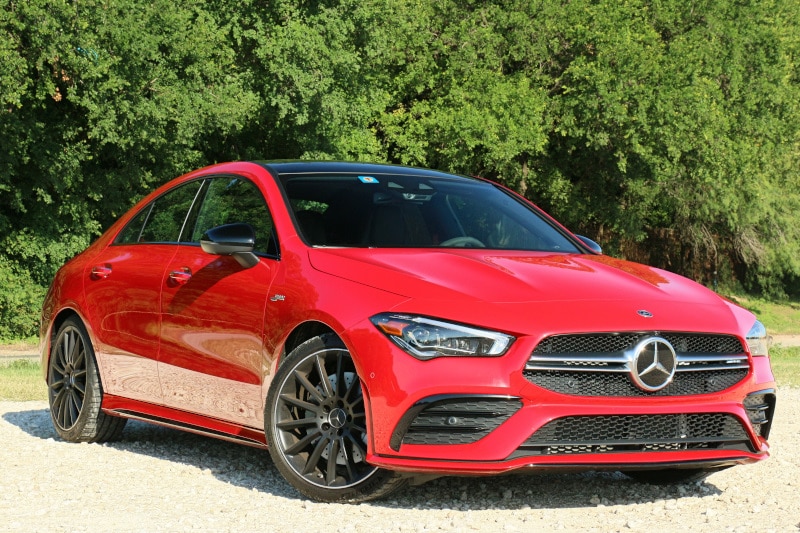 Mercedes nailed the CLA 35's design fundamentals. It was supposed to stand out and it did. According to Mercedes, the CLA is a coupe…even though it has four doors. There's certainly a lot of marketing fluff in that classification, but it's not completely off base. The CLA 35's 107.4-inch wheelbase lends itself to making a roof that covers four doors look more like it only arches over two. That swoopy roofline flows down into a raked rear end topped with a slim spoiler. Jewel-like taillights wrap around the rear fenders and terminate in fine points on the trunk lid.
My press loaner's basic design was enough to turn heads, and its Jupiter Red paint turned it into a neck-snapper. The AMG Night Package tempered that flamboyance by blacking out the front splitter and fascia trim, mirror covers, greenhouse surround, side skirt accents and dual exhaust finishers. A set of 19-inch matte black and silver AMG wheels completed the pocket rocket look.
Shop 2020 Mercedes-AMG CLA 35 Inventory
---
2020 Mercedes-AMG CLA 35 Interior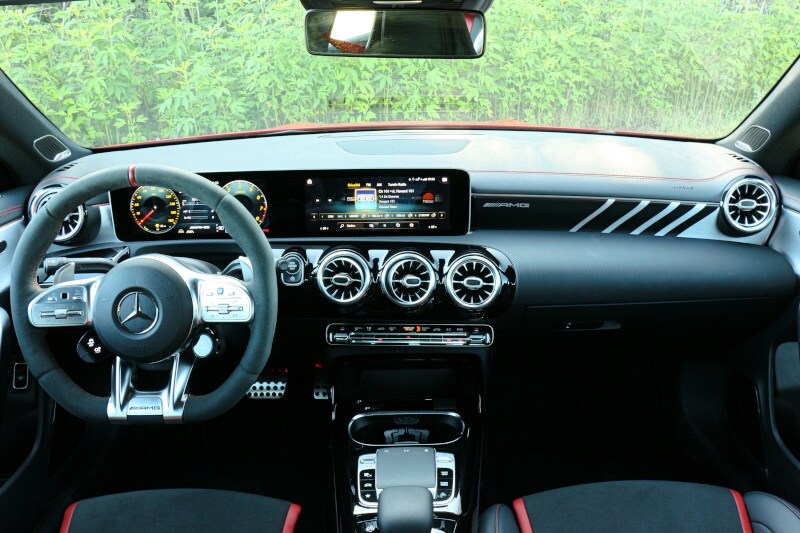 The CLA 35 was just as sporty on the inside. That was obvious as soon as I got behind the wheel. Mercedes swapped out the regular one for the optional flat-bottomed AMG performance steering wheel wrapped in racy DINAMICA microfiber and topped with a red stripe at the 12 o'clock position. Just as I was hoping they would, Mercedes added the cool and convenient AMG Drive Unit controls. Those allowed me to quickly change the settings for the Dynamic Select system, optional AMG Ride Control sport suspension, stability control and other functions.
My test car had the seats to match. The Recaro front buckets in the optional AMG Performance Seat Package were a balanced blend of form and function. Their red accents and stitching highlighted their adjustable side and bottom bolsters. More red accents lined the cabin. The ultimate flourish was the set of AMG-branded black hash marks on the silver-toned trim on the right side of the dashboard. The rest of it was covered with the CLA 35's standard pair of 10.25-inch screens for the main instruments and MBUX infotainment system. If I didn't feel like saying the words "Hey Mercedes" and telling the MBUX setup to navigate to an address, I could crank up the volume on the available 590-watt, 12-speaker Burmester surround sound system.
Shop 2020 Mercedes-AMG CLA 35 Inventory
---
2020 Mercedes-AMG CLA 35 Powertrain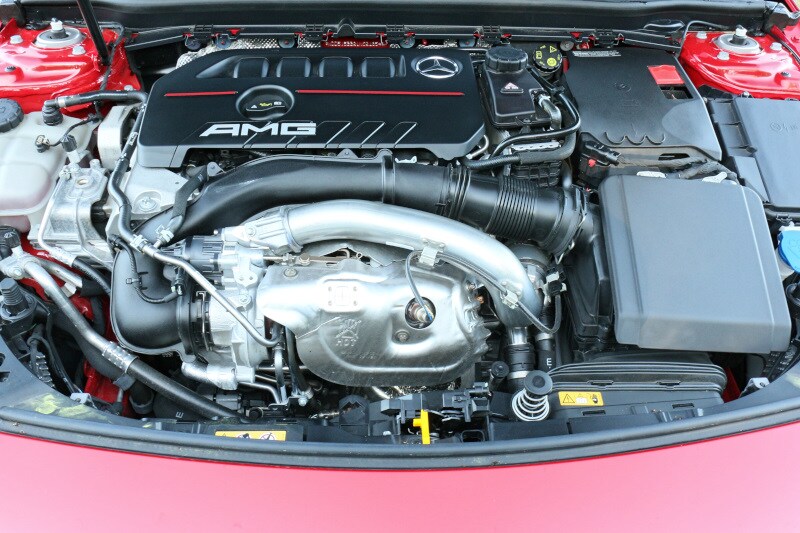 The powermongers at Mercedes-AMG enhanced the regular CLA's turbocharged 2.0-liter I4 to crank out 302 horsepower and 295 lb-ft of torque. They made the most of that output by channeling it through a seven-speed dual-clutch transmission and AMG Performance 4MATIC all-wheel drive, which could route all of the engine's torque through the front wheels or split it evenly between both axles.
My fiancé Eli and I love a coffee shop in Dripping Springs, Texas. It's a half-hour drive from our place in the Austin area, so we always go when I'm reviewing a performance car. The CLA 35 made the romantic journey even better. With the Dynamic Select system in its Sport+ setting, the hopped-up 2.0 delivered its power with an unexpected smoothness and linear quality. It had the surge of a bottle rocket, but not the abruptness.
The turns showed me just how unique the CLA 35 is amongst its more powerful siblings. All of the V8 AMGs I tested in the past had a heavy on-center feel and undeniable gravity and seriousness to them. The CLA 35 was much more lighthearted. It came across as unexpectedly light and playful. It was hard not to feel the same when I entered a curve…so I did. I tossed the CLA 35 into turns with a smile on my face. It reminded me of just how much fun a four-cylinder car can be.
Shop 2020 Mercedes-AMG CLA 35 Inventory
---
2020 Mercedes-AMG CLA 35 Safety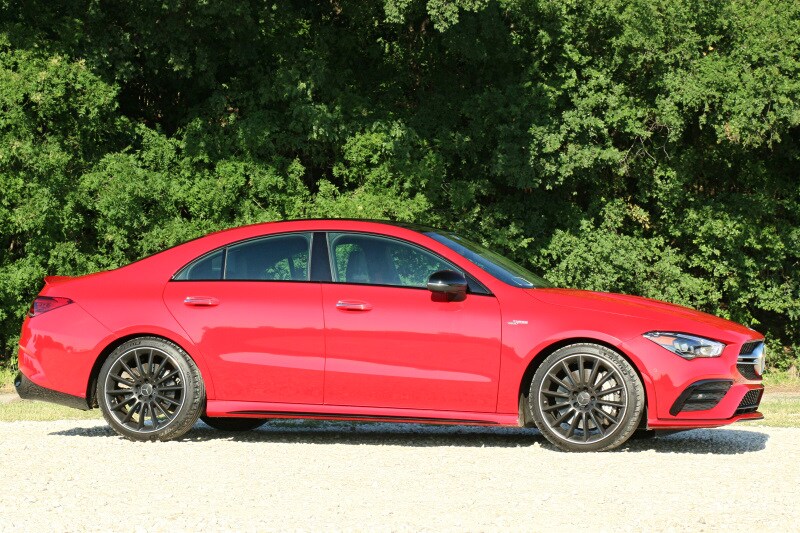 With our iced and hot coffees secured in the CLA 35's cupholders, Eli and I headed back to Austin. Down every straightaway and through every S-bend, we were protected by my tester's eight airbags, crosswind mitigation technology and Active Brake Assist feature, which could sense an impending collision and apply appropriate braking force.
The optional Driver Assistance Package gave us even more peace of mind by adding a multitude of features that could watch my blind spots, keep me in my lane, steer me away from hitting a pedestrian, and more.
Shop 2020 Mercedes-AMG CLA 35 Inventory
---
2020 Mercedes-AMG CLA 35 Overall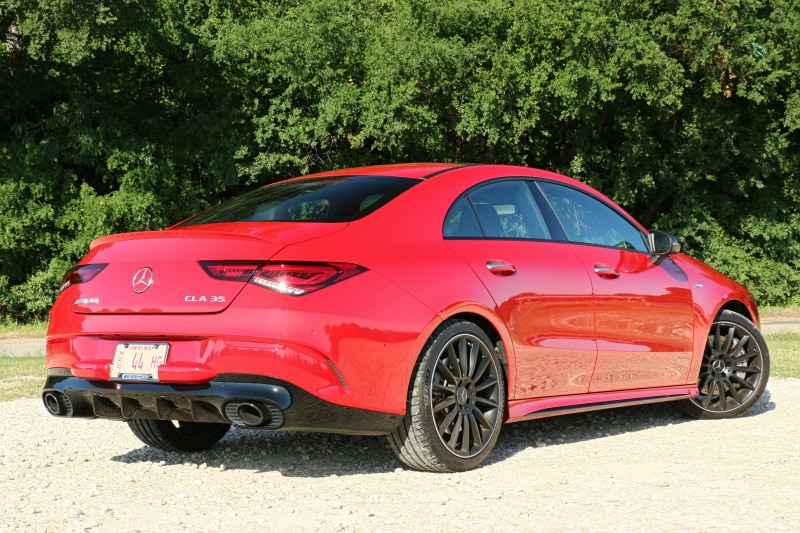 The CLA 35 may not be a big beast of a sedan with an eight- or 12-cylinder heart, but that's OK. It's not supposed to be. But it is supposed to be fun to drive. My time zipping through the Texas Hill Country in one proved that it is. Experience the 2020 CLA 35 yourself by going to an AutoNation Mercedes-Benz dealership and taking one for a test drive.
---
2020 Mercedes-AMG CLA 35 Specs
Layout
4-door, 5-passenger, AWD
Engine/Transmission
Turbocharged 2.0L I4, 302 hp, 295 lb-ft
seven-speed automatic
Mileage
23/25 mpg (city/hwy)
NHTSA Safety Rating

★ ★ ★ ★
---
AutoNation Drive Test Drive Review: ★ ★ ★
---
More Research
Browse more automotive research than you can shake a stick shift at.
---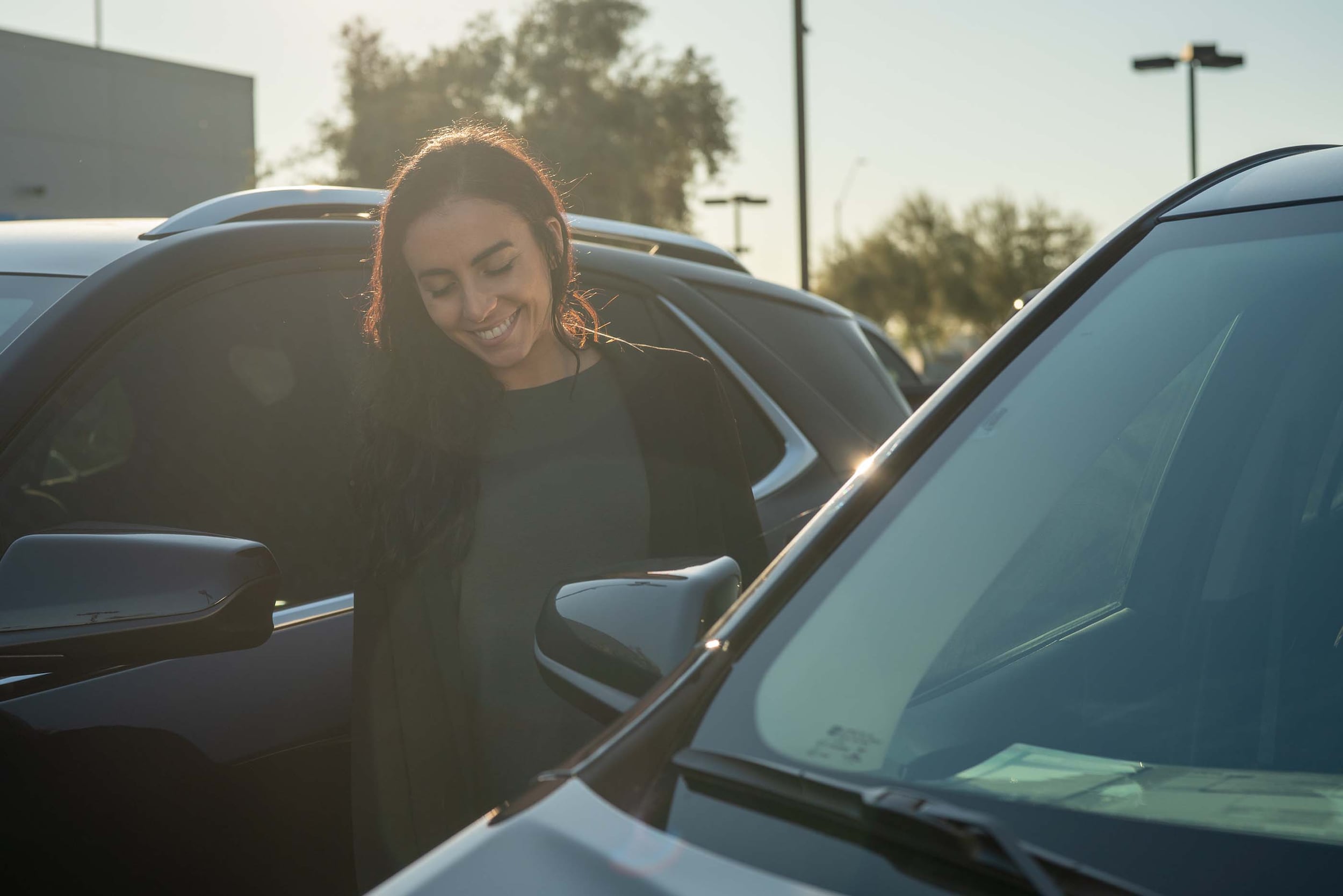 Test Drive Reviews
Our automotive experts at AutoNation Drive weigh in on price, safety, and performance of popular cars, trucks, and SUVs.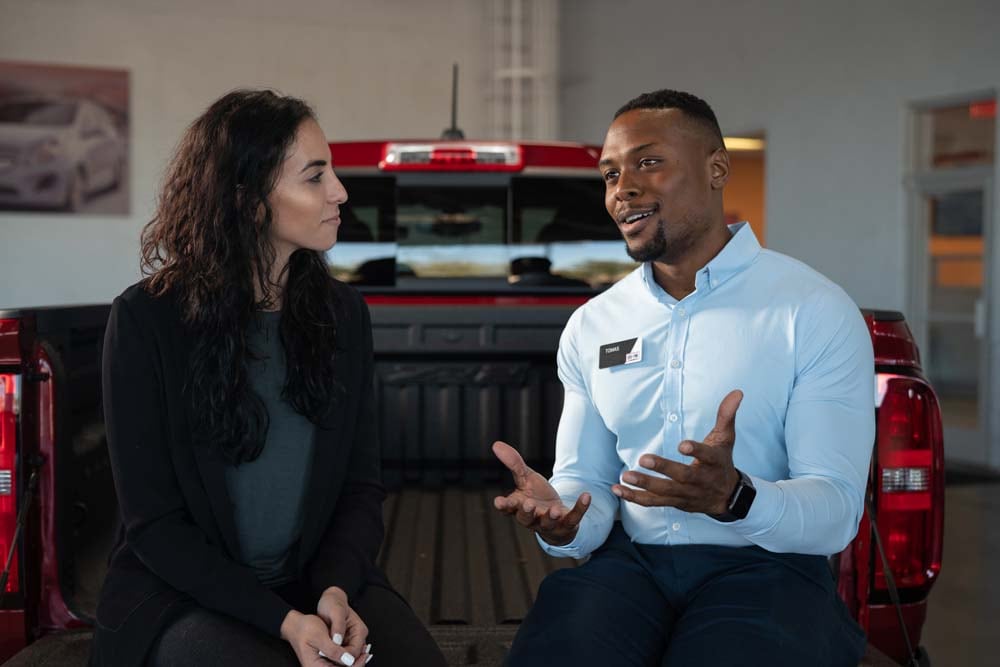 Car Buying Advice
If you're buying a car, truck, or SUV, the chances are - you need help. Don't worry. Our automotive experts are here to help.
---
*MSRP excludes tax, license, registration, destination charge and options. Dealer prices may vary.
**Based on EPA mileage ratings. Your mileage will vary depending on specific vehicle trim, how you drive and maintain your vehicle, driving conditions, and other factors.