Omar Rana | Nov 24, 2020
---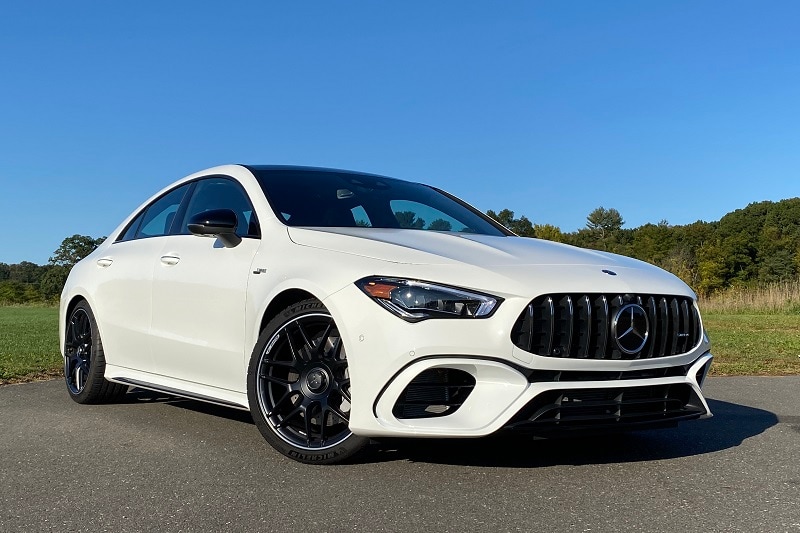 There's no doubt that compact cars with a lot of horsepower are extremely fun to drive. Big power in a small package is a time-honored recipe for success, and one that Mercedes-Benz is more than a little familiar with.
On that note, I recently spent some time with the 2020 Mercedes-AMG CLA 45, and even though my expectations were high, I was completely completely blown away. Not only is the 2020 Mercedes-AMG CLA 45 an outstanding option when it comes to performance, it's a well rounded machine that checks a lot of boxes. So let's take a closer look at the 2020 Mercedes-AMG CLA 45, because this is one compact performance car I can honestly say is about as good as it gets.
---
2020 Mercedes-AMG CLA 45 Exterior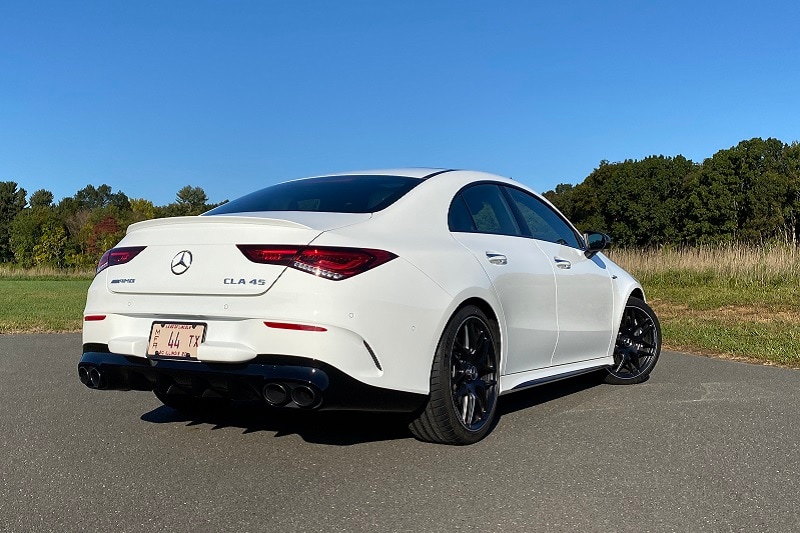 While the design of the outgoing Mercedes-Benz CLA wasn't that exciting, all that has changed. With the new Mercedes-Benz A-Class becoming the brand's entry-level model, the CLA has moved more upmarket, and it shows.  
From the aggressive grille featuring a giant three-pointed star, to the flared intakes at the corners of the front clip, to the strakes along the sides, I think the exterior design of the new Mercedes-Benz CLA is absolutely gorgeous. It does a great job of balancing sportiness and elegance and that should definitely attract the younger car buyer. It's the kind of vehicle that you'll always look back at while you're walking away, which is one of the best compliments I can pay.
My test model, the Mercedes-AMG CLA 45, obviously looks a little bit more aggressive since it's the most powerful of the CLA lineup, and the combination of white paint and black wheels gave it a stormtrooper vibe, which worked well with its athletic inclinations. But regardless of what color you might choose, rest assured that your CLA 45 will have a fantastic presence.    
Shop Mercedes-AMG CLA 45 Inventory
---
2020 Mercedes-AMG CLA 45 Interior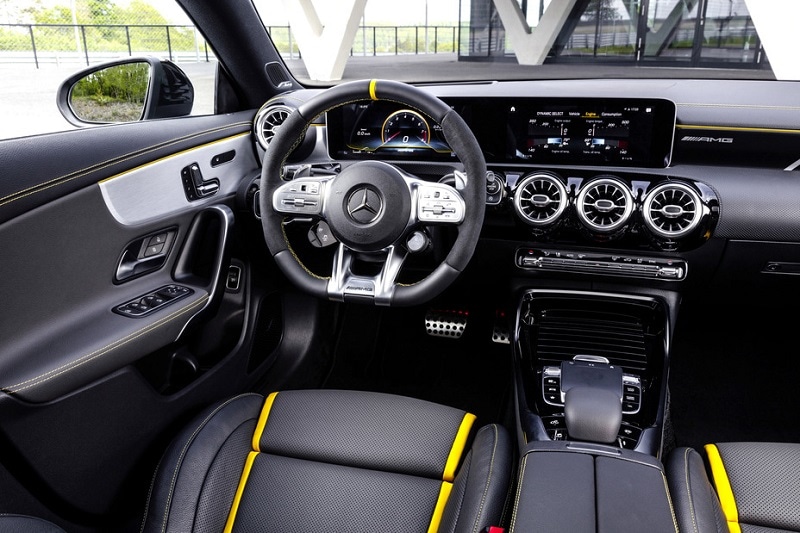 Simply put, the interior on the new CLA is outstanding. It's leaps and bounds better than the outgoing model, and in fact, it feels very similar to the one seen in the A-Class. In my opinion, this interior is even better than the one on the Mercedes-Benz C-Class.
Everything inside feels solid to the touch. Of course my test model here looks a little better since it's an AMG, and has the optional $1,450 leather upholstery. But still, everything feels way more upscale and WAY more elegant than the outgoing model. One of my favorite things about new Mercedes-Benz models is that most come standard with the MBUS infotainment system. It is by far one of the best infotainment systems available in the luxury segment, and once you get the hang of the overall flow, it is very simple to use and very intuitive.
I also appreciate that the Mercedes-AMG CLA 45 comes standard with a giant panoramic sunroof. Now, most brands charge a few thousand dollars for a panoramic sunroof, but the CLA 45, along with all other CLA trims, come with one as a standard offering.
Shop Mercedes-AMG CLA 45 Inventory
---
2020 Mercedes-AMG CLA 45 Performance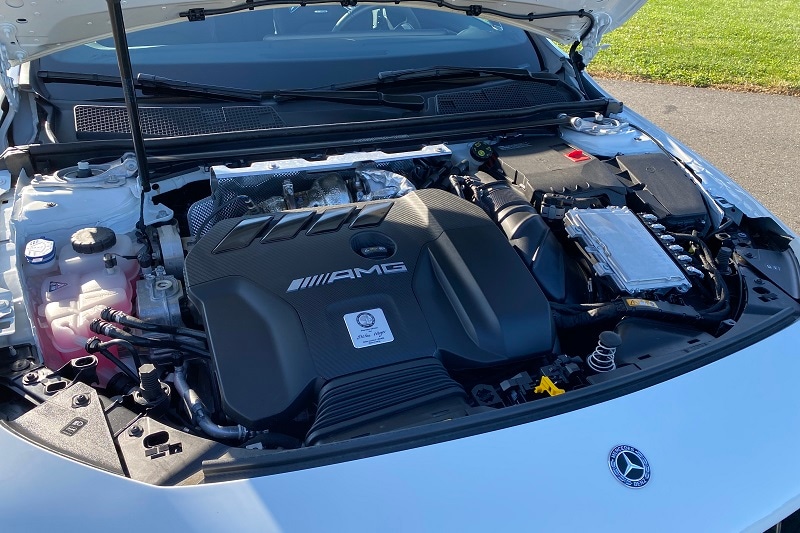 The AMG name is a legend in the enthusiast world, so it's fitting the performance is an area where the Mercedes-AMG CLA 45 really shines.
Power comes from a 2.0-liter four-cylinder making 382 horsepower and 354 lb-ft of torque, and if those figures sound high for a four-cylinder, you've been paying attention. Because this is the most powerful production four-cylinder in the world. All that poke means the CLA 45 will make the sprint from zero to 60 mph is just four seconds flat, and it's worth noting that acceleration is seamless, with virtually no turbo lag.   
That being said, the CLA 45 isn't just good in a straight line. This is an extremely well-balanced machine with great feedback through the wheel and sharp handling. So if you're looking for a daily driver which will also make you want to tackle a twisty road, Mercedes has you covered here. Now, with all the performance on tap, you might expect the CLA 45 to be a pretty thirsty beast. But it's EPA-rated at 23 city, 30 highway, which is pretty respectable for a car that's this athletic.
Shop Mercedes-AMG CLA 45 Inventory
---
2020 Mercedes-AMG CLA 45 Safety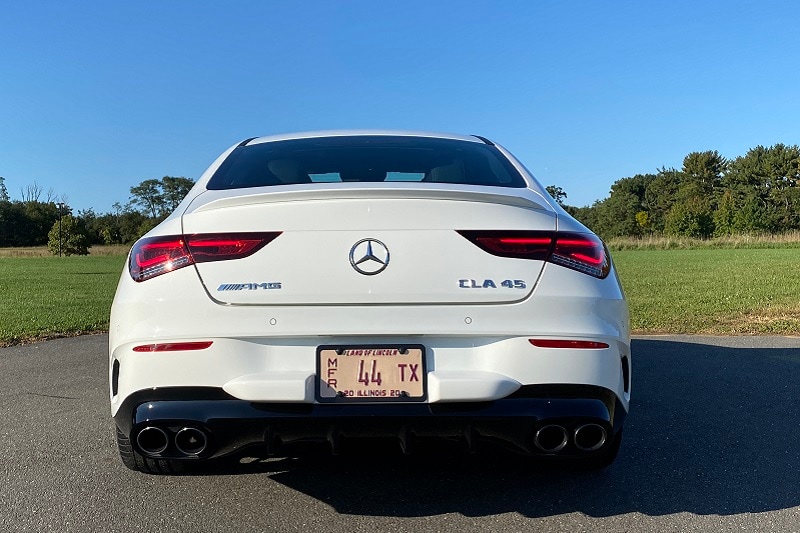 At the time of publishing, the CLA 45 has not been tested by the National Highway Traffic Safety Administration or the Insurance Institute for Highway Safety.
That said, it comes standard with a wide range of driver assist technology, including Brake Assist, Blind Spot Assist, Attention Assist, and more. Optionally, you can add a variety of other safety features including Adaptive Cruise Control, Lane Keep Assist, and Speed Limit Assist.
Shop Mercedes-AMG CLA 45 Inventory
---
2020 Mercedes-AMG CLA 45 Overall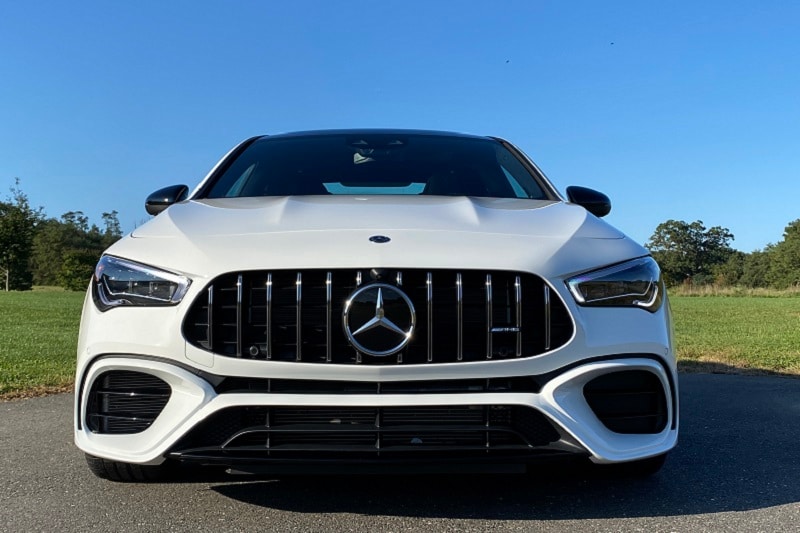 After spending a week with the 2020 Mercedes-AMG CLA 45, there's no doubt in my mind that this is an outstanding car in the compact performance car segment. When it comes to power, luxury, tech, design, and interior quality, the Benz is hard to beat. Prices for the CLA 45 start at $54,800. Visit your local AutoNation Mercedes-Benz dealership for a test drive today.