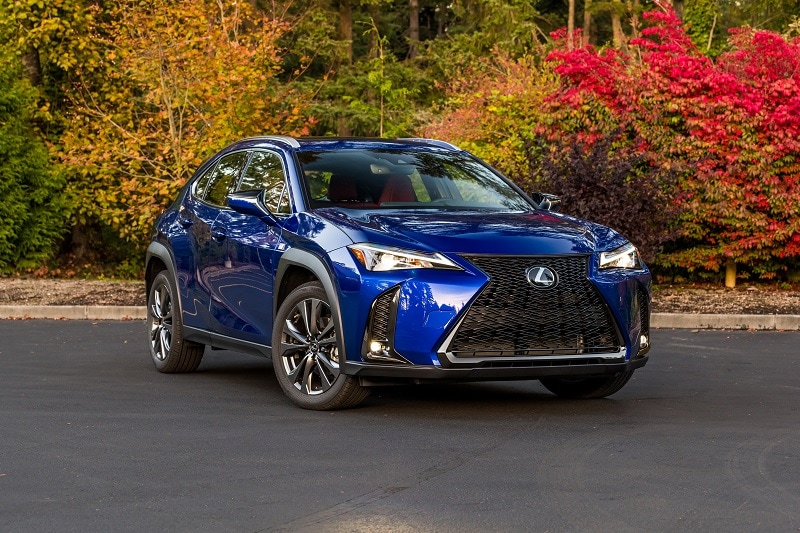 The Lexus UX was introduced in 2019, and slots in under the compact NX in the company's robust crossover lineup.
For the 2021, it comes loaded with even more desirable standard features, including blindspot monitoring and Android Auto. Given that the Lexus RX basically invented the concept of the luxury crossover, the UX comes into its hotly contested segment with some big familial advantages. Read on to learn all my thoughts on the littlest Lexus!
---
2021 Lexus UX F Sport Exterior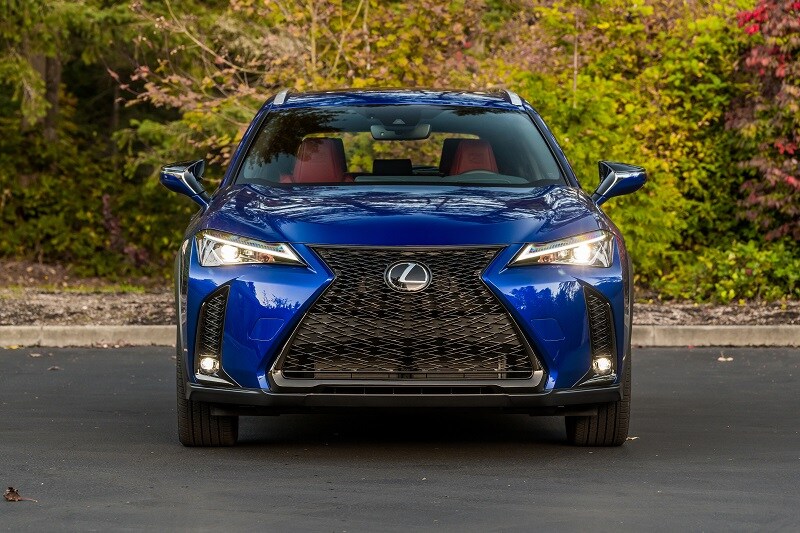 In industry speak, the Lexus UX is described as a subcompact luxury crossover. Now, to me, that designation feels like a bit of a word salad, given how disparate the terms luxury and subcompact have historically been.
But what it means in practice is that UX is relatively tiny, and at 177 inches, it's about the exact same length as the contemporary Honda Civic. This is by no means a bad thing, as UX was clearly optimized for the tight squeezes and cramped parking lots which define modern urban driving. Squint, and it looks very much like a larger hatchback or a tall, less-elongated station wagon. Since my tester was an F Sport model, it featured a restyled front clip, along with some exterior badging, and overall, it's an attractive package.
Up front, there's the trademark Lexus "Predator" grille, along with a pair of air intakes at each corner, and blade-like LED-accented headlights which complement some stylish lines in the hood. Along the side, there's a crease which shoots from the bottom of the doors up into the pronounced, sculpted hips, and the overall effect makes it feel like the vehicle is leaning forward. Given its urban focus, I think it might look better without the plastic cladding above the 18-inch wheels, but I can see how some folks might like the rugged appearance they provide.         
Shop Lexus UX F Sport Inventory
---
2021 Lexus UX F Sport Interior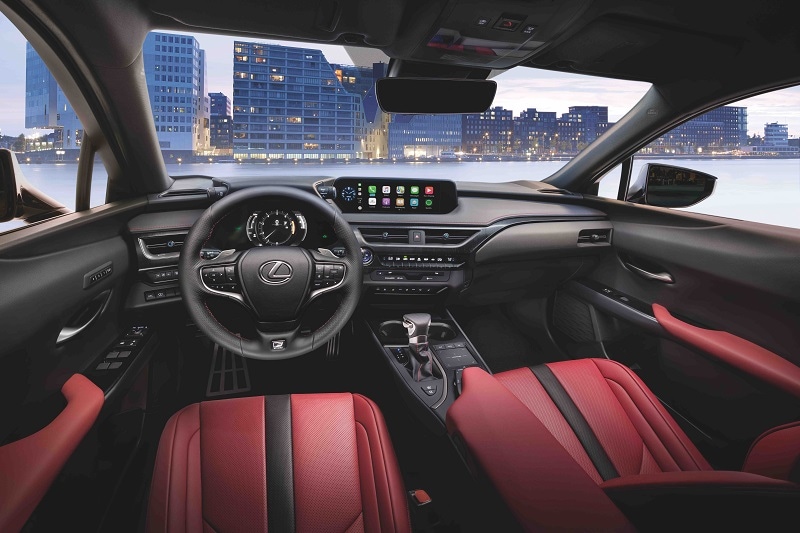 While the UX might be a small Lexus, it's still a Lexus, which means that interior build quality and materials are top notch.
Every touchpoint is pleasingly soft, and the F Sport-specific gauge cluster looks trick. To adjust the drive modes (Sport, Normal, Eco), you use the twin stalks above the steering wheel, just as you do in the LC 500 and the legendary LFA supercar. It's a nice touch, and also feels natural. I also sincerely appreciated that while many infotainment functions are accessed through the console-mounted touchpad, there were hard buttons for features like the heated seats. Apple CarPlay and Android Auto come standard, so whatever flavor phone you favor, you'll be ready to rock from the get-go.
Quite honestly, while it might be the least expensive point of entry to the Lexus brand, the well-placed physical buttons, along with the standard-style shift level made the UX one of my favorite current Lexus cockpits, because there's almost no learning curve surrounding any feature. Overall, it might be the most intuitive arrangement in the lineup, and I think the designers should be commended for that.
As they are in other Lexus models, the F Sport seats were exceptional. Not only do they look the business, they offer plenty of bolstering to support drivers during aggressive cornering, without making you think about cutting back on carbs. At 6'2" inches tall, I found the backset a little tight, but shorter adults and children should be plenty comfortable back there.     
With the rear seats up, there's 17.2 cubic-feet of storage available under the rear hatch. While that's a little below average for the compact crossover segment, it's worth noting that the back seats fold in a helpful 60/40 split. 
Shop Lexus UX F Sport Inventory
---
2021 Lexus UX F Sport Powertrain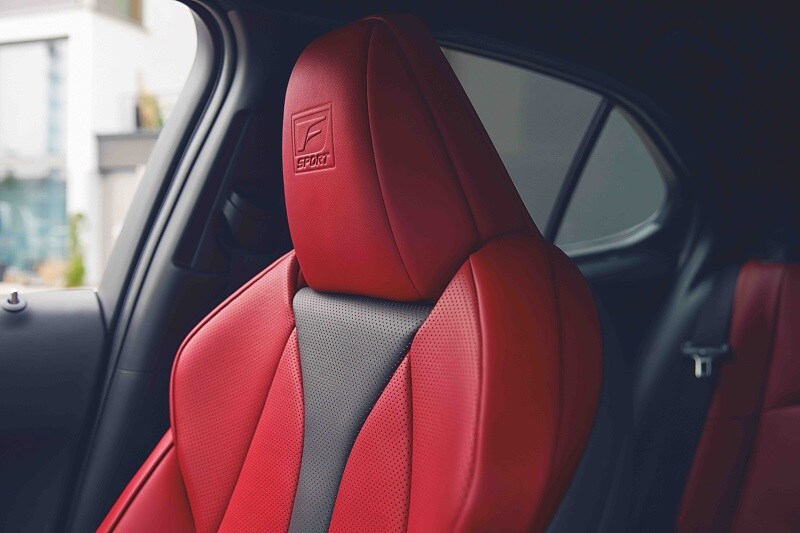 Under the hood, the UX is packing a turbocharged 2.0-liter four cylinder, which is good for 169 horsepower and 151 lb-ft of torque. While that amount of poke doesn't exactly make it lightning quick, the UX still manages to deliver an engaging driving experience, even if the sound of the engine working somewhat compromises the vault-like quality I've come to expect from Lexus. 
That said, the F Sport suspension package takes full advantage of the platform's low center of gravity, and is both taut enough to reward spirited cornering, but not punishing over potholes or poor pavement. The F Sport package also includes paddle shifters, but over the week I had the UX, I didn't opt to play with them much.
Frankly, as someone who has been less than thrilled with many of the CVT transmission options currently available, I was impressed with how well the unit here handled shifting duties. Steering feel was also impressive, and while I spent most of my time behind the wheel navigating unseasonable downpours, I found its point-and-shoot nature, along with its diminutive proportions made the UX a proper partner for the demands of the urban landscape. At 29 city and 37 highway**, it was also great on gas, and even though I made no attempt to conserve fuel, I didn't even manage to use half a tank of fuel.
Folks looking for even better numbers can check out the UX Hybrid, which delivers 38 highway and 41 city**, and also comes with all-wheel drive.       
Shop Lexus UX F Sport Inventory
---
2021 Lexus UX F Sport Safety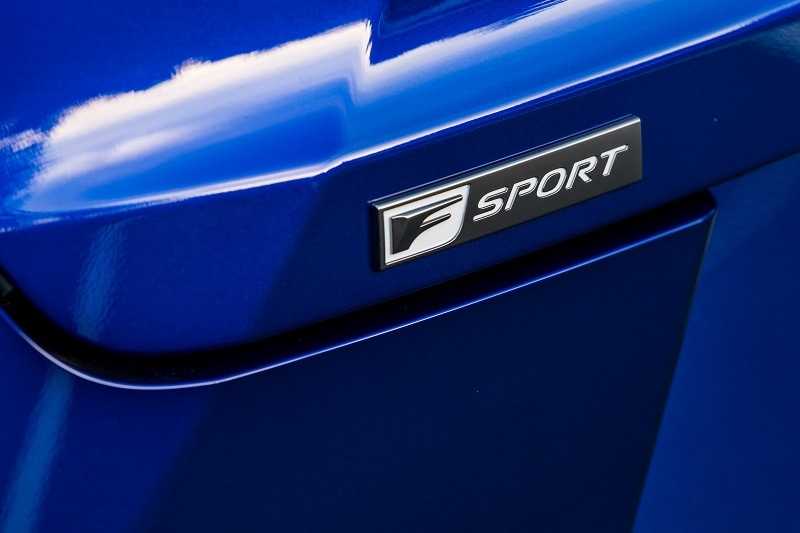 In testing by the National Highway Traffic Safety Administration, the 2021 earned five out of five stars. Additionally, Lexus has included a host of features which reinforce the idea that the best crash is the one that never happens.
Every 2021 UX comes standard with Lexus Safety System+ 2.0, a comprehensive suite of drivers aids which includes, Automatic Emergency Braking, Pedestrian and Cyclist Detection, Forward Collision Warning, Lane Departure Warning, Lane Keep Assist, Adaptive Cruise, and Automatic High-Beams. 
Blind Spot Monitoring is also standard for 2021, and additional safety tech like Front and Rear Parking Sensors, a Heads Up Display, and Hands Free Park Assist are available as options.
Shop Lexus UX F Sport Inventory
---
2021 Lexus UX F Sport Overall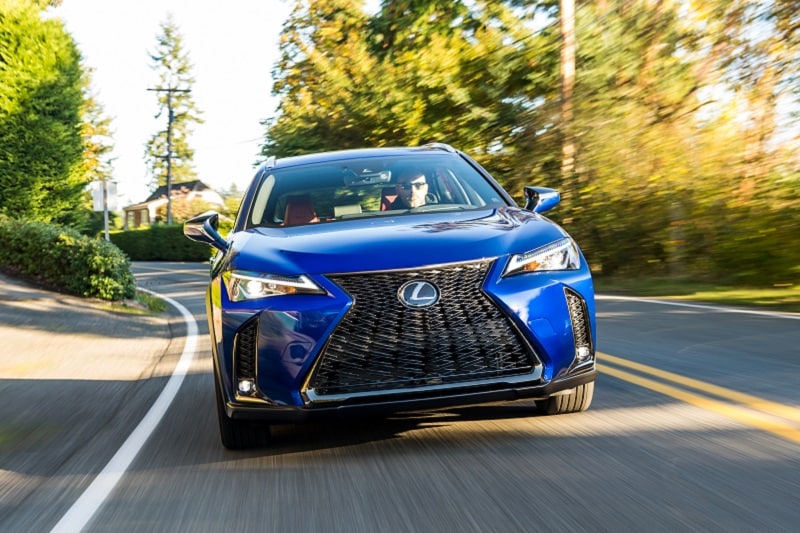 After spending a week behind the wheel, it's clear the Lexus UX is a compelling package for buyers in the compact and subcompact segment. The styling is sharp and distinctive, the interior quality is predictably excellent, it's loaded with standard features, and while the chassis could easily handle more power, it delivers an engaging driving experience.
To experience the 2021 UX F Sport for yourself, visit your local AutoNation affiliated Lexus dealer today!
Shop Lexus UX F Sport Inventory
---
John Coyle | Jan 07, 2021