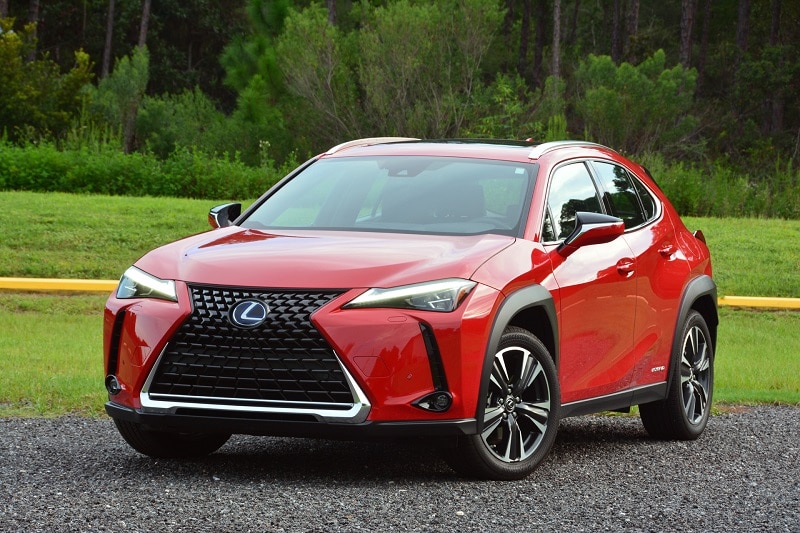 Not too long ago, the idea of automotive luxury centered around vehicles that were large on the outside and roomy on the inside. But today, an assortment of small offerings are redefining that standard.
In the U.S. market, it's not often that cars get much smaller than the subcompact class, and that's exactly where the 2021 Lexus UX is positioned. Introduced for the 2019 model year, the UX subcompact crossover stands as the entry-level model for Lexus, though its small size and affordable price doesn't mean drivers have to sacrifice luxury. Far from it. Like most of the
Lexus
models offered today, the UX is available with a hybrid powertrain, and that's the one I got to sample. 
---

2021 Lexus UX 250h Exterior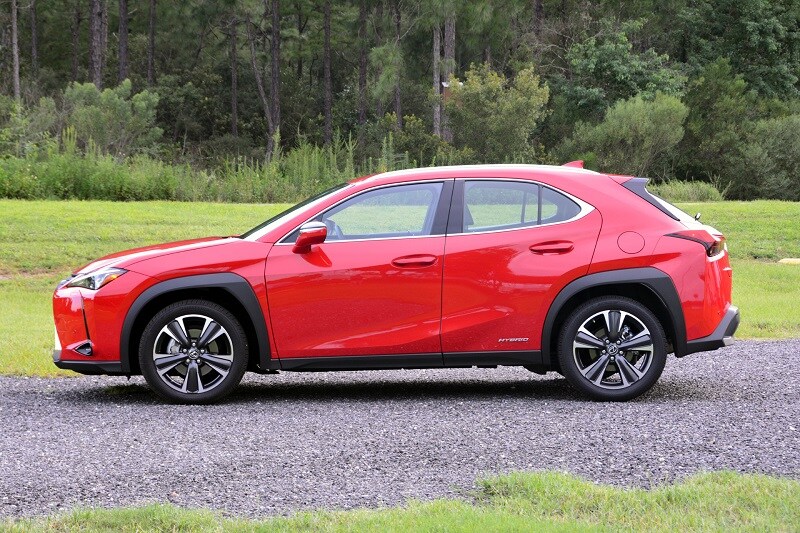 Many of today's subcompact crossovers could easily pass for a hatchback, and the UX is no exception. When scaled down to the UX's dimensions, Lexus' current design language looks great, and this crossover's use of the spindle grille might be one of the least polarizing applications of this now-signature styling element.
The best part about the UX's design, however, are the tiny fins built into the taillights. These help create a more squared-off look for the rear end, and are a truly unique lighting design. Speaking of lighting, this tester was optioned up with stylish and functional triple beam LED headlights and LED fog lights ($1,660) which contributed to the upscale feel.
---

2021 Lexus UX 250h Interior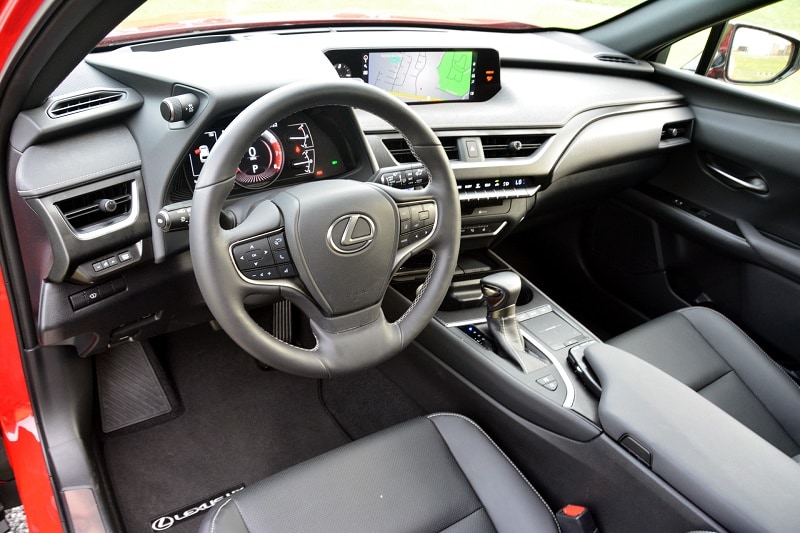 As we've come to expect from Lexus, the UX excels when it comes to the design, materials, and technology. The instrument panel is straightforward, with controls that are easy to use, and just about every surface inside the UX is covered with a soft, upscale material. On the Luxury trim level, the UX 250h comes standard with the 10.3-inch navigation system, and my tester also added the $500 head-up display, $150 heated steering wheel, and $75 wireless charger. While Lexus was slow to embrace Google's smartphone technology, the UX lineup offers compatibility with Android Auto, along with Apple CarPlay and Amazon Alexa.
Now, buyers looking for a large vehicle with a cavernous cargo space vehicle won't be shopping for a vehicle like the UX. But those who are downsizing, or just want a right-sized urban commuter will be blown away by how much room the UX's packaging affords. With a primary focus on being a personal luxury vehicle, the front portion of the cabin is especially roomy, with comfortable, supportive seats (ten-way power driver's seat and eight-way power passenger seat), and a wide center console. Even the rear seats have enough headroom and legroom to fit adults far better than some of the other hatchback-like CUVs in the segment.
 Fortunately, the UX 250h has plenty of utility, too, as there's 17.1 cubic feet of cargo space available behind the rear seats, and the rear seats completely flat. Overall, Lexus did an excellent job of fitting a lot of luxurious content into the footprint of a subcompact.
---

2021 Lexus UX 250h Powertrain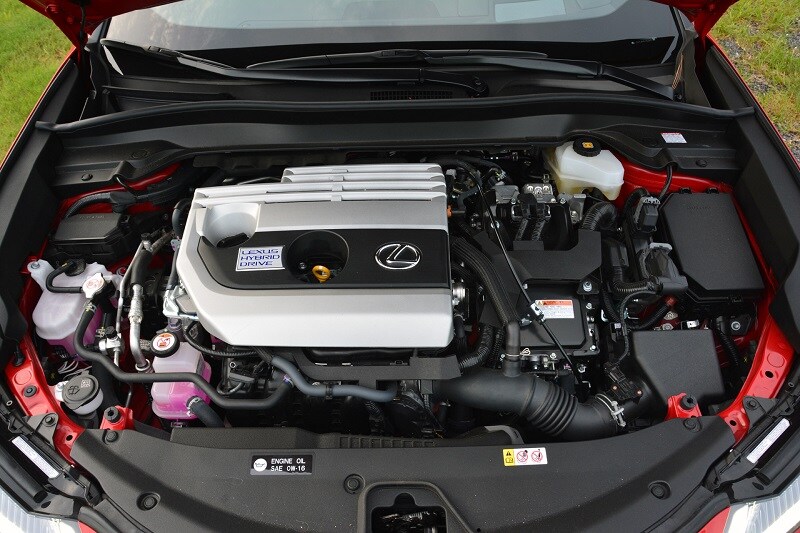 The Lexus UX lineup is available with two powertrain options. In standard form, UX 200 packs a 2.0-liter engine and a continuously variable transmission which simulates the shift points of a ten-speed automatic. But opting for a UX 250h, like this tester, pairs the same engine with a hybrid electric drivetrain and standard all-wheel drive. With EPA-rated estimates of 41 mpg in the city and 38 mpg on the highway. This advanced powertrain delivers incredible fuel economy, and after a week of mixed driving, I managed an impressive 38.3 mpg.
The Lexus UX rides on the same platform as the Toyota C-HR, but these two crossovers feel nothing alike. Despite being a subcompact hybrid, the UX 250h is fun to drive, and features excellent steering response along with a pleasantly nimble suspension setup. That makes it noticeably firmer than the C-HR, but not quite as sporty as the Audi Q3. With a total system output of 181 horsepower, the 3,605-pound UX 250h is both peppy and efficient, and the hybrid system delivers seamless operation.
---

2021 Lexus UX 250h Safety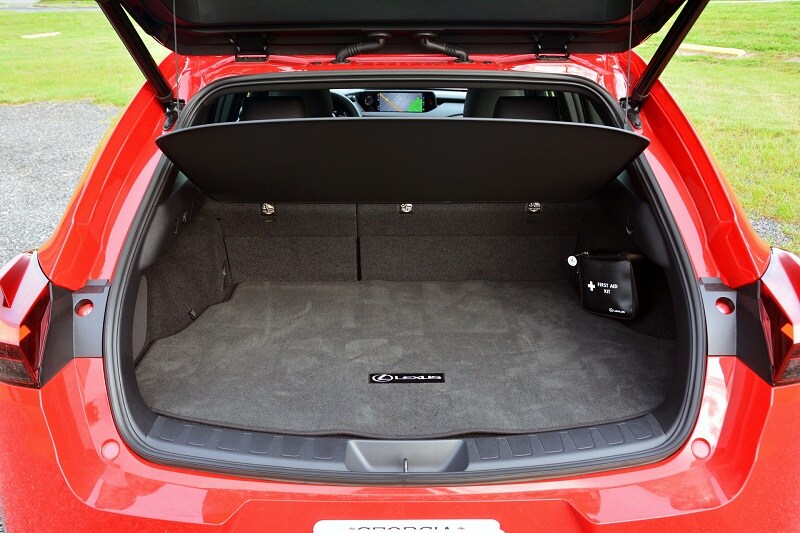 The 2020 Lexus UX lineup (both the hybrid and non-hybrid) received a 5-Star overall crash rating from the National Highway Traffic Safety Administration.
Standard safety features include ten airbags and the Lexus Safety System+ 2.0 suite of driver-assistance technology, which includes Radar Cruise Control, Lane Departure Alert and Blind Spot Monitoring. For an extra $565, this tester was also equipped with Parking Assist and Rear Cross Traffic Alert with Automatic Braking.
---

2021 Lexus UX 250h Overall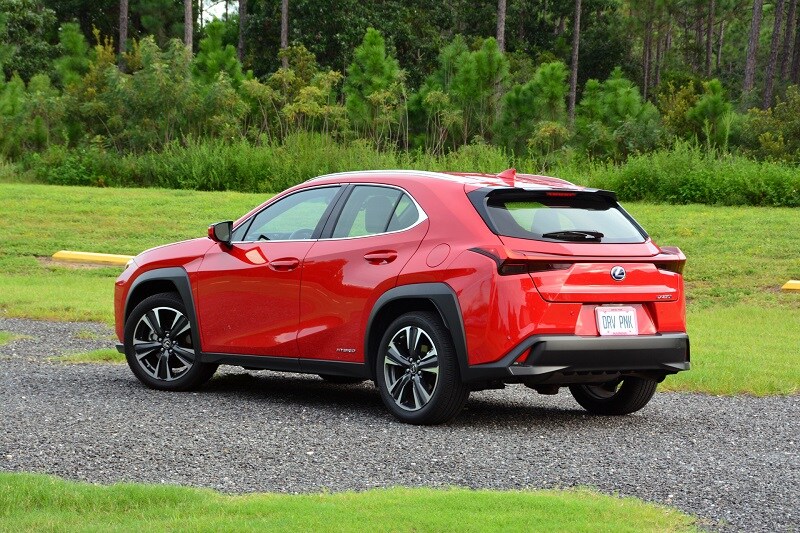 The market for subcompact luxury crossovers continues to grow, and the Lexus UX faces competition from rivals like the BMW X1, Mercedes-Benz GLA-Class and Volvo XC40. Not only does the bold Lexus styling help it stand out, but the hybrid powertrain allows the UX 250h to absolutely dominate the all-wheel-drive competition in regards to fuel economy.
Bottom line, this small CUV delivers big on efficiency, style and, most of all, luxury. Plus, with a base price of $32,300, all of this comes with a price that's as refreshingly small as the UX itself. Even opting for the hybrid powertrain only commands a price premium of $2,200. As it sits, this Lexus UX 250h Luxury had an as-tested price of $44,190, which when all of the luxury and technology content is factored in, allowed the littlest Lexus to deliver big on value. 
---
Jeffrey N. Ross
| Oct 25, 2021