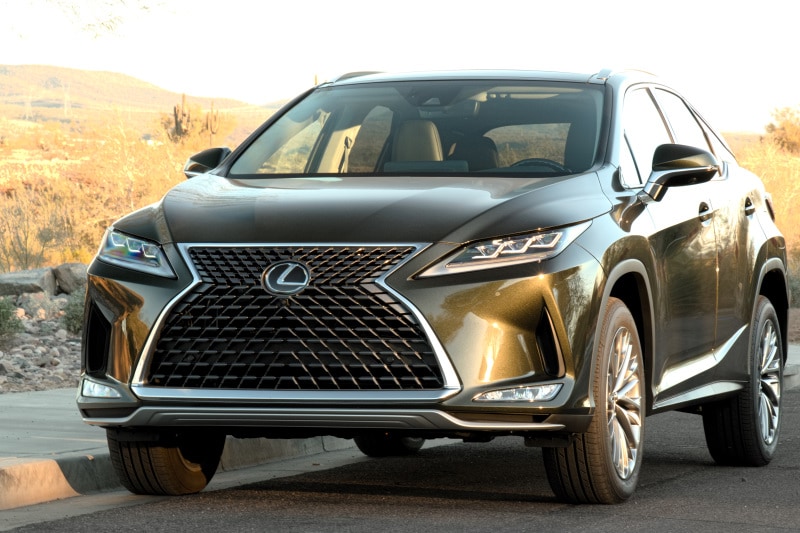 A few years ago, I shared a two-bedroom apartment with one of my buddies. I had known Dan for a few years, worked with him in the Austin theater scene and hung out with him countless times. But one evening, I learned something new - and shocking - about him. He had never seen any of the "Die Hard" movies - not even the first one. As much as he enjoyed hit films from the '80s and '90s, he had missed one of the most popular modern classics. I changed that by showing him the first four movies in the franchise within a couple of weeks.
Dan's admission was an odd thing to hear, but I understood it. I think everyone has a hole in their knowledge of modern classics. I'm no exception. Until February of this year, I had never driven a Lexus RX, an icon in the luxury crossover segment for more than 20 years. When I learned that my local press fleet had a 2021 RX 350 with the Luxury Package, navigation/Mark Levinson audio combo and several other upgrades in its inventory, I made sure to reserve it.
---
2021 Lexus RX 350 Exterior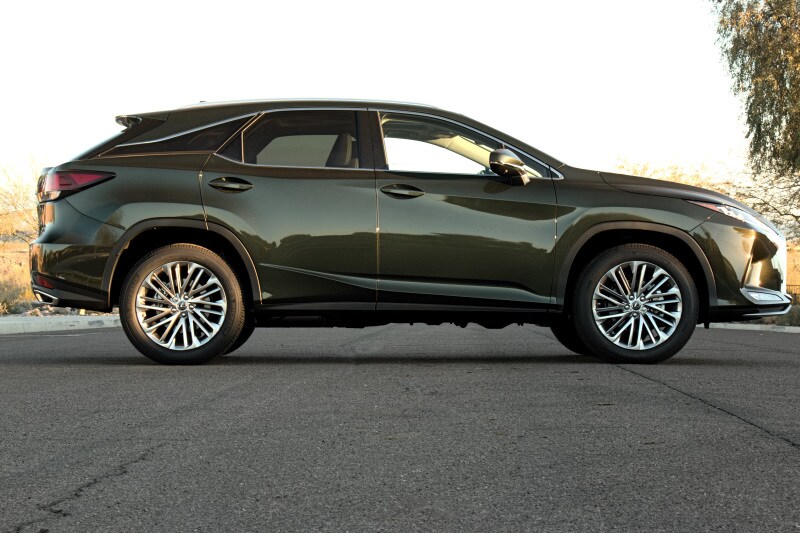 Factors such as cost of ownership, fuel economy and safety ratings are on everyone's new car checklist, but let's face it, design is probably at or near the top. Why buy something you can't stand looking at? Design takes on more importance the higher the base price of a vehicle goes. The RX has a starting price of $45,170; my press loaner had an as-tested price of $61,435. That kind of money should buy something distinctive - and it does. The RX is immediately recognizable from multiple angles, especially when it's Nori Green like my media vehicle. My tester was particularly distinctive because it had the unique Lexus spindle grille, as well as the optional triple-beam LED headlights, which made the RX's front end even more eye-catching. The black trim on the C-pillar and the way it flowed into the greenhouse glass played a major part in the illusion of a "floating roof," while the strong, upswept lines through the door handles and the bottom of the doors made the body look as if it wanted to bolt away and leave it hanging in the air.
---
2021 Lexus RX 350 Interior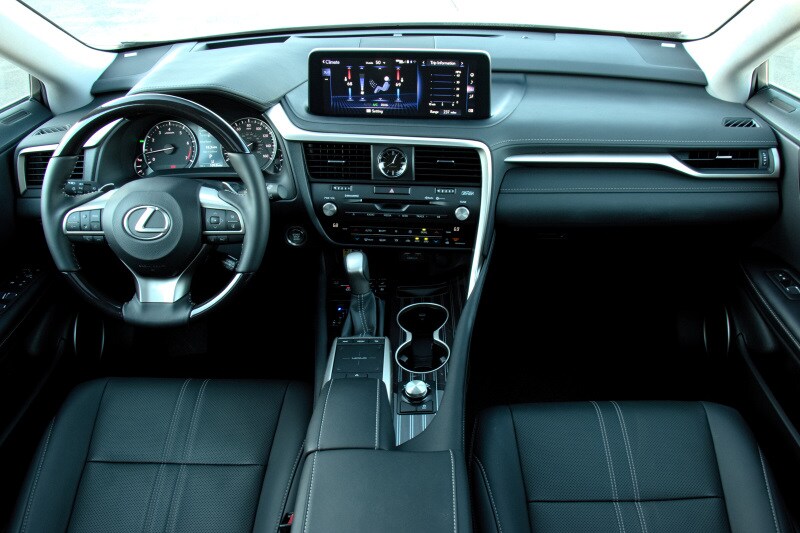 In the days leading up to my first RX experience, I thought about how luxurious, comfortable and pleasant it would be once I finally sat in the RX 350. I was not disappointed. Most of my surroundings were wood, leather or soft to the touch. Both rows of semi-aniline leather seats were heated; the front row was also ventilated. The wheel was an attractive combination of soft leather and gleaming Gray Sapele wood. Strips of aluminum in the glossy veneer panel on the center console gave it a tasteful, dynamic look. All of the switchgear, particularly the volume and tuning knobs for the 835-watt, 15-speaker Mark Levinson audio system, had a precise, high-quality feel.
The back row was a nice place to be, too. There were shades on the windows to keep the daytime sun out and a panoramic moonroof over both rows to let the starlight in during nighttime drives. Both seat sections could be manually slid forward or back to accommodate passengers or cargo. With the seat fully back, there was plenty of legroom for all 5'10" of me. A power recline function allowed me to tilt the seat to the ideal angle, which made the RX seem larger than it is on paper.
Like other Lexus vehicles, the RX uses a remote touchpad to control its infotainment system. Fortunately, it's not the only way of selecting functions or entering a command. The 12.3-inch display is a touchscreen and compatible with Apple CarPlay, Android Auto and Amazon Alexa. A wireless charging pad is available to keep phones full of juice on the go.
---
2021 Lexus RX 350 Performance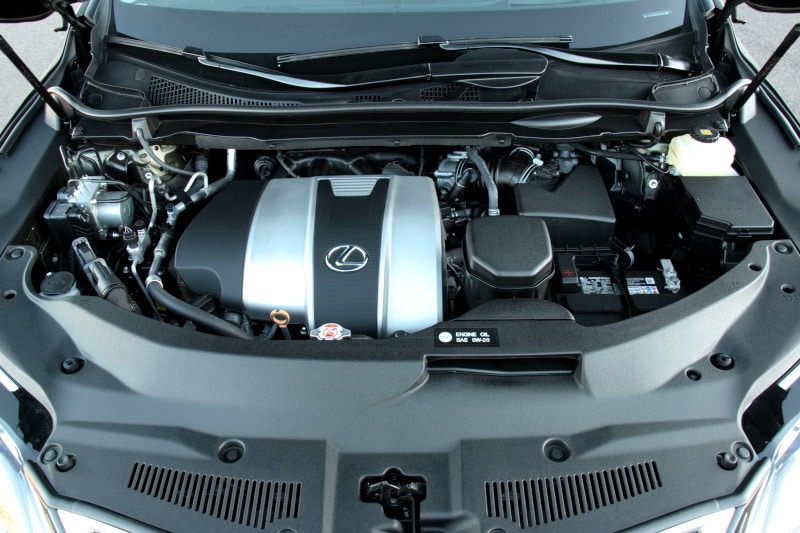 On the road, the RX 350 lived up to my expectations. Every grade of pavement felt equally smooth under its 20-inch wheels and Michelin Premier LTX rubber. The naturally aspirated 3.5-liter V6's 295 horsepower and 267 lb-ft of torque were perfectly suited to the RX's weight. A dial on the center console gave me the choice of Eco, Normal and Sport modes. Out of curiosity, I engaged the RX's sport setting a few times. It sharpened the throttle response and added a little weight to the steering, just as I thought it would. To heighten the effect, I used the paddles behind the steering wheel to "manually" shift the eight-speed automatic. But even in the curves that made the 2021 Toyota Supra feel even more exciting than it was on a dry, straight road, the RX was serenity on four wheels. When the road ahead twisted and turned, my heartrate didn't rise. The RX wasn't meant to be a canyon carver. Lexus built it to be a posh and peaceful way of transporting up to five people from point A to point B in distinctive style and they accomplished their goal. The RX didn't need a drive mode dial. It was at its best when I just let it do what comes naturally to the RX.
---
2021 Lexus RX 350 Safety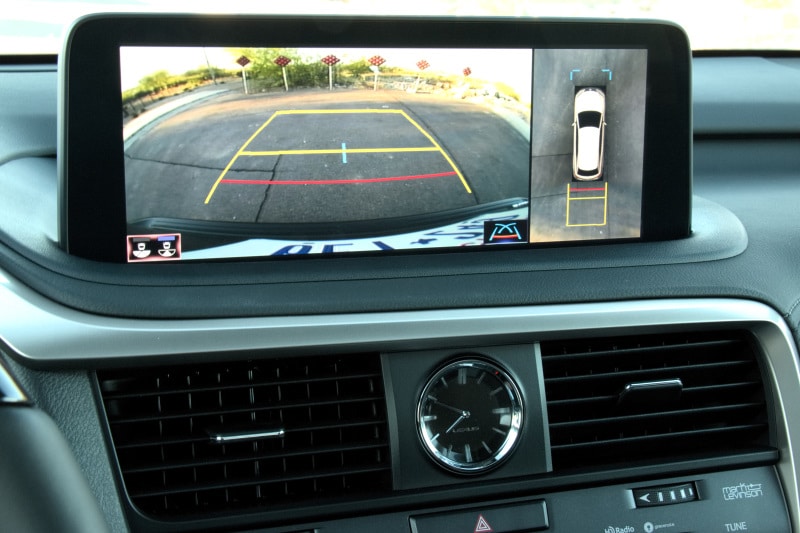 Lexus made small, incremental improvements to the RX for 2021. In addition to standard power-folding, auto-dimming mirrors, it now features Blind Spot Monitor and Rear Cross Traffic Alert. Those features join the RX's existing safety features, which include 10 airbags, rain-sensing wipers and everything in the Lexus Safety System+ 2.0 suite (Pre-Collision System with Pedestrian Detection, Dynamic Radar Cruise Control, Lane Departure Alert with Steering Assist and more). My test vehicle was also equipped with the helpful and informative color head-up display. Parking was less stressful thanks to the Panoramic View Monitor with Intuitive Parking Assist and Rear Cross Traffic Braking.
---
2021 Lexus RX 350 Overall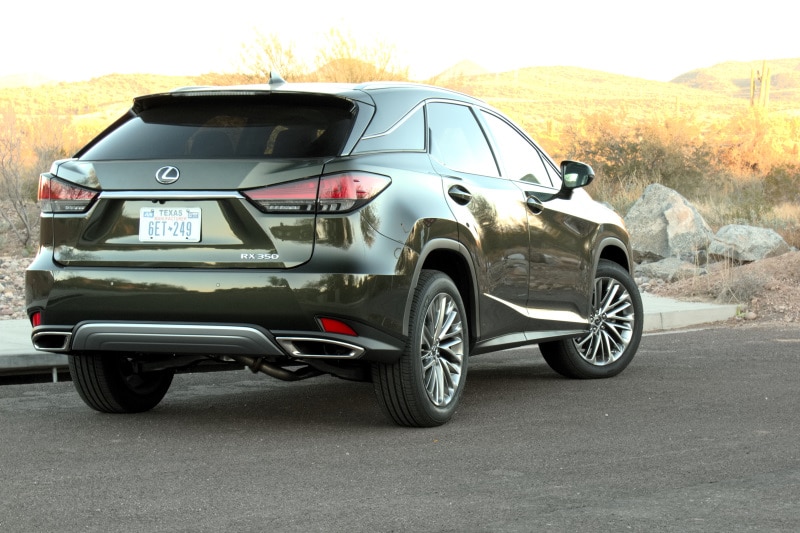 If you're in the market for a luxury crossover and you've somehow gone this long without test driving the Lexus RX, don't feel weird. We've all got modern classics that we haven't discovered yet. Just go to an AutoNation Lexus dealership to experience the 2021 RX 350. Now if you'll excuse me, I'm going to watch "The Goonies" for the first time ever.
---
Derek Shiekhi | Jun 09, 2021