Jeffrey N. Ross
| Aug 26, 2020
The world of modern sports cars is trending toward smaller engines, turbochargers, and even electrification. But for its refreshed 2020 Lexus RC F, Lexus has stuck to a recipe for success that dates to the muscle-car era, as this machine packs a naturally aspirated V-8. Sometimes, there really is no replacement for displacement.
From obvious nips and tucks to added power and chassis tuning, this is the first major upgrade to Lexus' entry-level performance coupe since it debuted back in 2015. So I spent a week with the updated 2020 Lexus RC F to see how much better this already-good sports car could get.
---
2020 Lexus RC F Exterior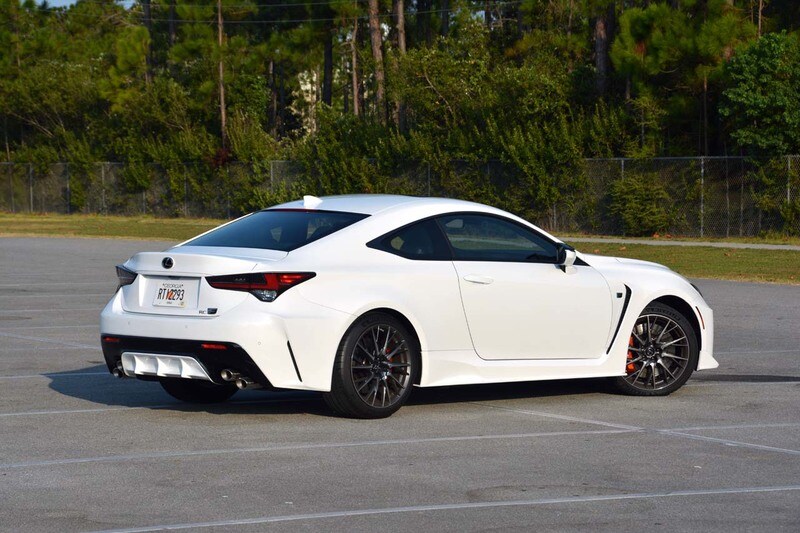 It's been five years since Lexus debuted the RC lineup, and while the design has aged very well in that time, the 2020 model year brings a slight styling update. Yes, the massive spindle grille and stacked exhaust outlets are still there, and they still look good on this coupe.
Redesigned headlights ditch the separate Nike-swoosh LED front lights and add optional triple-beam LED units, which were as equipped on this tester. Save the high-tech face, most of the styling changes are subtle, and were made to improve performance. The front air inlets were enlarged, a rear diffuser was added, and the vertical crease in the rear bumper was transformed into a functional air vent. There's also a speed-activated rear wing to help increase downforce, and this model featured the optional 19-inch BBS forged alloy wheels, along with trick-looking orange brake calipers.
---
2020 Lexus RC F Interior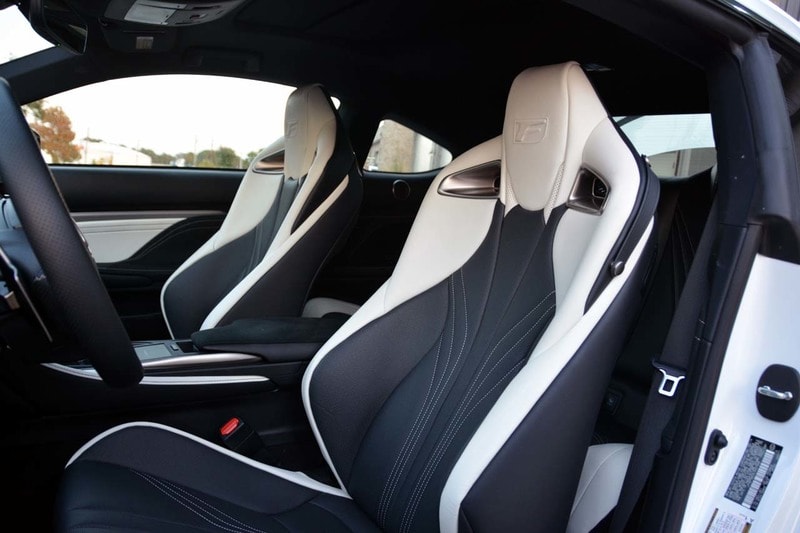 With racing-style bucket seats and a motorized gauge cluster first seen on the LFA supercar, the 2020 Lexus RC F has the interior of a true sports car.
The perforated leather seats provide an excellent balance of sport and luxury, with the impressive side bolstering mixed with ultra-soft leather and an eye-catching stitch pattern. The interior has a contrasting assembly of gray and white leather, and plush suede is used on the gauge cluster and center console. This tester added even more luxury with the Navigation System with Mark Levinson Audio bringing a 10.3-inch display and the 835-watt, 17-speaker audio system, and power moonroof. The Premium Package added heated and cooled front seats, a power tilt and telescoping steering column, and a heated steering wheel.
Of course, the RC F does have its shortcomings. Critics love to knock the RC's mouse-like Remote Touchpad, though this feature probably wouldn't be too hard to get accustomed to if you actually owned the car. But with only a week to learn the intricacies of the touch pad and the layout of the screen, it can get a little frustrating trying to navigate the menus or find functions such as phone pairing. Speaking of phone pairing, the RC F offers Apple CarPlay compatibility, but nothing yet for Android Auto.
Despite its small size, the front occupant area is surprisingly roomy, with plenty of space for even taller passengers, while the rear seat is a bit tight even for kids. The 10.4 cubic-feet of trunk space means that there is still enough space for cargo, even with all four occupants in place.
Find a Lexus Dealership Near You
---
2020 Lexus RC F Powertrain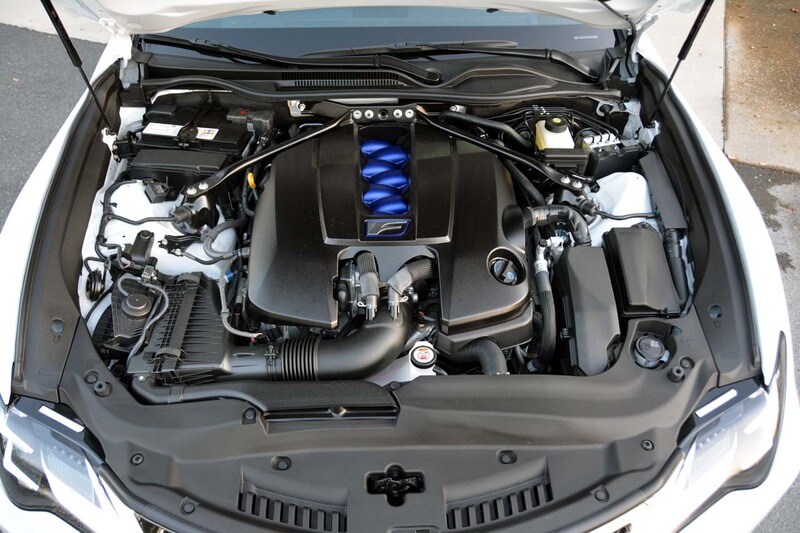 Under the hood, the 2020 Lexus RC F is still powered by a 5.0-liter V8. But Toyota sweated the details to improve throttle response and engine air flow, which increased engine output to 472 horsepower and 395 lb-ft of torque (a gain of five hp and six lb-ft). As a result, the zero-to-60 run takes just 4.2 seconds.
Although the slight power increase isn't anything groundbreaking, it makes the RC F feel even more balanced and performance focused. While there's no manual transmission option, the eight-speed automatic shifts smoothly and seamlessly. With EPA-rated fuel economy estimates of 16 mpg in the city and 24 mpg on the highway, it also helps bring a little efficiency to this sports coupe. Notably, that highway rating is identical to the V-6-powered RC 300 AWD.
The RC F is plenty comfortable to drive in everyday conditions, but it feels great when it's being pushed hard. The combination of launch control, limited-slip differential, and Brembo brakes provide the high-powered V-8 with plenty of performance support, and the end result is a cool-looking car that's  incredibly fun to drive.
---
2020 Lexus RC F Safety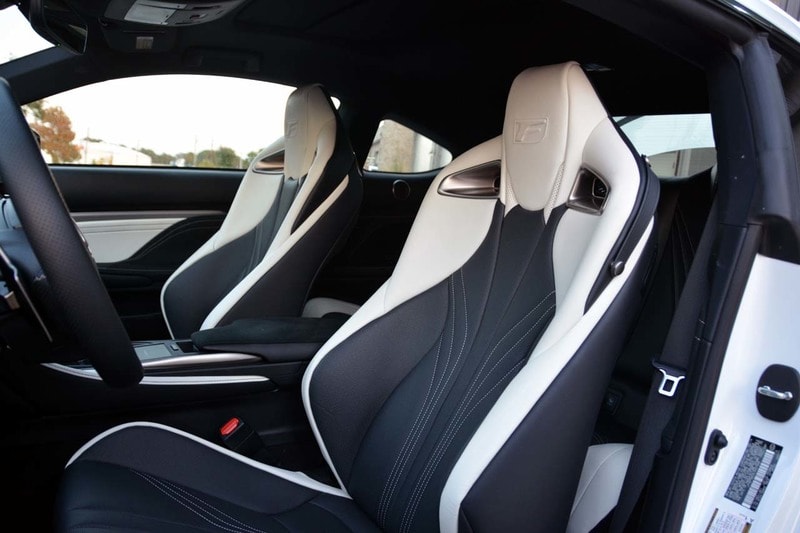 The 2020 Lexus RC line has not been tested by the National Highway Traffic Safety Administration.
The RC comes standard with Lexus Safety System+ with pre-collision system with pedestrian detection, high speed dynamic radar cruise control, lane departure alert with steering assist, and automatic high-beams. The aforementioned Premium Package brings a blind spot monitor with rear cross-traffic alert, and this tester was also equipped with parking assist.
Find a Lexus Dealership Near You
---
2020 Lexus RC F Overall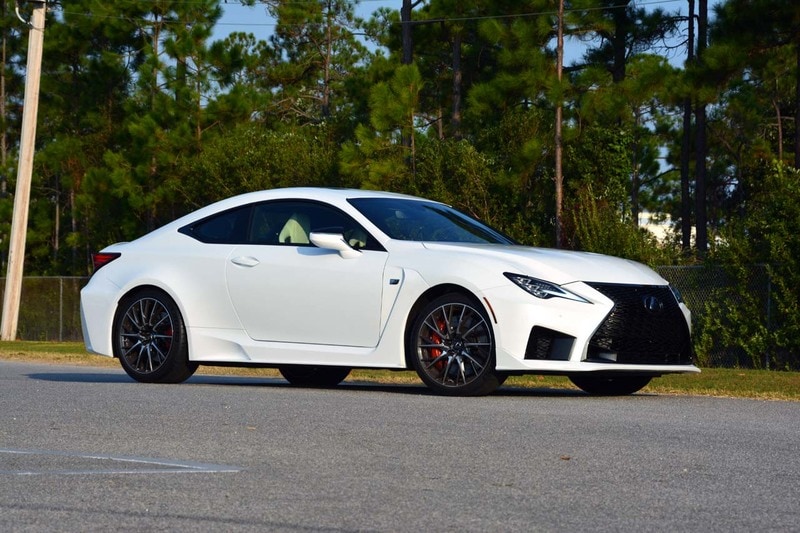 Not only does the 2020 Lexus RC F look and sound better than ever, but thanks to the attention paid to the tiniest of details, the sport-luxury coupe has been improved tremendously. The RC F is about as much performance and style that you could expect from a Lexus without stepping up to the Lexus LC, and it's more affordable than rivals like the BMW M4, Audi RS5, and Mercedes-AMG C63.
Compared to a base 2020 Lexus RC that starts at $41,295, the added performance and handling increase the RC F's price to $64,900. Loaded up with almost all of the bells and whistles available, the 2020 Lexus RC F used for this review had an as-tested price of $78,849.
Make sure to visit your local AutoNation-affiliated Lexus dealership and test drive the 2020 Lexus RC today!