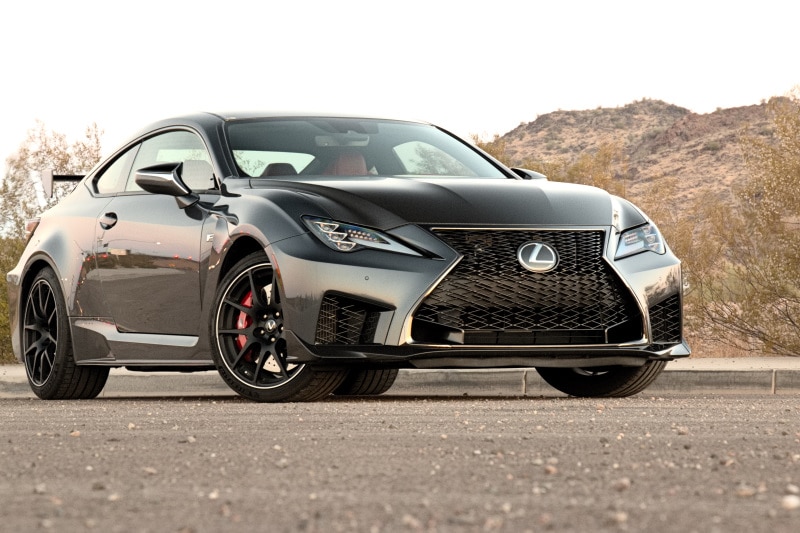 Car enthusiasts can be a demanding group. Several years ago, someone on a forum I was a member of posted that they had saved up and finally bought their dream car: an orange Acura RSX Type S. The first person who responded to that great news was appalled that it was still at its stock ride height. Instead of congratulating the buyer, all they typed out was, "Drop that 4X4."
I remember Lexus getting a similar response when it introduced the RC F, the high-performance version of its RC coupe. One thing I saw over and again were complaints about its nearly two-ton curb weight.
Clearly, Lexus saw those gripes, too. And it acted on them. Lexus overhauled the RC F for the 2020 model year by redesigning and re-engineering certain parts, such as the intake manifold and spring support brackets, to shed weight. It maximized the effectiveness of those improvements by extracting a little more power out of the engine. Those were steps in the right direction toward a sharper, lighter RC F. The RC F Track Edition was a sprint. Lexus swapped out major components, including the hood, roof and even part of the exhaust, for lighter and sportier replacement parts. When they were done, the Track Edition not only weighed 176 pounds less than the 2019 RC F, it also accelerated to 60 mph in 3.96 seconds - more than two tenths of a second faster than the base RC F.
The Track Edition is largely unchanged for 2021, but this time it goes by the name Fuji Speedway Edition. It has the same parts and zero-to-60 time as the Track Edition with a racy twist: Lexus is only going to make 60 of them. I had the privilege of driving one of them for a week.
---
2021 Lexus RC F Fuji Speedway Edition Exterior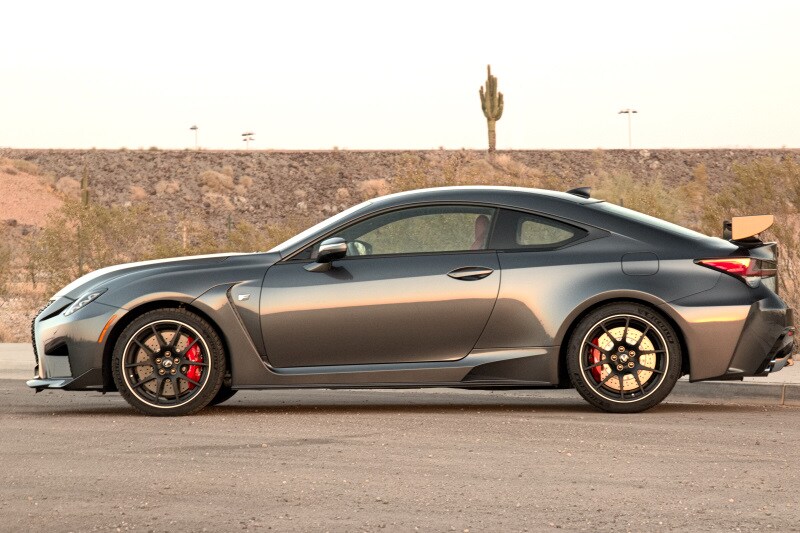 I've driven a lot of wildly styled cars over the course of my career. The RC F Fuji was the first one that made me feel as if I was driving a SEMA (Specialty Equipment Market Association) show car. Its front splitter, hood, roof, side skirts, diffuser and massive fixed rear wing were made out of glossy carbon fiber. Of course, the wheels and tires weren't stock, either. The RC F Fuji rides on a set of lightweight, forged 19-inch BBS wheels that reduce unsprung weight by a total of six pounds. Those are wrapped in RC F-specific Michelin Pilot Sport 4 S tires that kept their grip whether the road was dry and straight or curvy and wet. Brembo carbon ceramic brake rotors cut another 48.5 pounds. Lexus carved an additional 15 pounds off of the RC F's rear end by switching to titanium mufflers. The RC F Fuji certainly has an extreme look, but it's about more than just cosmetics. Like its Track Edition predecessor, it's the most hardcore, aggressive and focused Lexus performance car since the LFA.
---
2021 Lexus RC F Fuji Speedway Edition Interior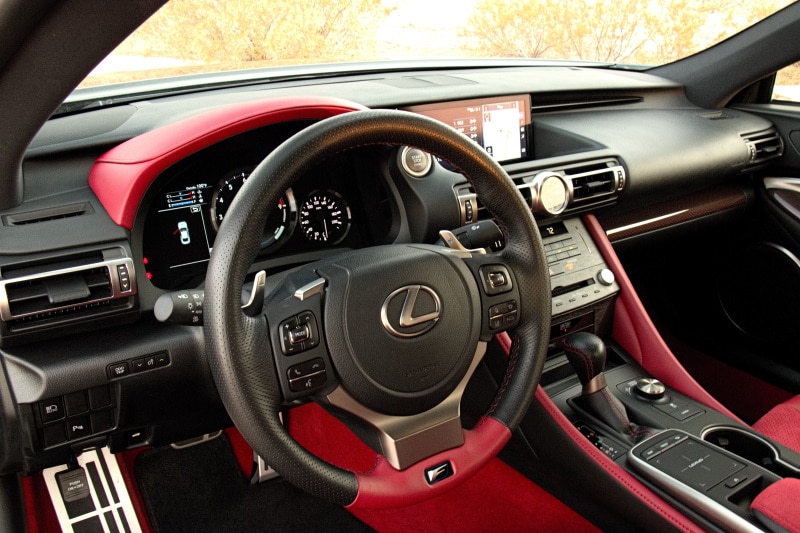 That's clear when you open the driver's door. Red is a sort of shorthand that translates to "You're inside a high-performance vehicle." The RC F Fuji transmits that message with a megaphone. There's red on the door panels, over the instrument pod, at the bottom of the steering wheel, all over the leather/Alcantara seats and down in the footwells. There's even more red woven into the carbon fiber on the doors and dashboard.
The RC F Fuji had the seats to back up its looks. There were all-business buckets, so they weren't heated or ventilated, but their side bolsters were just the right size to hold me in place without squeezing me like a vice. The rear seats lacked enough legroom for me to "sit behind myself," but I was surprised by the amount of headroom back there. Enthusiasts should have no problem taking their small children with them for back road blasts.
Lexus made a few technology updates to the 2021 RC F lineup. While the Fuji Speedway Edition doesn't get the same safety upgrades as its regular siblings, it does benefit from the addition of Android Auto to its infotainment setup, which already included Amazon Alexa and Apple CarPlay compatibility. My test car had one of the few options you can add to the RC F Fuji: the Navigation/Mark Levinson Audio Package. While the 10.3-inch display is generously sized, it's not a touchscreen; inputting anything requires using the trackpad in front of the shift knob for the eight-speed automatic.
Using the Mark Levinson audio system was a much more satisfying experience. Its volume and tuning knobs are made out of machined aluminum and unleash 835 watts of wonderfully clear surround sound through an array of 17 speakers.
---
2021 Lexus RC F Fuji Speedway Edition Performance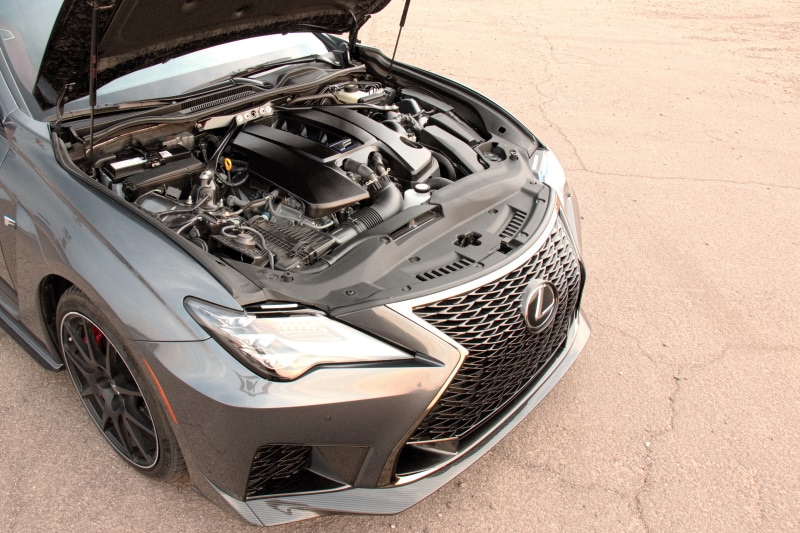 Around town, the RC F Fuji wasn't significantly different than the regular RC F I tested last year. It was just as relaxed and composed in its Normal drive mode, although the Adaptive Variable Suspension was on the firm side of comfortable. The carbon ceramic brakes could be a little touchy if I jumped on them too quickly, but if I used a light touch initially, they were easy to modulate smoothly after that. In the most aggressive Sport S and Sport S+ drive modes, the steering was responsive off-center and perfectly weighted. Some performance drive modes pull way too much boost out of the steering, leaving it feeling antagonistically heavy, but Lexus left the right amount in the RC F Fuji's rack, which felt like it wanted to work with me instead of against me.
Both of the RC Fs I've driven changed how I looked at engines. The regular model taught me that it's possible for a V8 to like revs. In fact, the RC F's 5.0-liter 2UR-GSE thrives on them. It hits its peak of 472 horsepower at 7,100 rpm and delivers the full punch of its 395 lb-ft of torque between 4,800 and 5,600 rpm. At wide-open throttle, power builds in an arrow-straight line and leaves you feeling more thrilled than terrified. Flooring the gas in the RC F Fuji made me realize that for the first time behind the wheel of a performance car, I wasn't comparing the sound of its engine or exhaust to a beast of the wild. I was acutely aware my test car was powered by something mechanical and digital - and I loved it for what it was, not the thing that it reminded me of.
---
2021 Lexus RC F Fuji Speedway Edition Safety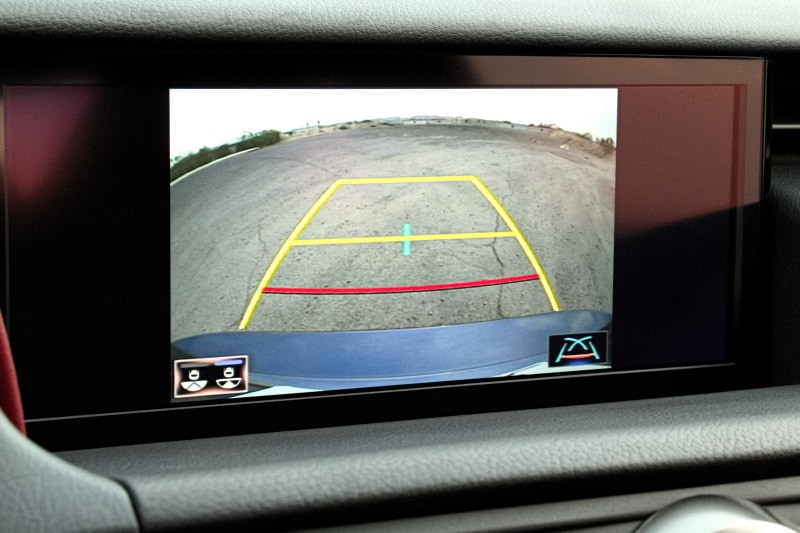 Lexus skipped over for the Fuji Speedway Edition when it made Blind Spot Monitor with Rear Cross-Traffic Alert standard on all 2021 RC Fs. Fortunately, the Fuji special still comes with the Lexus Safety System +. That comprehensive suite of features includes automatic high beams, the Pre-Collision System with Pedestrian Detection, High-Speed Dynamic Radar Cruise Control and more.
---
2021 Lexus RC F Fuji Speedway Edition Overall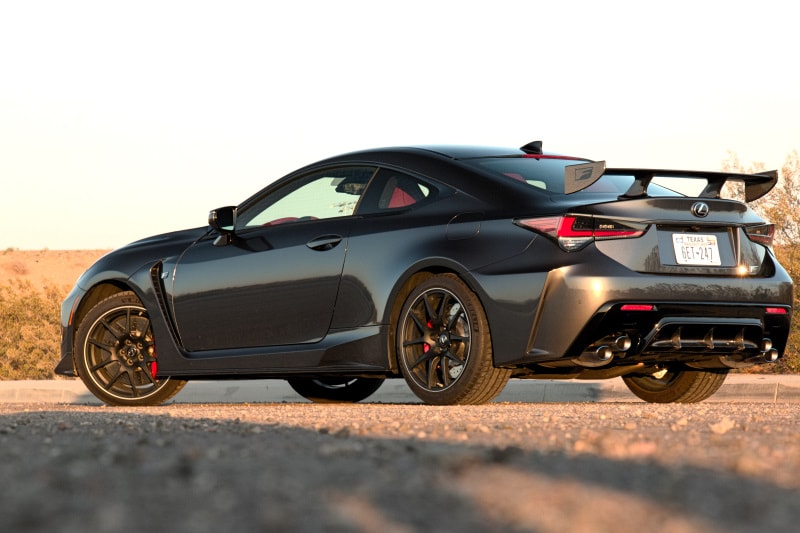 Lexus has priced its rarest and most athletic RC F accordingly. Whereas a regular 2021 RC F has an MSRP of $65,975, the Fuji Speedway Edition has a starting price of $97,625. My well-equipped press loaner had an as-tested price of $102,510. To find out if there are any of these important pieces of Lexus history still available, contact your local AutoNation Lexus dealership.
---
Derek Shiekhi | Jul 12, 2021