Derek Shiekhi | Oct 19, 2020
It's been six years since the RC F, Lexus's first high-performance coupe, debuted. In that time, the RC F's rivals have only grown more powerful and sophisticated. The RC F was overdue for a refresh, one that went deeper than just new front and rear fascias. It got exactly what it needed for the 2020 model year.
---
2020 Lexus RC F Exterior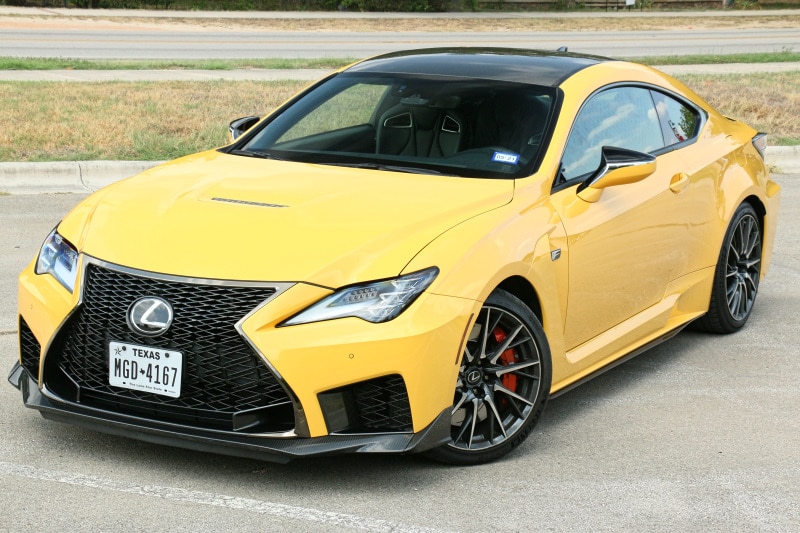 My Flare Yellow RC F media tester had the general cosmetic revisions you'd expect to see on a mid-cycle refresh. Lexus restyled the front end by adding a trio of openings along the bottom edge of the signature spindle grille and flanked it with larger air intakes that feed more air into the oil coolers. The front headlights and daytime running lights are now unified in one distinctively shaped piece. Restyled side skirts and rocker panels not only set the RC F apart from its predecessor, but improve its high-speed stability and air flow. Just like the front end, the rear end features new lighting, as well as a reshaped bumper.
For 2020, there are two basic grades of RC F. At one end of the spectrum is the $64,900 regular model. At the other is the new $96,800 Track Edition, an all-out performance special with aggressive aerodynamic hardware, carbon ceramic brakes and nearly 200 fewer pounds to move around than the outgoing RC F. My $89,305 test car occupied the space between. Lexus swapped out its stock wheels for a set of 19-inch BBS wheels. Metallic orange Brembo calipers for the slotted 14.9-inch front and 13.5-inch rear brake rotors behind those hand-polished forged alloys heightened their visual presence.
The optional Performance Package's lightweight carbon fiber front spoiler, roof, side skirts and speed-activated rear wing gave it a racier, more focused look than the base RC F, but left plenty of room for the more intense Track Edition to pack a visual punch.
---
2020 Lexus RC F Interior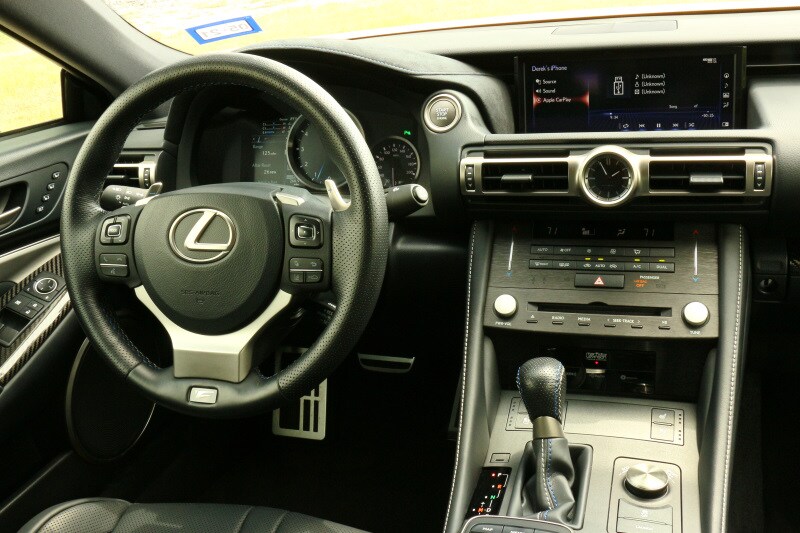 The Performance Package left its signature on my test car's cabin in the form of glossy carbon fiber door panel and dashboard trim. Everything around that was more "luxury coupe" than "weekend racer." The Premium Package added a heating function to the power tilting and telescoping steering wheel and upgraded the front seats with three stages of heating and cooling.
My favorite add-on was the navigation/Mark Levinson sound system combo. That paired a 10.3-inch color display for the navigation system and other functions (including Apple CarPlay) with 835 watts and 17 speakers of crisp, clear Mark Levinson audio. Perfectly sized knobs allowed me to quickly and easily tune to my favorite stations and crank up the volume to heights that would be unbearable to hear from lesser systems.
---
2020 Lexus RC F Performance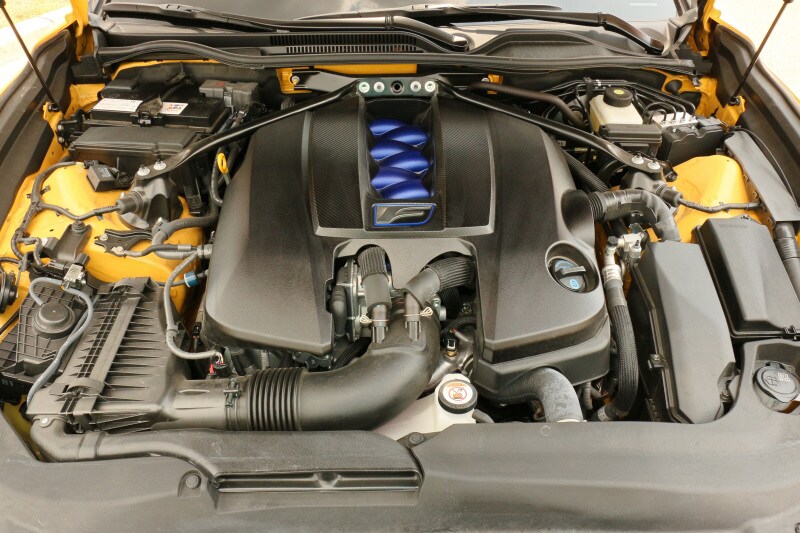 You won't see the rest of the changes Lexus made to the 2020 RC F with just a casual admiring glance as you pass one on the street. Its engineers pored over every area of the car, looking for places where they could reduce weight. They discovered that by reconfiguring the machining process for the aluminum intake manifold, they could cut 1.5 pounds. Redesigning the support brackets for the springs saved the same amount.
The team behind the RC F shaved off another 1.1 pounds by swapping out the rear bumper's reinforcement for one made out of aluminum and carbon fiber. It hit that figure again by switching from steel to aluminum for a rear suspension bracket. Replacing the solid rear half shafts with equally strong hollow units dropped an additional four pounds. Lexus made sure to dial in the RC F to take full advantage of those small weight savings. Most significantly, it used stiffer and redesigned bushings in certain areas to combat understeer.
The RC F's naturally aspirated 5.0-liter power plant got some tweaks of its own. Engineers overhauled the design of the airbox and sharpened the engine's throttle response. They also improved its breathing, which brought better sound and low-speed drivability. And yes, the 2020 RC F has more power than before. Its naturally aspirated V8 now produces five more horsepower (472) and six more lb-ft of torque (395) than before. And it delivers that more linearly through a new 3.13:1 final drive ratio. Standard launch control puts all-out acceleration just a few button and pedal pushes away.   Having never driven a 2015-2019 RC F, I can't tell you how the 2020 model feels in comparison. What I can say is that the new RC F is a truly dynamic machine. It's so comfortable and sedate around town that it's easy to forget that it was built to be driven hard and fast. 
But I didn't. I switched my test car from Normal to Sport mode and headed to the sweeping back roads outside of Austin, Texas. On center, the steering was stable, but immediately responsive when I turned the wheel in either direction. The brake pedal had the ideal amount of resistance to it and started scrubbing off speed almost immediately after I started sending it on its downward swing. It made modulating the brakes in a nearly 500-horsepower performance coupe feel as simple as stopping an A-to-B sedan. Shifts from the eight-speed automatic were quick enough for a single-clutch gearbox. There was no denying the RC F's substantial weight when I fired it into curves, but it always felt planted and composed.
The more I drove the RC F, the more I realized its V8 liked being revved. I gladly obliged. Unlike a turbocharged engine that hits with a surge of forced induction fury, the 2UR-GSE tested how much I wanted thrilling speeds. Was I willing to keep my foot down long enough to experience the true power and sound of the RC F at its best? I think you know the answer already.
---
2020 Lexus RC F Safety
The Lexus Safety System + makes up the bulk of the RC F's more advanced safety features. Those include automatic high beams, Pre-Collision System with Pedestrian Detection, High-Speed Dynamic Radar Cruise Control and Lane Departure Alert with Steering Assist.
Aside from the creature comforts I mentioned earlier, the Premium Package contributed Blind Spot Monitor with Rear Cross-Traffic Alert technology to my test car's list of equipment.
---
2020 Lexus RC F Overall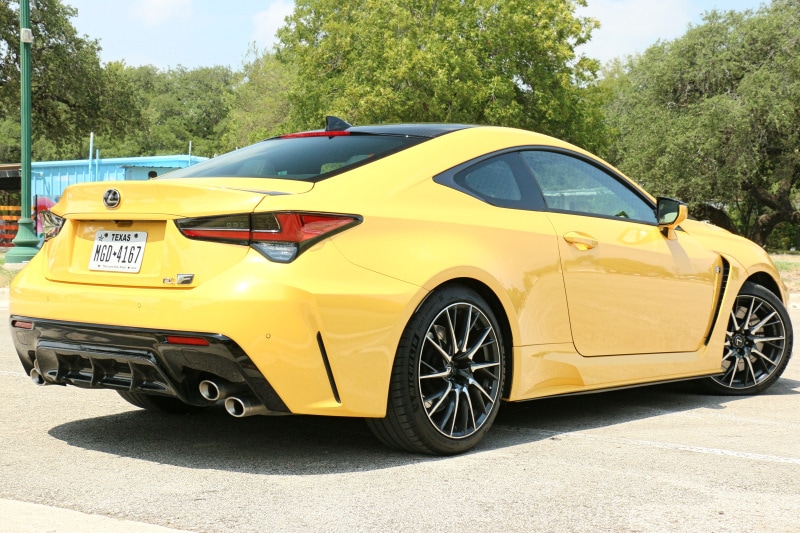 It's an understatement to say that Lexus refreshed the RC F for 2020. Lexus re-engineered it. You can experience all of the evolutionary changes it made to the revolutionary RC F at your local AutoNation Lexus dealership.