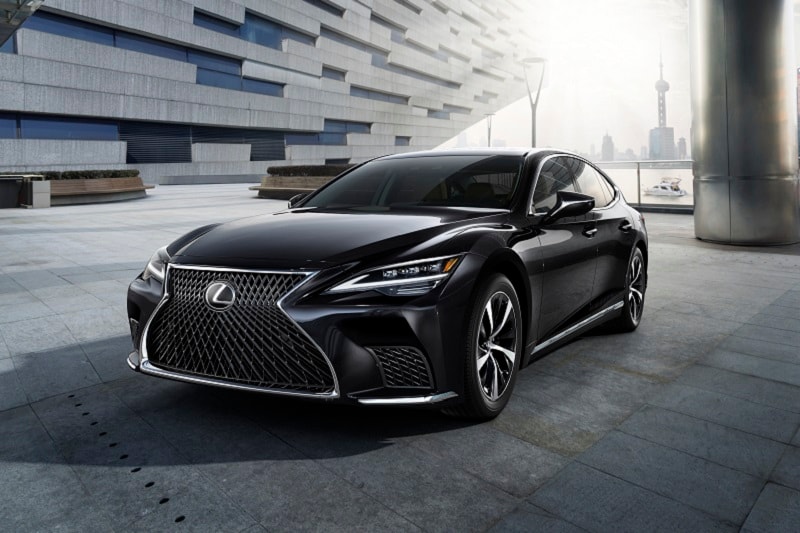 As enthusiasts know, the LS 500 is the latest in a line of range-topping Lexus luxury sedans which began with the Lexus legendary LS 400. And while words like "legendary" are thrown around a lot in the automotive business, it's almost impossible to overstate the game-changing nature of that very first Lexus vehicle.
When it debuted in 1989, the LS 400 was so quiet, there were reports of new owners grinding starters, because drivers couldn't believe the engines were running. The level of refinement was truly that revolutionary. One memorable commercial of the period featured the sedan running on a dyno, V8 racing and speedometer reading 145 mph, while a tower of champagne glasses stayed perfectly balanced on the hood. The LS 400 was, in no uncertain terms, a shot across the bow of the old European guard, and instantly established Toyota's upstart luxury marque as a force to be reckoned with.
Over the past three decades, Lexus has established itself as a prime player in the luxury segment, but the LS 500 is proof that the company's "relentless pursuit of perfection" hasn't been dulled by time.   
---
2020 Lexus LS 500 Exterior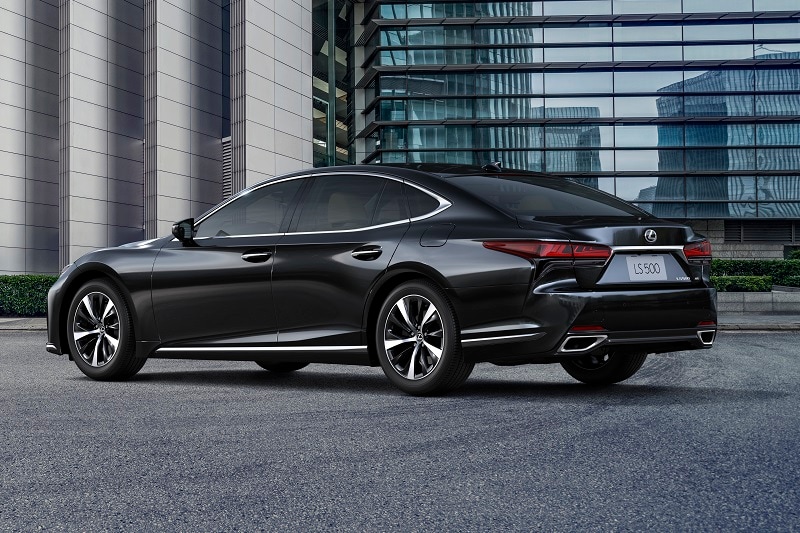 As with all modern Lexus products, the front clip is dominated by the aggressive, hourglass-shaped "Predator" grille. Among fans and enthusiasts, this has proven to be a polarizing styling choice, but personally, I think it looks great.
With the huge surface area, sharp chrome borders, and intricate diamond pattern, it's about as far from vanilla as Celine Dion is from Slayer. Importantly, the grille is also distinctive, so even passive observers of automotive style will be able to make the LS 500 as a Lexus from a block away.
With its long hood, steeply angled windshield, and roof which flows into an almost fastback-like C pillar, the LS 500 looks striking in profile. The lines project a sense of momentum, in a way which suggests private jet more than performance car, meaning there are no extraneous fins, vents, wings, or other distracting elements at play.
Overall, the impression is one of stately speed, and upon inspection, the sculpted fenders, hips, and decklid sparkle. If anything, the LS is far larger in person than it looks in pictures, giving it an imposing presence which fills any observer's field of vision as well as its 17-foot length fills a standard parking spot.     
---
2020 Lexus LS 500 Interior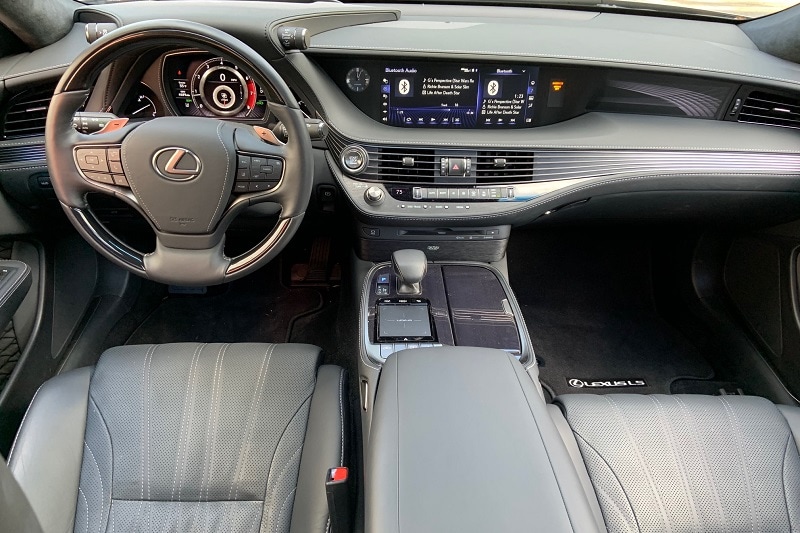 Given the elevated segment the LS 500 competes in, you'd expect the interior to be extraordinarily luxurious, and you wouldn't be disappointed. The quilted leather seats provide a womb-like level of comfort, and bank-vault-like sound insulation renders occupants immune to the noise pollution of the outside world.
My test model was equipped with the Executive Package, a $23,000 suite of luxury features which included standard executive car fare like a suede headliner, massaging front driver and passenger seats, power rear sunshades, reclining, heated rear seats, and four-zone climate control. But while it was easy to be coddled by all the creature comforts, it was touches like the crystalline Kiriko Glass interior trim, and intricately quilted, origami-styled door cards which took things to the next level.
To describe the etched glass and folded fabric as anything other than mesmerizing would be doing them a disservice, and their presence here belies the jeweler-like precision with which the cabin was constructed. The traditional Japanese techniques used to render these elements made them unlike anything I've seen in a vehicle, and it was beyond cool to see Lexus showcasing old-school craftsmanship in this way.
All told, the only real complaint I had about the interior was that opposed to a touchscreen, drivers make selections using a touchpad in the center console. That means there aren't physical buttons for many vehicle functions, including the heated seats. But even the tech averse will find the menus straightforward, so the learning curve isn't too steep. For the record, 2021 models do feature a touchscreen, along with support for Android Auto. So if those features are must-haves, Lexus has you covered.
---
2020 Lexus LS 500 Powertrain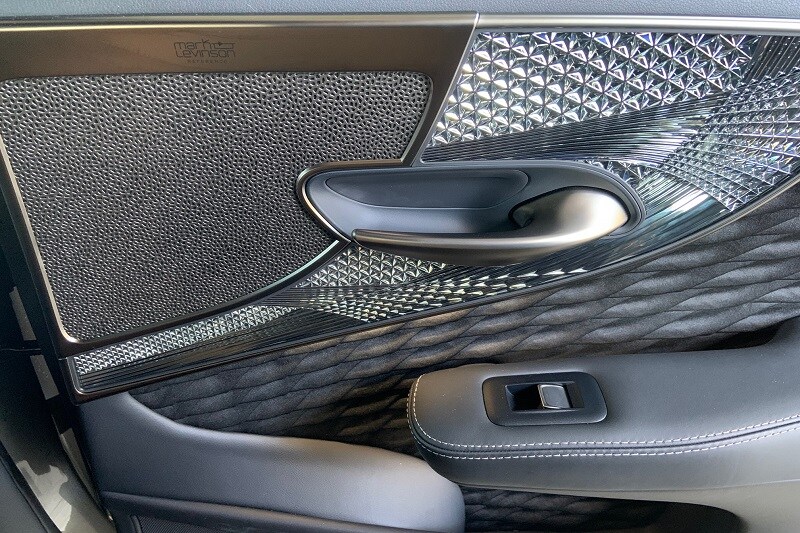 Previous generations of the LS used a V8, but for the latest generation, engineers opted for turbocharged V6 power. The 3.5-liter mill is good for 416 horsepower and 442 lb-ft of torque, and it's mated to a buttery smooth ten-speed automatic transmission.
Now, in an era where unhinged horsepower wars are raging across the industry, sub-500 power figures might not sound that impressive. But while the cloistered nature of the cabin means you're not going to hear much from it, the engine is more than adequate to move the big sedan down the road, and will make the sprint from zero to 60 mph in just 4.6 seconds. Drop the hammer at highway speeds, and the LS 500 will move forward with authority, and top out at a license forfeiting 136 mph.
While it's not exactly a scalpel on a twisty stretch of tarmac, the all-wheel drive system made my tester feel confident in the corners. After spending a week with the new LS 500, I was impressed with just how well the engineers were able to balance sensationally comfortable cruising and athletic performance.  
---
2020 Lexus LS 500 Safety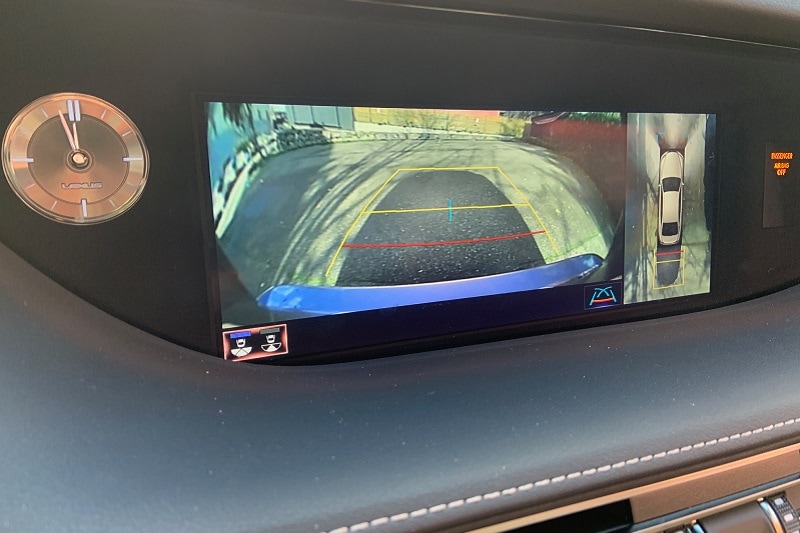 Like most high-end luxury vehicles, the Lexus LS 500 hasn't been tested by the National Highway Traffic Safety Administration. Basically, it's just too expensive for the NHTSA to test vehicles in this lofty segment.
That said, the latest LS comes standard with a long list of standard safety features, including Forward Collision Warning, Automatic Emergency Braking, Blind Spot Monitoring, Pedestrian and Cyclist Detection, Automatic High Beams, Lane Keep Assist, and Adaptive Cruise Control.
My test vehicle was also equipped with optional extras, including a 360-Degree View Camera, Heads Up Display, and Lane Change Assist.       
---
2020 Lexus LS 500 Overall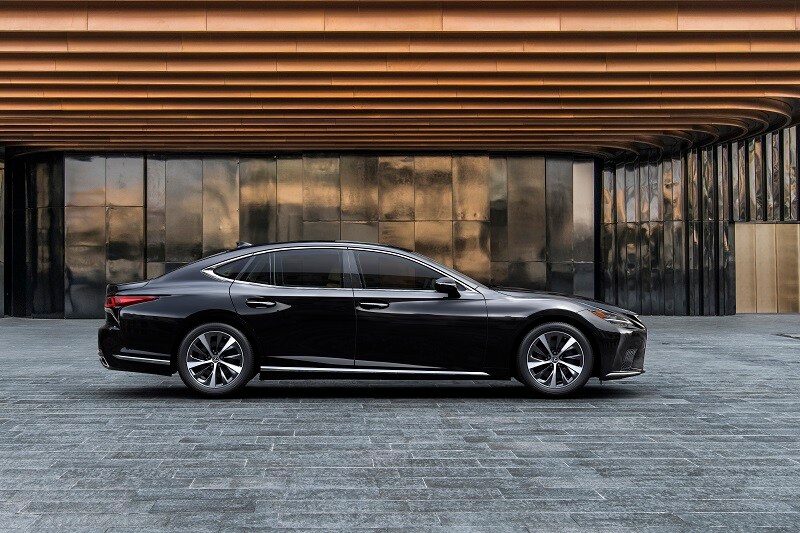 The latest generation of the range-topping Lexus luxury sedan is an extraordinary machine. It's confident, capable, and most importantly, outrageously comfortable.
Anyone not accustomed to high-end executive transport will find the level of luxury dizzying, and even those familiar with the segment will be captivated by the many marvelous, eye-catching details the designers have woven into the car. If you're in the market for opulent executive transport, it should be at the top of your list. So visit your local AutoNation-affiliated Lexus dealer today to arrange a test drive.         
---
John Coyle | Jan 01, 2021