Jeffrey N. Ross | Apr 20, 2019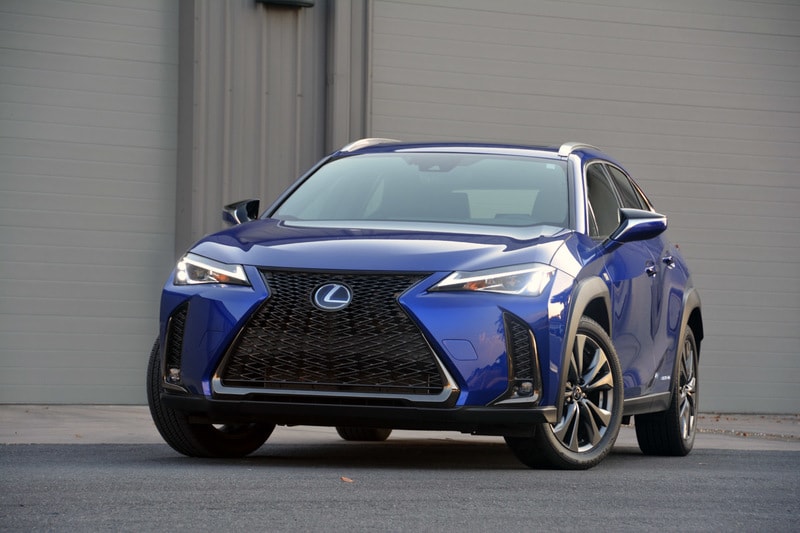 When Toyota launched the Lexus brand in 1989, it did so as a disruptor in the segment going up against traditional luxury brands from Europe and America. Today, as luxury automakers face a new round of disruptors from startup electric companies and upscale Korean automakers, Lexus has gone on the defensive to protect its healthy market share of the luxury market.
This has resulted in an energetic lineup stocked full of profitable crossovers and SUVs (including the all-new subcompact UX crossover), but Lexus hasn't forgotten about the segment that launched the brand - luxury sedans. Within the span of a year, Lexus completely redesigned its original sedan offerings (the mid-size ES and the full-size LS), and this week we got to test out a fully loaded example of the latter with the 2019 Lexus LS 500 F Sport.
---
2019 Lexus LS 500 Exterior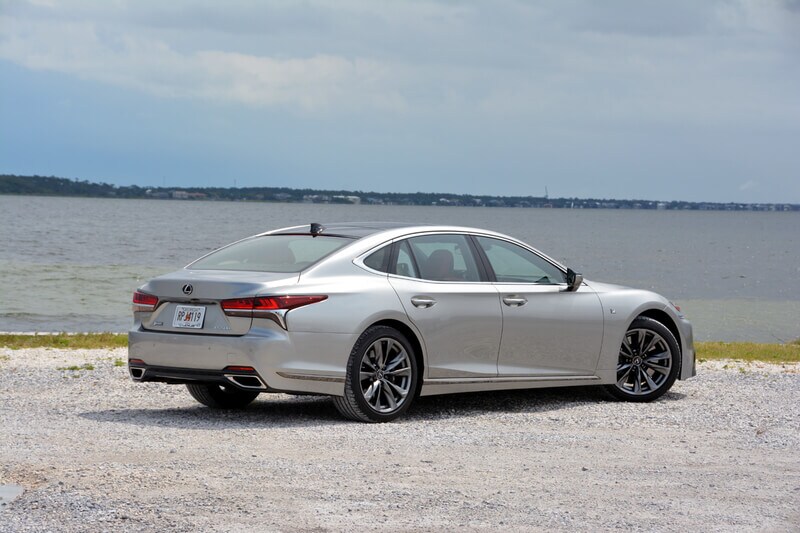 Like many recent Lexus products, the styling of the fifth-gen LS looks like a concept vehicle for the real world. That's because this sedan borrows much of its design from the 2015 LF-LC concept vehicle. Despite being a large car, the proportions of the new LS are well balanced resulting in a sporty look from all angles.
Lexus's typical in-your-face spindle grille is proudly displayed at the front of this sedan, but this controversial design element is less of a focal point on this design thanks to all of the flowing lines and eye-catching creases. Up front, the Z-shaped headlights are perfectly sculpted into the fascia, while the pronounced fender arches give this sedan a muscular vibe. These athletic lines carry over to broad rear shoulders and a relatively short decklid, and, overall, the cohesive design elements result in the sportiest looking LS to date. And the optional F Sport Performance Package gets a unique front fascia with mesh grille, rear diffuser-style fascia and 20-inch wheels with a dark graphite finish.
Shop 2019 Lexus LS 500 Inventory
---
2019 Lexus LS 500 Interior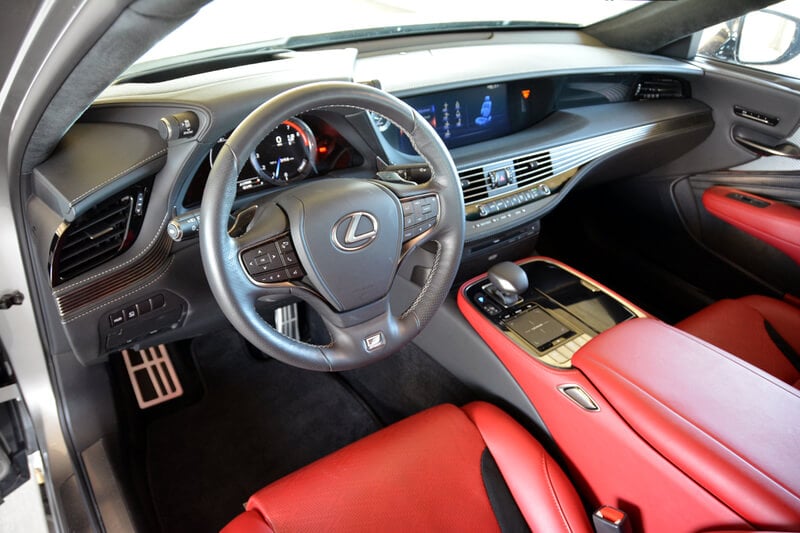 As far as the 2019 Lexus LS 500 has come in regards to exterior styling, Lexus has doubled down in terms of technology and craftsmanship delivering an interior fit for a flagship. This F Sport looks like a true luxury sedan with its red leather seats, but every inch of this cabin is lined with high-quality materials from the suede trim on the doors to the plush carpet and even the stitched leather on top of the instrument panel. Speaking of the instrument panel, there's a small illuminated screen on the passenger side of the dash that exists only to display the linear design elements that tie in with the rest of the cabin.
Lexus always delivers when it comes to high-lux interiors, and that is especially the case with its stylish flagship sedan. Passengers were wowed by this car's bright cabin coloring, but equally impressive is the fine touches that were added to every surface including the knob, switches and buttons. This tester came loaded with cabin tech including a massive 12.3-inch infotainment screen, a 24-inch head-up display ($1,220) and the $1,940 23-speaker Mark Levinson audio system. For the most part, the fifth-gen LS carries over unchanged from the 2018 model year, but 2019 does bring Apple CarPlay and Amazon Alexa integration - there's still no Android Auto compatibility, though.
As expected from a flagship luxury sedan, the interior is enjoyable to spend time in whether you're driving around with your family or getting chauffeured around town. The big sedan serves up plenty of room for five passengers, and the seats are as comfortable as your living room couch. As today's car designs result in smaller side windows and darker cabins, the Lexus LS lets in plenty of light for a welcome and accommodating passenger experience; for an extra $1,000, this car let in even more light with the optional panoramic roof.
Shop 2019 Lexus LS 500 Inventory
---
2019 Lexus LS 500 Powertrain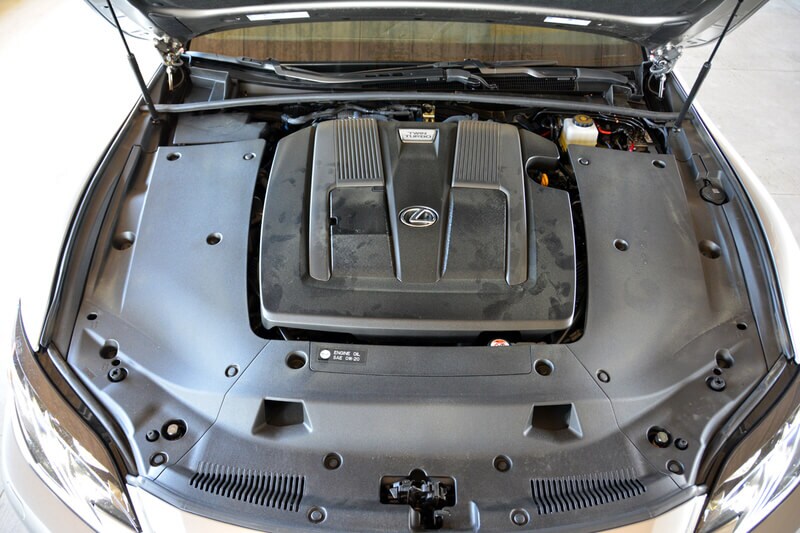 Whereas the previous LS was only available with a pair of V8 engines, Lexus has brought the 2019 Lexus LS to the modern era with a powerful 3.5-liter twin-turbo V6 rated at 416 horsepower and 442 lb-ft of torque. This advanced engine is paired with an equally advanced 10-speed automatic transmission that allows the big sedan to toe the line between performance and efficiency. Despite being such a big luxury car with its powerful engine, the 2019 LS 500 is surprisingly fuel efficient with EPA-rated fuel economy estimates of 19 mpg in the city and 30 mpg on the highway**.
It doesn't offer the neck-snapping acceleration or g-force inducing cornering capabilities of its German counterparts, but that's not necessarily what the LS is - or has ever been - about. Instead, the new LS was designed to be a traditional luxury land yacht, only now it offers improved handling and performance to stand apart from upcoming rivals like the Genesis G90. Lexus says this RWD model can accelerate from 0-60 in 4.6 seconds (downright impressive for a sedan pushing 5,000 pounds), but even more important is how smooth the LS 500 is on just about any road surface from bouncy highway expansions joints to pothole-lined city streets.
Shop 2019 Lexus LS 500 Inventory
---
2019 Lexus LS 500 Safety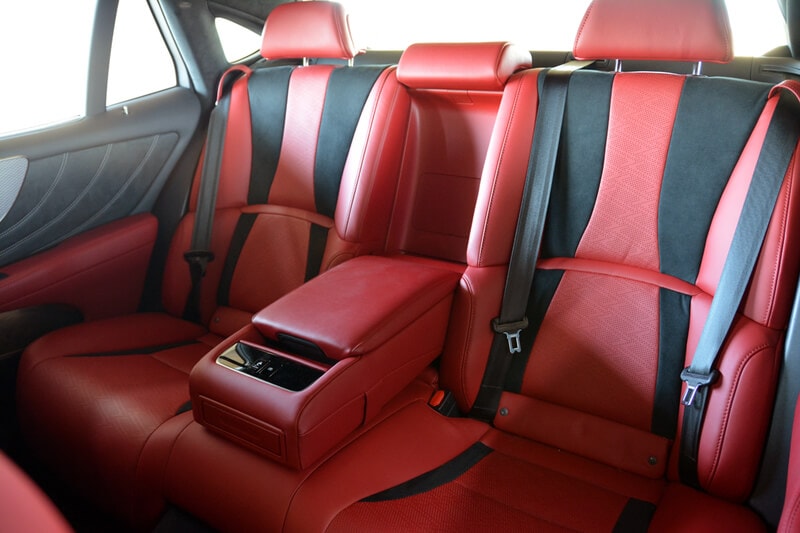 The 2019 Lexus LS has not yet rated by the National Highway Traffic Safety Administration, but this flagship sedan comes packed with all of the latest high-tech safety goodies.
Standard content includes the Lexus Safety System+ 2.0 with pre-collision system with cyclist and pedestrian detection, all-speed radar cruise control, lane departure alert, road sigh assist and intelligent high beam headlights, while the $3,000 Lexus Safety System+ brings A pre-collision with active braking, active steering assist, pedestrian alert, front cross traffic alert, lane change assist. This car was also equipped with the $800 panoramic view monitor.
Shop 2019 Lexus LS 500 Inventory
---
2019 Lexus LS 500 Overall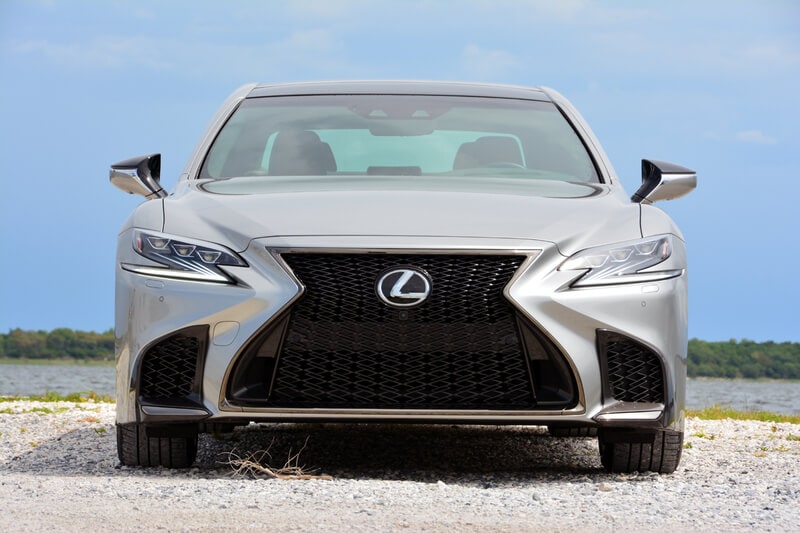 Considering that not too long ago Lexus designs were often described with adjectives like bland and vanilla, the 2019 Lexus LS 500 F Sport is a testament not to just how far this automaker has come over the last 31 years but how far the brand has come in the last several years. The fifth-gen LS offers more comfort, luxury and technology than ever before, and it adds a surprisingly stylish exterior and a powertrain that is enjoyable and efficient.
A lot has changed for Lexus over the years, but one thing that hasn't is Lexus' ability to deliver a world-class luxury sedan that undercuts the price of its German rivals. Although the $75,450* starting MSRP is hefty price for a base model, the new LS 500 delivers plenty of content and style. This loaded Atomic Silver tester was equipped with almost a dozen option packages, and it ended up with an as-tested price of $101,905*.