Derek Shiekhi | Sep 08, 2020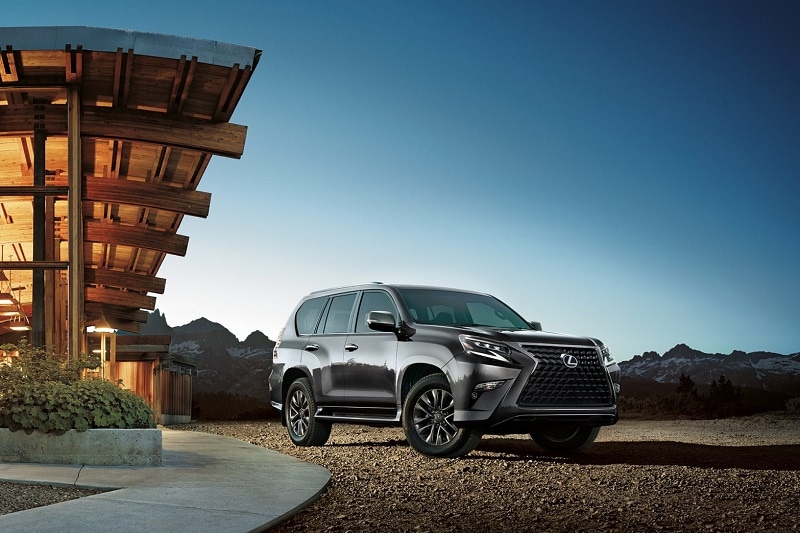 The Lexus GX 460 makes me think of "Layla," by Derek and the Dominos. Widely considered to be one of the greatest rock songs of all time, itt has an instantly recognizable guitar riff and a catchy hook delivered with a palpable energy. I've always been a fan of it - the first part, at least.
If you ask me, "Layla" is actually two songs. There's the amped-up main section that you just want to blast while you're rocketing down a back road in a V8 muscle car and then there's the more sedate "Piano Exit" after that, which Martin Scorcese immortalized in "Goodfellas." As pleasant and calming as that part is, I don't find it nearly as enjoyable as the signature guitar playing and passionate vocals before it.
I look at the lifecycle of the second-generation Lexus GX differently. The GX 460 has been on the market since the 2010 model year and the newest version of it shows that it's only gotten better as time's gone on. For 2020, Lexus has given its tried-and-true luxury SUV a makeover, as well as new standard safety features and available off-road hardware. I learned more about those over the course of a week behind the wheel of a 2020 GX 460 Luxury (starts at $64,265; $72,010 as tested).
---
2020 Lexus GX 460 Exterior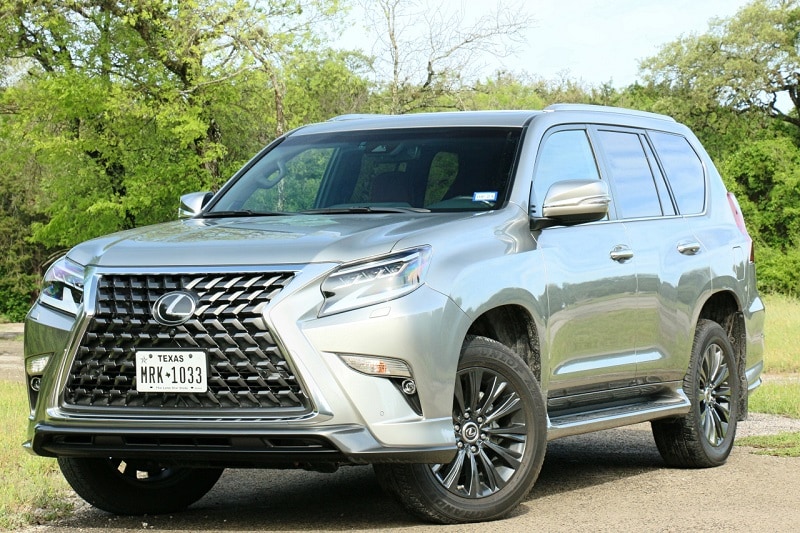 Lexus has made minor cosmetic changes to refresh the GX's fundamental design. It's added Atomic Silver, which my tester wore, to the palette of available colors. The signature spindle grille is still as prominent as ever, but no longer split into horizontal bars up top and mesh down below. Instead it's completely filled with angled inserts that draw your eye toward the Lexus emblem. Out back, designers subtly tweaked the side-hinged door and stylized "L" badge.
My press loaner was dressed in the optional Sport Design Package, which has a new feature for 2020. Actually, make that four. In addition to special lower front grille trim, "spoilers" for the front and rear bumpers, chrome accents on the side mirrors, scarlet taillights and dark gray exhaust tip, the Sport Design Package now comes with a set of dark gray 19-inch wheels.
---
2020 Lexus GX 460 Interior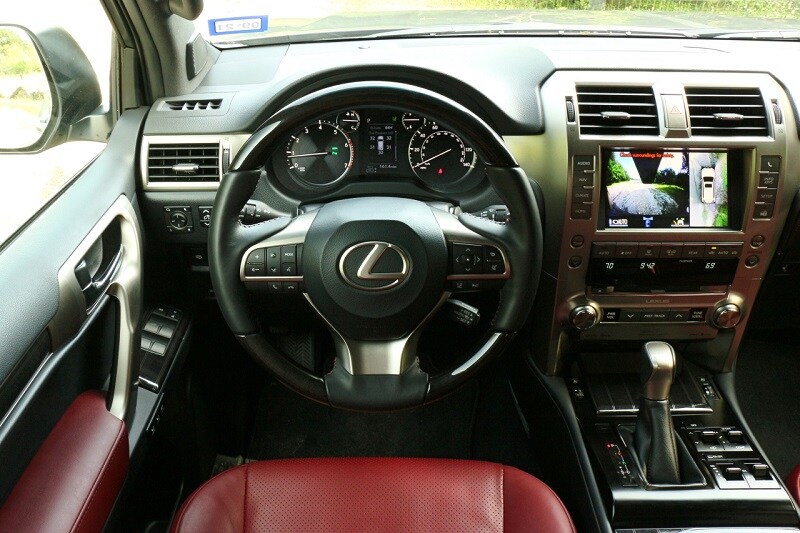 Within a second of opening the driver's door of the GX, it was immediately obvious how Lexus updated it on the inside. I recognized the three-spoke steering wheel and shift knob from the GX's modern cousins. New Gray Sapele wood trim with aluminum accents made the door panels, dashboard and center tunnel look more dynamic and upscale. The biggest giveaway that I was testing a 2020 GX was the eye-catching Rioja Red semi-aniline leather seats. Even though they weren't part of the Sport Design Package, they were easily the sportiest thing about the GX because they made me think of the seats you might see in a Corvette or Ferrari.
There's no denying the fact that the GX's infotainment system is dated, but I actually enjoyed using its 8.0-inch touchscreen to enter an address into the navigation system and adjust the settings of the optional 330-watt, 17-speaker Mark Levinson surround sound system. It was easy to reach and even easier to use. I didn't have to move a puck around and push down on it to get what I wanted. All I needed to do was point and tap.
The Sport Design Package is primarily a bundle of exterior cosmetic enhancements, but it makes its mark on the inside of the GX by replacing the second row bench seat with a pair of captain chairs. Either one of those was the perfect spot to be in to watch a DVD on my GX's available dual-screen rear entertainment system. I could also connect my iPhone to one of the two new rear USB ports. There was a power fold-flat third row in the very back, but I left it down and took advantage of the extra cargo space its absence provided.
---
2020 Lexus GX 460 Powertrain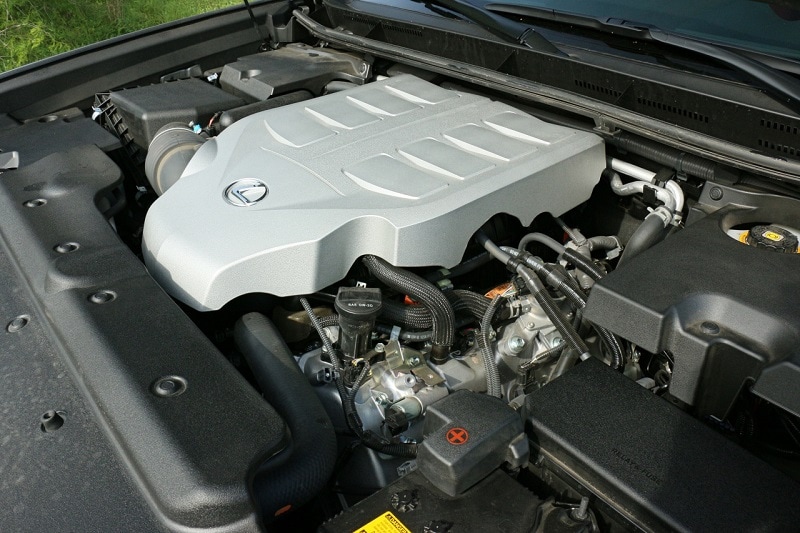 The 2020 GX carries on with the naturally aspirated 4.6-liter V8 and six-speed automatic its predecessor used to get down the road. Output remains at 301 horsepower and 329 lb-ft of torque and enables the GX to tow up to 6,500 pounds. Full-time four-wheel drive, a 2-speed transfer case, a lockable center differential and 8.1 inches of ground clearance help the GX conquer challenging trails.
An Off-Road Package, available on the Luxury trim level, makes the GX an even better adventure vehicle by adding the protection of a transmission cooler and fuel tank skid plate, the electronic sight of the Multi-Terrain and Panoramic View Monitors and the convenience and capability of Multi-Terrain Select and Crawl Control (aka off-road cruise control). All of the switchgear for the GX's rock-crawling and mud-slinging goodies, as well as its multi-level suspension and adjustable dampers, were located in an easy-to-reach spot to the right of the shifter.
It's too bad my local OHV park was closed the entire week I had the GX. The good news is that the Texas Motor Press Association's 2019 Texas Off-Road Invitational gave me a great idea of just how skilled a machine the GX is. Even on street tires, the 2019 model was able to get to the top of a deeply rutted trail made entirely out of slick, clay-like mud. It's easy to picture how much smoother the 2020 GX's Off-Road Package can make that kind of climb.
---
2020 Lexus GX 460 Safety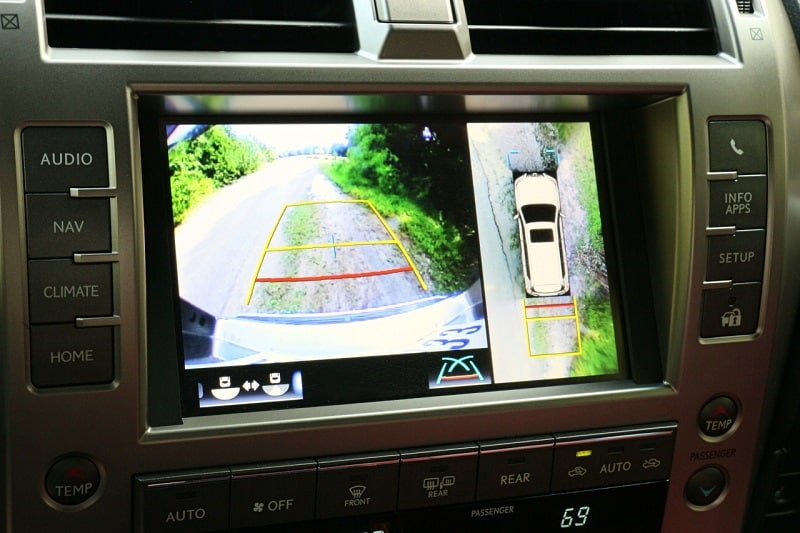 Not only did Lexus improve the GX's off-road tech, it also upgraded its safety features. The 2020 model comes standard with blind spot monitoring, rear cross-traffic alert and Lexus Safety System+, a bundle which includes automatic high beams, Pre-Collision System with Pedestrian Detection, Lane Departure Alert and High-Speed Dynamic Radar Cruise Control.
While I was out running an errand, I discovered something fascinating about the GX's tire pressure monitoring system. It shows five PSI levels - four for the tires touching the ground and one for the spare tire in the back. 
---
2020 Lexus GX 460 Overall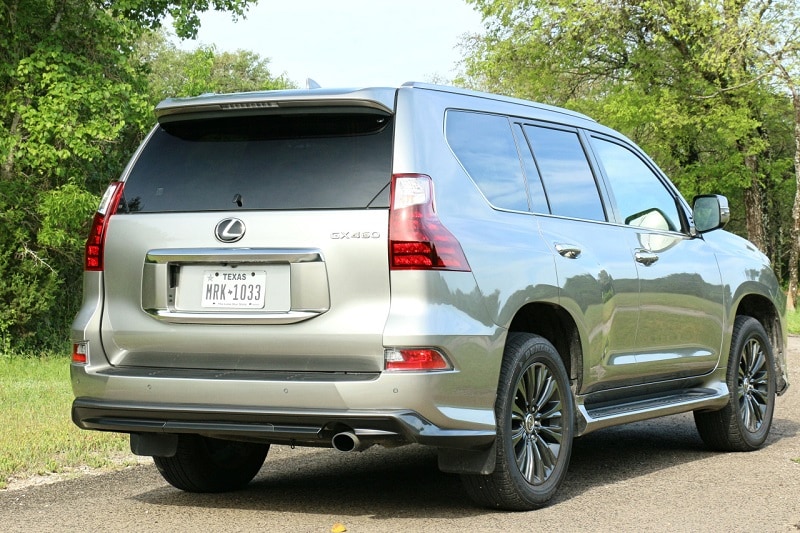 If you want to learn even more about the 2020 GX 460, head to your local AutoNation Lexus dealership. To make the trip over a little more fun, jam out to "Layla" - especially the first part of it.