Derek Shiekhi | Sep 08, 2020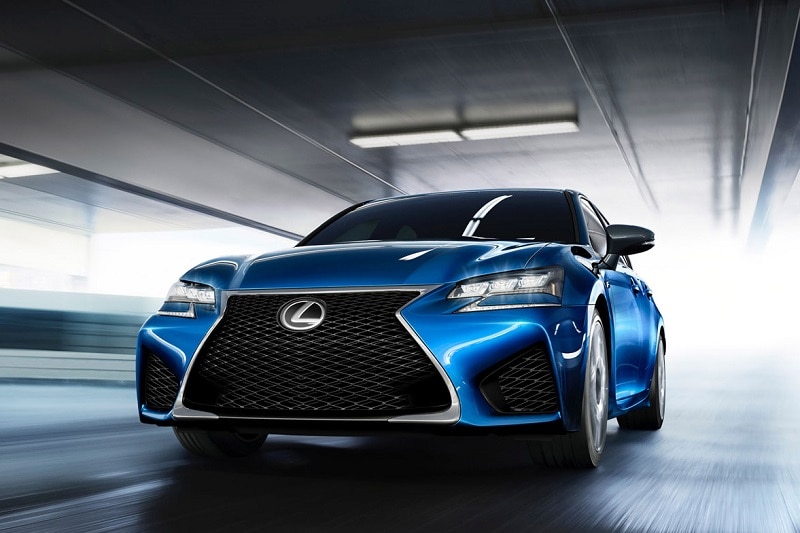 The Lexus GS F has always been different. Back when it came out as a 2017 model, it was a radical departure from other GS models. Lexus had offered its midsize sedan with a V8 and athletic suspension before, but the GS F was an exotic among its everyday siblings. Its aggressive exterior design matched the potent 5.0-liter V8 under the hood and the focused hardware around it.
The 2020 Lexus GS F remains different. Several years ago, Lexus's rivals in the midsize luxury sport sedan segment opted for smaller displacement V8s with forced induction and routed their once-supercar levels of power through all-wheel drive. The GS stands out as a comparatively old-school machine with a large, naturally aspirated V8 that unloads its firepower through the back wheels only.
Minor cosmetic changes set the 2020 model (starting price: $85,010) apart from its 2019 predecessor. The B-pillars and side mirrors are now black instead of gray. Matte black 19-inch wheels come standard; blue brake calipers are available to add a pop of color behind them. Optional white seats with black inserts give Lexus's high-performance sedan a high-contrast interior color scheme. 
Ever since Lexus introduced the GS F, I've been wanting to review one for this site. I finally got my chance to do just that recently. Over the past few years, I've been fortunate enough to test the boosted, AWD road missiles better known as the BMW M5 and Mercedes-AMG E 63 S. So how was the GS F? Different.
---
2020 Lexus GS F Exterior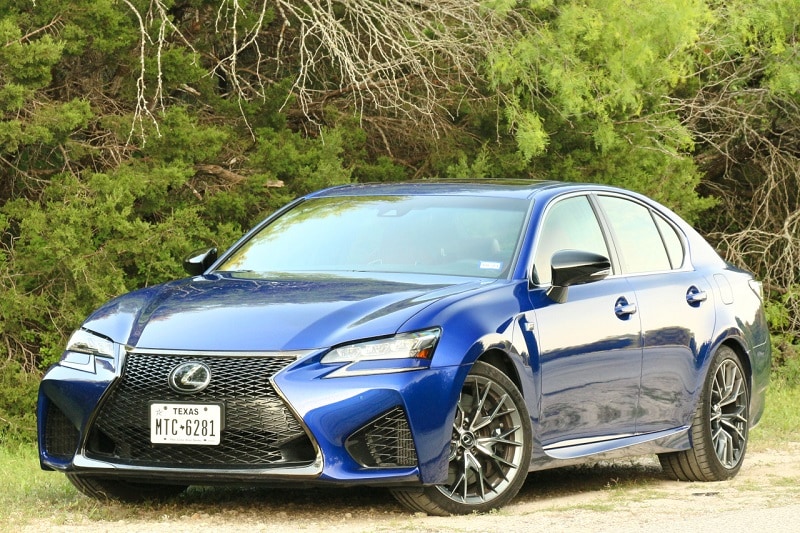 The GS F is an absolutely unmistakable combination of form and function, especially when it's covered in the head-turning Ultrasonic Blue Mica 2.0 paint that my test car wore. Lexus fills the GS F's bold spindle grille with a unique mesh pattern. More mesh fills the large air openings below the triple-beam LED headlights and daytime running lights. Those portals channel cooling air to the GS F's ventilated 14.9-inch front and 13.5-inch rear Brembo brakes. A carbon fiber reinforced plastic insert at the bottom of the grille catches air and uses it to push the front end of the GS F down and keep it stable at high speeds.
Two of the GS F's most distinctive features are the massive vents that stretch from the sculpted side skirts all the way past the F badges on the widened front fenders. They're not there just to look cool, they help channel air down the sides of the GS F. Lexus swapped out my $89,510 press loaner's stock wheels for a set of intricate hand-polished, 19-inch forged BBS wheels.
A slim carbon fiber spoiler managed airflow over the rear end of the GS F. A subtle diffuser sat between its two other most distinguishing parts: diagonally stacked pairs of exhaust finishers.
Shop 2020 Lexus GS F Inventory
---
2020 Lexus GS F Interior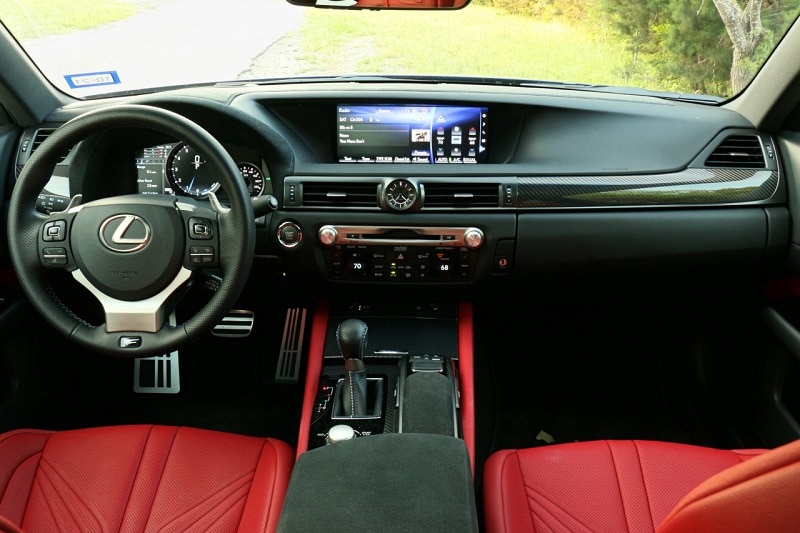 My test car's eye-popping Circuit Red leather seats were just as stunning as its blue paint. The rest of the cabin around those tempered their flamboyance with a low-key ensemble of black leather, Alcantara trim and carbon fiber accents.
I must admit the GS F's infotainment setup is not my favorite, especially because the 12.3-inch display deep in the middle of the dashboard is not a touchscreen. Instead of tapping it to change things, such as my navigation destination, I had to use the square controller for the Remote Touch Interface system. Entering things by pressing down on the puck could be a little tricky. Luckily, all I had to do to bypass that spotty method was push the conveniently placed Enter button with my right thumb.
I had no complaints about my media vehicle's optional 835-watt, 17-speaker Mark Levinson audio system. It was wonderfully clear. Traditional knobs for the volume and tuning functions made it easy to adjust settings on the fly.
Shop 2020 Lexus GS F Inventory
---
2020 Lexus GS F Powertrain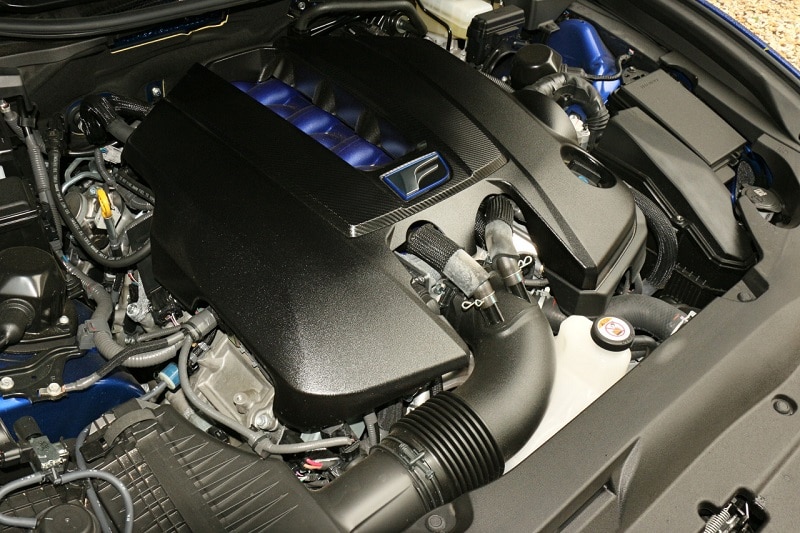 It had been a while since I had driven a sedan like the GS F. I had gotten used to the manic, four-wheel-propelled, turbocharged thrust of Germany's 600-horsepower uber sedans. The GS F was a completely different machine. It was all motor. No power adders. Just 5.0 liters of naturally aspirated V8 power. Down low in the rev range, it was sedate, a sleeping beast that could be roused from its sleep with a quick jab of my right foot.
When I set the GS F to its Sport S drive mode and finally awakened the 2UR-GSE in front of me, it lashed out with 467 horsepower and 389 lb-ft of torque. Acceleration was fervent and satisfying, but never reached the dizzying crescendo that the GS F's boosted rivals can hit with a shocking casualness. The sound the 5.0 transmitted through its signature stacked pipes was also something I wasn't accustomed to. Instead of snarling or barking, it sounded refined, almost digitized - especially when the Active Sound Control system used the speakers to enhance the auditory drama.
I made sure to try out the GS F's trick Torque Vectoring Differential, which could strategically route torque to each rear wheel in as little as 1/1000th of a second. In Standard mode, it performed its job inconspicuously. Track mode was engineered to maximize the GS F's stability at higher speeds. I used the Slalom setting the most, particularly on sweeping curves. According to Lexus, it "places additional emphasis on steering response, giving the vehicle a more agile character akin to one with a smaller wheelbase."
When I was just cruising around in Comfort mode, the eight-speed automatic shifted with a fitting nonchalance. It knew when it was go time, though. In Sport S and Sport S+, it upshifted with force and fervor.
Shop 2020 Lexus GS F Inventory
---
2020 Lexus GS F Safety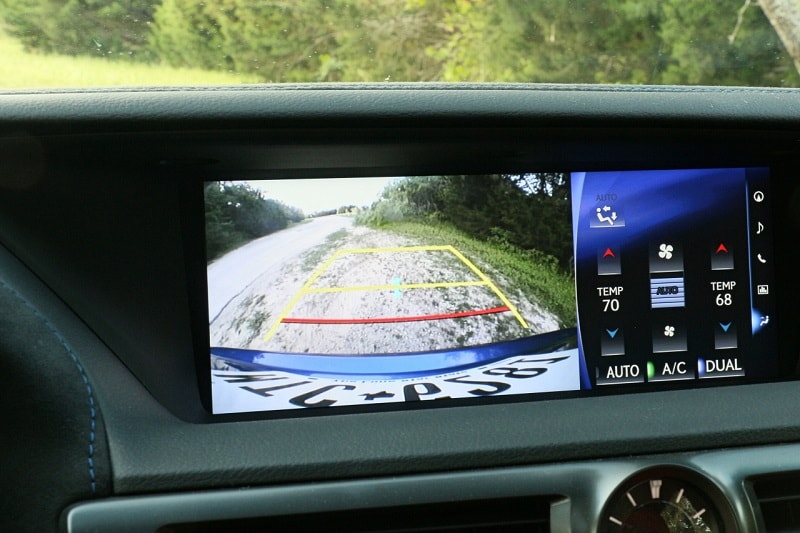 Lexus offers a short list of options that allow you to enhance the GS F's looks, audio system and gauges (with the head-up display that my test car had). One thing not on that list? Any sort of safety equipment bundle.
That's because all of the GS F's electronic aids and preventive systems are standard. Those include 10 airbags, blind spot monitor with rear cross-traffic alert, and Lexus Safety System+, which comes packed with lane departure alert with steering assist and lane keep assist, all-speed dynamic radar cruise control and more.
Shop 2020 Lexus GS F Inventory
---
2020 Lexus GS F Overall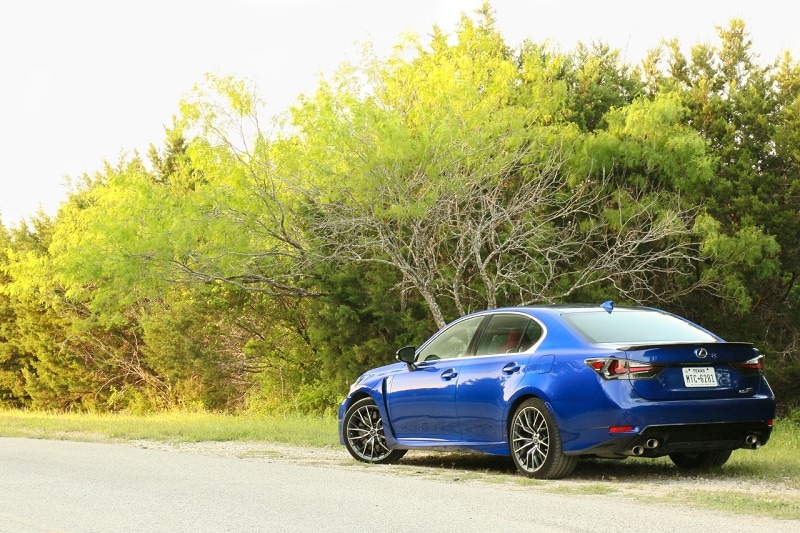 Your local AutoNation Lexus dealership has a wide array of sedans, crossovers and SUVs. If you're looking for something different from many of the other midsize luxury performance four-doors on the market, test-drive the 2020 GS F.