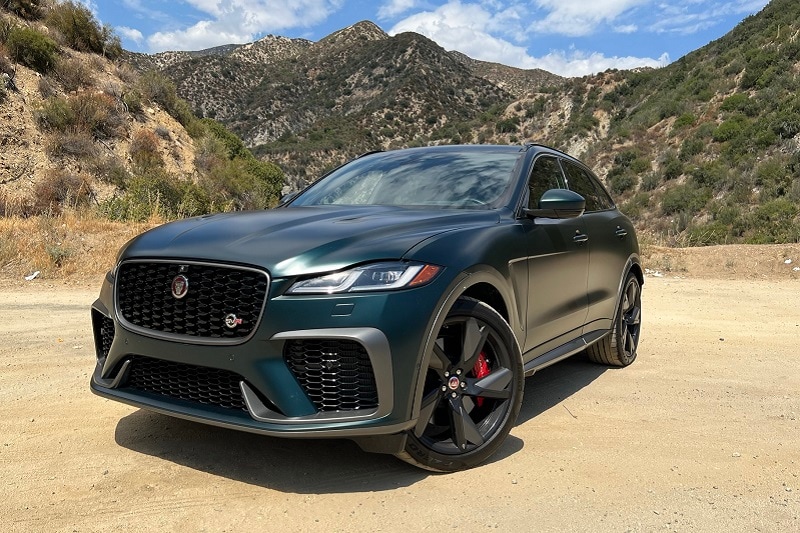 At the moment, Jaguar fans have more questions than answers about what's next for the legendary British marque. We do know that Coventry is pivoting to an all-electric lineup, and that the first three models will be SUVs--and that's about it. With 2023 on the horizon, anything more specific is still quite a ways out, as Nick Collins, Executive Director of Jaguar Land Rover's Vehicle Programs, has said the new models won't break cover until the end of 2024.  
That said, there's a lot to love in Jaguar's current lineup. Back in May, I drove the F-Pace R Dynamic S, and was impressed with its presence, performance, and luxurious cabin. So I was thrilled to get to experience the even spicier version, the F-PACE SVR. And if you're wondering whether adding gobs more power to an already capable platform means more fun? The answer is of course it does!  
---
2022 Jaguar F-PACE SVR Exterior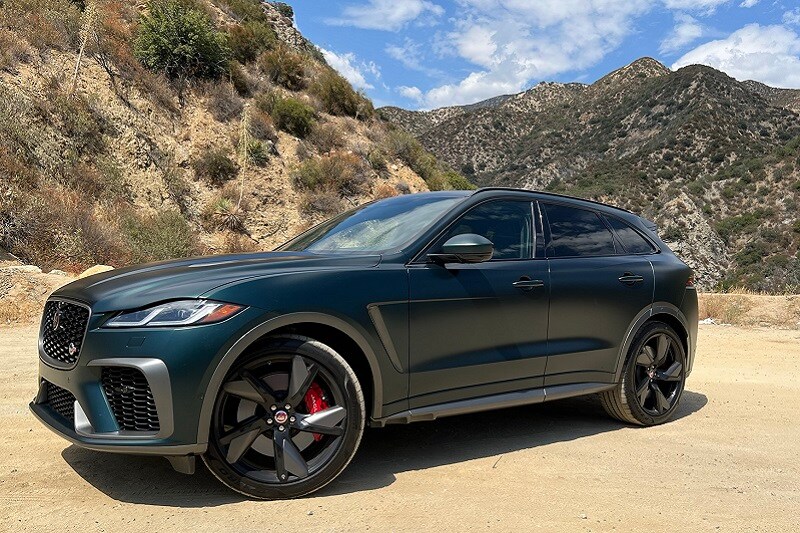 Before the F-PACE SVR arrived, the folks at the fleet service had referred to it as being British Racing Green, which seemed perfectly appropriate. When it arrived, however, I was floored by just how wicked this paint was. For the record, it's not a traditional BRG, and Jaguar refers to it as SVO Ultra Metallic Paint in Satin.  
The satin green finish makes this weapons-grade Jag look properly menacing. And while it's a $7,500 option and more difficult to care for than a gloss finish, after seeing it in person, I'd be hard pressed not to spring for it.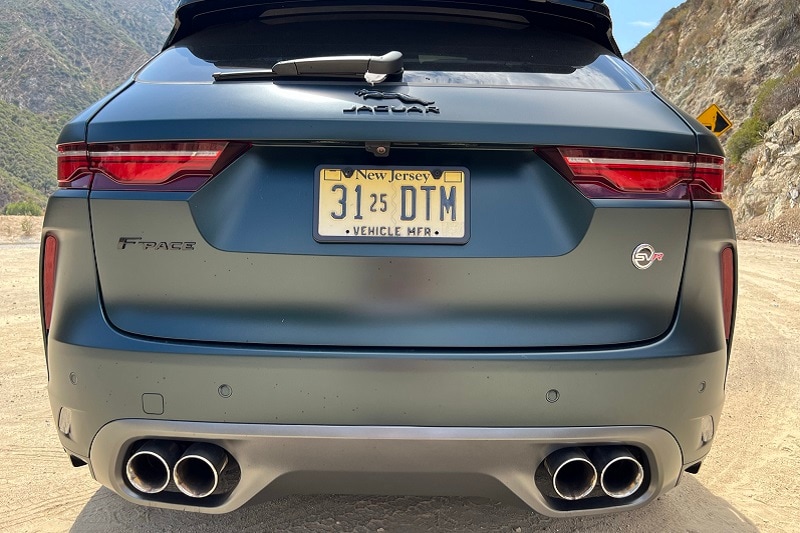 The front end of the F-PACE SVR is dominated by a large mesh grille, which is bordered by massive intakes on each side. These look like flared nostrils, and the contrasting vents on the sculpted hood also communicate that this kitty means business. The deep scallops on the front doors add to the sinister vibe of the SVR, and elements like the quad exhaust tips and black badging complete the look. I was also a fan of the two-tone 22-inch wheels. They beautifully highlighted the beefy brake calipers, and featured an SVR logo on one of the blades. 
As someone who thinks the standard F-PACE is already handsome, I appreciated all the subtle touches the designers used to differentiate the SVR. There's nothing boy racer about it at all, and the relatively understated look perfectly suits Jaguar's reputation for classic, stately design.
---
2022 Jaguar F-PACE SVR Interior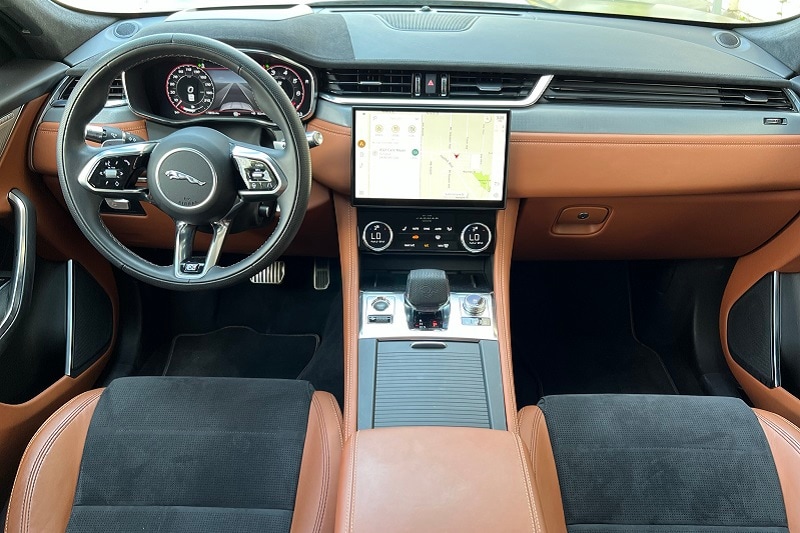 From the thick steering wheel, to the metal paddle shifters, to elegant Alcantara headliner, everything about the interior of the F-PACE SVR felt high quality. The two-tone seats were trick looking, and I loved how the chrome accent holes--a nod to racing harnesses--under the headrest popped against the two-tone gray and brown leather. Personally, I found the sculpted chairs a tad snug, though they were comfortable overall, and provided plenty of support during hard cornering. 
While there's a bevy of materials in the cabin, there's nothing busy about the interior. Rather, it's a clean, unfettered design which is more elegant than austere, and the latest version of Jaguar's Pivi Pro infotainment system is top notch. The 11.4-inch touchscreen sits below the horizon of the dash, and the home screen is divided into three sections: Navigation, phone connectivity, and media.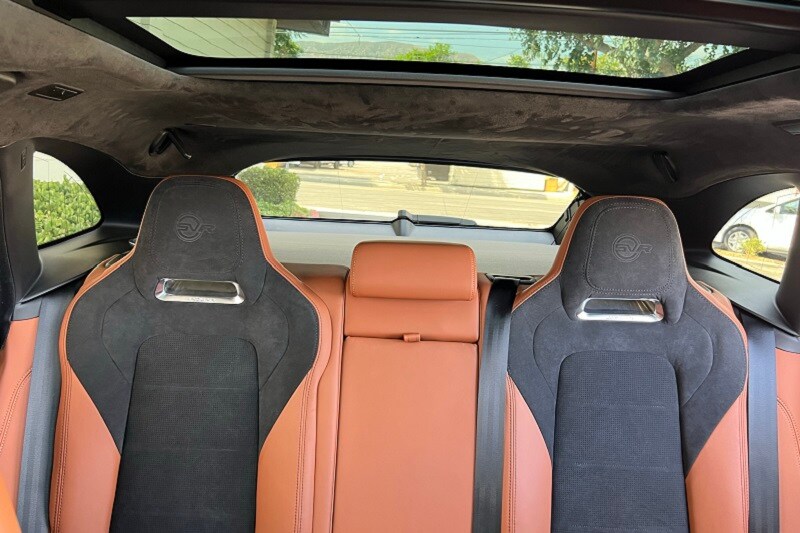 The gauge cluster is also fully digital, and will display info like media and navigation info alongside speed and RPMs, so the driver doesn't need to look to the center stack that often. As an iPhone user, I was pleased by how easy it was to flip between CarPlay and the native OS, which can prove cumbersome on other systems. Android users aren't left out either, as the F-PACE supports both platforms. There's also a handy charging pad at the front of the console, a thumping 14-speaker Meridian sound system, mobile hotspot, SiriusXM satellite radio, dual-zone climate control, and configurable ambient lighting.
Fortunately, the climate settings still feature physical buttons and knobs, which makes them easy to adjust without taking your eyes off the road. Like the front seats, the rear seats are both heated and cooled. And while there's not loads of room back there, adults will be fine for short stints around town. 
Like the standard F-PACE, the SVR offers 31.5 cubic feet of space beyond the rear seats, which climbs to 69.1 cubic feet with them folded, which is more than you'll find in competitors like the BMW X3 or Audi Q5. 
---
2022 Jaguar F-PACE SVR Performance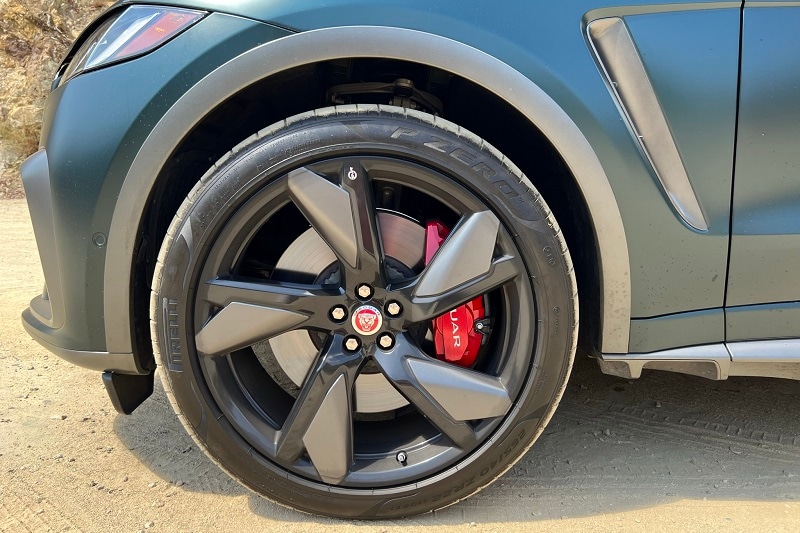 While the Jaguar of old was known for its silky-smooth I6 and exotic (if temperamental) V12, its supercharged V8 engines are now the star of the show. Under its sleek, sexy hood, the F-PACE is packing a 5.0-liter mill which produces a whopping 550 horsepower and 516 lb-ft of torque, which is piped to all four corners via an eight-speed automatic transmission. Performance is predictably impressive, as independent testing has found it'll sprint from zero-to-60 in under four seconds. Keep your foot buried, and the F-PACE SVR will pull all the way to an autobahn-friendly 178 mph. So keeping up with traffic on California's notoriously speedy freeway was a non-issue.  
Now, the bench racers among us will note all the math suggests the SVR is quite quick. But at the end of the day, the specs above are just numbers on a screen, and don't do any justice to what it's like to actually pilot this machine. Not remotely.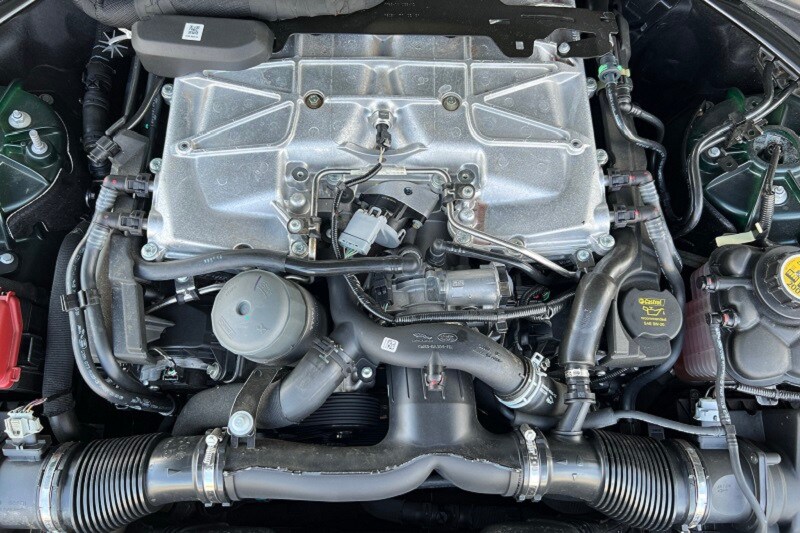 Because along with the always-available thrust, there's the glorious noise which accompanies all the scenery-blurring action. The rowdy roar of the force-fed eight pot is a mechanical symphony, and over my week with the Jaguar, it inspired joyous laughter from all the folks I took for a spin. And while electric cars like BMW i4 M50 and Ford Mustang Mach-E GT might deliver spine tingling acceleration? The gorgeous racket produced by the F-PACE SVR is the epic poetry of internal combustion. Hearing it reverberate off the canyon walls on my favorite test loop was an experience that felt both anachronistic and modern, and it was some of the most fun I've had this year. 
Of course, at the risk of mixing metaphors here, this kitty isn't all bark. My recent experience with the F-Pace R Dynamic S illustrated just how capable this chassis is, and it handled the extra poke like a big cat would handle a porterhouse. Steering feel is excellent, and when tasked with twisty ribbons of road and frequent elevation changes, the suspension handled everything with aplomb. Importantly, the performance-tuned dampers didn't prove uncomfortable on rough pavement either, so drivers don't have to worry about losing a filling if they happen to hit a pothole.
---
2022 Jaguar F-PACE SVR Safety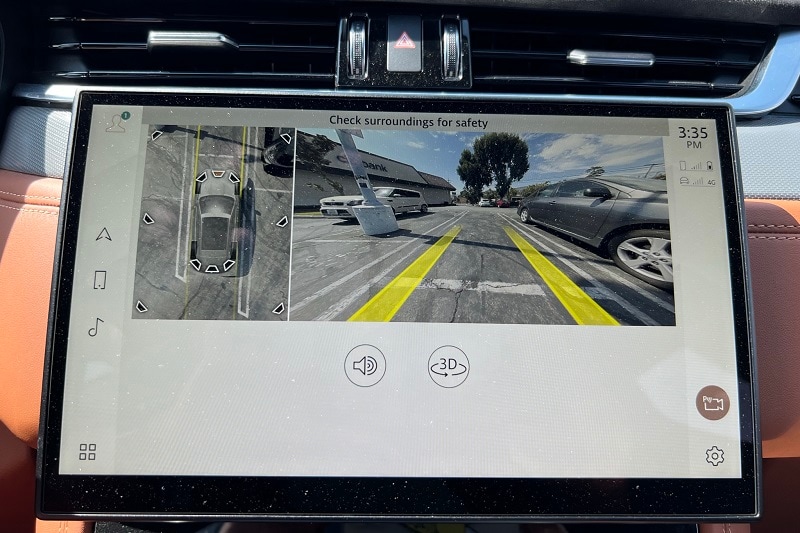 The 2022 Jaguar F-Pace SVR has not been tested by the National Highway Traffic Safety Administration or the Insurance Institute for Highway Safety. This is not uncommon for vehicles in its lofty price range. 
That said, the F-PACE SVR comes standard with a robust list of safety tech, including Emergency Brake Assist, Adaptive Cruise Control, Blind Spot Assist, Rear Traffic Monitor, Lane Keep Assist, Clear Exit Monitor, and Driver Condition Monitor. My tester was also equipped with a Heads Up Display, and Jaguar's Adaptive Service Response System, which allows the F-PACE to automatically adjust to challenging traction conditions.
---
2022 Jaguar F-PACE SVR Overall
As I've written about here before, there's a special place in my heart for Jaguar. My love of cars began when I saw an XJ6 as a young child, and the 1978 model I eventually owned remains my favorite daily driver ever. 
So while I know that Jaguar's electric vehicles are going to be impressive (remember: the I-PACE was the World Car of the Year in 2019), it makes me misty to think that this beautiful beast is the last of its kind. In my opinion, the rowdy exhaust note of the F-PACE SVR is worth the price of admission alone. The good looks and luxurious environs are just gravy.
The MSRP of my F-PACE SVR tester was $84,600, but some big-ticket options, most notably the incredible SVO Ultra Metallic Paint in Satin ($7,410), and the Hot Climate Pack ($2,110) helped pushed the price to $99,089. That's no small chunk of change, to be sure. But if you're looking unique that'll haul more than cargo? Then it's a small price to pay.
---
John Coyle
| August 25, 2022