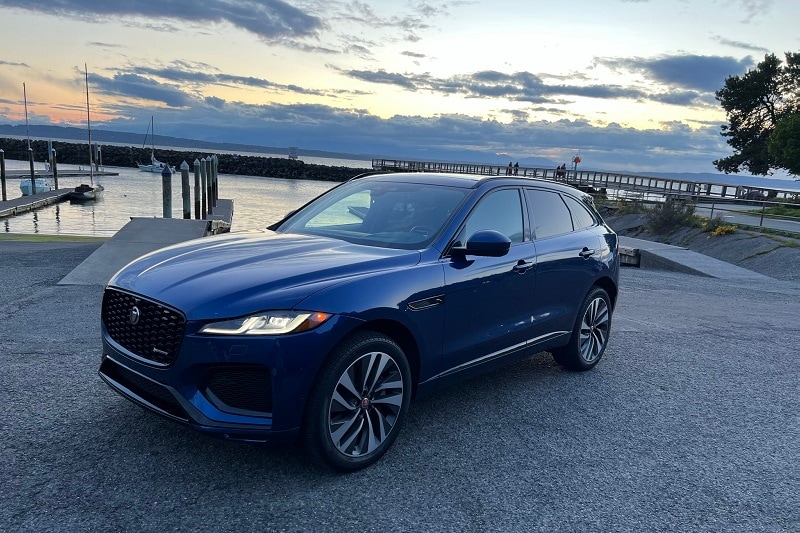 Right now, Jaguar stands at a crossroads. There will be no new models from the legendary British marque until 2025, and nothing in the current lineup will survive beyond that point. Basically, the plan is for Jaguar to go all-electric and upmarket, meaning the company wants to compete with the likes of Bentley and Porsche, sell less cars, and make more money. From the cheap seats, the move feels like a Hail Mary, and I for one hope it works. 
In the interest of full disclosure, I should mention I love Jaguar with a passion. When I was a toddler, seeing a parked XK6 ignited my lifelong fascination with cars, and in my early 30s, I daily drove a 1978 XJ6 Series II. It was a magnificent machine, and when rust made restoration impossible, I was devastated. So I was thrilled to review one of the final examples of an internal-combustion Jaguar, even if it felt somewhat bittersweet. And just as I suspected, the F-PACE R Dynamic S was a total hoot to drive. 
---
2022 Jaguar F-PACE R Dynamic S Exterior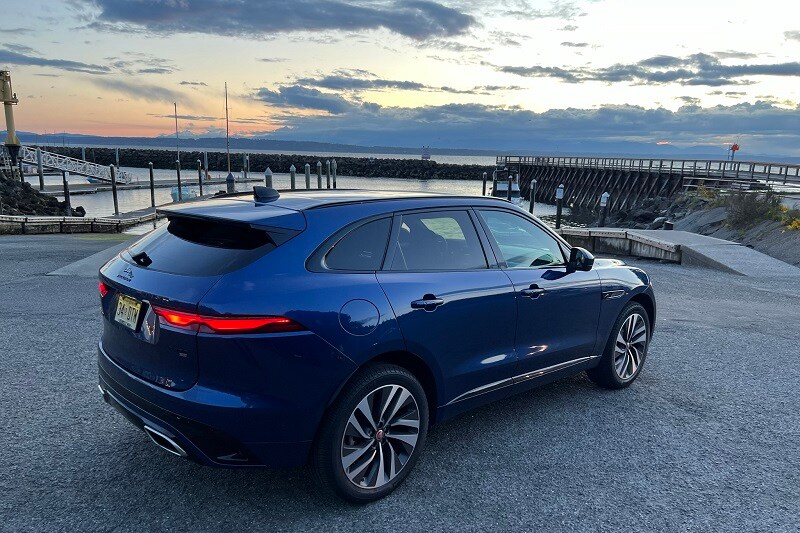 My tester was finished in Bluefire Blue, a gorgeous color that complemented the tan interior nicely. The front fascia, with its large central grille and prominent Jaguar emblem, recalls the modern XF and XJ sedans, which is a great thing. 
As part of the R Dynamic package, the grille is and lover intakes are blacked out, which looks aggressive without being over the top. From my perspective, the overall styling of the F-PACE is sleek, subtle and sexy. The ceases on the hood give it a muscular appearance, and the pronounced hips at the rear look athletic and purposeful. F-PACE buyers can opt for up to 22" wheels, but this example was specced with 19" units, which I thought was plenty big. They looked proportional to overall lines of the car, and will certainly deliver a better ride than the factory dubs.   
There's nothing flashy about the exterior of the F-PACE, no unnecessary bling or fake vents. In short, the sheet metal looks like it could have been cut by one of the tailors on London's legendary Savile Row, and the presence of this machine is undeniable. 
---
2022 Jaguar F-PACE R Dynamic S Interior
Historically, Jaguar has always delivered comfortable, luxurious interiors, and the F-PACE is no exception. My tester featured performance seats covered in supple Siena Tan Windsor leather, and while they're remarkably thin and bucket like, they proved exceptionally comfortable. I particularly liked the chrome-surrounded passthrough just under the headrest, which is similar to what you see on proper racing chairs. Fit and finish is excellent, and the massive dual-pane sunroof gave the already roomy cabin a distinctly airy feel. It's also worth noting that the large greenhouse provides excellent visibility.   
This was my first experience with the latest version of Jaguar's Pivi Pro infotainment system, and overall I found it cleanly laid out and easy to use. The 11.4-inch touchscreen sits below the horizon of the dash, and the home screen is divided into three sections: Navigation, phone connectivity, and media. The gauge cluster is also fully digital, and will display info like media and navigation info alongside speed and RPMs, so the driver doesn't need to look to the center stack that often. As an iPhone user, I was pleased by how easy it was to flip between CarPlay and the native OS, which can prove cumbersome on other systems. Android users aren't left out either, as the F-PACE supports both platforms. There's also a handy charging pad at the front of the console, a thumping 14-speaker Meridian sound system, mobile hotspot, SiriusXM satellite radio, dual-zone climate control, and configurable ambient lighting.
My biggest hang up with the interior of the F-PACE involves the switch for the heated and cooled seats. To activate these functions, you're supposed to pull back on the climate dial, then turn counter-clockwise for cooling, and clockwise for heat. I found this finicky and after fussing with it a few times, I just used the infotainment system to turn on the seat heaters. While not the end of the world, it was a noticeable flaw in an otherwise well-sorted interior.      
Regarding cargo space, the F-PACE offers 31.5 cubic feet of space beyond the rear seats, which climbs to 69.1 cubic feet with them folded, which is more than you'll find in competitors like the BMW X3 or Audi Q5. 
---
2022 Jaguar F-PACE R Dynamic S Performance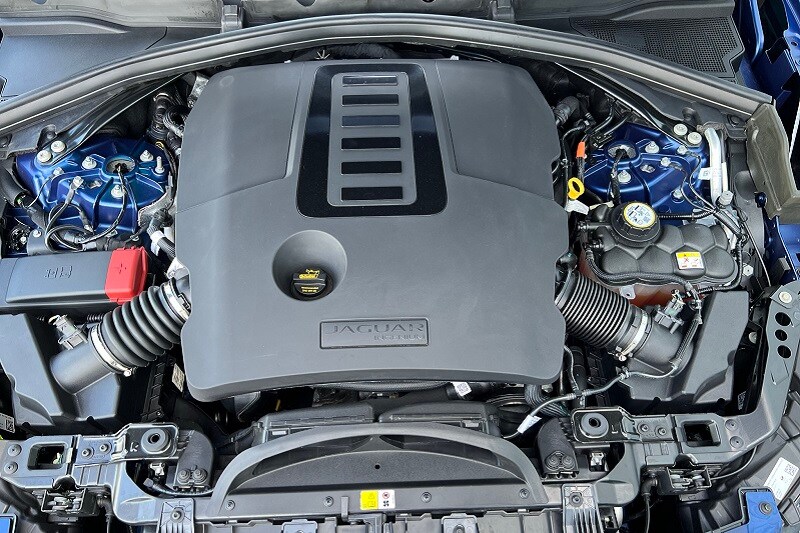 Jaguar founder Sir William Lyons famously wanted his creations to exemplify the principles of "grace, space, and pace." And having already dealt with the grace and space elements of that statement, I'll just cut to the chase here: The F-PACE rips. 
Power comes from a 3.0-liter I6 that's twin-charged, meaning it's both super and turbocharged. This novel setup is good for a robust 395 horsepower and 406 lb-ft of torque, and while it doesn't have the rowdy exhaust note of siblings like the F-Type, punch the gas, and you'll feel every pony. Power is routed to all four corners via an eight speed automatic transmission, and while there are gorgeous aluminum paddle shifters behind the wheel, the ZF-sourced gearbox is responsive enough that they're more for decoration than anything else. 
According to Jaguar, the R Dynamic S will make the sprint from zero to 60 in just 5.1 seconds, which is right quick for something this big. Keep your foot buried, and it'll pull all the way up to 155 mph. But while those specs are impressive, it's cornering where the F-PACE truly sparkles. Jaguar's brake-based torque vectoring system means it corners like a--excuse the feline reference--cat on carpet, and makes tight twisty roads an absolute blast. Even in the normal drive setting, the suspension is taut, but in Dynamic mode the dampers have an extra edge, and there's additional weight in the steering too. Accelerating hard out of a tight bend, you're unlikely to get much more than a slight wiggle from the rear end before the F-PACE shoots itself out of the corner with a vengeance. 
As someone who's no stranger to fast SUVs, and was trying to keep my internal bias in check, I was struck by just how confidence inspiring the big Jag was when pushed. While it wasn't as bare-knuckle brutal as Alfa-Romeo's insane Stelvio Quadrifoglio (which is obviously possessed by Satan), it felt measurably more athletic than some of my recent favorites, like the Genesis G70 and the Acura MDX. 
From a performance standpoint, it's very hard to ding the F-PACE R Dynamic S at all. So I'll say that I wish the engine note was more raucous, and there was a button to defeat the start-stop functionality. That's basically it. This is one wicked machine. 
---
2022 Jaguar F-PACE R Dynamic S Safety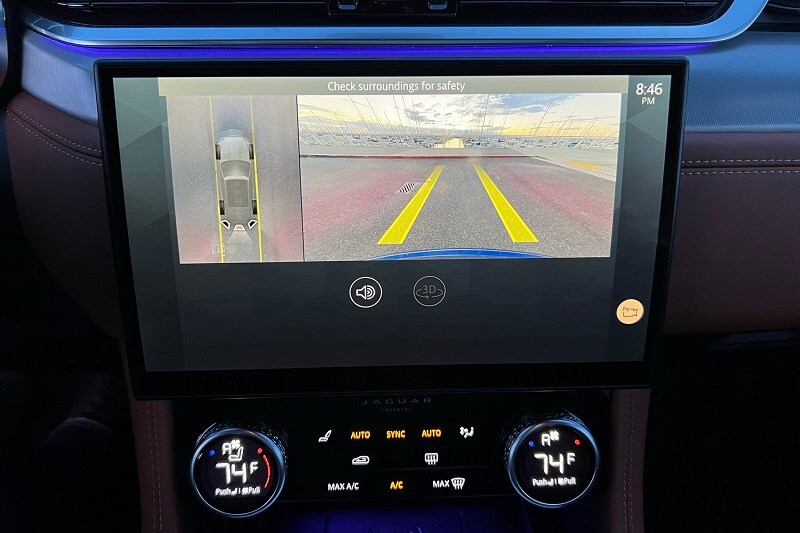 At press time, the Jaguar F-PACE has not been evaluated by the National Highway Traffic Safety Administration or the Insurance Institute for Highway Safety. This is not uncommon for vehicles in this price range. 
That said, my tester was equipped with a laundry list of active safety equipment, including a Blind Spot Monitor, Rear Traffic Monitor, Land Keep Assist, Emergency Brake Assist, and a Driver Condition Monitor. Additionally, I found resolution from the rear-view camera exceptionally clear, even at night or while it was raining, or both. Between the great resolution and the overhead "drone view," parking the F-PACE was a snap.   
---
2022 Jaguar F-PACE R Dynamic S Overall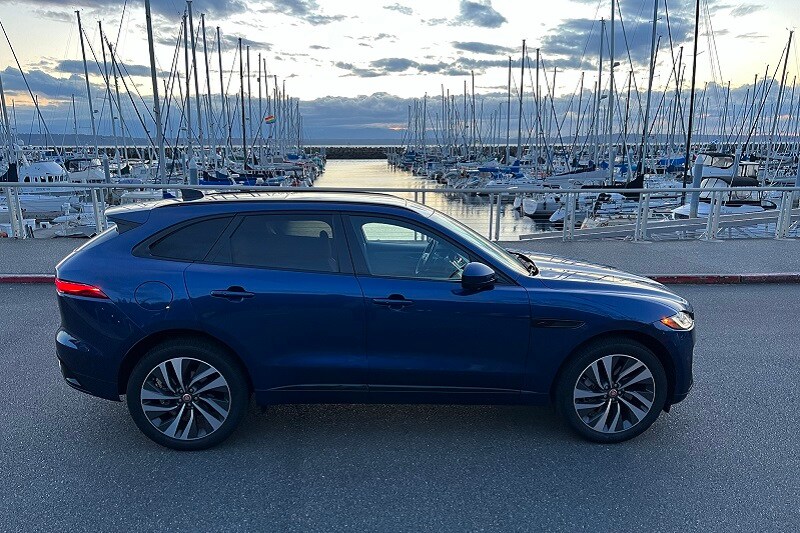 While Jaguar's future is uncertain, my week with this spicy version of the F-PACE made one thing perfectly clear: When it comes to driving dynamics, Coventry is still up there with the best in the business. 
Now, I'm sure this SUV is perfectly capable of navigating a fire road or the sloppiest of snowy school runs. But in its heart, this big cat is a corner carver extraordinaire, and does the brand's sporting heritage proud. So if you're curious about why this niche brand has such a devoted following, head to your AutoNation-affiliated Jaguar dealer to experience it for yourself. You won't be disappointed.      
The list price on my F-PACE R Dynamic S was $65,200, but a slew of options pushed the price north of that figure. The addition of the Hot Climate Pack ($2,110), the Premium Upgrade Interior Pack ($2,220), the Performance Seats ($2,925), and the 21" inch wheels ($2,000) pushed the as-tested price to $82,245.
---
John Coyle
| May 13, 2022