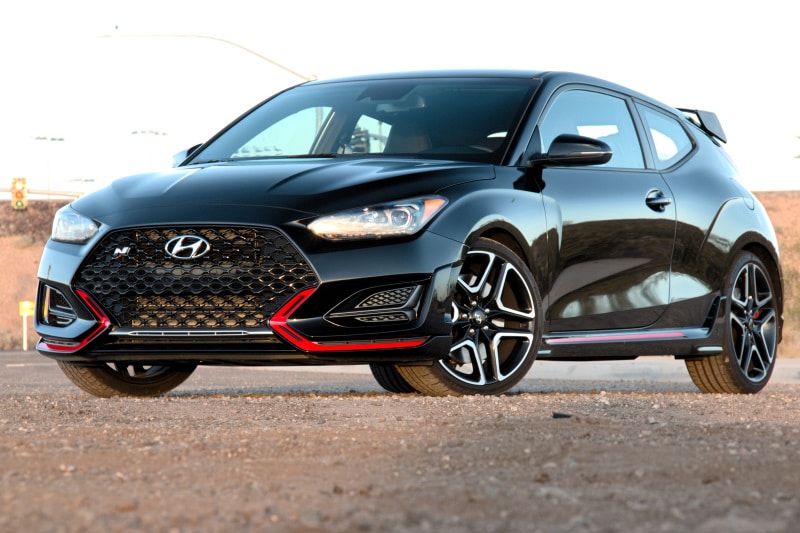 In 2018, Hyundai brought its first U.S. market high-performance model to the North American International Auto Show in Detroit. Like BMW, Cadillac and Lexus, it chose a single letter for its new enthusiast line of vehicles: N. Instead of applying that special badge to a sedan or crossover, Hyundai put it - and several mechanical upgrades, including a 275-horsepower turbocharged 2.0-liter four-cylinder engine, six-speed manual and an adjustable suspension - on the Veloster, creating the most powerful and focused version of its three-door hatchback.
The 2021 model year marks another milestone for the Veloster N. Hyundai has added an assortment of infotainment, safety and performance upgrades that make it more convenient without dulling its hard edge. In fact, the new eight-speed dual-clutch gearbox makes the Veloster N's performance accessible to more people. I recently got a chance to test it out for a week. Aside from choosing the exterior color, transmission and accessories from a short list of options, configuring the updated 2021 Veloster N is a simple process. My test car came in at a final price of $34,745, slightly north of its MSRP of $32,250.
Shop Hyundai Veloster Inventory
---
2021 Hyundai Veloster N Exterior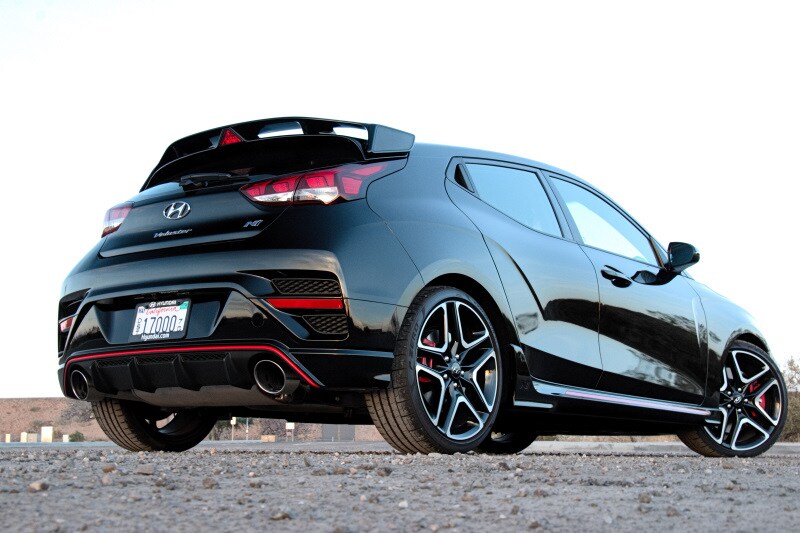 There's no disguising the fact that the Veloster N is not a ho-hum, A-to-B economy car. Not even its available Ultra Black paint is dark enough to conceal its true purpose. Red accents on its front fascia, down the length of its rocker panels, and just above its rear diffuser draw attention to its sporty body kit. The 235/35 R19 Pirelli P Zeros under the contoured fenders, high-mounted rear wing and large dual exhaust cannons leave no doubt that the Veloster N is built for drivers, not commuters.
Shop Hyundai Veloster Inventory
---
2021 Hyundai Veloster N Interior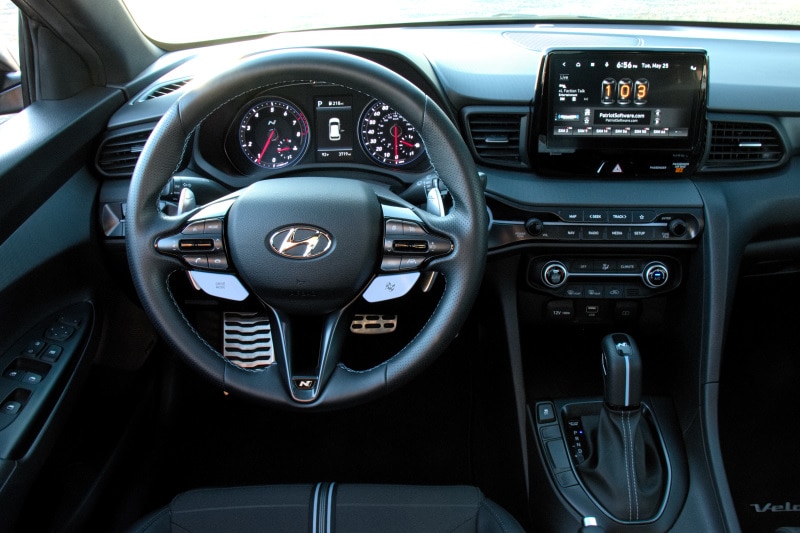 At first sight, the interior seems lighthearted and playful. The logos on the N Light Sport Seats emit a soft blue glow at night, which coordinates with their accent striping and the light blue seat belts and drive mode buttons on the steering wheel. Make no mistake - the Veloster N is all business. The lightweight bucket front seats save 4.4 pounds of weight and have prominent side bolsters that constantly remind you that when the Veloster N goes through a curve, you won't go anywhere. Shift paddles behind the steering wheel are there to make manual shifts with the snappy dual-clutch transmission even more instantaneous. A strip of lights above the highly legible speedometer and tachometer flash red when you reach redline. Metal pedals with rubber grip sections combine flashy form with flat-out function.
Aside from the form-fitting seats, the biggest change to the inside of the 2021 Veloster N is the new standard eight-inch infotainment system touchscreen. Like many other setups, it requires connecting your smartphone with a USB cable to access Apple CarPlay or Android Auto. The downside is that it seems to be particular about the exact cable you use to do that; the one I had plugged into my iPhone XR wasn't up to its standards.
A handle concealed at the rear of the passenger-side greenhouse trim opened the Veloster N's unusual third side door. Initially, I resigned myself to the eventuality that the second row's dimensions would only be comfortable for the shortest of trips. I was surprised to discover that I had enough legroom and headroom for all 5'10" of me, although I did have to watch my head as I got in.
Shop Hyundai Veloster Inventory
---
2021 Hyundai Veloster N Performance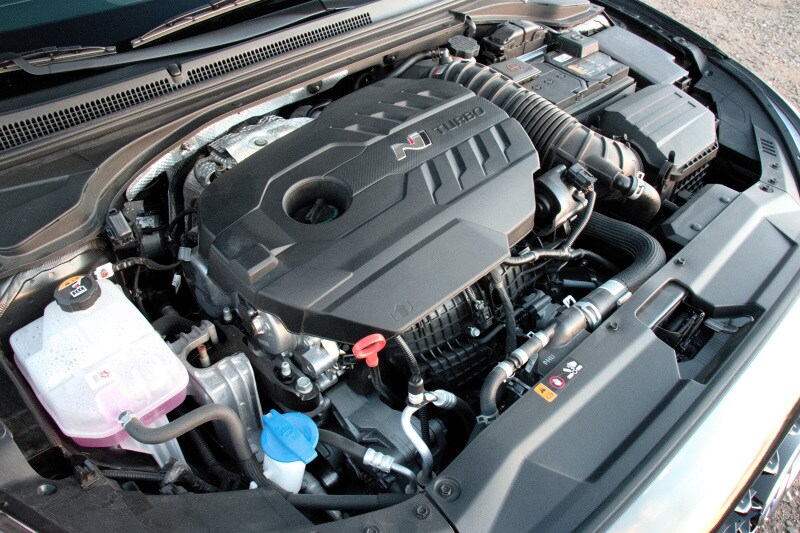 I couldn't help but wonder how the Veloster N would stack up against one of my favorite hot hatches, the Volkswagen Golf GTI. I fondly remember that being a fun and toss-able little plaything. While the Veloster N had a turbo four and front-wheel drive like the German five-door, it was a completely different machine. The one word that kept coming to mind was "serious." It definitely generated more power. The Veloster N's 2.0-liter four-cylinder engine combined gas, air and the boost from a twin-scroll turbo to generate 275 horsepower and 260 lb-ft of torque. Those numbers were easy to believe whenever I jammed my right foot toward the floor. The faint whiffs of torque steer were blown away by the manic rush of acceleration and the angry brappp of the exhaust at wide-open throttle. Even in its most sedate, suburb-friendly setting, the Electronically Controlled Suspension was noticeably stiff.
At first, I couldn't understand why Hyundai connected its Normal, Eco and Sport modes to the blue button on the left side of the steering wheel and linked its N and custom N drive modes to the one on the right. It didn't take me long to realize the logic of their decision. It not only made accessing the full-on N performance settings quicker, but it also emphasized their importance and their significance to the Veloster N's identity, a car so focused that a regular Sport mode is not aggressive enough. The custom N mode allowed me to put the engine, transmission, electronic limited-slip differential, exhaust, suspension, steering and electronic stability control into their Normal, Sport or Sport+ settings.
I was perfectly happy using the default N mode. Engaging that instantly added a substantial heft to the steering. Although it wasn't antagonistically heavy, I certainly had to earn its compliance. Even in broad, sweeping curves, I could feel the Veloster N biting into each bend. When the road ahead straightened out and I flattened the right pedal, the engine and transmission always seemed to be right where I needed them to be. Throttle response was almost immediate and eager to help the Veloster N claw its way out of each bend and attack the next straightaway. Thankfully, the ventilated 13.6-inch front and 12.4-inch rear rotors were more mild-mannered about bringing the Veloster N to lower speeds.
Shop Hyundai Veloster Inventory
---
2021 Hyundai Veloster N Safety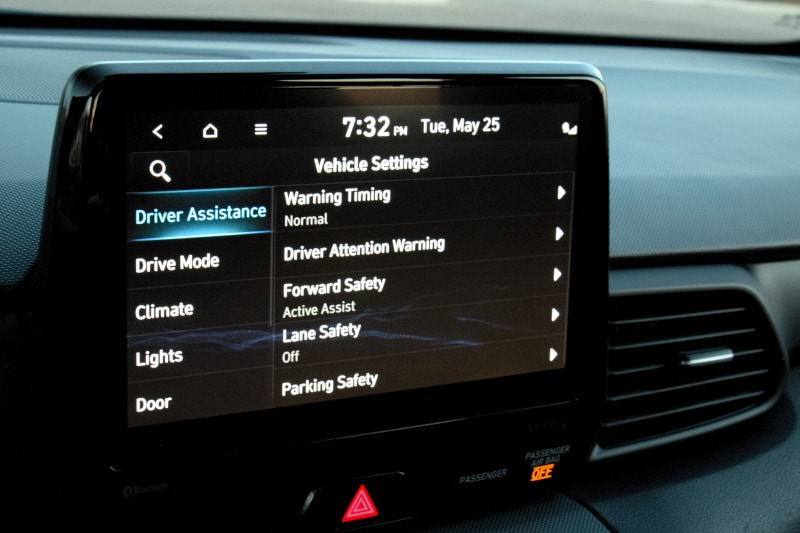 The 2021 Veloster N's list of standard driver assistance features is substantially longer than it used to be. It now includes Driver Attention Warning, Forward Collision-avoidance Assist, Lane Following Assist, Lane Keeping Assist, Blind Spot Collision-Avoidance Warning and Rear Cross-traffic Collision Warning.
Shop Hyundai Veloster Inventory
---
2021 Hyundai Veloster N Overall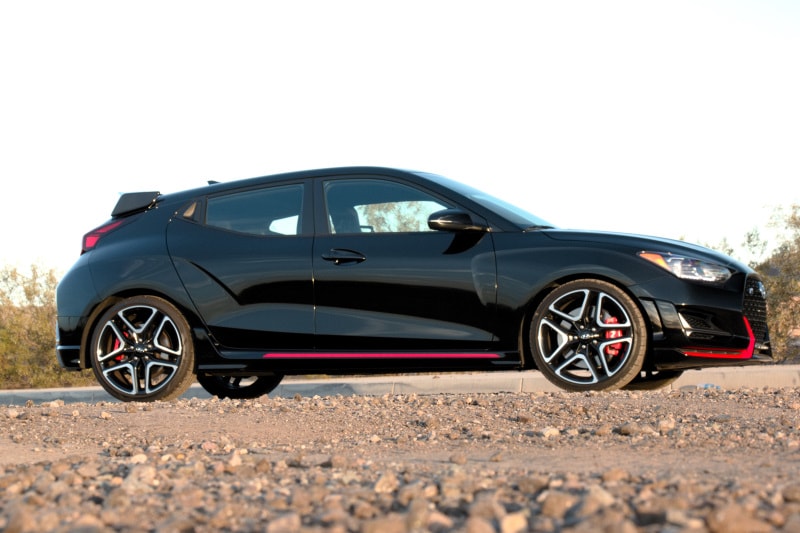 The updated Veloster N is still just as potent as  before, but thanks to its new available dual-clutch transmission and extensive driver assistance features, it's even easier to drive with peace of mind. You can get miles of hands-on proof of that when you go to your local AutoNation Hyundai dealership.
Shop Hyundai Veloster Inventory
---
Derek Shiekhi | Jun 17, 2021