2022 Hyundai Santa Cruz First Drive
---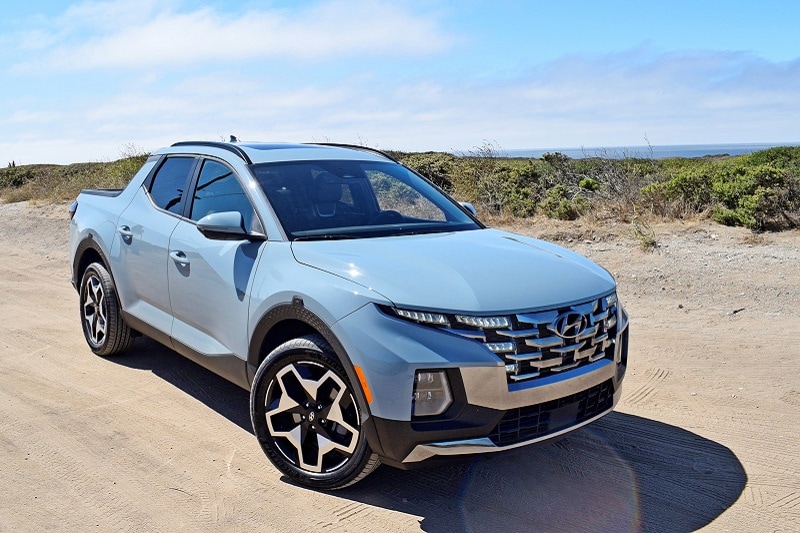 If you're a fan of smaller trucks, now is a great time to be alive. After years of bloating their core pickup offerings to monstrous proportions, automakers are finally paying some heed to the more petite end of the truck spectrum. The
Ford Ranger
has only been back on US soil since 2019, after all, and Nissan's Frontier just received its first real makeover since the Bush administration. But now, manufacturers are going
even smaller
: with the announcement of Ford's upcoming Maverick and the rollout of Hyundai's diminutive Santa Cruz, we're witnessing the return of a true compact trucklet not seen since the likes of the Outback-based Subaru Baja
--
or going even further back, the Plymouth Scamp and Volkswagen Caddy. 
To be fair, Honda has been doing the unibody, front-drive, kinda-truck since 2006 in the form of the
Ridgeline
, but that machine is quite a bit bigger than the incoming class of minitrucks. And for its part, Hyundai is emphatically
not
calling the 196-inch long Santa Cruz a truck, thus side-stepping the endless debate on what counts as a
real
truck in which the poor Ridgeline is forever mired. 
Shop Hyundai Santa Cruz Inventory
---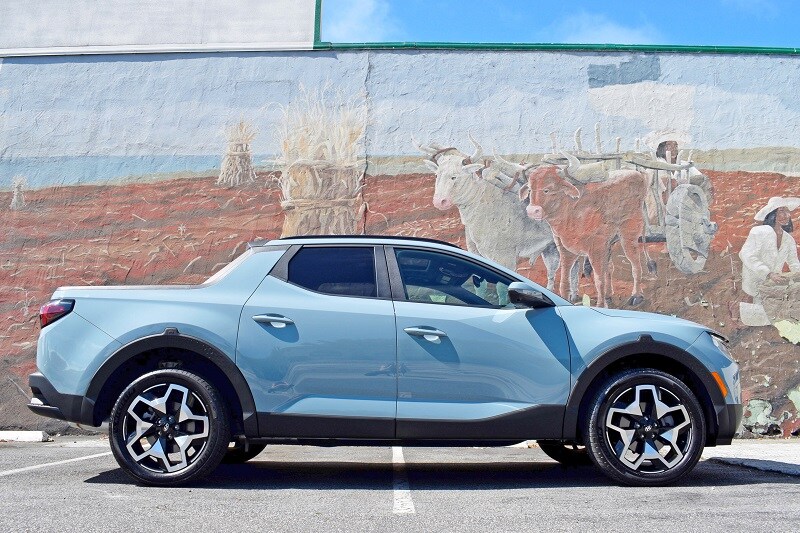 But in so doing, the Santa Cruz also evades the question of how useful it is as a truck. Marketing the Santa Cruz as a "sport adventure vehicle," Hyundai carefully targets not truck owners per se, but city dwellers who've never realized until now how badly they need a vehicle with a bed. With its maximum 5,000-lb towing capacity in top trim, as well as an also-impressive 1,600-lb max payload, the Santa Cruz already checks some major utilitarian boxes, matching the capacities of the Ridgeline and three-row crossovers even if it trails those of true body-on-frame trucks.
But then again, that bed. At barely four feet long, it's the teensiest open compartment on any current or upcoming truck, and that presents some…limitations. Forget about doing dump runs or dragging home furniture--you'll need a trailer for that. Hyundai takes pains to show that the Santa Cruz will in fact fit the famed 4x8 sheet of plywood--by hanging it out over the road, and strapping it in. And even if the owner's focus is more "adventure" than utility, hard choices will need to be made. 
You can have a surfboard but not a longboard, and you can forget about your kayak. Bikes will have to drape a wheel over the tailgate to fit, a transport method that's always made me nervous. Glancing through an album of things I've hauled in my own smallish truck (a first-gen Colorado), there's a lot of stuff that would fit 
in the Santa Cruz's bed
 just fine--engine blocks on their way to the machine shop, bags of mulch from the garden store, and the like. But there's a great many things that wouldn't. 
Shop Hyundai Santa Cruz Inventory
---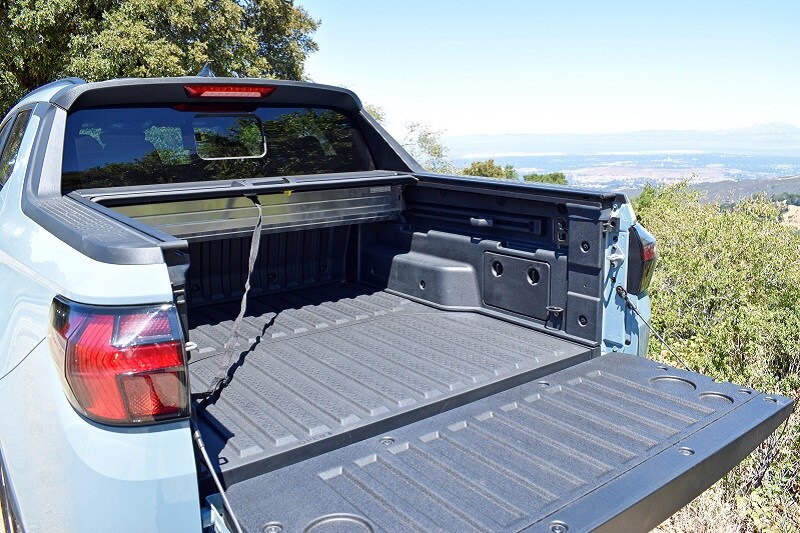 Hyundai compensates, to an extent, by making theirs one of the most thoughtfully-equipped beds on the market. All trims get standard storage cubbies, sliding and stationary tie-downs, and a nicely-damped tailgate that can be positioned at various levels to accommodate longer cargo. A standard locking underfloor trunk compartment with its own drainplug--an idea borrowed from the Ridgeline--can be used as an ice chest or to hose off muddy gear. A rollaway locking tonneau cover can thankfully be skipped at lower trims--it seems sturdy and creates a secure compartment for your gear, but its operation isn't the smoothest. Bumper corner steps, similar to those on Chevy's pickups, are included. And any Santa Cruz above the base can be optioned with LED bed lighting and a 115v outlet. 
The Santa Cruz's interior is comparably well-equipped as well. An eight-inch touchscreen is standard, and comes with Android Auto and Apple CarPlay capability that's offered wireless on the upgraded version of the eight-incher. Top Limited trim gets a nav-equipped 10.25-inch screen, though it's completely devoid of physical buttons, placing all controls within the screen and representing a step backwards from Hyundai's typically very user-friendly interface. This top-shelf Santa Cruz also gets Hyundai's cool all-digital instrument cluster, featuring blindspot-monitor function that beams a view down the side of the vehicle into the screen when you activate the turn signal. Despite all this tech, the center console is anchored by a proper analog gearshift, avoiding the typical gimmicky electronic dial or pushbutton shifter that always feels out of place in a truck.  
Shop Hyundai Santa Cruz Inventory
---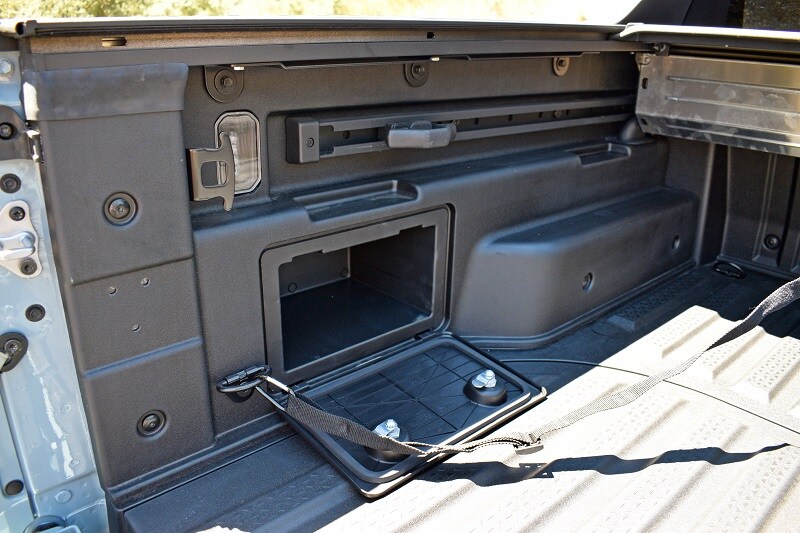 Notwithstanding the truck's compact exterior dimensions, the cabin feels right-sized and spacious, at least up front. A wraparound horizontal line visually calms the dash, electronics are integrated below the line of sight instead of sticking up tablet-style, and neither of the screens is hooded, contributing to a clean and accessible look. Seats are well-bolstered, comfortable, and finished in quality-feeling materials, and the outward view is surprisingly expansive for a high-beltlined vehicle. The Santa Cruz shares its platform and its family face with the also-redesigned
Hyundai Tucson
, with its futuristic behind-the-grille lighting signature. But there's no sheetmetal in common between the two--the Santa Cruz rides on a longer wheelbase and is over an inch taller, giving it a cabin feel that's all its own. The rear seat is a little more compact, with nearly five fewer inches of legroom than the Tucson. The seat bottoms flip up to reveal hidden storage, just like on a real truck, but there isn't much else back there in the way of functionality. I couldn't help wishing for a Santa Cruz in a configuration other than a four-door crew cab, so that the rear seats could be ditched in favor of a longer bed. But an extended-bed Santa Cruz is likely not in the stars. 
Shop Hyundai Santa Cruz Inventory
---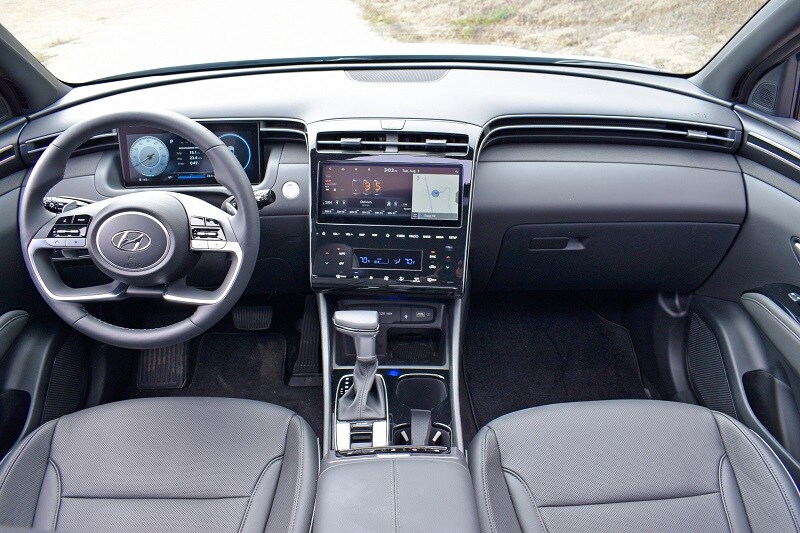 Hit the road, and the Santa Cruz delivers a top-notch driving experience, at least on the more powerful upper trims. These get a turbocharged 2.5-liter, good for 277 horsepower and 311 lb-ft of torque. It feels remarkably spry in a vehicle this size, despite the truck's hefty 4,100-lb curb weight, and the nicely-refined dual-clutch transmission is adept at keeping you in the power band, particularly in Sport mode. This powertrain yields an EPA-estimated 19 mpg city, 27 highway, 22 combined--numbers that were borne out in real-world driving, at least on my limited test route. The standard engine at lower trims is a non-turbocharged 2.5-liter that's good for only 191 horsepower and 181 lb-ft, and picks up only a point in combined fuel economy. That's thirsty for a four-cylinder, and far behind both available
Ford Maverick
powertrains, particularly the anticipated 40-mpg hybrid. 
All-wheel drive can be added for $1,500 on lower-trim Santa Cruzes but is standard on the top two trims--it features active torque distribution among the wheels, and the Sport mode biases power to the rear. An electronic AWD lock yokes the front and rear wheels together to help you power out of loose-surface conditions. The top towing figure of 5,000 lbs is only attainable with AWD and the turbo (lesser configurations haul a max of 3,500), but there wasn't an opportunity to tow on this first-drive loop so we'll have to reserve judgment on how the Santa Cruz behaves at its lug limit. Ditto for off-roading: while the Santa Cruz seemed surefooted enough on dirt, it's clear from looking at it that it doesn't have the ground clearance or the angles to master truly radical terrain. Sure enough, it wasted no time chinning itself on even mildly-rutted roadside arroyos. Watch for some more detailed off-road analysis after the Santa Cruz tackles the rough stuff at Mudfest next month. 
Shop Hyundai Santa Cruz Inventory
---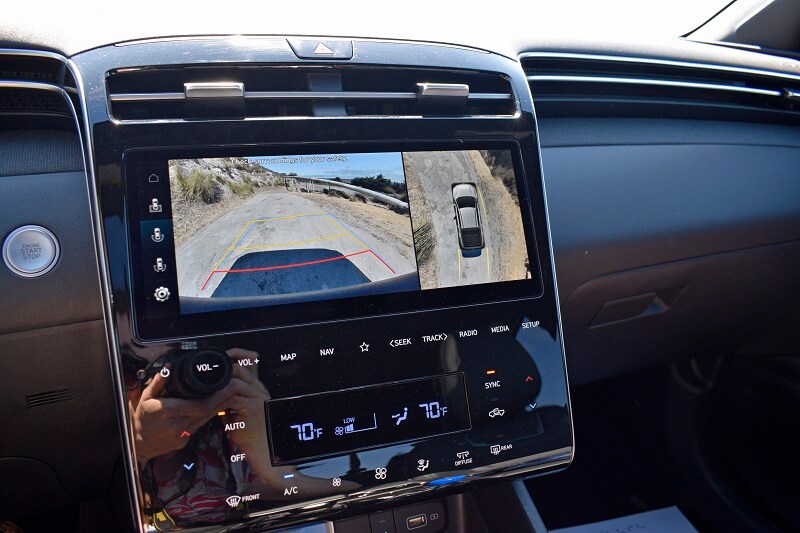 Its on-road manners, by contrast, are more or less unimpeachable. Taking a winding route through the mountains between Palo Alto and the coast, the Santa Cruz proved exceptionally nimble, its wide stance giving it a planted feel that inspires confidence in the turns. It feels stable on the open highway as well, despite its short wheelbase. And there's nothing trucklike in its ride, which is absorbent and quiet, with only a hint of road noise over truly worn-out pavement from the optional 20-inch wheels. 
Speaking of confidence, Hyundai also offers an impressive suite of standard and optional driver assists: forward collision warning with pedestrian detection, automatic emergency braking, lane-keep, rear-seat reminder, driver attention warning, leading vehicle departure alert, and auto high beams are standard at all trims. Blind-spot, rear cross-traffic, and safe-exit warnings are equipped on the next trim up, though fancier tech like adaptive nav-based cruise control, lane-centering "Highway Driving Assist,"  and that trick blindspot cam are reserved for the top-shelf Limited.
Shop Hyundai Santa Cruz Inventory
---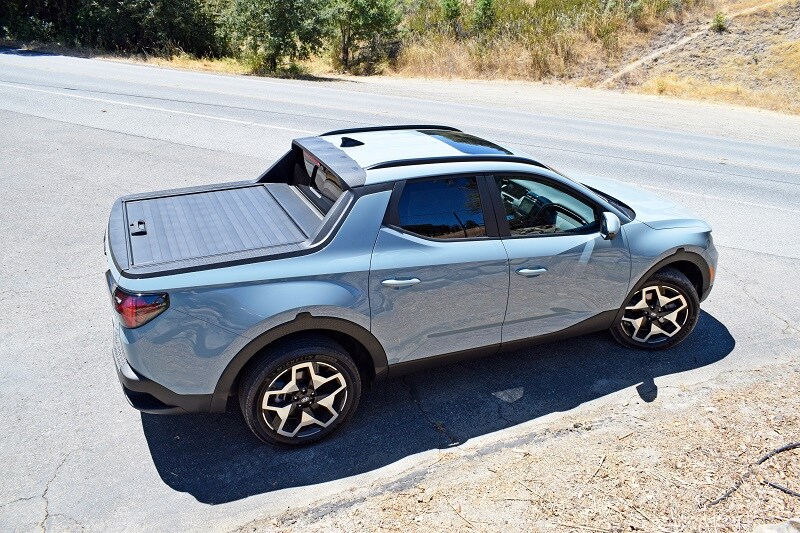 And indeed, the Santa Cruz is pricier than you might like when equipped with the features you'll want. A base SE with front-wheel drive will ring in at a little over $25K with destination. The lowest-priced AWD-equipped model will cost you close to $27K, and the cheapest way into the recommended turbocharged engine is the SEL Premium, which starts north of $36K. A loaded Limited, which gets you all the top tech, can't be had for much under $41K. By contrast, Ford's upcoming Maverick will start at around $21,500 with destination, boasts a slightly larger bed and much better fuel economy, and tops out at under $38K. Then again, the Maverick's top-power engine has 27 fewer ponies and 34 less torque than the hottest Santa Cruz, it tows 1,000 lbs less, and the handling can't very well be better than that of Hyundai's new truck. 
Ultimately, the choice will come down to personal preference, but until we can get behind the wheel of a Maverick I can only conclude that the Santa Cruz should be top of mind for anyone looking for a compact truck that drives like a car. Whether potential buyers can also live with the shrimpy bed is another question altogether, as is whether the "adventure-oriented buyer"--a limited demographic that every truck, wagon, and crossover seems to be vying for right now--will choose the Santa Cruz or something else. What's more certain is that the Santa Cruz is a worthy contender for those dollars, and this upcoming year of the trucklet is bound to be an interesting one.
---
Jen Dunnaway
| Aug 10, 2021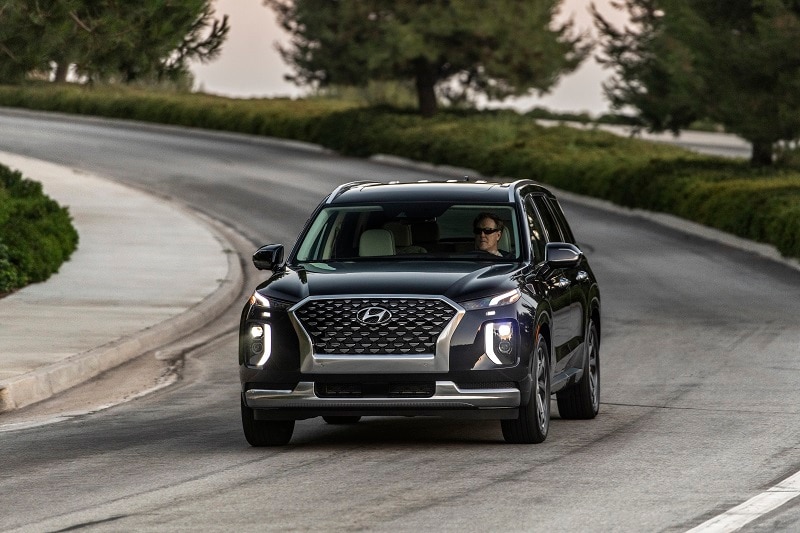 Hyundai Trim Levels Guide
Learn about the trim package options and features for popular Hyundai cars, trucks, and SUVs.
---
More Research
Browse more automotive research than you can shake a stick shift at.
---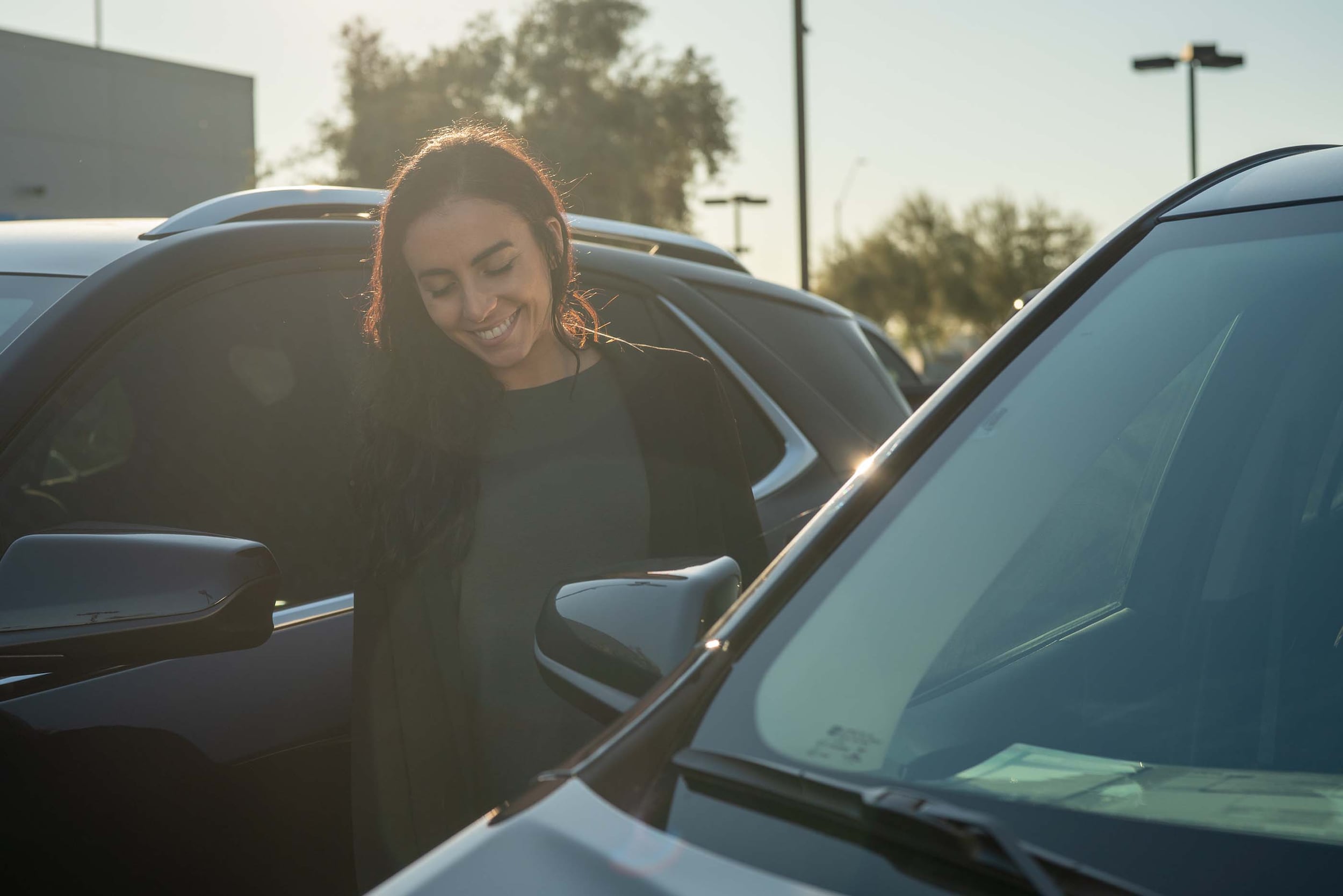 Test Drive Reviews
Our automotive experts at AutoNation Drive weigh in on price, safety, and performance of popular cars, trucks, and SUVs.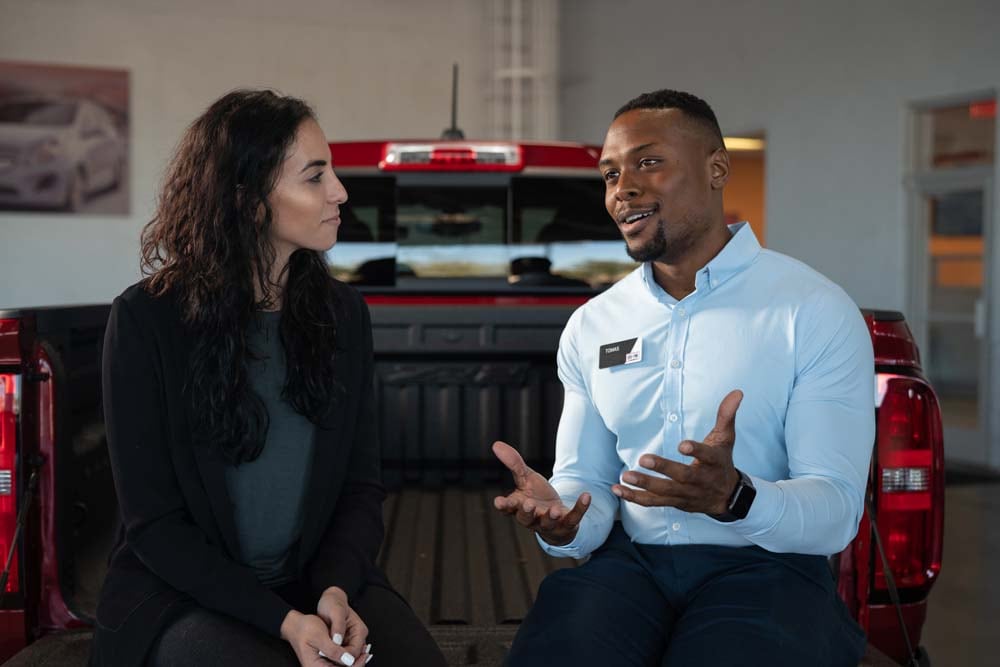 Car Buying Advice
If you're buying a car, truck, or SUV, the chances are - you need help. Don't worry. Our automotive experts are here to help.
---
*MSRP excludes tax, license, registration, destination charge and options. Dealer prices may vary.
**Based on EPA mileage ratings. Your mileage will vary depending on specific vehicle trim, how you drive and maintain your vehicle, driving conditions, and other factors.