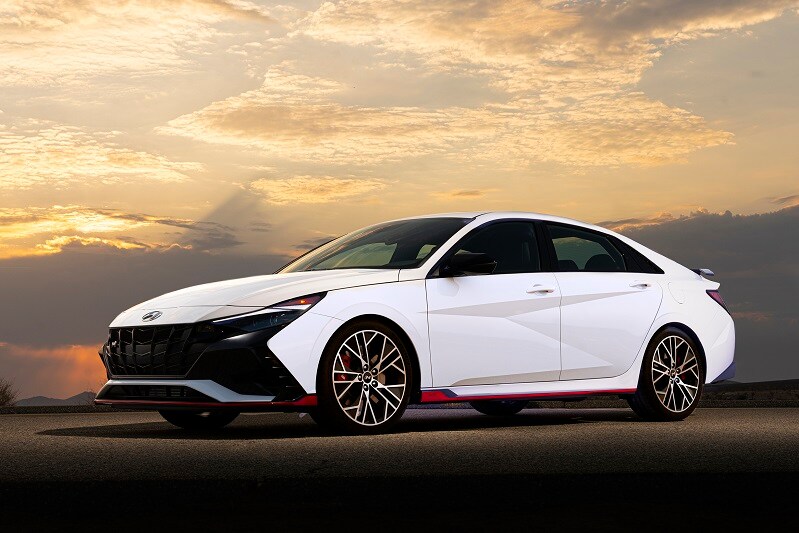 Back in 2018, I got a chance to drive the Veloster N at a press event, and I was blown away. This was Hyundai's first crack at a hot hatch, and wow, did the designers hit it out of the park. Not only was it fun to hurl into a corner, but it sounded meaner than a little four-cylinder had any right to. At the time, my only complaint was that I wanted more wheel time. 
So when Hyundai announced it would be giving the N treatment to its venerable Elantra, I was thrilled. And while it took me a little time to get a hold of one? After spending a week with the Elantra N, I'm happy to say Hyundai has once again trapped lightning in a bottle. It was every bit the blast I expected it to be. 
Shop Hyundai Elantra N Inventory
---
2023 Hyundai Elantra N Exterior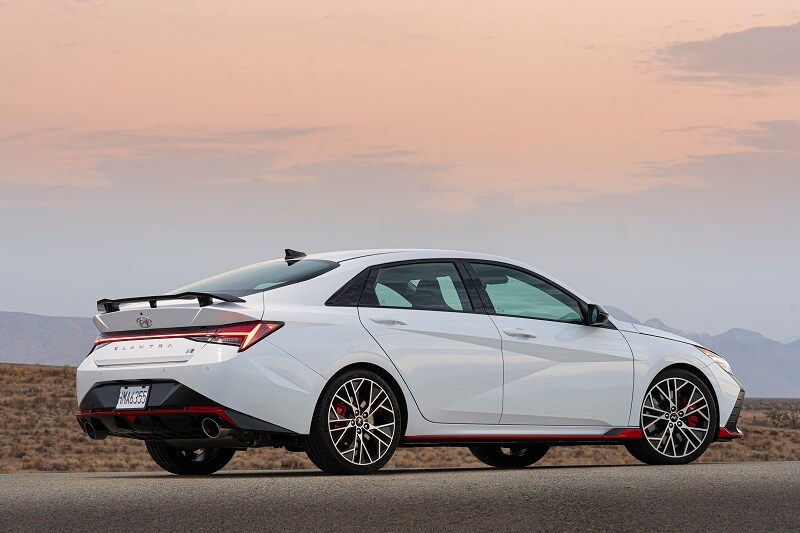 As I noted in my recent review of the Santa Cruz, Hyundai's design team has been on a tear of late. So it should come as no surprise that the Elantra N is a sharp-looking ride.
With its large black grille, red chin spoiler, and pointed LED headlights, the front end is particularly aggressive, and it suits the car's character perfectly. The front fascia also instantly distinguishes the N from the less athletic members of the Elantra family, even if the large intakes at the corner aren't functional.  
The 19-inch two-tone alloy wheels on my tester looked great, as did the red N-branded brake calipers. Truth be told, unpainted calipers are one of my pet peeves, and the beefy units on the N also complimented the racy red side skits nicely. Another killer detail on the Elantra N's exterior is the arrow-like pattern of the creases along the front and rear doors. Inspired by the tradition of Jong-i jeobgi (Korean origami), they give the sheet metal a refined, almost concept-like presence, and I stopped to examine them every time I walked up to the car.            
Out back, the acute angles of the decklid make things no less dramatic, and the spoiler, large dual exhausts, and F1-inspired triangular lower brake light betray this baby came to play. 
Shop Hyundai Elantra N Inventory 
---
2023 Hyundai Elantra N Interior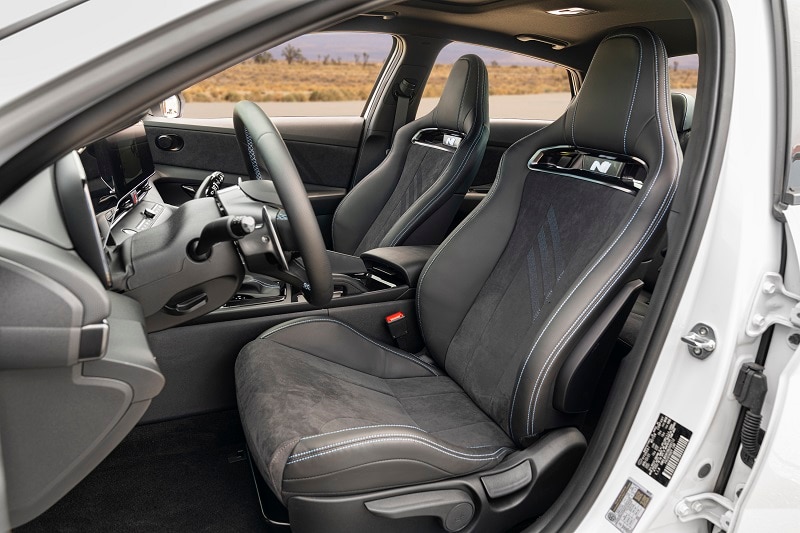 Appropriately, the cabin of the Elantra N has a driver-focused, cockpit feel. The 10.3-inch gauge cluster is fully digital, and flows into the similarly sized infotainment screen which sits at a slight angle, toward the driver. In an era where more and more automakers are shifting away from physical controls, it's lovely to report that along with a traditional volume knob, there are buttons and dials for the climate controls and the heated seats. 
Speaking of seats, the chairs in the Elantra N will be one of the first things you'll notice after climbing inside. To keep passengers planted during spirited cornering, they're deeply bolstered, and might prove tight for larger folks, but overall I found them comfortable. The wheel also features a pair of customizable N buttons on each side, which can be programmed to create unique driving profiles, or even stop and start a lap timer.  
Hyundai's infotainment system is intuitive, but if you prefer, wired Apple CarPlay and Android Auto are both available. Options like in-dash navigation and satellite radio compatibility come standard on N models, but you'll have to choose between getting a sunroof and opting to row your own gears, as the sunroof is only available with the automatic transmission.   
At 6'3", I found headroom to be slightly lacking in the rear seats, but riding back there for short trips around town would be fine. There's 14.2 cubic feet of space available in the trunk, though the fashion-forward shape of the decklid means the opening is on the smaller side. Also, while the rear seats fold down, a red strut bar (for additional chassis stiffness) means large boxes or bicycles won't fit. Read on, and you'll understand that concession is worth it.
Shop Hyundai Elantra N Inventory
---
2023 Hyundai Elantra N Performance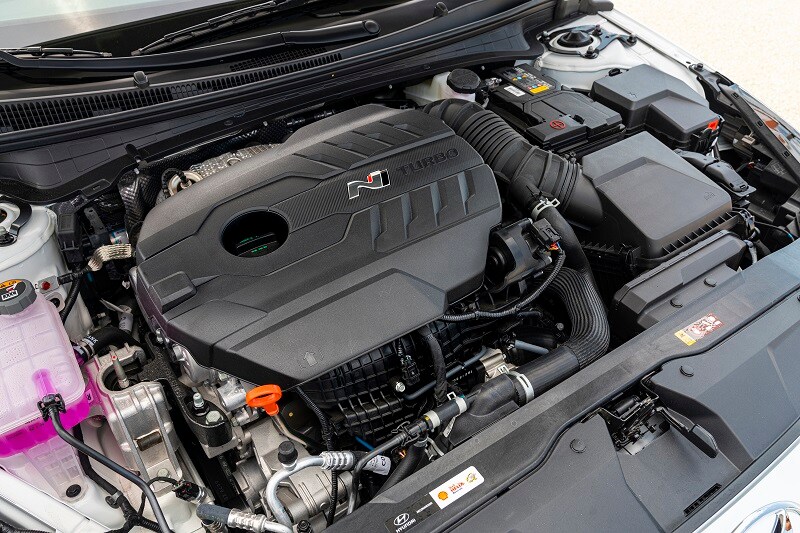 Let's get right to the point: The Elantra N is an absolute hoot to drive. Power comes from a turbocharged 2.0-liter four-cylinder rated at a robust 286 horsepower and 289 lb-ft of torque, so it's packing plenty of poke. More important than those figures, however, is the nasty noise it makes while doing it. This is one rowdy little mill, and while the snap, crackle, and pop on the overrun might be pure theater, as an enthusiast, it's my kind of theater. 
Now, an eight-speed dual-clutch is available, but my tester was thankfully delivered with the six-speed manual. With its short throws and solid feel, it's a great unit, and the rev-matching feature (activated by hitting the red button at the bottom of the wheel), means you don't have to be a heel-toe master to downshift like Sir Stirling Moss. Personally, I feel like the clutch action felt a little light, but nothing drivers won't get used to after a few stops and starts. 
When equipped with the stick, the Elantra N will hit 60 mph in the low six-second range, which is respectable if not remarkable. But when I was flinging it along the canyon roads of the Angeles National Forest, I was struck by how composed it was in corners, and how utterly planted it felt when pushed, despite the fact that all the power is only going to the front tires. The steering was also nicely weighted, and provided quality feedback, so it was easy to judge just how much grip was available. Throttle response was as crisp as a fall morning, and the brake pedal feel was progressive and confidence-inspiring. At the end of my test week, I didn't want to give it back. 
Shop Hyundai Elantra N Inventory
---
2023 Hyundai Elantra N Safety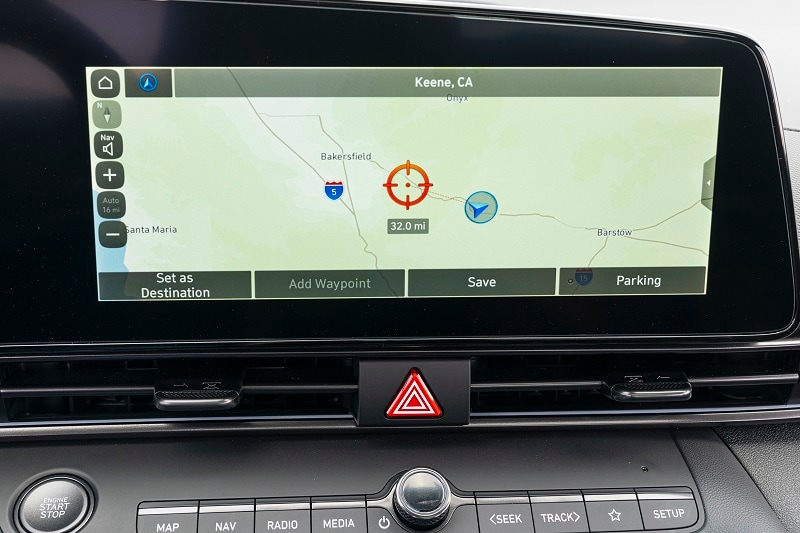 In testing by the National Highway Traffic Safety Administration, the Hyundai Elantra N earned a 5-Star rating.  
Every Elantra N also comes standard with Forward Collision-Avoidance Assist with Pedestrian Detection, Blind-Spot Collision-Avoidance Assist, Rear Cross-Traffic Collision-Avoidance Assist, Lane Keeping Assist, Lane Following Assist, and Driver Attention Warning, along with High Beam Assist and Safe Exit Warning.
Shop Hyundai Elantra N Inventory
---
2023 Hyundai Elantra N Overall
As someone who was quite fond of the dearly departed Veloster N, and came to the party with lofty expectations, the Elantra N still exceeded them.
At the end of the day, this is an excellent example of a sports sedan, and enthusiasts should take note. Because while it's still practical enough to daily, driving joy is the focus here. Since it also starts at roughly $10k cheaper than competitors like the Honda Civic Type R and the Toyota Corolla GR, it's also a bargain. Long live the Elantra N.  
The 2023 Hyundai Elantra N starts at $32,900 for manual models, and $34,400 for versions with the eight-speed dual-clutch transmission. Contact your local AutoNation Hyundai dealership, and prepare to be impressed.
Shop Hyundai Elantra N Inventory  
---
John Coyle
April 19, 2023