Jeffrey N. Ross | Oct 21, 2020
---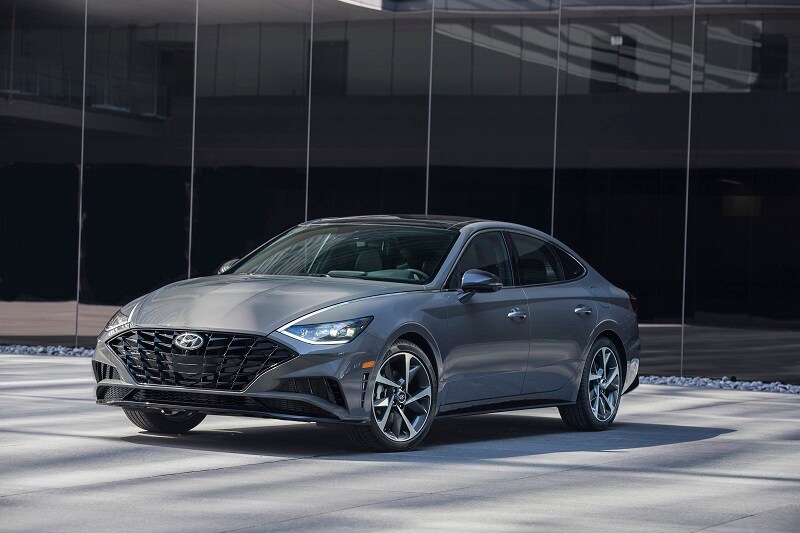 ---
Hyundai has been on an absolute tear with money-making crossovers, and there's even word of a pickup truck in the brand's future. But unlike the domestic automakers, Hyundai isn't abandoning traditional cars, it's doubling down with more style and tech than ever before.
Case in point, the all-new 2020 Hyundai Sonata. Before we even had a chance to slide behind the wheel of this mid-size sedan, it was clear that Hyundai's styling and marketing teams were swinging for the fences, so I was looking forward to spending a week with the fully loaded 2020 Hyundai Sonata Limited.
---
2020 Hyundai Sonata Exterior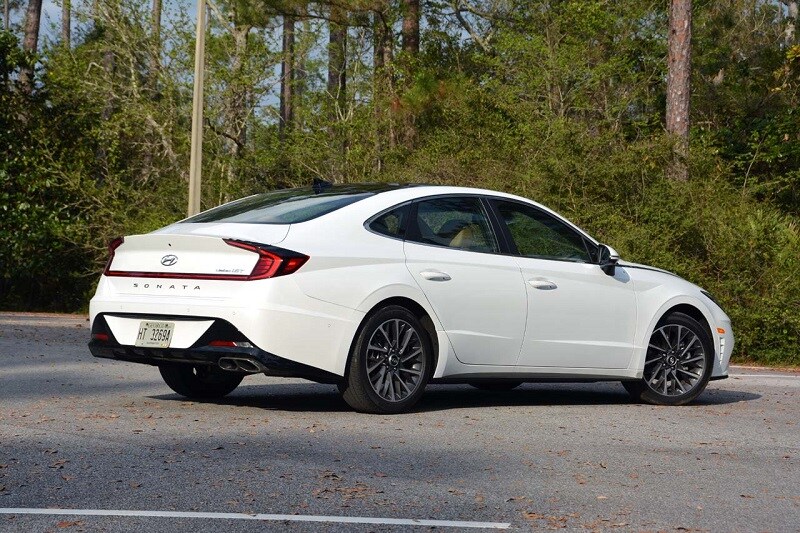 From the moment the 2020 Hyundai Sonata made its debut, there were strong opinions in terms of the exterior design. But in person, this family sedan has an imposing presence.
Your eyes are immediately drawn to that massively wide grille, but the overall details quickly start to reveal themselves starting with the aggressively sloped nose and the fastback-style roofline. The most impressive detail on this car, though, is the LED daytime running lights that start at the lower edge of the headlight and then fade into the chrome strip that runs almost the entire length of the car, and the innovative lighting elements are matched at the rear with full-width taillights sculpted into the trunk's integrated spoiler.
As we've been seeing from Hyundai's crossover designs (especially the Palisade and Kona), it's clear that every line, crease and components of the Sonata's exterior design was created to evoke emotion, and this sedan looks equally stunning painted in Quartz White as it does flashier colors like Calypso Red and Glowing Yellow.
---
2020 Hyundai Sonata Interior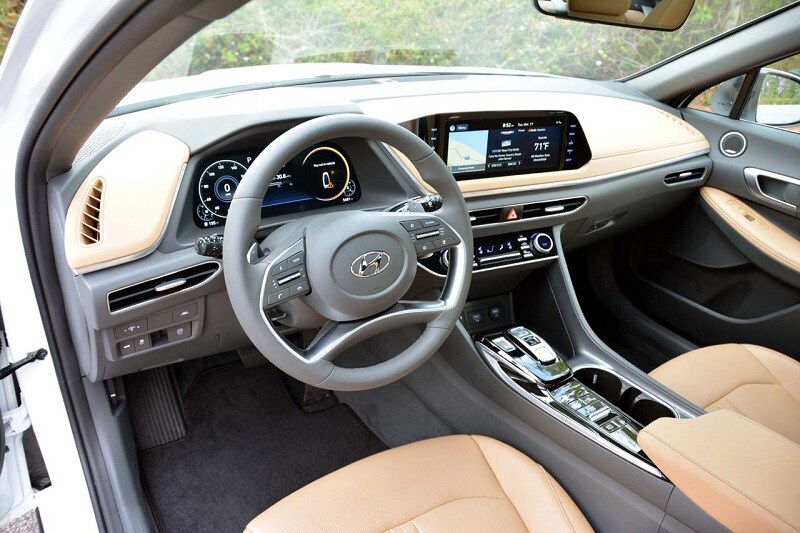 While the exterior design is bold and polarizing, the interior of the 2020 Hyundai Sonata has more of the familiar Hyundai design we're used to, with a cabin that is functional and handsome. On top of that, this top-of-the-line Limited trim level was filled with the latest technology including a 12.3-inch digital gauge cluster and a 10.25-inch infotainment screen, as well as a head-up display and a wireless charging system for smartphones. The cabin has a very contemporary design with its sculpted door handles, four-spoke steering wheel and push-button gear selector.
The new Sonata is definitely more stylish than ever, but it offers the same comfort we've grown to expect from this mid-size family car. The Limited trim level can handle five adults without a problem, and the perforated leather seats (with heated and ventilated front seats) provide maximum comfort.
Despite its sloping fastback-style roofline, rear passenger headroom is surprisingly plentiful, even with the panoramic sunroof, and the short decklid hides a generous 16.3 cubic feet of trunk space.
---
2020 Hyundai Sonata Powertrain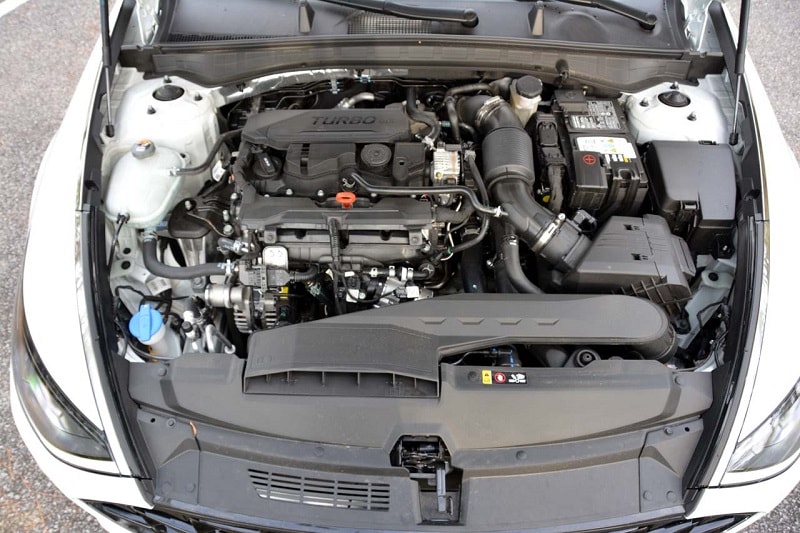 If there is one area where the 2020 Hyundai Sonata comes up short in its mid-size sedan segment, it's the powertrain options. While you can head down to your neighborhood AutoNation Toyota dealership and pick up a 301-horsepower Toyota Camry with a V6, the Sonata's engine lineup is comprised solely of four-cylinder options, including the 1.6-liter turbocharged and direct-injected on this tester.
On paper, this engine's 180 horsepower and 195 lb-ft of torque seems underwhelming, but the acceleration and refinement are as impressive, as is the fuel efficiency. Paired to the eight-speed automatic transmission, the Sonata Limited 1.6T has EPA-rated fuel economy estimates of 27 mpg in the city and 36 mpg on the highway, which was backed up with a 30.8 mpg rating (based on the trip computer) after a week behind the wheel.
On the road, the turbocharged engine isn't too fussy and the eight-speed automatic delivers responsive and dynamic shifts, and the Sonata is as smooth as a luxury sedan, absorbing any road imperfections and delivering a whisper quiet experience even at freeway speeds. Like its interior would suggest, the Sonata's chassis is set up for comfort rather than performance, although a sportier Sonata N-Line model is on its way.
---
2020 Hyundai Sonata Safety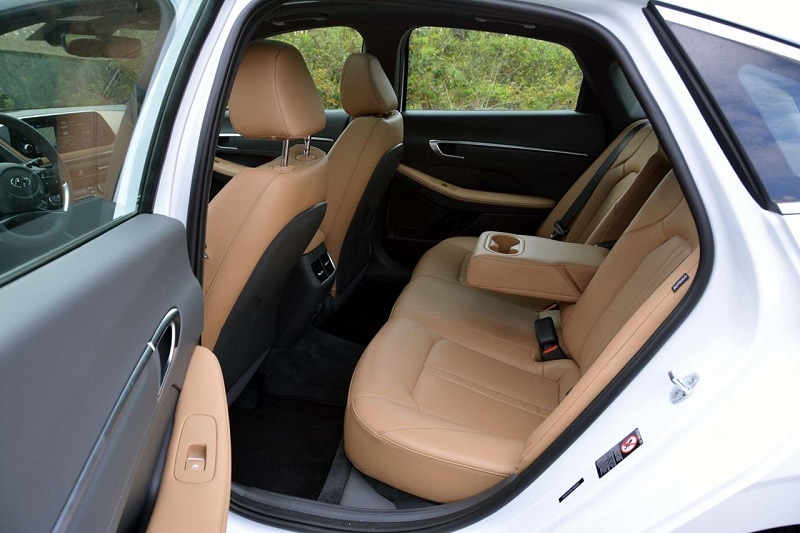 The 2020 Hyundai Sonata received a Five-Star overall crash rating from the National Highway Traffic Safety Administration. This family sedan comes with a lengthy list of standard safety features such as advanced Smart Cruise Control, Forward Collision Avoidance Assist, Lane Keep Assist, Lane Follow Assist and more.
The Sonata Limited adds more advanced features such as Blind-Spot View Monitor, Around View Monitor, Rear Cross Traffic Collision Avoidance and Hyundai's high-tech Remote Smart Parking Assist. This "Smart Park" feature was highlighted in Hyundai's Super Bowl ad campaign, and it allows the car to be remotely moved forward or backward by pushing a button on the key fob.
---
2020 Hyundai Sonata Overall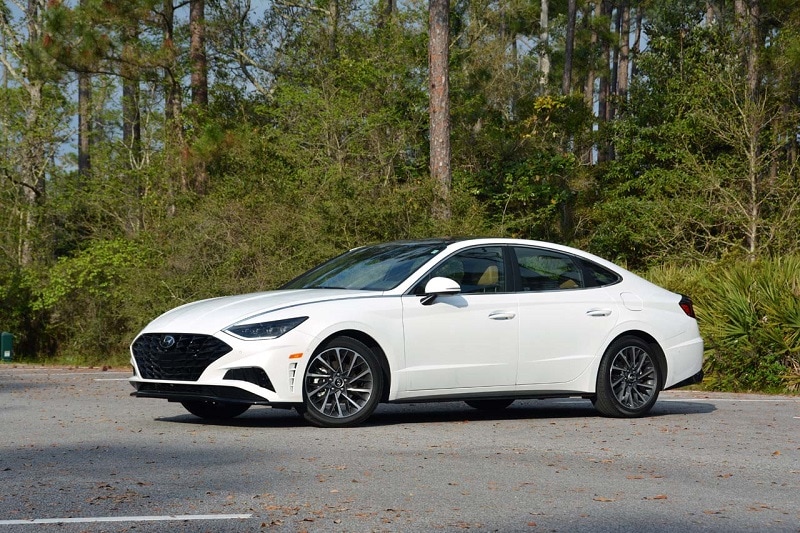 The 2020 Hyundai Sonata is, hands down, the best-looking sedan (and arguably one of the best looking vehicles overall) priced under $40,000. And you can get behind the wheel of a new Sonata starting at just $23,600 for the base SE.
This Sonata Limited is a fully loaded model with no available options, and it had an as-tested price of $34,365. The 2020 Hyundai Sonata is the complete package for value, style, safety and technology, and it's proof that non-luxury sedans are still relevant.