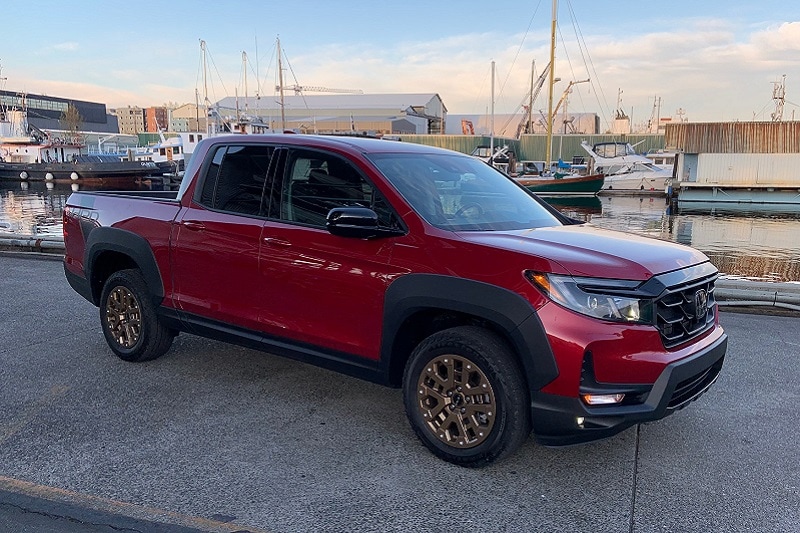 Over the past decade, there's been a lot of chatter about how the crossover has eclipsed the traditional car in popularity. Obviously, this trend isn't difficult to verify, as any foray onto America's roadways will confirm as much.
But the fact of the matter is that the most popular car in the States hasn't actually been a car for a long time. Because for over three decades, the best-selling vehicle on our shores has been Ford's venerable F-150 pickup - and it's almost impossible to overstate the importance of the Blue Oval's cash cow. To put the celestial scale of its sales figures in perspective, it's helpful to note that every year, the F-150 generates more revenue than corporate titans McDonald's, Coca-Cola, or Nike.
So given how incredibly important the pickups are domestically, Honda hasn't neglected the opportunity to court buyers. The Ridgeline has been steadily gaining traction since 2006, and after spending a week with the 2021 Ridgeline Sport, I'm convinced the refreshed  second-generation rig is a compelling option in the red-hot mid-size truck segment.
Shop Honda Ridgeline Inventory
---
2021 Honda Ridgeline Sport Exterior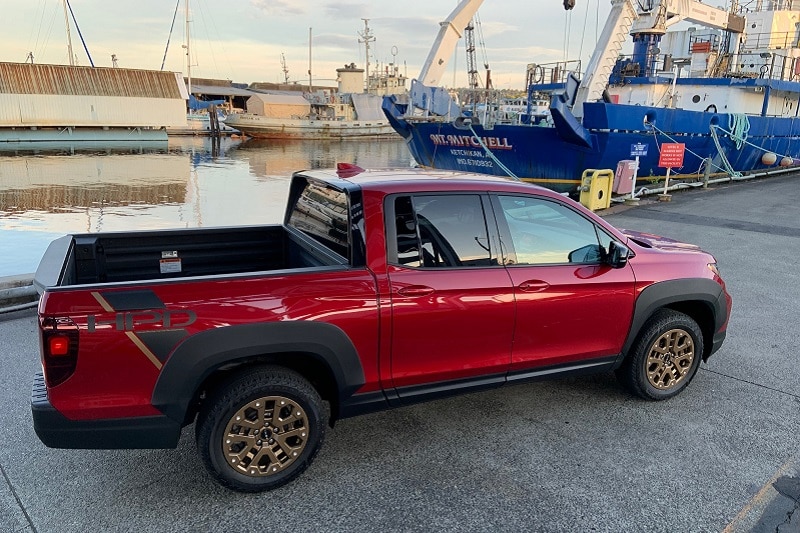 While I've been a fan of Honda products for years, I'll fully admit that the styling of the first-generation Ridgeline - particularly the buttresses in front of the bed - just didn't work for me. They were just a little too weird.
But when the second-generation was released for the 2017 model year, the buttresses were gone, and the result was a handsome, traditionally styled pickup which remained immediately recognizable as a Honda. The recent refresh builds on this traditional styling, and while it looks more rugged than the outgoing model, it doesn't look like a caricature of a truck either.
Everything forward of the A-pillar is new, and the grille is both bigger and more vertically oriented. That gives the front clip boxier look, and nicely complements the squared-off styling out back. Additionally, there are new hockey stick-shaped intakes ahead of the front wheels, and since my tester was the Sport trim, it also featured a black bar above the grille, black mirrors, and black window moldings.
In my opinion, the blacked-out bits give the Sport a more purposeful look, and the Honda Performance Development package took it a step further. In  HPD, the Ridgeline gets a unique grille, pronounced fender flares, and most importantly, trick-looking bronze wheels. Personally, I could take or leave the prominent HPD flare at the back of the bed. But overall, it's a visually cohesive bit of kit which doesn't try to reinvent the wheel when it comes to truck styling.      
Shop Honda Ridgeline Inventory
---
2021 Honda Ridgeline Sport Interior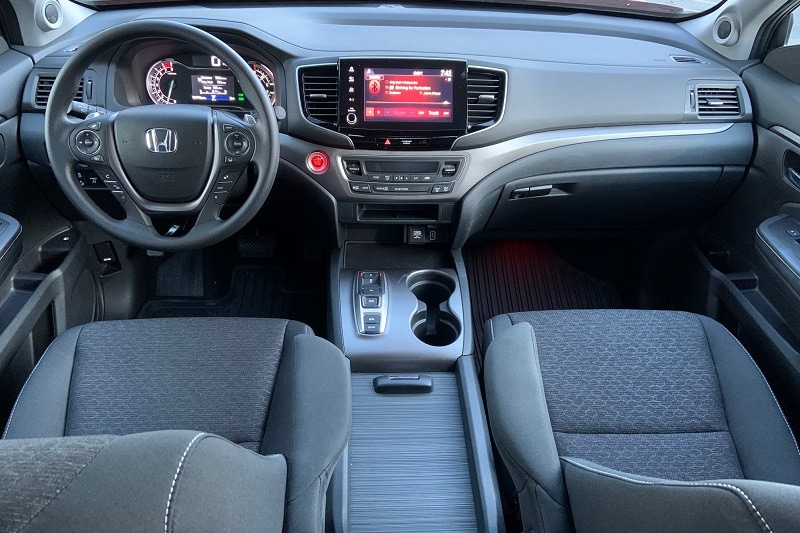 Now, the exterior of the Ridgeline looks great - but I was even more impressed with the interior. And I suspect anyone shopping in the mid-size truck segment will be too. 
While the entry-level Sport model doesn't have all the bells and whistles of higher-spec trims like the RTL and the RTL-E, the bones of this cabin are fantastic. Given that most of the vehicles I drive are optioned to the gills, it was frankly a nice change of pace to see something in more basic derivation of the form - not that I was left wanting for much. The Sport still comes packed with content, including an eight-inch touchscreen display, Apple CarPlay and Android Auto compatibility, a seven-speaker stereo, and tri-zone climate control, along with a pair of USB jacks. In regards to the infotainment setup, perhaps the biggest compliment I can pay to Honda is that there is zero learning curve involved in operating it. If you've used a smartphone or tablet in the past decade, you'll have absolutely no trouble navigating the menus and changing settings right from the get go. 
Creature comforts aside, I was blown away by the tremendous amount of storage in the cabin. The center console is cavernous, and there's even more space available under the rear seats. Plus, those rear chairs fold up - similar to how they do in the dearly departed Fit - and  provide access to a ton more cargo space. For example, I was able to easily load my 61-centimeter bicycle into the back without taking it apart, which is a level of practicality I really didn't expect to see, given the relatively small footprint of the truck.
There's also an additional 7.3 cubic feet of watertight storage thanks to the in-bed trunk, and since it has a drain plug, it's easy to turn into a cooler. That's exactly the kind of thing that's going to make Ridgeline owners popular at the trailhead, and speaks to just how well thought out every area of the truck is.     
Shop Honda Ridgeline Inventory
---
2021 Honda Ridgeline Sport Performance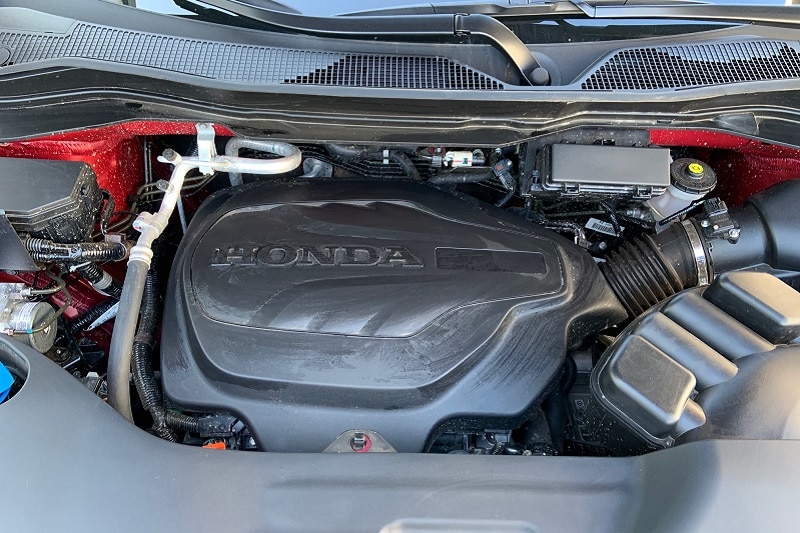 All Honda Ridgelines get the same powertrain, a 3.5-liter V6 that's good for 280-horsepower and 262 lb-ft of torque. The engine is mated to a nine-speed automatic which sends twist to all four corners thanks to Honda's iVTM-4 all-wheel drive system.
This setup can send 70% of available power to the rear, and thanks to torque vectoring, 100% of that power can be sent to a single wheel. Those familiar with the Honda ecosystem will notice those figures are identical to those of Acura's SH-AWD system, and it provides similarly inspired performance on the road. Now, it's important to note that Honda is the only vehicle in its class that's built on a unibody, instead of the traditional body-on-frame arrangement generally used for pickups. And while the design does mean it's only rated to tow 5,000 pounds, this unique construction pays huge dividends when it comes to driving dynamics.
During my week with the Ridgeline, I took it down some rutted gravel trails, along some of Seattle's most neglected bits of tarmac, and even flug it through some of my favorite twisty stretches of road. Now, while pickups have come a long way when it comes to driveability in the past few years, it's safe to say I've never driven a rig that holds the road like the Ridgeline does. When you tap the paddle shifters to drop a couple gears and dive into a corner, it's easy to forget there's actually a bed behind you. Now obviously, it's not going to give Ford Raptor-style performance off-road, so there's a trade off there. But the Ridgeline wasn't designed to be a trophy truck, and it's safe to say that for 95% of the driving most pickup owners do, it'll prove superior to a body-on-frame design.
Of course, despite its on-road manners, the Ridgeline is still a proper pickup. It features 33.9 cubic-ft of cargo space in the bed, and can swallow objects up to four feet wide. The trick tailgate, which can both drop down and open barn-door style, is also dynamically rated at 300 pounds. So it'll be ready for all your weekend adventures.         
Shop Honda Ridgeline Inventory
---
2021 Honda Ridgeline Sport Safety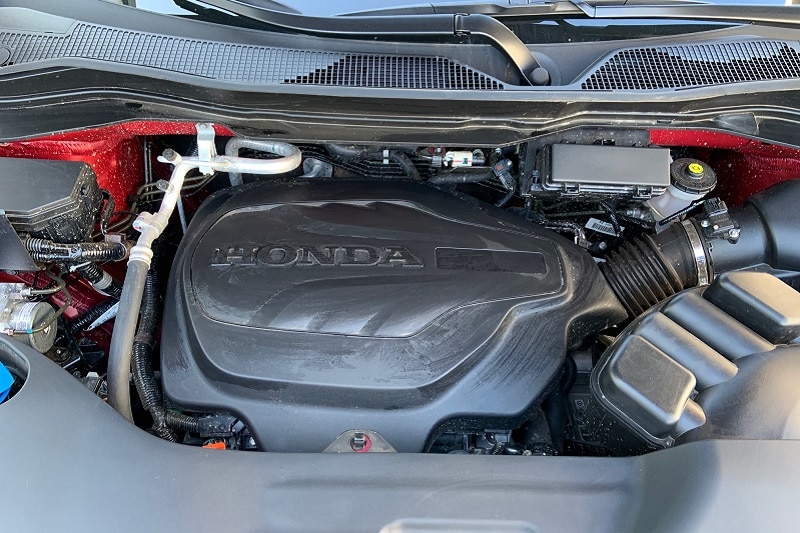 In testing by the National Highway Traffic Safety Administration, the Ridgeline earned a Five-Star rating. It was also named a Top Safety Pick by the Insurance Institute for Highway Safety.
Every Ridgeline comes equipped with the Honda Sensing suite of driver aids, including Adaptive Cruise Control, Collision Mitigation Braking, Lane Keeping Assist System, and Road Departure Mitigation. Higher trim levels like the RTL-E feature additional tech, including the Blind Spot Information System, Cross Traffic Monitor, and Auto High-Beam headlights.
Shop Honda Ridgeline Inventory
---
2021 Honda Ridgeline Sport Overall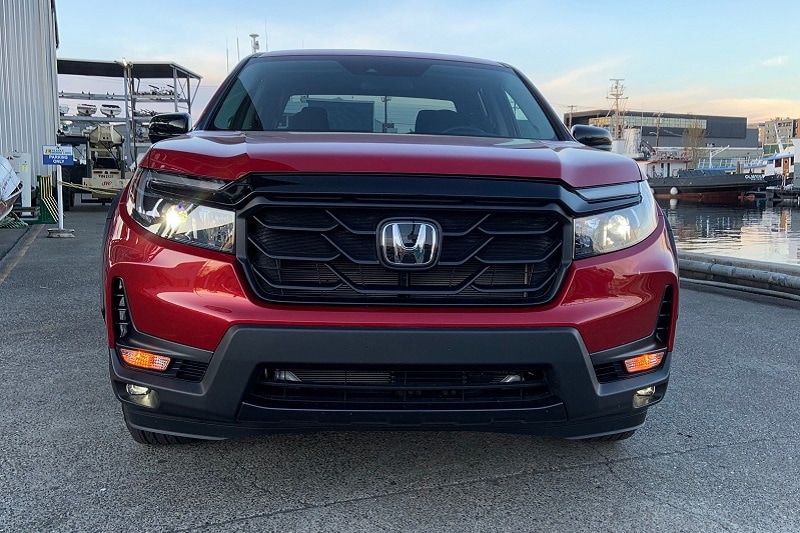 Given the excellent driving dynamics, everyday practicality, and solid payload rating, the Ridgeline Sport presents a compelling package for anyone looking for a pickup truck. Overall, this is a vehicle which exhibits the elevated level of refinement buyers expect from a Honda, but adds the ability to do truck things. So from that perspective, it should be a smash hit.
That said, I think the biggest hurdle the Ridgeline faces in making the journey from AutoNation showrooms to customer garages is badge bias.
Because fair or not, when many folks consider pickups, they just think Ford, Chevy, or RAM. And while the Big Three do an undeniably good job with the platform, they aren't the only game in town. Quite honestly, there are people who buy a truck because they want to say they drive a truck, and those people will be difficult to steer away from domestic offerings. But if you're looking at buying a truck because you want a daily driver that'll also haul cargo and make for a great camping rig? The Honda Ridgeline has to be on your list.
The starting MSRP of the 2021 Honda Ridgeline is $36,490, and my tester came in at $40,860 after options. Contact your local AutoNation Honda dealer to arrange a test drive today.  
Shop Honda Ridgeline Inventory
---
John Coyle | May 17, 2021